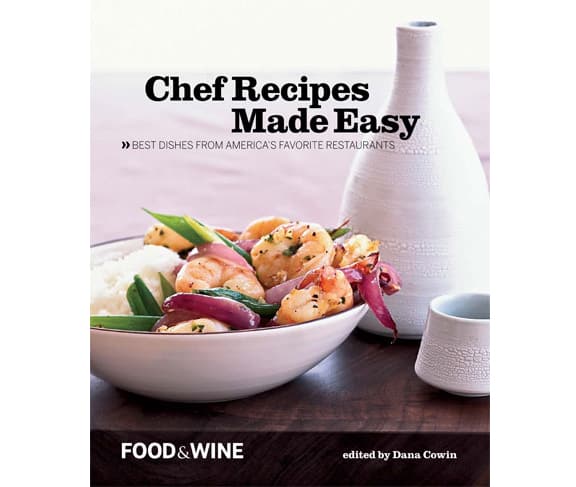 I love watching shows on tv with fancy food. Like Top Chef, or Iron Chef America. I'm intrigued by the food, even though I'm sure I've never had many of the ingredients that they use. But they make all of the food look so delicious and interesting!
That being said, my husband and I rarely go out to "fancy" restaurants. Given unlimited funds and unlimited babysitters, we would probably take advantage of restaurant food more often, but really, it's pretty rare that we go out. Before we had kids, we went to Vegas a few times, strictly for the food. We enjoyed going to different restaurants, where we would eat one of the best steaks I've ever had, truffled spinach, and the most amazing mashed potatoes. I wish that we had the chance to go out more often, but for now, we settle for eating at home.
Today's cookbook review is perfect for people like me. People that want to bring the restaurant into their kitchens. The book is filled with recipes from some of the nation's top chefs, with some of their signature recipes. But the recipes are reinvented, making them easier for the home cook to make in their kitchens. You get recipes from chefs like Daniel Boulud, Lidia Bastianich, Jose Garces, and Tom Colicchio, just to name a few. This cookbook contains all kinds of recipes that would be perfect for a date night at home!
All three recipes that I made weren't total successes, but 2 of the 3 were amazing. That being said, there are still a ton of recipes from this book that I would love to try, and I'm not letting the one recipe that I didn't love deter me from trying more!
In the book:
Starters and Soups: includes recipes like Summer Squash and Tomato Tart, Cambodian Chicken and Rice Soup with Shrimp, Roasted Cauliflower and Sesame Spread (featured below)
Salads: includes recipes like Asian Pea Salad with Honeyed Bacon, Kale and Apple Salad with Candied Pecans, Crab Salad with Caesar Vinaigrette
Pasta: includes recipes like Orecchiette Bolognese with Chestnuts, Gnocchi with Wild Mushrooms, Stir-Fried Noodles with Chanterelles
Fish: includes recipes like Chile-Honey-Glazed Salmon with Two Sauces, Seared Tuna with Tuna-Caper Sauce, Indian-Spiced Halibut Curry
Shellfish: includes recipes like Spicy Shrimp in Chile Sauce, Crab Cakes and Curry Mayonnaise with Apple Salad, Sizzled Clams with Udon and Watercress
Poultry: includes recipes like Chicken Saltimbocca, Green Chicken Masala, Stir-Fried Chicken in Lettuce Leaves (featured below)
Meat: includes recipes like Skirt Steak with Creamed Corn and Poblanos, Spicy and Sticky Baby Back Ribs, Wasabi Flank Steak and Miso-Glazed Potatoes
Vegetables and Sides: Includes recipes like Three-Bean Dal, Fresh Vegetable Curry, Farro with Artichokes and Herb Salad
Desserts:includes recipes like Strawberry Scones with Almonds, Banana Tart with Caramel Sauce (featured below), Chocolate-Chip-Pecan Cookie Bars
Number of Photos: lots
A photo of each recipe! And in typical Food & Wine fashion, they are all gorgeous photos.
Difficulty Level of Recipes: medium
The recipes are supposed to be simplified so a home cook can make them, but sometimes it's just changes as simple as using a pre-ground spice instead of grinding your own. That being said, I was surprised that really, the majority of the recipes are not that intimidating. There still are a few that I are a little bit higher of a difficulty recipe, but not so much that I wouldn't recommend this book for an average home cook.

Availability of Ingredients: easy to medium
Most ingredients are pretty common, and you should be able to find most of them in any well-stocked grocery store. The biggest changes made to the recipes to make them "home cook" friendly is changing up to ingredients that are easier for people to find.
Here's what I made:

Roasted Cauliflower and Sesame Spread (recipe below)



Loved this. It was so easy to make, and it was a great snack. I do have to mention that something turned a little bit bitter on me, (maybe from roasting the ginger??) but I didn't even care – I couldn't stop eating it! I had some pitas that I threw into the oven to make pita chips with, and they went perfectly. I could probably make this on a weekly basis and not get sick of it.



Stir-Fried Chicken in Lettuce Leaves

I know this is a favorite for many when eating out – it seems like a lot of restaurants have their own versions. This one was very delicious. I loved that it uses green lettuce leaves instead of iceberg, because no matter how hard I try, I can never get the whole iceberg leaves off like they have at some restaurants!


Banana Tart with Caramel Sauce

So, I didn't like this one at all. Just keeping it real here, but I ended up pretty much throwing the whole thing out. There was something strange taste wise – maybe the combination of bananas and lemon juice? And I felt like it needed some sort of pastry cream, or something else to bring it all together. But it was pretty, so I wish that it would have worked out better for me.

Roasted Cauliflower and Sesame Spread Recipe
---
Prep Time: 15 minutes
Cook Time: 40 minutes
Total Time: 1 hour
Yield: 2 cups 1x
Description
Roasted cauliflower and ginger are combined with spice and tahini to make a delicious and easy appetizer or snack.
---
Scale
Ingredients
1 (2 lb) head of cauliflower, halved crosswise and thinly sliced
1/4 cup vegetable oil
1 1/2 tablespoons minced fresh ginger
1 1/2 teaspoons ground coriander
kosher salt
3 tablespoons tahini
3 tablespoons lemon juice
3 tablespoons chopped cilantro
sesame seeds
pita bread or chips, for serving
---
Instructions
Preheat the oven to 450F.
In a large bowl, toss together the cauliflower, oil, ginger, coriander and salt. Spread the mixture on a rimmed baking sheet and roast, stirring once or twice, until lightly browned in spots, about 40 minutes.
Transfer the mixture to a food processor. Add the tahini and the lemon juice and pulse to a coarse puree. Season with salt. Add the cilantro and pulse to incorporate. Transfer to a bowl, top with sesame seeds, and serve with pita bread or chips.
———————
from FOOD & WINE Chef Recipes Made Easy
**Disclosure – I received a copy of this book for review, but all opinions are 100% mine.**