Black Bottom Cupcakes – chocolate cupcakes are baked with a cream cheese filling and served with a chocolate glaze on top.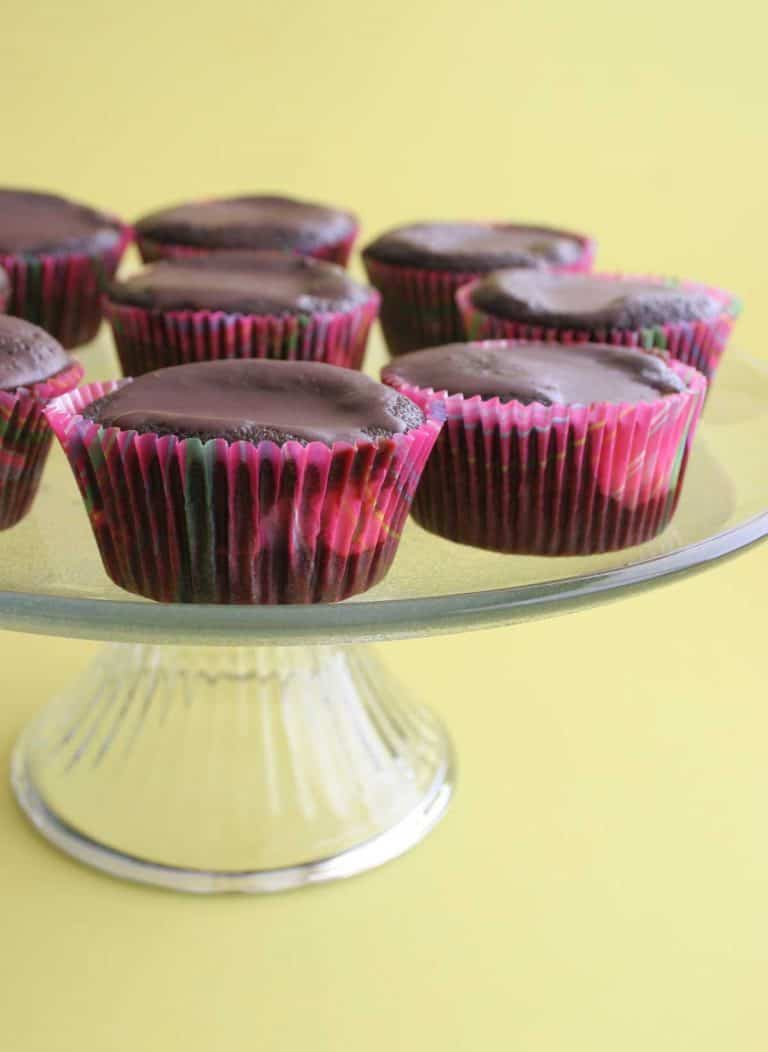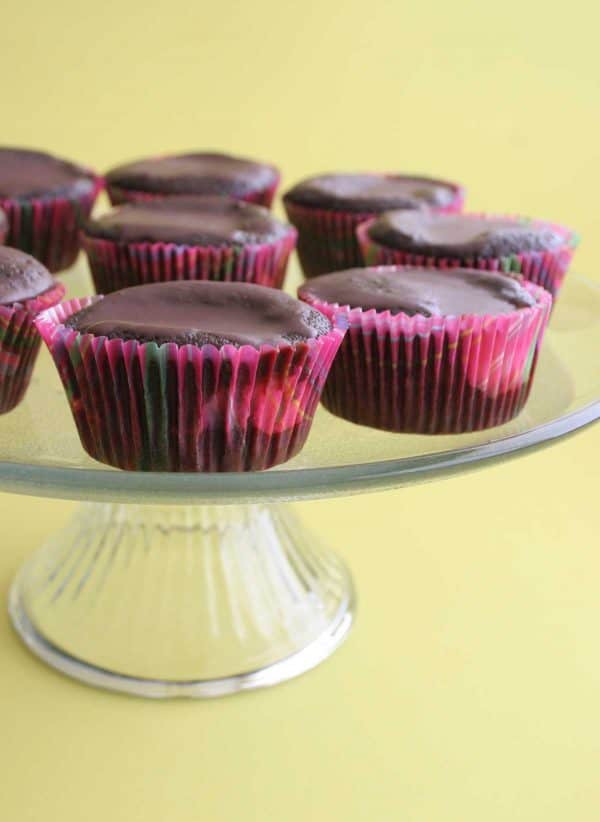 I love food blogging and the food blogging world. What started out as a way for me to keep track of what I've made and what I thought about it, and maybe to get a little practice on my photography, has turned into an all out hobby and obsession. When I'm making a meal or a dessert, in my head, I'm already coming up with the words I want to post with that meal. Sometimes the words come easy, and sometimes it's a little more difficult, but it is always fun.
I never imagined that I would actually have people come and comment on my blog, or even come look at my blog for that matter! I look at my stats every once in awhile, and see that a lot of my hits come from people "googling", looking for a recipe, and it humbles me that they sometimes end up on one of my pages. Now if only I could find a way to make a living from blogging – then I would have a job that I could truly say that I loved!
There is a downfall with blogging, though. I sometimes make something, or want to make something, and feel like it's just not blog worthy, or that it's been done so many times that why would someone want to hear about it again from me?? With the shear amount of food blogs out there today, though, it's almost impossible to find a recipe that someone has not done. And sometimes, I need to remember that this blog really is about me, and about what I cook and bake and about what I like. I don't think anyone would enjoy going to a blog where the author is not passionate about what he/she makes.
So today's recipe is one of those recipes that has been done a hundred times over, but really, it's so good that it could be done another hundred times over and I wouldn't get sick of it. I grew up knowing these as Chocolate Cheesecake Cupcakes, and I never knew of their popularity. The recipe my mom used is a little different. The cheesecake portion would always sink to the bottom, which I loved, but I also love that with this version, the cheesecake stays put in the middle of the cupcake. My mom's never had the chocolate glaze on top, either, but I loved that addition.
I did have to change this recipe up a bit. The filling was the perfect amount for 24 cupcakes, but I was quite short on the cake batter. I found that 1 1/2 times the batter was just about right (I had a little left over), so that is what I have included in the recipe below. I also had way too much of the chocolate glaze, so I halved that amount. I could have added more to the cupcakes but I didn't want the glaze to overpower the cupcake.
So even though they've been done many times before, they really are worth doing again!!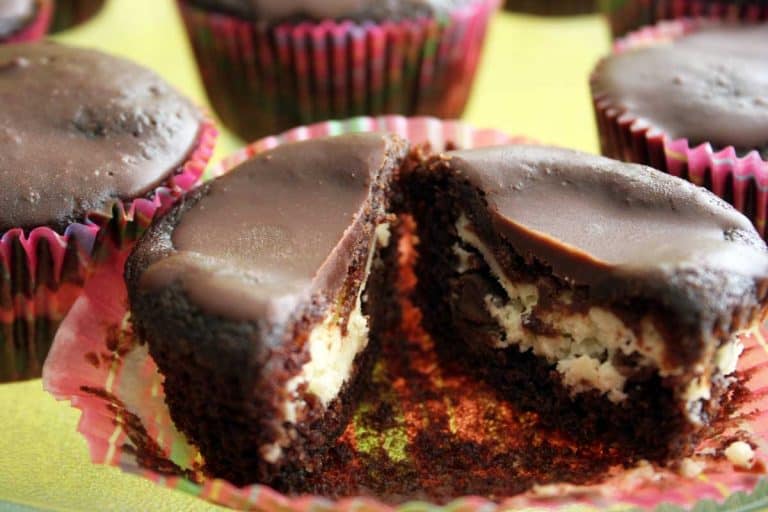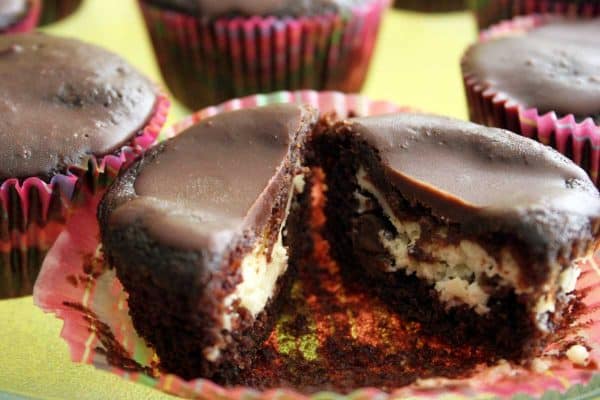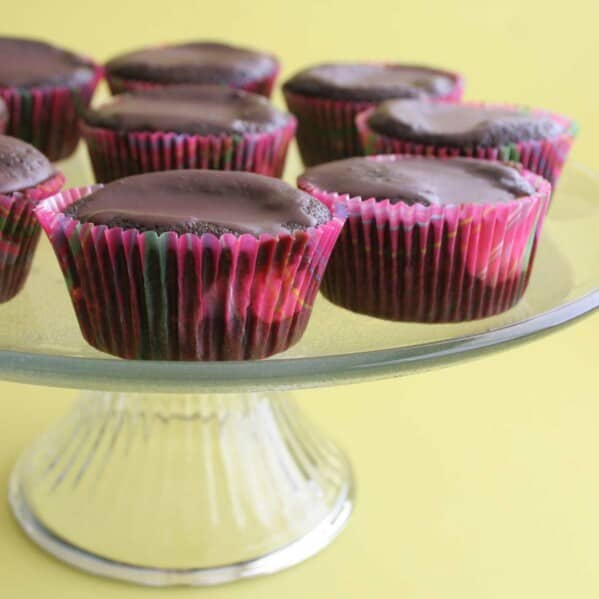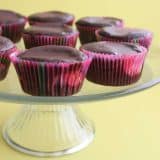 Black Bottom Cupcakes
---
Description
Black Bottom Cupcakes – chocolate cupcakes are baked with a cream cheese filling and served with a chocolate glaze on top.
---
Scale
Ingredients
Filling:
8 ounces cream cheese
1/2 cup confectioners sugar
1 large egg
pinch of salt
1 teaspoon pure vanilla extract
1 cup semi-sweet chocolate chips
Cupcakes:
2 1/4 cups all purpose flour
3/4 cup firmly packed dark brown sugar
3/4 cup granulated sugar
3/8 cup natural cocoa powder
1 1/2 teaspoon baking soda
3/8 teaspoon salt
1 1/2 cup boiling water
1/2 cup vegetable oil
1 1/2 tablespoons apple cider vinegar
1 1/2 teaspoons pure vanilla extract
For the Chocolate Glaze:
4 ounces semi-sweet chocolate, finely chopped
1/3 cup unsalted butter, cut into 3 pieces
1/8 cup light corn syrup
1/2 teaspoon pure vanilla extract
---
Instructions
Preheat oven to 350 degrees Fahrenheit. Line 2 standard 12-cup cupcake tins with paper cupcake liners.
To make the filling: In a medium bowl, cream together the cream cheese, confectioners' sugar, egg, salt, and vanilla until smooth and creamy. Stir in the chocolate chips.
To make the cake batter: In a large bowl, whisk together the flour, brown sugar, granulated sugar, cocoa powder, baking soda, and salt. In a 2 cup measuring cup, combine the boiling water, oil, vinegar, and vanilla. Make a well in the center of the dry ingredients and pour in the liquid ingredients. Stir together until smooth.
Fill each cupcake cup ¼ full of batter and top with a heaping tablespoon or so of the filling. Divide it evenly and use it all. Top the filling with the remaining batter, dividing it evenly. Bake until cupcakes are puffed and firm, about 25-28 minutes.
Meanwhile, make the glaze: Combine all ingredients in a microwave-safe bowl and microwave on high for 1 minute. Remove from the microwave and stir until smooth. If the chocolate is not completely melted, continue to microwave for 30 second intervals and stir until smooth.
Transfer the cupcakes in the pans to a wire rack and let cool completely. When cool, dip the top of each cupcake in the chocolate glaze. Feel free to double dip, if you like. Let the excess glaze drip from the cupcakes for a few seconds and then place the cupcake right-side up on the wire rack until glaze firms up before serving. I found that it was easier to just spoon the glaze on top of the cupcakes and spread gently.