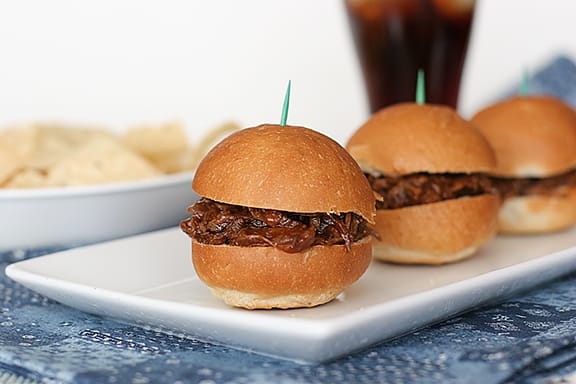 Can you believe that Memorial Day is only a week away?? To me, that is when it always feels like the beginning of summer. I'm having a hard time grasping that this year, since we still had the heater on this last week, but I'm hoping that the nice weather will be here to stay pretty soon. And nice weather – and Memorial Day – signals the beginning of backyard barbecues!!
To get us all ready for those barbecues, and to give you some ideas if you will be spending some time outside next Monday, all this week I am going to be featuring foods that are perfect for backyard get-togethers. First up are these barbecue beef sandwiches that I actually blogged about back in 2008. The first time I made them, I made them for a family picnic at the park, and when I was looking for something to make for a family get-together earlier this month, these sandwiches came to mind. Not only are they perfect for a backyard party, but they are super easy, too! You basically just throw a bunch of ingredients in the slow cooker, and a few hours later, you just have to shred the beef and cook down the sauce. I love the sauce in this recipe. The only thing I would do differently is to skim the fat off of the sauce better, because this time around, they seemed a bit greasier than the first time I made them. But they were a hit with the family, and I'm still keeping them in the "keep" pile!!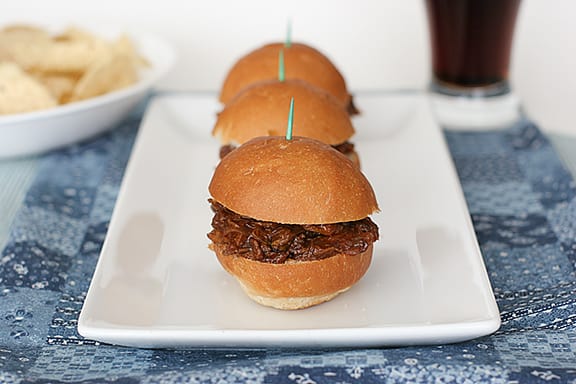 Ting-Town Barbeque Beef Sandwiches
adapted from allrecipes.com
Serves 16
3 stalks celery, sliced thin
1 large onion, coarsely chopped
4 cloves garlic, minced
1 cup ketchup
1 cup barbeque sauce
1 tablespoon prepared yellow mustard
2 tablespoons cider vinegar
2 tablespoons Worcestershire sauce
2 tablespoons brown sugar, packed
1 teaspoon chili powder
1 teaspoon salt
1 teaspoon ground black pepper
4 pounds boneless beef chuck roast, trimmed of fat
16 hamburger buns
To make the sauce, combine the celery, onion, garlic, ketchup, barbeque sauce, mustard, cider vinegar, Worcestershire sauce, brown sugar, chili powder, salt, and pepper in a bowl; stir until well blended.
Place the chuck roast in a slow cooker. Pour the sauce evenly over the meat. Cover and cook the roast on HIGH for 3 hours. Reduce heat to LOW, and continue cooking until very tender, about 4 hours more.
About 1/2 hour before serving, remove the chuck roast from the slow cooker and shred the meat with a large fork. Empty the sauce and juices to a sauce pan, and cook uncovered over medium heat so the sauce thickens, for 20 minutes.  Skim off the fat.
Put the meat and sauce back in the slow cooker and stir to combine. Keep warm in the slow cooker.
Serve on hamburger buns.