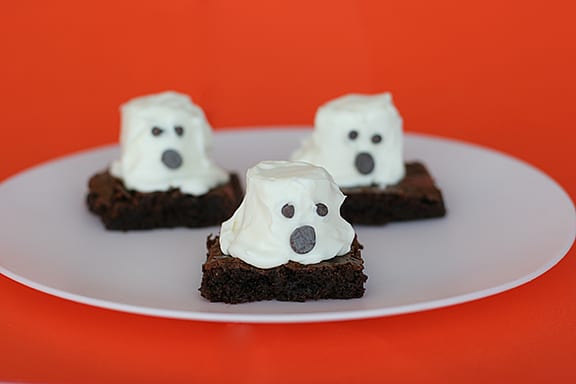 I tend to bite off more than I can chew.  I dream big, but most of the time, I forget that life doesn't normally work that smoothly!  When I decided to do Halloween recipes this week, I guess I really should have planned ahead of time and had everything done.  But here I am, the morning of the last day of the Halloween goodies, and I'm not done with my last treat!  So although this one is posted a little later than I usually post in the mornings, and although I may be late to work today, I am delivering!!
This is a super simple dessert that can be thrown together last minute.  And it's versatile, too.  Use your favorite brownie recipe or use a boxed brownie.  Use a homemade frosting, or buy it pre-made. But this one is all about presentation!
I'm sad to be saying goodbye to the Halloween treats for this year – but then again, there is always another holiday around the corner!!
Boo Brownies
adapted from Betty Crocker
brownies
large marshmallows
white frosting
chocolate chips or black gel for decorating
Top each brownie with a large marshmallow.  Put a dab of frosting on the bottom of the marshmallow so that it will stick to the brownie.
Heat frosting in microwave for 10-30 seconds or until warmed. Spoon 1 tablespoon of frosting over the top of each marshmallow, allowing it to coat the marshmallow. Decorate with chocolate chips or with black decorating gel.