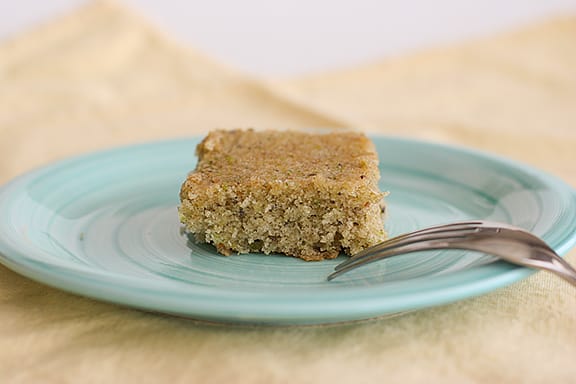 One of my favorite things to do beside cooking and photography is reading. I've actually been a reader all of my life, but for some reason, in the last few years, I haven't read much. But towards the end of last year, I started reading a lot more again, and so one of my New Year's resolutions for 2010 was to read at least 12 books – averaging one a month. Well, I guess I really got back into reading, because it's July and I am on book #47 for the year!!
One of the books I read this year was a charming little book called "Eat Cake" by Jeanne Ray. I think I actually heard about it from another food blogger, but I can't remember who. But since it combined reading and recipes, I fell in love. And there is one quote from the book that I really loved and I totally, 100% agree with:
Cakes have gotten a bad rap. People equate virtue with turning down dessert. There is always one person at the table who holds up her hand when I serve the cake. No, really, I couldn't, she says, and then gives her flat stomach a conspiratorial little pat. Everyone who is pressing a fork into that first tender layer looks at the person who declines the plate, and they all think, That person is better than I am. That person has discipline. But that isn't a person with discipline, that is a person who has completely lost touch with joy. A slice of cake never made anybody fat. You don't eat the whole cake. You don't eat a cake every day of your life. You take the cake when it is offered because the cake is delicious. You have a slice of cake and what it reminds you of is someplace that's safe, uncomplicated, without stress. A cake is a party, a birthday, a wedding. A cake is what's served on the happiest days of your life.
Cake does make me happy. And by the time I was finished reading this book, I was hungry for cake. Lucky for me, many recipes of the cakes that are talked about in the book were included at the end of the book. I had a hard time deciding which recipe to make, but I finally decided on this Pistachio Cake. Yes, it may look like not much, but believe me – this is simplicity in it's finest. Maybe it's not a cake that you would serve at a dinner party where you really want to impress your guests, but it's a cake that you would serve among friends. And really, those are the best kinds of cakes!!
Pistachio Cake
adapted from Eat Cake
Makes 1 13×9 cake
3/4 cup shelled natural pistachios (about 4 ounces. If you are using salted pistachios, omit the salt in the ingredient list.)
1 cup all-purpose flour
2 teaspoons baking powder
1 teaspoon cinnamon
1/4 teaspoon salt
1/2 cup milk
1/4 teaspoon vanilla
1 1/2 sticks (3/4 cup) unsalted butter, softened
1 cup sugar
3 large eggs
Preheat the oven to 350F. Butter a 13×9 inch baking pan then line it with parchment paper. Then butter the parchment paper. Dust with flour.
Put the pistachios in a food processor and pulse until they are finely ground. Be careful not to pulse so much that they turn into a paste, though. Add the flour, baking powder, cinnamon and salt. Pulse once or twice to mix.
In a mixing cup, combine the milk and the vanilla.
In a large bowl, beat together the sugar and butter until it is pale and fluffy. Add the eggs one at at time, beating well in between each addition. Add the pistachio flour and milk in batches alternately, beginning and ending with the flour mixture while mixing at low speed. Mix just until combined.
Spread the batter evenly in the prepared cake pan. Bake in the middle of the preheated oven until a toothpick inserted in the middle comes out clean, about 20 minutes. Cool in the pan on a cooling rack for 10 minutes, then run a knife around the outside of the cake and invert it on the cooling rack. Remove the paper and transfer to a serving platter.
Serve warm or at room temperature.