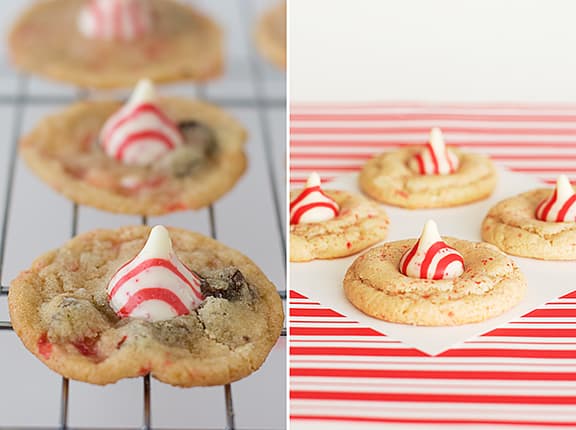 If you are a regular reader of my blog, you know that it's pretty rare for me to come up with my own recipe.  I love my cookbooks and magazines – and all the wonderful websites and blogs out there.  But lately, I've been trying to venture a little bit out of my comfort zone and try something out when an idea pops into my head.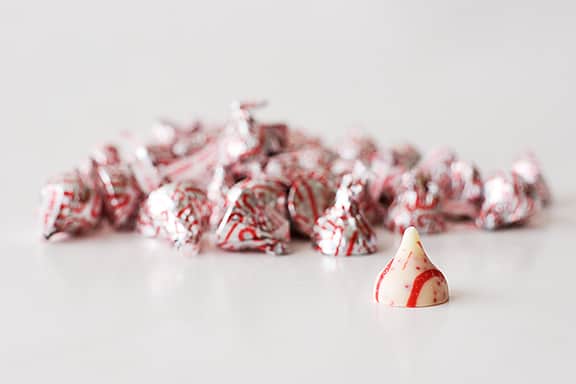 Well, the minute I tried of the peppermint kisses that are on the store shelves right now, I knew I wanted to make something with them.  And of course, since it is Christmastime, a cookie is what I wanted.  The only problem was that everywhere I looked, there were only chocolate cookie recipes that used these kisses.  (Or of course the standby peanut butter blossoms, but I wasn't really feeling the peanut butter/mint combo!)  So I decided to try something on my own.
Try #1 – I thought I would just use my go-to chocolate chip cookie recipe, but I would substitute mint extract and I would use crushed candy canes for part of the chocolate chips.  This was both a success and a failure.  Failure – because the cookies spread too much and they didn't look just as I had imagined them.  But success – because they sure did taste good!  I was afraid that the candy cane would stay hard and make the cookie have hard chunks that you bit into, but luckily, the candy canes melt down and you just get the minty flavor.
I was just going to stick with these cookies, but the idea kept nagging in my head.  So I decided to go for round #2.  For these, I used a little bit different recipe, hoping that the cookies would look just how I was imagining.  Instead of adding the candy cane into the cookie, I pulverized them in the food processor, and make a candy cane "powder" that I rolled the dough in.  I'm not sure it added a ton of flavor, but I love the sparkle that it gave to the cookies!!
These cookies were equally delicious – so really – I don't think I could even choose a favorite between the 2!  Yes, one is prettier than the other, but isn't the taste what they are really about?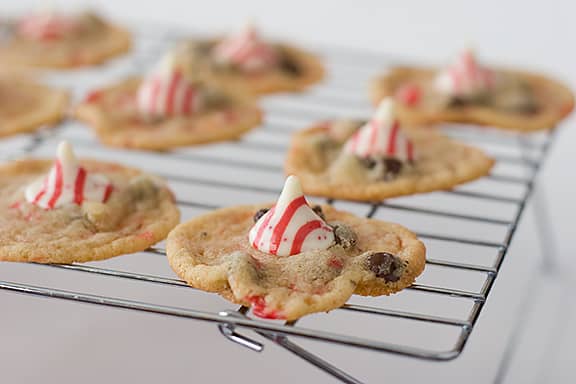 Peppermint Kiss Cookies I
1/2 cup butter, at room temperature
1/2 cup shortening
3/4 cup white sugar
3/4 cup brown sugar
1 teaspoon peppermint extract
2 eggs
2 1/4 cups flour
1 teaspoon baking soda
1 teaspoon salt
1 cup chocolate chips
1 cup candy canes, coarsely crushed (about 8 candy canes)
Hershey's peppermint kisses, unwrapped (about 30)
Preheat oven to 375F.
Beat together the butter, shortening, both sugars and peppermint extract.  Beat in the eggs, one at a time, scraping down the bowl between eggs.
In another bowl, mix together the flour, baking soda and salt.  Add to the creamed butter/sugar mixture and mix until combined.  Mix in the chocolate chips and crushed candy canes.
Roll into 1-inch balls and place on a greased cookie sheet, 2 inches apart.  Bake for about 10 minutes.
Let cool for a minute or two and then press an unwrapped kiss in the center of the cookie.  Let cool before removing from baking sheet.


Peppermint Kiss Cookies II
1/2 cup butter, softened
1/2 cup sugar
1/2 cup packed brown sugar
1 egg
1 teaspoon peppermint extract
2 cups flour
1 teaspoon baking soda
1/4 teaspoon salt
candy canes, completely crushed in a food processor
24 unwrapped peppermint kisses
Cream together the butter and the sugars.  Beat in the egg and the extract.  Combine the flour, baking soda and salt; gradually add to the creamed mixture.  Cover and chill for at least 1 hour.
Preheat the oven to 325F.
Roll the chilled dough into 1-inch balls, then roll in the candy cane "powder".  Place 2 inches apart on a cookie sheet and bake in the preheated oven for 10-12 minutes or until golden brown.  Remove from oven and place a kiss in the center of each cookie.  Let cool completely.