Super soft peppermint cookies hold another peppermint surprise in the center in these Candy Cane Kiss Stuffed Pudding Cookies.
I'll admit it – I'm a sucker for holiday candy.
Cinnamon jelly hearts at Valentine's Day, cream eggs at Easter, and candy corn at Halloween. I'm always finding myself strolling down the holiday aisle at the grocery store, looking for that one candy that is only out at a certain time of year. I just can't help myself.
I love that some candy isn't sold year round because I would just be in trouble, wanting to eat it all the time. But I hate it, also, because then I end up going crazy and eating way too much – thinking that I will have to wait another whole year before I get to eat that candy again. It's a vicious cycle.
But even if I eat way too much, there area few kinds of candy that I can't live without when they are in the stores.
Today – Candy Cane Hershey's Kisses Chocolates.
If you haven't tried the Candy Cane Kisses, you don't know what you are missing. These things are delicious and addictive. Seriously. You start snacking on them, and before you know it, the bag is halfway empty. I wouldn't know this personally, though. 😉
Somehow, though, I managed to keep my hand out of the bag so that I could make these cookies. Well, not all of the way out, because you don't quite need the whole bag for this recipe. I did that on purpose. Because there is no way that I could use all of the kisses without being able to snack on them.

I wanted super soft cookies, so I went with a pudding cookie. If you haven't tried pudding cookies, you definitely should try these out. They are super soft, and they stay that way. And since I'm a soft cookie kind of gal, these are right up my alley. Stuff them with a candy cane kiss, and I'm already sold, but then you melt more kisses and drizzle them over the outside of the cookies. They are peppermint heaven! Even my peppermint hating kids loved these.
It's pretty simple to get that kiss in the center, but here is how you do it: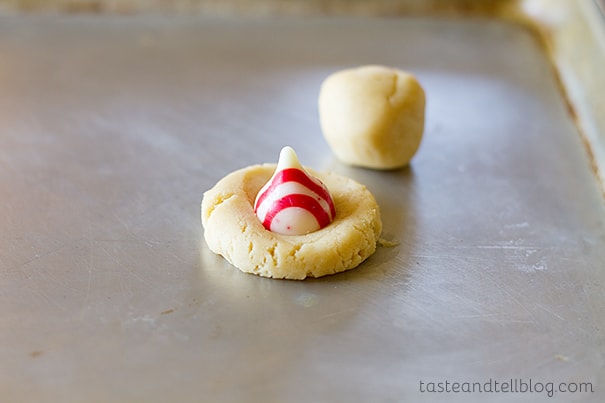 Take one ball of the cookie dough and set a kiss on top. I find that it's easiest if you flatten the ball just a little bit.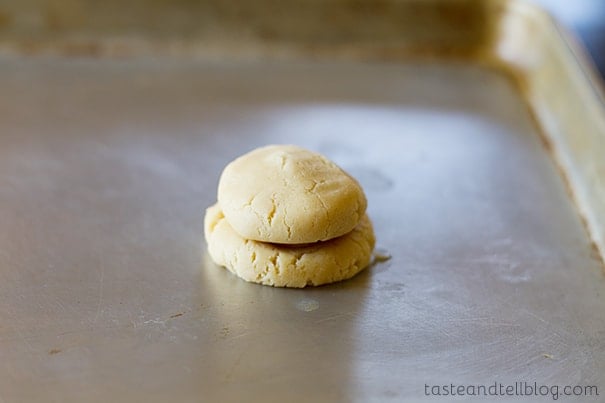 Take another ball of dough and place it on top of the kiss. (Again, I slightly flatten the ball.)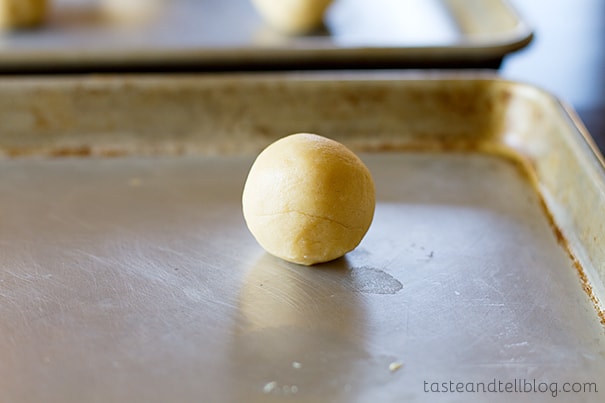 Then just roll it all together into one big ball. It's as easy as that!!
I'm guessing that these cookies would be great to leave for Santa on Christmas Eve!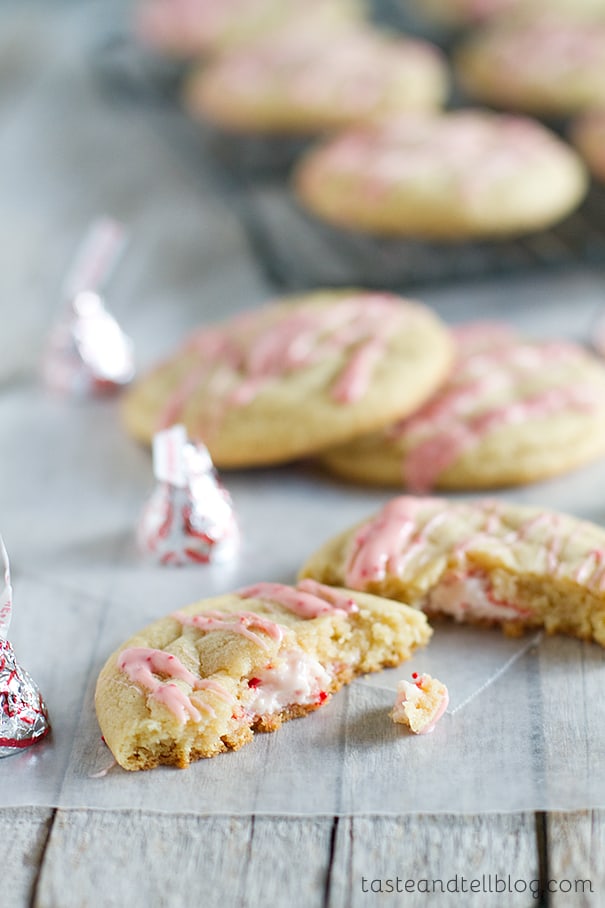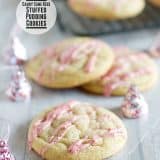 Candy Cane Kiss Stuffed Pudding Cookies
---
Prep Time: 15 minutes
Cook Time: 24 minutes
Total Time: 1 hour 30 minutes
Yield: 24 cookies 1x
Description
Super soft peppermint cookies hold another peppermint surprise in the center in these Candy Cane Kiss Stuffed Pudding Cookies.
---
Scale
Ingredients
3/4 cup butter, at room temperature
1/2 cup packed brown sugar
1/2 cup granulated sugar
2 eggs
1/2 teaspoon peppermint extract
2 1/4 cups all-purpose flour
1 package (3.4 oz) white chocolate pudding (instant)
1 teaspoon baking soda
1/4 teaspoon salt
44 Candy Cane Hershey's Kisses Chocolates, unwrapped, divided
---
Instructions
Preheat the oven to 350F.
In a large bowl, cream together the butter and both sugars until light and fluffy. Add in the eggs and mix until completely combined. Add in the peppermint extract.
In another bowl, combine the flour, pudding mix, baking soda, and salt. Add into the creamed mixture and mix until combined.
Form the dough into tablespoon sized balls. Take one ball and place a kiss in the center. Top with another ball, and form the dough into a large ball, encasing the kiss in the middle of the dough. Place on a baking sheet, at least 3 inches apart.
Bake for 10-12 minutes, or until lightly browned. Let cool on the baking sheet for a few minutes, then transfer to a cooling rack to cool completely.
Once cool, melt the remaining 20 kisses in a microwave safe bowl in 15 second increments until they are completely melted and smooth. Drizzle the melted chocolate over the cooled cookies. Allow the chocolate to set up before serving.
More Candy Cane Flavored Desserts: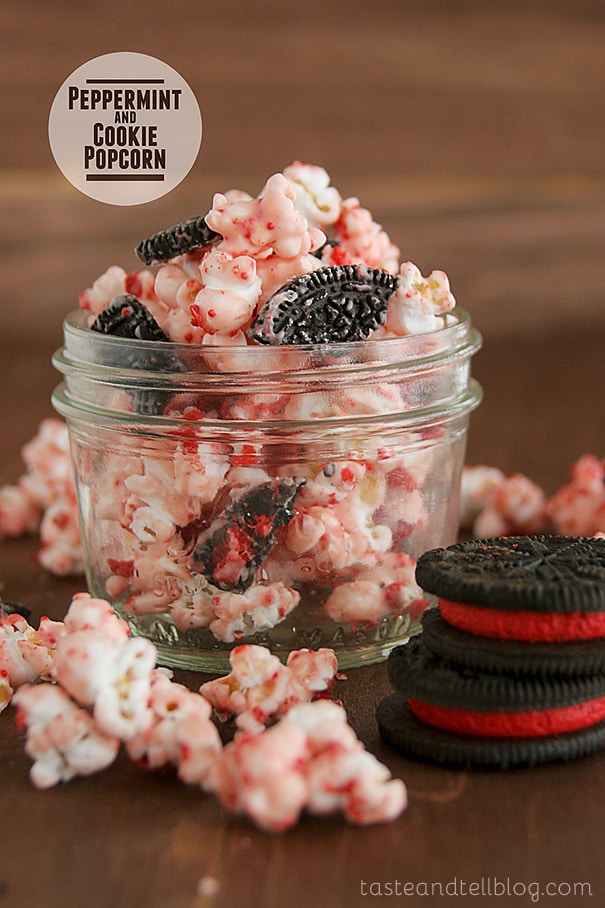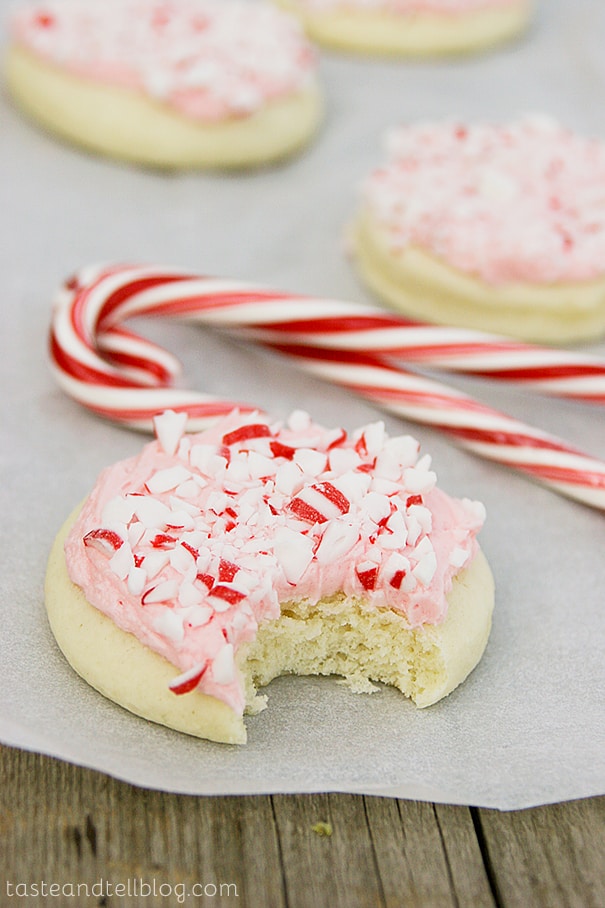 Around the Web:
Peppermint Brownies from Eats Well With Others
Chewy Jumbo Double Chocolate Candy Cane Kiss Cookies from Lauren's Latest
Peppermint Truffle Brownie Bites from Mountain Mama Cooks