Lightly spiced ginger cookies are filled with a maple cream cheese filling for the perfect Christmas ginger cookie.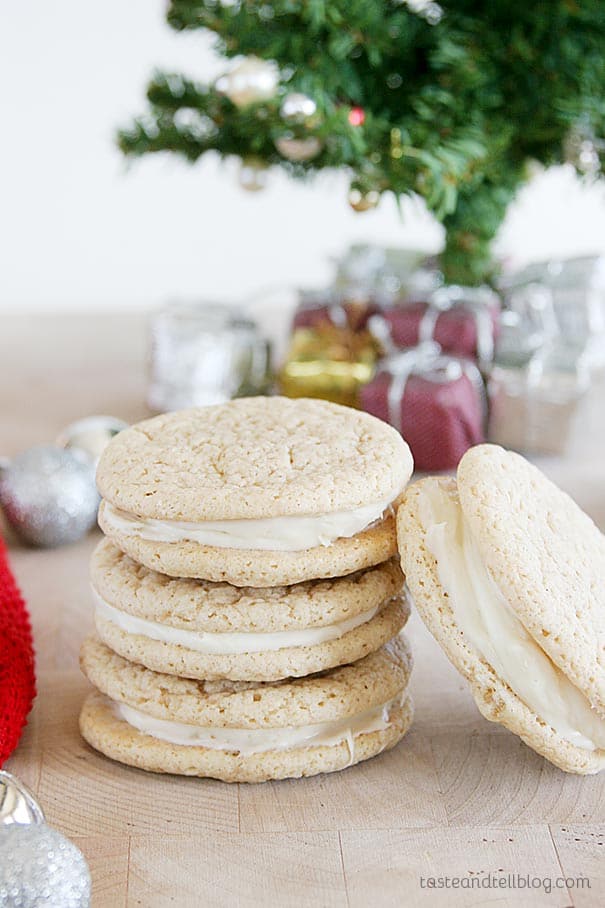 Is anyone else wondering where the time has gone? Christmas is less than a week away, and I'm thinking that time really needs to slow down. There are so many Christmas activities that I still want to do, and there is just not enough time to do everything!!
One thing that I was really happy that I got to participate in this Christmas season was Salt Lake's Cookie Swap. Bloggers all over the US got together to hold cookie swaps, raising money for Cookies for Kids with Cancer. We just had a small gathering here in Utah, but I'm looking forward to where this event will go in years to come. It was so great to get together with local blogging friends for food, conversation and fun and to raise money for such a great cause. (If you want to see some great photos from the event, check out Heidi's post!)
I don't know about you, but whenever I'm getting together with people who love food as much as I do, the pressure is on to bring something delicious. And this group of Salt Lake bloggers is so talented. You get cookies like Maria's Snickerdoodle Biscoff Sandwich Cookies, Becky's Chocolate Dipped Hazelnut Lace Cookies, Annalise's Sugar Cookie Bars, Barbara's Lemon Bar Cookie Cups, and Heidi's Homemade Fudge. (And so many other delicious cookies – and an amazing brunch, as well.) Of course, I had a ton of recipes that I wanted to try out, but didn't know how they would turn out, so it was a risk. So, I decided to bring not one cookie, but two!! I made a cookie that I knew was delicious, and then tried out this recipe for these Christmas Ginger Cookies. Luckily, I really loved these cookies!
I do have to mention that these ginger cookies came from a cookbook that I was sent to review. The cookbook is full of whoopie pie recipes, and I was so excited to try out some of the great flavor combinations that I found in the book. But unfortunately, out of the 3 recipes that I tried, this was the only recipe that even worked out. And to me, these weren't whoopie pies. They were cookies. So, I decided to skip the review and just bring you this recipe, because I did think these were delicious!
This was my first time working with candied ginger. And I'll tell you – I was really worried at first. Have you ever tried a little piece of candied ginger? If you are looking for candy, this is not candy. Whoa – that stuff is strong! I added it to my ginger cookies, and prayed that it wouldn't ruin the cookies. But the ginger almost melted into the cookies, and what you ended up with was a deliciously spiced cookie with great ginger flavor. And the maple cream – oh, the maple cream. I wanted to eat it with a spoon. (Which is how I just may have eaten the leftover filling!)
These ginger cookies are a great change up from your typical Christmas cookies. If you are looking for a last minute addition to your holiday baking, these ginger cookies would be a great one to add!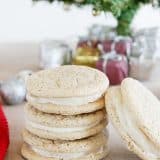 Christmas Ginger Cookies
---
Prep Time: 20 mins
Cook Time: 20 mins
Total Time: 40 mins
Yield: 20-25 sandwich cookies 1x
Description
Lightly spiced ginger cookies are filled with a maple cream cheese filling for the perfect Christmas cookie.
---
Scale
Ingredients
Cookies
2 1/4 cups flour
2 teaspoons baking powder
1 teaspoon cinnamon
1/4 teaspoon ground cloves
1/2 teaspoon ground ginger
4 ounces butter, at room temperature
1 1/4 cups sugar
2 eggs
1/4 cup sour cream
1/4 cup candied ginger, chopped
Maple Cream
8 ounces cream cheese, softened
1 cup powdered sugar
1 tablespoon heavy whipping cream
2 tablespoons maple syrup
---
Instructions
Preheat the oven to 350F. Line baking sheets with parchment paper or use silicone baking mats.
In a bowl, mix the flour and baking powder. Add the cinnamon, cloves and ginger, and combine well. Set aside.
In the bowl of a stand mixer, cream together the butter and sugar until light and airy. Add the eggs, one at a time, mixing well after each addition.
Gradually add the dry ingredients, sour cream and candied ginger. Mix just until combined.
Fill a pastry bag with the mixture and pipe into circles – about 1 1/4 inches in diameter – onto the baking sheets.
Bake for 7-10 minutes, or until they are springy to the touch. Remove from the oven and allow to cool for a couple minutes before transferring to a wire rack to cool completely.
Prepare the filling:
In a mixing bowl, combine the cream cheese and powdered sugar. Beat until the mixture is light and fluffy. Add the whipping cream and the maple syrup. Mix well.
When the cookies are completely cooled, spread the filling on the bottom side of one cookie, topping it with another cookie. Press gently.
Like what you see here? Make sure you are following Taste and Tell for more great recipes and ideas!!

Facebook ** Pinterest ** Twitter ** Instagram ** Google+
or you can subscribe to my newsletter or Feedly or Bloglovin


————————
And even more Christmas cookies!
Decorated Sugar Cookies from Glorious Treats
Cranberry Swirl Cookies from Beantown Baker
Chocolate Kissed Gingerbread Cookies from Becky Bakes
Swiss Walnut Christmas Cookies from Eat, Little Bird
Chocolate-Covered Cherry Delights from Taste and Tell