Sweet and buttery with a hint of coconut, these butterscotch bars are super easy and crowd pleasing.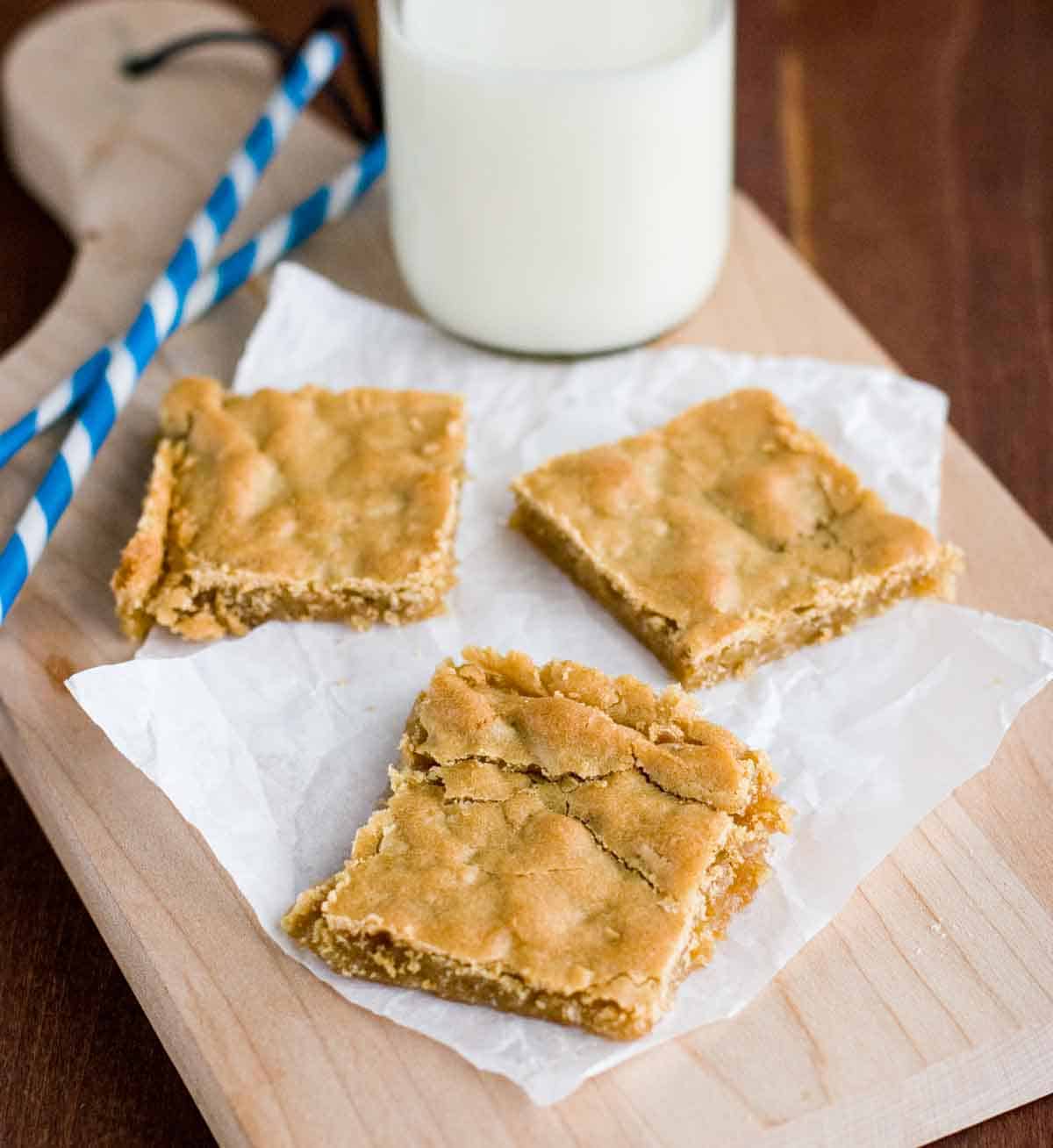 Ok, first of all, it was brought to my attention that I should specify which version of the Joy of Cooking I am using for this month's Cookbook of the Month – which I totally intended on doing. But the thing is, I don't really know how to tell! So, I went to the copyright page, and the last copyright is 1975, so I'm assuming this is the 1975 version. Anyone know how to tell??
Second, I was pretty confused on this recipe while I was making these Butterscotch Bars. My biggest complaint with this cookbook is that the directions are so basic and sometimes, a little more direction is needed. In the recipe, it says to stir the 1 cup of brown sugar into the 1/4 cup of butter until the sugar is dissolved. Well, after cooking the mixture for over 15 minutes, my sugar was not even close to dissolved, so I just went with it. I've read other places on the web of people who have made these, and a lot of the time, the instructions say to just mix them together. I guess everyone is confused by the "stir into it until dissolved" instructions!
Third, these bars in the book are called "Butterscotch Brownies." I refuse to call them that. Not only are they not brownies, but they are not even blondies in my opinion. But really, all that matters is how they taste, and these are super-duper-addicting-delicious. I'm warning you right now, if you make these butterscotch bars, you may just end up sitting and eating almost the whole pan in one sitting. They really are that addicting and good. I made these to take some to a neighbor, but she wasn't home, and I ended up eating too many of them that night to take them over to her the next day!! I guess I need to make something else…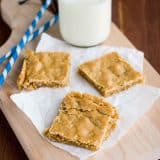 Butterscotch Bars
---
Author:
Prep Time: 15 minutes
Cook Time: 25 minutes
Total Time: 1 hour 30 minutes
Yield: 16 bars 1x
Category: Dessert
Method: Baked
Description
Sweet and buttery with a hint of coconut, these bars are super easy and crowd pleasing.
---
Scale
Ingredients
1/4 cup butter
1 cup brown sugar
1 egg
1 teaspoon vanilla
1/2 cup all-purpose flour
1 teaspoon double-acting baking powder
1/2 teaspoon salt
3/4 cup sweetened coconut
---
Instructions
Melt the butter in a saucepan. Stir the brown sugar into the butter, and then set aside to cool slightly.
Preheat oven to 350F. Lightly grease a 9×9-inch pan.
When the butter/sugar mixture has cooled slightly, beat in the egg and the vanilla.
Sift the flour, then re-sift with the baking powder and salt. Mix flour mixture into the sugar mixture. Mix in the coconut.
Pour batter into the prepared dish and bake for 20-25 minutes. Cut into bars when cool.