Everyone will love these bars that taste similar to PayDay candy bars. Super easy and full of peanut flavor!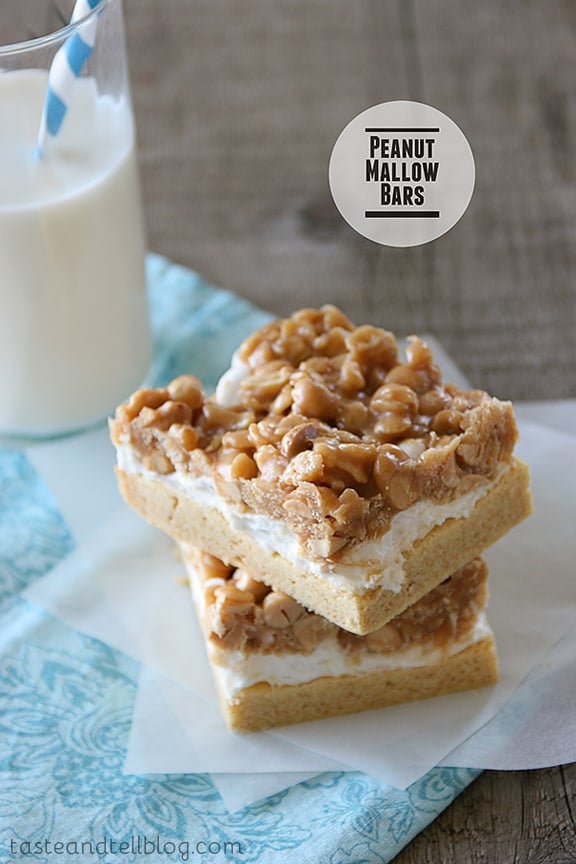 I love trying new recipes.  (Which is a good thing when you are a food blogger!) I have a few tried and true recipes that I make over and over again, but by and large, when I go to make something, I'm usually trying a new recipe.
Well, you know that you've been blogging a long time, and that you've tried hundreds of different recipes, when you find a new recipe that you want to try, only to discover – after it's made – that you've made something very similar before.  That is what happened with these bars.
It all started several weeks ago when I was trying to decide a dessert to bring to a family get-together.  I was browsing through my mom's cookbooks and came across this recipe for these Peanut Mallow Bars.  They sounded easy, they sounded delicious, and I knew I wanted to make them.  I didn't end up making them for that get-together, but a few nights later, I was craving something sweet and these came to mind.  I had everything on hand, so I decided to make them.
It wasn't even until I ate one when they were done that I thought to myself – hmmm, I think I've made something similar to this before!  Sure enough, after getting online and checking this blog, I remembered these Salted Peanut Chews.  Although they are a little bit different – mostly just in the crust (this recipe uses a cake mix, the other is from scratch) – the flavors were very, very similar.  I remembered loving them when I first made them.  Which I guess is why I was so drawn to this recipe the next time around!
I can't really compare the 2 recipes, since I did make the first ones over 3 years ago, but from what I remember, I do think I preferred the crust on the old one better.  The cake mix was super easy, and super convenient if you keep them on hand, but it was a little thicker than I wish I would have been.  But really, these were just good.  And surprisingly, I liked them better as they got older.  The last few were the best, in my opinion!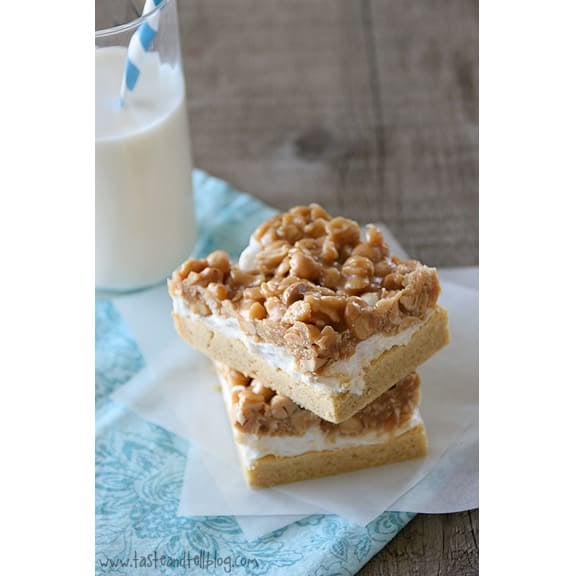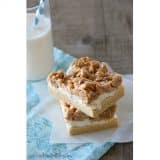 Peanut Mallow Bars
---
Prep Time: 15 minutes
Cook Time: 25 minutes
Total Time: 1 hour
Yield: 2 1/2 dozen bars 1x
Description
Everyone will love these bars that taste similar to PayDay candy bars.
Super easy and full of peanut flavor!
---
Scale
Ingredients
1 package (18-1/4 oz.) yellow cake mix
2 tablespoons water
1/3 cup butter, softened
1 egg
4 cups miniature marshmallows
Peanut Topping
10 oz. peanut butter chips
2/3 cup light corn syrup
1/4 cup butter, cut into cubes
2 cups crisp rice cereal
2 cups salted peanuts
2 teaspoons vanilla extract
---
Instructions
Preheat the oven to 350F.
Beat together the cake mix, water, butter and egg until blended. (Batter will be thick.) Spread into a greased 13×9-inch baking pan, using your hands if needed to even out.
Bake in the preheated oven for 22 -25 minutes or until a toothpick inserted in the center comes out clean. Sprinkle the marshmallows on top and return to the oven. Bake an additional 2 minutes, or until the marshmallows are melting. Remove from the oven and allow to cool on a wire rack.
In a large saucepan, combine the peanut butter chips, corn syrup and butter. Cook, stirring, over medium heat until smooth. Remove from the heat and add in the cereal, peanuts and vanilla. Carefully spread over the marshmallows.
Cool completely, then cut into bars.
———————
From Taste of Home: Church Supper Desserts
————————
Here are some more peanut and marshmallow inspired goodies:
Chocolate, Peanut Butter and Marshmallow Pudding Cookies from Picky Palate
Peanut Butter Marshmallow Crispy Brownies from The Cooking Photographer
Salted Peanut Chews from Taste and Tell
Marshmallow Crunch Brownie Bars from Brown Eyed Baker