Anyone can make this ridiculously easy Gooey Caramel Chocolate Dump Cake. No box mixes, only a short amount of time to throw it together, and this humble cake can be satisfying any chocolate craving.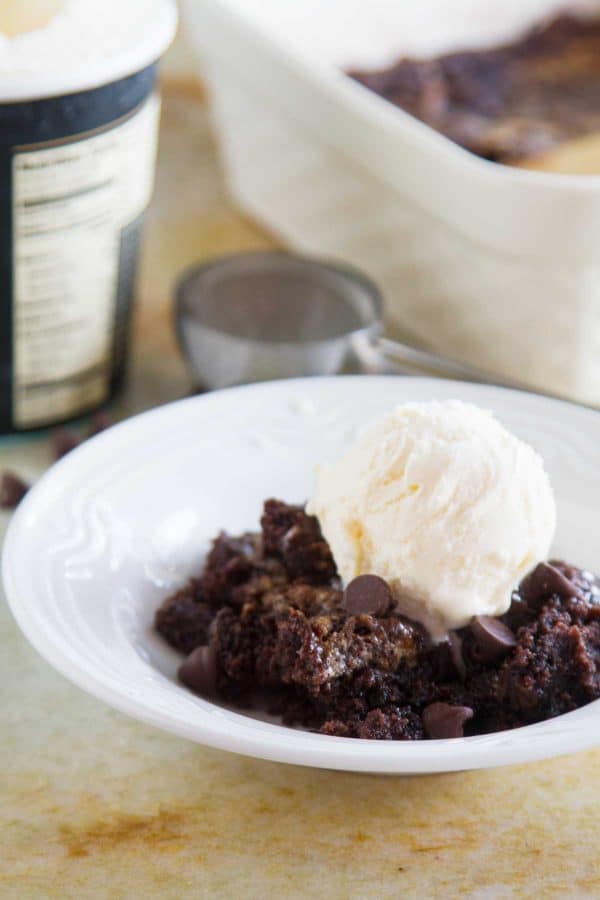 The humble dump cake. You know we all love them. Throw some ingredients in a pan and bake them up, and dessert is served.
You all know that I'm a fan of the humble dessert. That's why my Oatmeal Cake is one of my favorites. And dump cakes fall into that same category.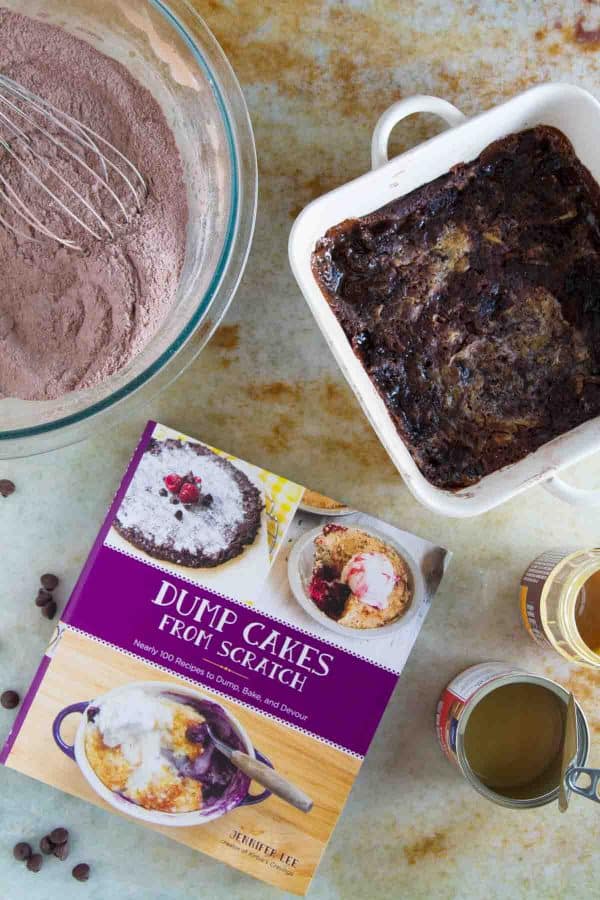 So when I heard about a cookbook dedicated to dump cakes, I was definitely ready to jump on that train. But wait – while so many dump cakes are simply a box cake mix and a few other ingredients, this cookbook was making them from scratch. No box cakes allowed.
Dump Cakes From Scratch by Jennifer Lee (auther of Kirbie's Cravings) is filled with almost 100 recipes that you can dump and bake. They may look humble, but we all know how good they are!! While the majority of the recipes are "cake", there are also recipes for cobblers, bars, crumbles and more. I am totally a fan of the simple, humble Sunday night dessert, and this book is full of recipes that would be easy to whip up any night of the week.
Here are the details:
Number of Photos: lots. There is a full page photo of every recipe.
Difficulty Level of Recipes: Easy. As long as you follow the instructions, I think anyone could make these recipe.
Availability of Ingredients: Easy. Most of the ingredients are easy, basic kitchen ingredients.
Other recipes I want to make:
Peaches and Cream Cobbler
Chocolate Covered Strawberries Cake
Peanut Butter Chocolate Cake
Cookies and Cream Cookie Cake
Almond Crunch Cake
Gooey Cake Bars
Candy Bar Cake
White Chocolate Raspberry Cake
Buy Dump Cakes From Scratch on Amazon.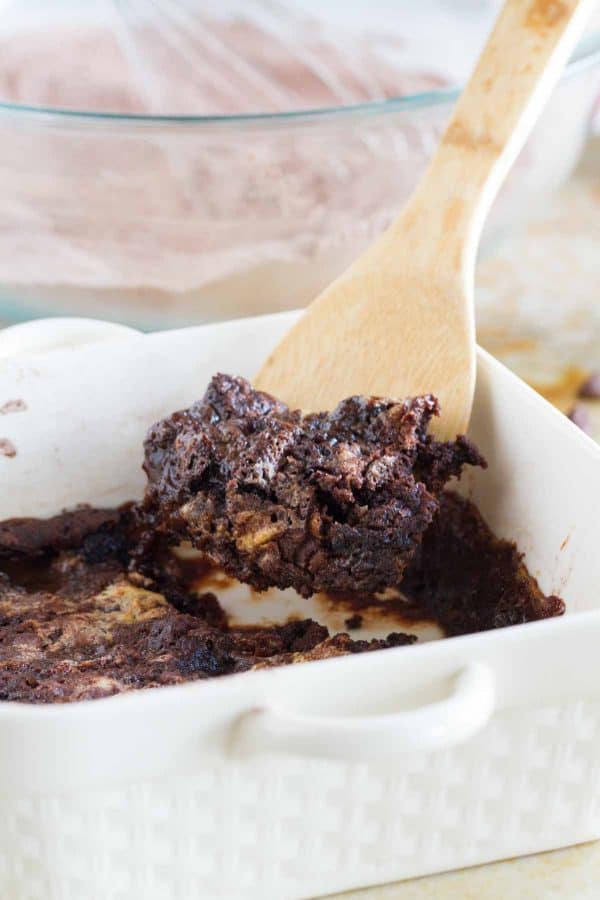 I've been on a bit of a chocolate kick lately, so of course, the recipe that I decided to try was chocolate. But it's not just chocolate – we've also got caramel. Because chocolate and caramel are like the dream team. So I decided to make the Gooey Caramel Chocolate Dump Cake.
You start by making your base – a homemade cake mix. I had all of the ingredients on hand, so it was super easy to make the cake mix.
Then I went to make the cake. Let's just say that I don't always practice what I preach. One of the number one rules to cooking or baking from a recipe is to actually read the recipe. I don't remember if I was rushed or distracted or just plain lazy, but I made the cake, using all of the homemade cake mix. I knew from the beginning that it didn't look right. But I put it into the oven and crossed my fingers. When I went to check the cake, the recipe says to push the wet parts into the dry parts if there is any dry cake mix still showing. Well, there was a lot of the dry cake mix. Too much, in fact, to cover with the wet parts. When that cake came out of the oven, I was frustrated and blamed the recipe.
After, I decided that I should actually go and read through the recipe thoroughly to figure out what went wrong. Surely the recipe wasn't that far off.
And that's when I saw what had happened. The recipe calls for 1 cup of the homemade cake mix. And I used all of it. All 4 cups of it.
At this point, I had to laugh at myself. No wonder it stayed dry!! I had enough ingredients to go again, so I made the cake a second time, and actually followed the recipe.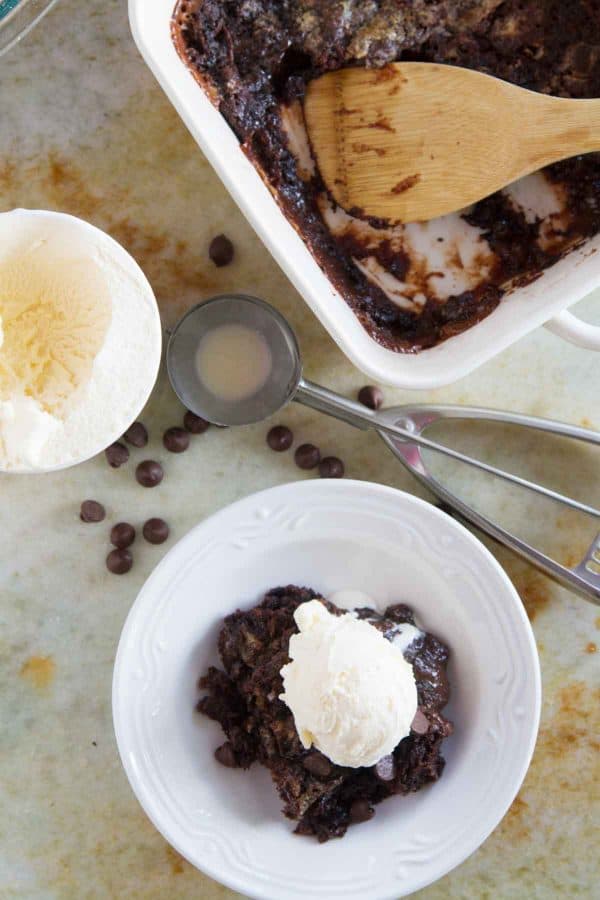 If you are looking for a rich, comforting, easy dessert, this Gooey Caramel Chocolate Dump Cake is for you. It really is a cake that you just dump everything into the pan, which makes it easy and fuss-free. Less dishes to wash when you're finished, as well!!
And the cake? It was everything that I hoped it would be. Warm and gooey and definitely full of chocolate flavor. I served it up with scoops of ice cream, and it was a total hit. It may be humble, but what it lacks in looks, it makes up for in flavor!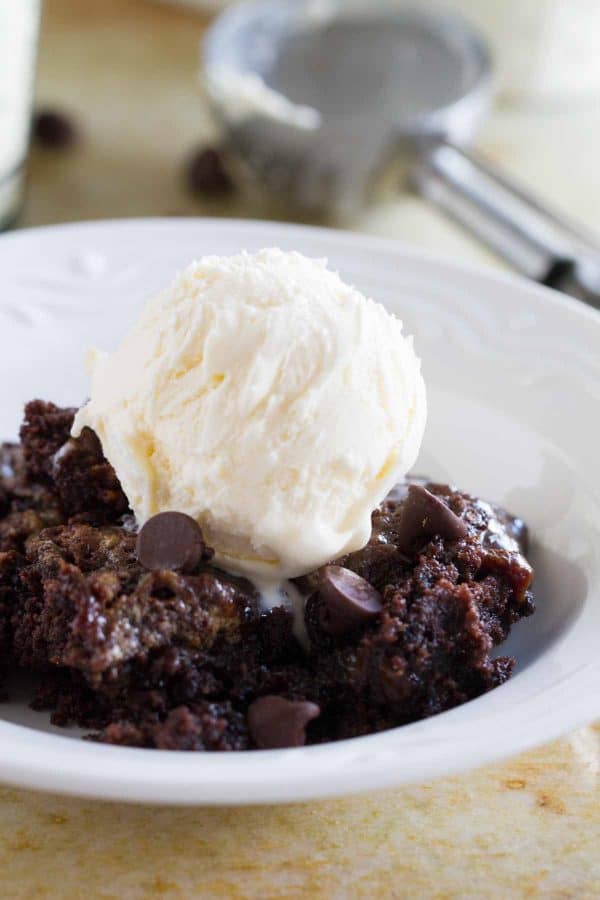 Like what you see here? Make sure you are following Taste and Tell for more recipes and ideas!
Facebook | Pinterest | Instagram | Twitter | Google+ | Weekly Newsletter | Feedly | Bloglovin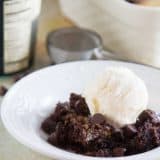 Gooey Caramel Chocolate Dump Cake
---
Author:
Prep Time: 15 minutes
Cook Time: 35 minutes
Total Time: 70 minutes
Yield: 9 servings 1x
Category: Dessert
Description
Anyone can make this ridiculously easy Gooey Caramel Chocolate Dump Cake. No box mixes, only a short amount of time to throw it together, and this humble cake can be satisfying any chocolate craving.
---
Scale
Ingredients
Chocolate Cake Mix:
1 3/4 cups all-purpose flour
1 1/2 teaspoons baking powder
1 1/2 teaspoons baking soda
1 3/4 cups granulated sugar
1/2 cup unsweetened Dutch process cocoa powder
2 tablespoons cornstarch
Dump Cake:
1/2 cup lemon lime soda
1/4 cup thick caramel sauce
1 cup Chocolate Cake Mix, (sifted)
1/4 cup sweetened condensed milk
1/4 cup semi-sweet chocolate chips
1/4 cup unsalted butter, (sliced into 1/4-inch thick squares)
---
Instructions
To make the cake mix (YOU WILL NOT USE ALL OF THE CAKE MIX IN THIS RECIPE):
Combine all of the ingredients in a large bowl. Stir with a whisk until it is completely combined, making sure to run the spatula around the sides of the bowl to make sure all of the ingredients are incorporated. Store any leftover mix in an airtight container is a cool, dark space.
To make the dump cake:
Preheat the oven to 350ºF. Grease a 9×9-inch baking pan.
Pour the soda across the bottom of the pan. Drizzle the caramel evenly across the pan. If the caramel is too thick, you can warm it up in the microwave until it pours easily.
Sift the dry cake mix evenly in the pan. (Make sure you are only using 1 cup of the cake mix – not the whole batch that you made earlier.) Drizzle the sweetened condensed milk over the top of the cake mix, then scatter the chocolate chips over the top. Place the butter slices evenly over the top of the cake.
Bake the cake for 30-35 minutes. At about 25 minutes, check the cake, taking a spatula or large spoon to moisten any spots that still have dry cake mix showing by spread from wet sections next to it. Continue to bake until the cake looks cooked.
Cool the cake for about 20 minutes before serving. Serve with a scoop of ice cream, if desired.
SHOP THIS POST:
More easy cakes: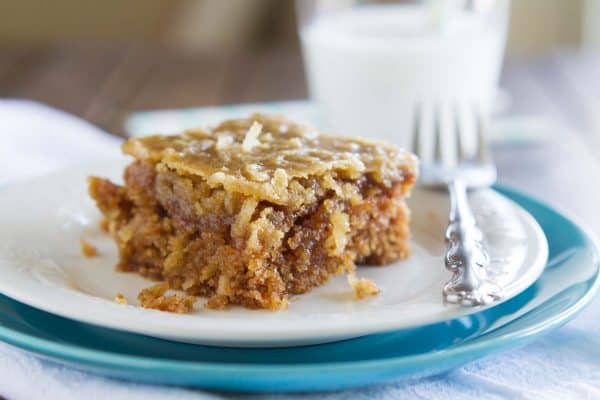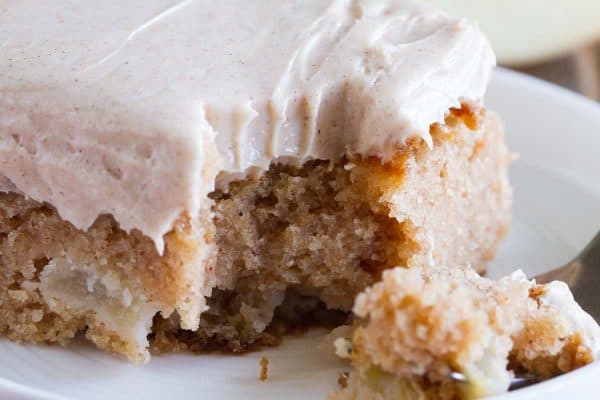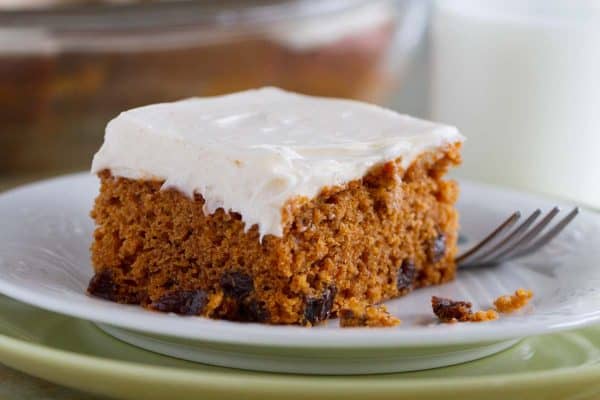 Around the Web:
One Bowl Chocolate Cake from Valerie's Kitchen
Chocolate Chip Cake from Mel's Kitchen Cafe
Cherry Pineapple Dump Cake from Cupcakes and Cutlery
Don't miss a thing! Follow me on Pinterest to see what I'm pinning!