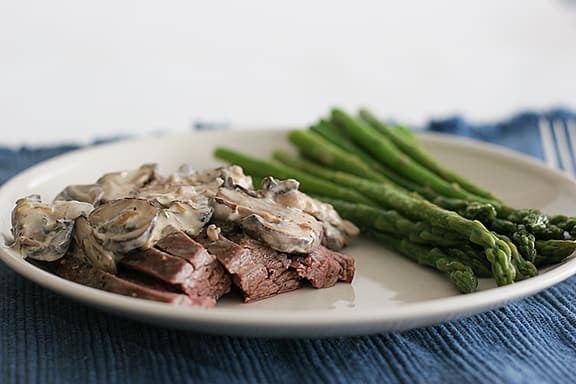 Ok, so I've typed up 3 different posts now, and gone back and deleted them because I didn't like what I wrote. I guess I'm having a bit of writer's block today!! Maybe the nights of sleep deprivation are catching up with me…
Let's just say that if you are a mushroom lover, you are going to love this recipe. I have a bit of an addiction to mushrooms, and find myself constantly drawn towards recipes with mushrooms in them.  This is one of those meals that feels indulgent, but is actually pretty good for you.  That's my favorite kind of meal!!  Pair it with a simple vegetable, and dinner is on the table in no time!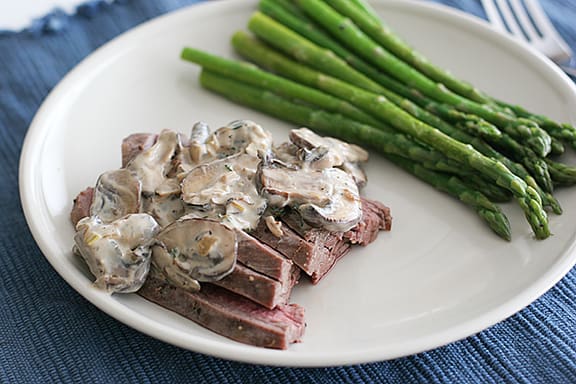 Flank Steak with Creamy Mushroom Sauce
adapted from Cooking Light Annual Recipes 2008
serves 2-4
1 (1 pound) flank steak, trimmed
salt and pepper
cooking spray
1 tablespoon extra virgin olive oil
1 tablespoon butter
1/2 cup chopped onions
4 ounces mixed mushrooms, sliced
1/3 cup water
1 tablespoon Dijon mustard
1 tablespoon Worcestershire sauce
1/2 teaspoon chopped fresh thyme
1/4 cup low-fat sour cream
Preheat broiler.
Season both sides of the steak with salt and pepper.  Place steak on a broiler pan sprayed with cooking spray.  Cook in preheated broiler for 6 minutes on each side, or until desired doneness.  Let rest 10 minutes.
Meanwhile, heat the olive oil and butter in a large saute pan.  Add the onion and cook until soft, 3-5 minutes.  Add the mushrooms and cook until tender.  Stir in the water, mustard, Worcestershire sauce and thyme.  Cook for 2 minutes.  Turn off heat and stir in sour cream.
Cut steak diagonally across the grain into slices.  Top with the mushroom sauce.