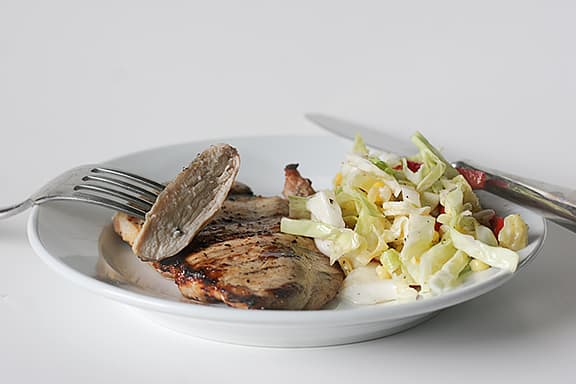 Is it just me, or is there something about summer that makes you not want to get in the kitchen and cook? Which makes absolutely no sense, because really, produce is it's best in the summer, so that should be incentive enough. Maybe it's the heat though – when you are hot, you don't want to heat up more by cooking? I don't know what it is, but meals around here have been so simple lately or basically non-existent. I've eaten a good PB&J for dinner more than once.
And this meal – it's actually one that I didn't even really plan on blogging, because really, it is so simple. But we both liked it so much that I figured I had to share. And I don't know if it was the lemon juice on the chicken that made it perfect, but I have never grilled a piece of chicken so well before. Super juicy and full of flavor – where usually, when I'm at the grill, whatever I have on there ends up dry and tough. Maybe I'm just getting better at it!!
Do you like to keep it simple in the summer, or do you still go all out?
Grilled Lemon Chicken with Cabbage and Corn Slaw
from Real Simple July 2010
2 teaspoons honey
2 tablespoons plus 1 teaspoon olive oil
5 tablespoons fresh lemon juice
kosher salt and black pepper
1/4 small green cabbage (1/2 pound), cored and shredded
1 red bell pepper, thinly sliced
1 cup corn kernals
4 6-ounce boneless, skinless chicken breasts
In a large bowl, whisk together the honey, 2 tablespoons of the oil, 2 tablespoons of the lemon juice, ½ teaspoon salt, and ¼ teaspoon pepper. Add the cabbage, bell pepper, and corn and toss to combine.
Heat grill to medium-high. Rub the chicken with the remaining teaspoon of oil and season with ½ teaspoon each salt and pepper. Grill the chicken, basting often with the remaining 3 tablespoons of lemon juice, until cooked through, 5 to 6 minutes per side. Serve with the slaw.