Looking for something new to throw into the lunch routine? This quesadilla recipe is creamy and cheesy and not your typical quesadilla!
I've mentioned before, but my daughter started kindergarten this year. She is only one week in, but I feel like we are already starting to settle into a routine. I've even managed to bribe her into making her bed each morning before school.
I had these grand ideas of how the days would go once she started school. I had dreams of waving goodbye to her at the bus stop, and then having 4 hours where I could be completely productive. With her away at school, the boys would play nicely together while I worked so that I could be done by the time she got home from school.
Boy – was I wrong!! Granted, we are only a week in, so I'm not giving up hope yet, but the minute Abbi gets on that bus, the boys both break out into super needy, clingy, can't be satisfied boys.
Productivity? What is productivity?

So instead of work, it has been cars and balls and bikes and blocks. And all of the other things that little boys do. Work is overrated anyway, right?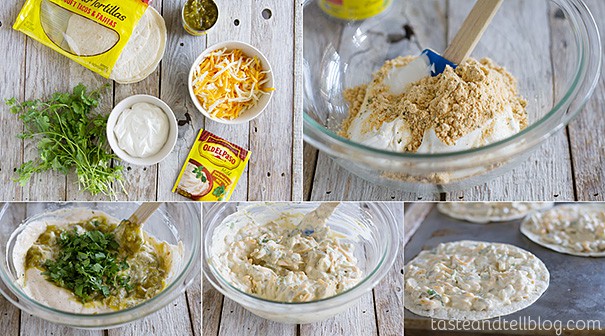 But the mornings sure do fly by. I feel like she steps onto that bus one minute, then the next minute we are already heading out to wait for the bus to bring her home.
She gets home around 12:30, so lunchtime has been a bit of a struggle for us. We normally eat at noon, but since Abbi isn't home, I never know if I should just feed the boys first and Abbi when she gets home, or make them wait.
And let's face it – I often put it off just because I don't know what to make. We are seriously good with getting ourselves into a lunchtime rut.
I actually had a blogging friend text the other night, asking what we do for lunch. While my kids will normally be fine with good ol' peanut butter and jelly, sometimes, I just want to change things up and make something that all of us will love.
So when we want to change things up, we make quesadillas. But not any quesadilla recipe will do!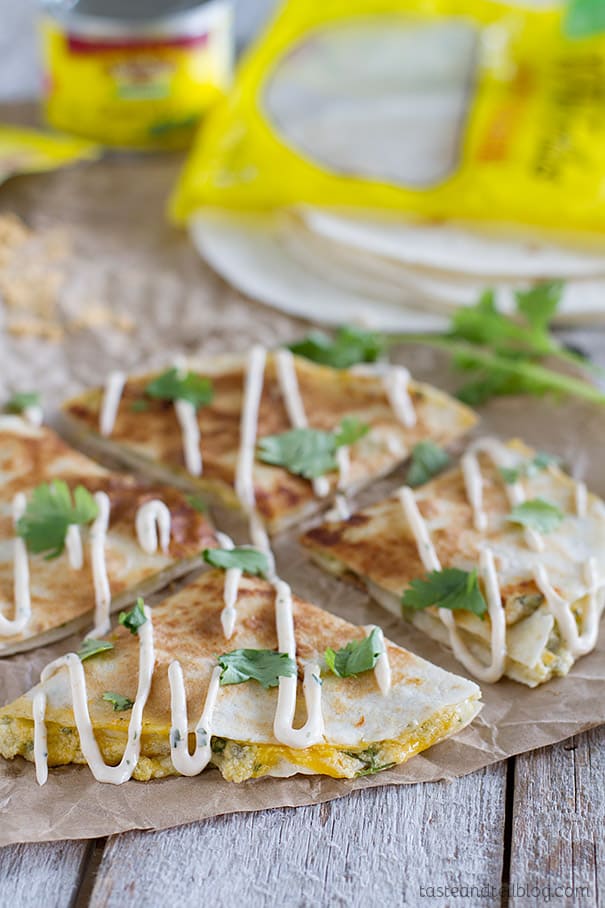 This quesadilla recipe was created back when I went to Austin with Old El Paso. We had a little friendly cooking competition where I made a version of these quesadillas. That version also had some freshly roasted peppers from the farmers market, as well as some sautéed squash, but I wanted to keep things as simple as possible today. Something that would be easy and fast enough to make for lunch.
That time in Austin was the first time I had ever used Old El Paso's Zesty Sour Cream Seasoning Mix. I totally fell in love. Not only would it make a killer dip, but it makes a pretty darn delicious quesadilla filling as well. The mix, sour cream, cheese, green chiles and cilantro are all combined and piled inside of Old El Paso tortillas and then grilled to golden brown perfection. And this quesadilla recipe really is perfection. Creamy and cheesy – what more is there to ask for??
If you want to serve these up for dinner, you could always add in some shredded chicken to make them a little more hearty. But no matter when you serve them, make sure you make extras. They will get gobbled right up!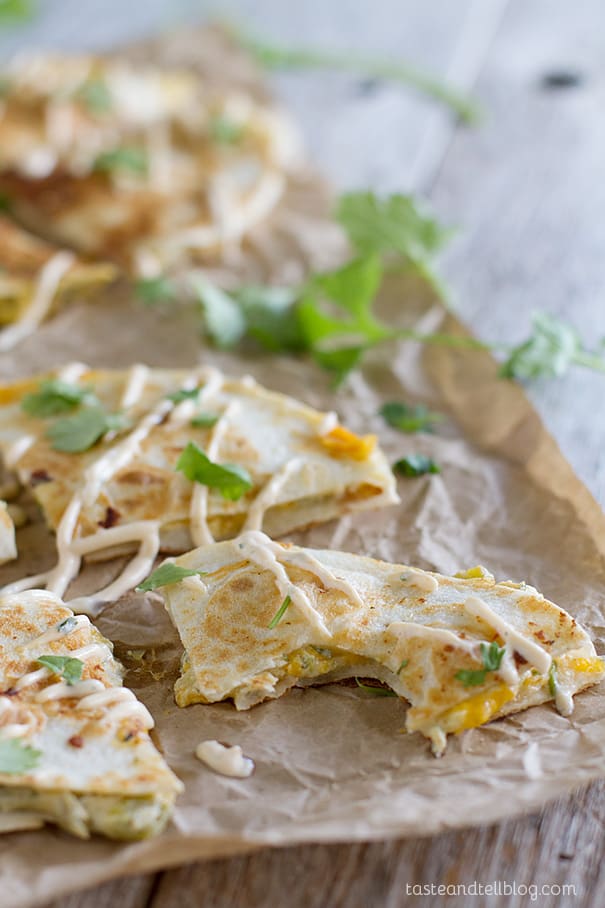 Like what you see here? Make sure you are following Taste and Tell for more great recipes and ideas!!

Facebook ** Pinterest ** Twitter ** Instagram ** Google+
or you can subscribe to my newsletter or Feedly or Bloglovin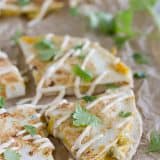 Creamy Quesadilla Recipe
---
Prep Time: 10 minutes
Cook Time: 5 minutes
Total Time: 15 minutes
Yield: 4-6 servings 1x
Description
Looking for something new to throw into the lunch routine? This quesadilla recipe is creamy and cheesy and not your typical quesadilla!
---
Scale
Ingredients
1 cup sour cream
1 (1 oz) package Old El Paso Zesty Sour Cream Seasoning Mix
1 (4.5 oz) can Old El Paso Chopped Green Chiles
1/4 cup chopped cilantro
1 cup shredded cheddar cheese
1 cup shredded Monterey Jack cheese
1 (8.2 oz) package Old El Paso 6-inch tortillas (10 tortillas)
---
Instructions
In a medium bowl, combine the sour cream and the seasoning mix. Set aside about 1/4 cup of the sour cream mix. Stir in the green chiles and the cilantro into the bowl; mix well. Add in both cheeses.
Spread about 1/3 cup of the mixture on a top of 5 of the tortillas. Top with the remaining 5 tortillas.
Heat a griddle over medium-low heat. Spray with nonstick cooking spray. Add the quesadillas to the hot griddle. Cook until the first side is browned, then very carefully flip the quesadilla to brown the second half.
Let the quesadillas sit for 5 minutes before cutting and serving. Use the reserved sour cream mixture for topping the quesadillas or for dipping.
I am in a working relationship with Old El Paso, and this post has been sponsored. I'm so glad to be able to work with companies and organizations that I truly believe in. Thank you for supporting them, too.