Perfect as an appetizer, these Tiny Sausage Tomato Bites are a throwback to the 1970s. They are also easy to make ahead.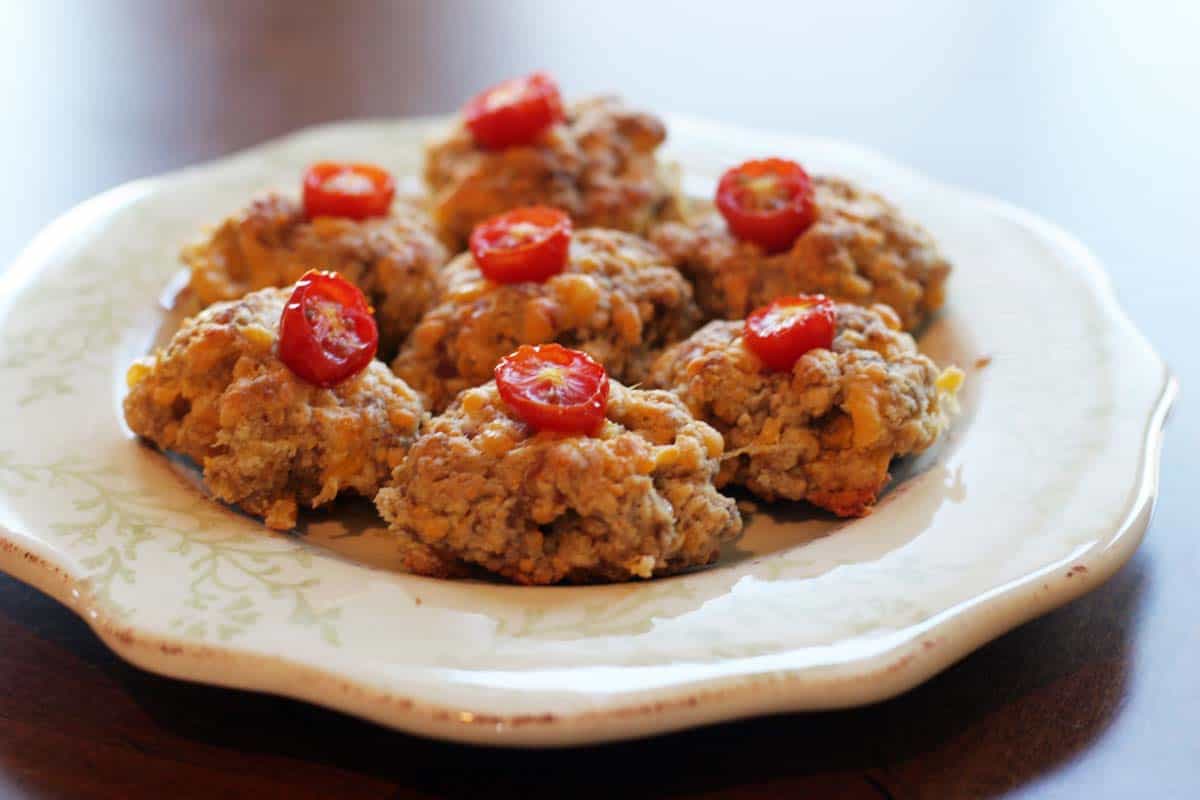 I have been in love with appetizers lately. Maybe it's because my sisters, mom and I catered our cousin's wedding reception a few weeks ago. I ate so much that you would think that I would be sick of appetizers, but I keep wanting more!! So when it was my turn to host our monthly family dinner this month, I decided to do all appetizers!! Everyone brought one or two appetizers and we all had quite the feast.
As part of my contribution, I brought these sausage bites. When I saw them in this month's cookbook, I knew I wanted to make them because they looked so good to me. Come to find out, my mom said that these were all the rage back in the 70s. So they may not be new to some of you!!
Unfortunately, I think these need some tweaking from the original recipe. First of all, they use baking mix (like Bisquick) which I'm not opposed to using, but for some reason, I could not find any at the grocery store that day. I ended up buying some pancake mix, which I figured had similar ingredients, but maybe that was my first mistake.
I went to make the balls. I'm mixing up the ingredients, but it is not all coming together. The recipe says that the mixture will seem dry, but it was so dry that I couldn't even get the mix to come together into balls. So I added an egg to the mix, and that seemed to do the trick. But, when I tried one, they were really dry. Really dry. I was so sad, because I had been looking forward to trying these for so long!
But is it a complete loss? Well, I don't think all of them from that batch were eaten, but I do want to try them again with an adjustment. The recipe calls for 3 cups of baking mix, but I think cutting that in half would make a great little sausage ball that actually tastes like sausage. I'll have to give it a try sometime and let you know how it goes!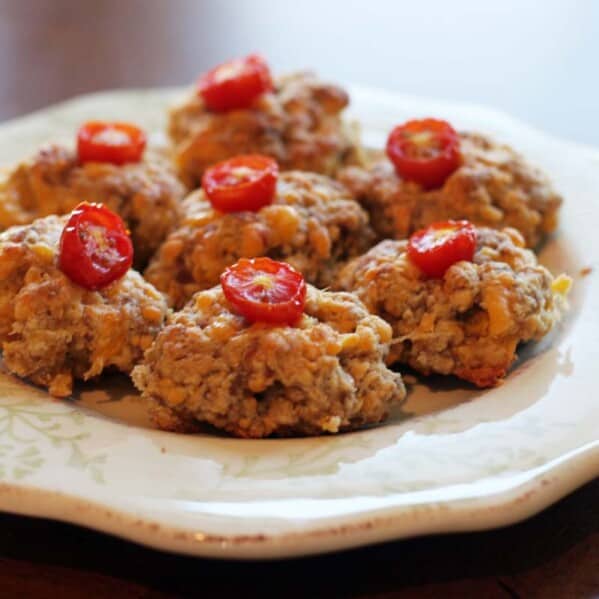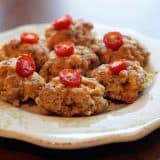 Tiny Sausage Tomato Bites
---
Author:
Yield: 48 1x
Category: Appetizer
Method: Bake
Cuisine: American
Description
Perfect as an appetizer, these Tiny Sausage Tomato Bites are a throwback to the 1970s. They are also easy to make ahead.
---
Scale
Ingredients
1 pound bulk sausage (hot, sweet or breakfast sausage)
3 cups baking mix, such as Bisquick
2 cups (1/2 pound) grated Cheddar cheese
24 cherry or grape tomatoes, halved
---
Instructions
Preheat the oven to 375F.
In a medium bowl, combine the sausage, baking mix and cheese. Mix very well with your hands or in a food processor, until the meat and cheese are evenly distributed. (The mixture will seem dry.) Roll and press mixture into 1-inch balls.
Transfer the sausage balls to a baking sheet and flatten each one with the palm of your hand. Make a small indentation in each patty with your thumb and nestle a tomato half, cut side up, in the indentation.
Bake until the meat is cooked through, 15 to 25 minutes. Serve hot or warm.
Recipe Notes: