Cheesy taco shells are filled with a meaty mixture of ground beef, sausage and pepperoni with pizza sauce in these tacos that are perfect for Meat Lovers Pizza lovers.



So, over two weeks ago, my car broke down. We were on our way back from the pumpkin patch, and all of a sudden the car wouldn't shift out of 2nd gear. Thank goodness my husband was driving, because I probably would have been all freaking out, not knowing what to do. But we weren't too far from home, and he was able to coax the car home.
Now here we are, 2 weeks later, and I'm still without a car. In fact, my car is still sitting in my garage. (With a flat tire to boot, go figure.) Long story short, my husband was trying to get in contact with someone, and never could, so now we at least have a tow truck coming today to take it down to the dealership.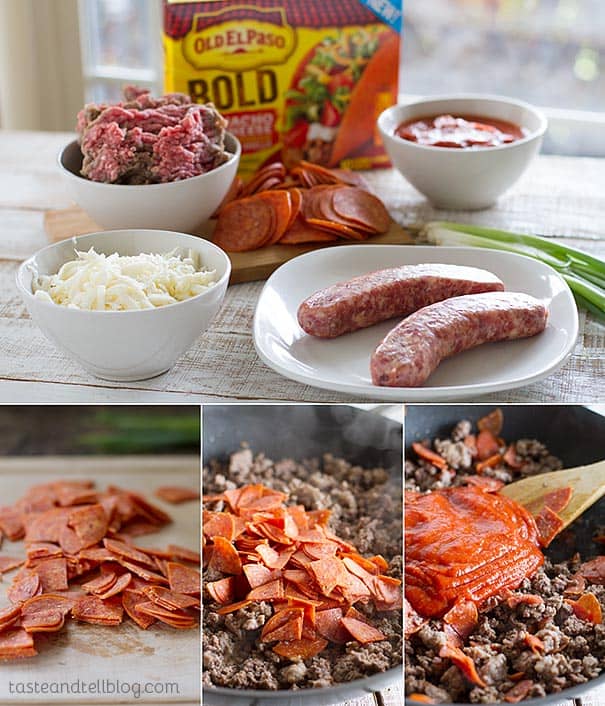 I am not good at the whole 1 car thing. I am a planner when it comes to food, and I always have a meal plan. And I always say that it's my goal to only go to the grocery store once a week, but in reality, I can't remember the last time that happened. I'm always forgetting an ingredient or changing something last minute.
I never realized just how dependent I am on the car until I can't run to the grocery store at 1pm because I realized that I'm missing the rosemary for tonight's dinner. Luckily we do have another car, but my husband has it during the day at work, and it would basically be worthless to leave with me because we can't fit all 3 car seats in it.
But I've been making it work. Surprisingly. I've even surprised myself by pulling together a few meals from the pantry when I realized an ingredient or two was missing for my original plan.
Two of those pantry meals that I can always count on are tacos and pizza. And luckily, those are two things that I always know my family will eat. So I thought to myself – why not try to combine the two for something new and exciting?
So today, I bring you the Meat Lovers Pizza Tacos.
My kids used to be 100% cheese pizza only. But in the past few months, they have become a lot more open to other kinds of pizza. In fact, they will always vote for pepperoni over cheese now. One of our favorites (ok, maybe not the kids, but at least for my husband and I!) is a good meat lovers pizza. We are a meat eating and meat loving family, so load up a pizza with lots of meat, and I can guarantee I'll have a happy husband.
When I decided to turn that meat lovers pizza into a taco, I started by combining ground beef, Italian sausage and pepperoni with the pizza sauce. Load that onto a taco, and the family is in meat lovers pizza taco heaven.
We topped the tacos with mozzarella cheese and some fresh green onions for a pop of freshness, but I have to say – one of my favorite parts were these Old El Paso™ Bold Nacho Cheese Stand 'N Stuff™ Taco Shells. We very rarely buy hard taco shells because not everyone in my family likes hard tacos over soft tacos, but everyone loved these taco shells. My daughter got so excited, saying that they tasted just like one of her favorite flavors of tortilla chips. I love the stand and stuff taco shells because they are easier to fill and serve, and the cheesiness just brings so much extra flavor to these tacos. The whole family loved them!!
So no boring taco night here! I think we are always going to need to turn our pizza into tacos from now on. 🙂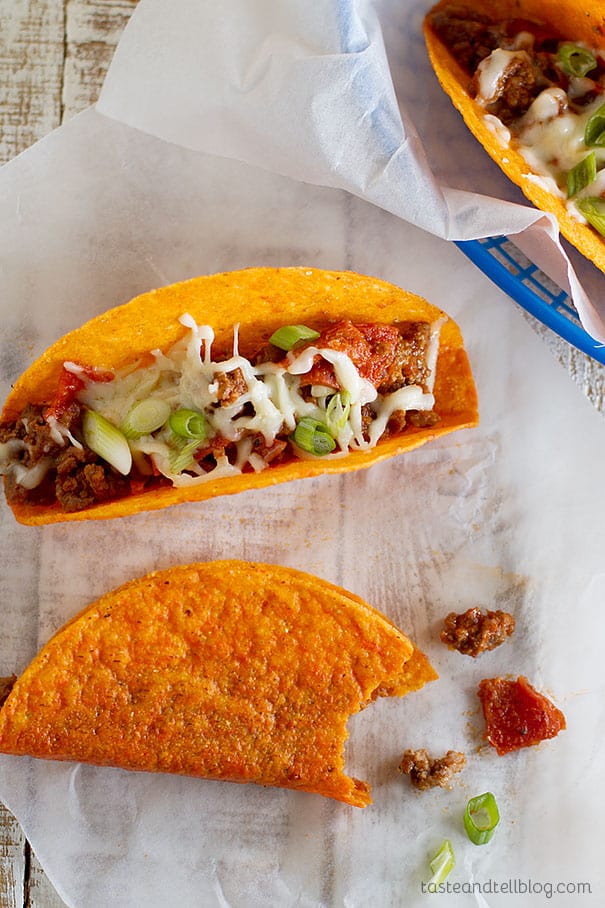 Like what you see here? Make sure you are following Taste and Tell for more great recipes and ideas!!

Facebook ** Pinterest ** Twitter ** Instagram ** Google+
or you can subscribe to my newsletter or Feedly or Bloglovin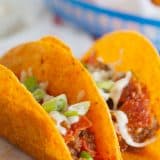 Meat Lovers Pizza Tacos
---
Prep Time: 5 mins
Cook Time: 10 mins
Total Time: 15 mins
Yield: 4-5 servings 1x
Description
Cheesy taco shells are filled with a meaty mixture of ground beef, sausage and pepperoni with pizza sauce in these tacos that are perfect for Meat Lovers Pizza lovers.
---
Scale
Ingredients
1 lb ground beef
6 oz Italian sausage, casings removed
3 oz pepperoni, chopped
1 cup prepared pizza sauce
10 Old El Paso™ Stand 'N Stuff™ bold nacho cheese flavored taco shells, warmed
1 cup shredded Mozzarella cheese
sliced green onions
---
Instructions
In a large skillet, combine the ground beef and sausage. Cook over medium heat until browned and cooked through, breaking the meat up with a wooden spoon as it cooks. Once cooked, stir in the pepperoni to combine, then stir in the pizza sauce.
Fill each taco shell with some of the pizza mixture. Top with some of the mozzarella cheese, and then garnish with sliced green onions.
I am in a working relationship with Old El Paso, and this post has been sponsored. I'm so glad to be able to work with companies and organizations that I truly believe in. Thank you for supporting them, too.