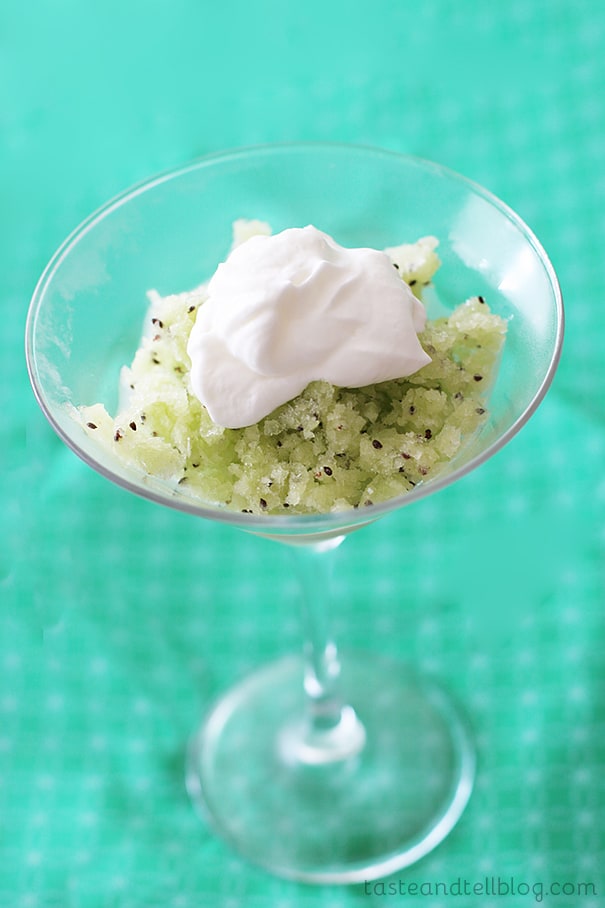 August has hit, and so many people are talking about Back to School. I don't know about you, but Back to School makes me think of Fall. And even though Fall is one of my favorite seasons, I'm wanting to hang onto Summer a little bit longer. Ok, not the heat of summer, but the summer flavors. So I guess it's a good thing that I'm doing The Perfect Scoop as the Cookbook of the Month for August!!
I had high hopes for this dessert, especially following the last granita I made. I have to admit – I was left feeling slightly disappointed, though. The flavor of this granita was excellent – if I was rating on flavor alone, this would get close to a perfect 5. But the texture of it was off for me. Unlike the last granita that has a fine, icy texture, this one was more gummy. Maybe with the addition of more water, I would get the texture I was hoping for. But it didn't stop me from eating this whole serving, topped with a nice dollop of sweetened whipped cream. I still have high hopes for the other recipes from this book I'm trying!!
Recipe Rating: 3 out of 5
Kiwifruit Granita
from The Perfect Scoop
Makes about 1 quart
2 pounds ripe kiwifruit
1 1/3 cups water
3/4 cup sugar
Peel the kiwifruits and remove the tough nubbins just inside the stem ends. Cut the kiwifruits into small pieces and puree in a blender or food processor with the water and sugar until smooth.
Pour the mixture into a dish approximately 8 to 12 inches across, with a 2 quart capacity. The sides should be at least 2 inches high. Place the dish in the freezer.
Begin checking it after about 1 hour. Once it begins to freeze around the edges, take a fork and stir the mixture, breaking up the frozen parts near the edges into smaller chunks and moving them towards the center.
Return the dish to the freezer, then check every 30 minutes afterward, stirring each time and breaking up any large chunks into small pieces with a fork, until you have beautiful, fine crystals of homemade granita. If at any point it freezes too hard, leave it out at room temperature long enough to be stirred again with a fork, and rake it back into crystals. Then return it to the freezer.