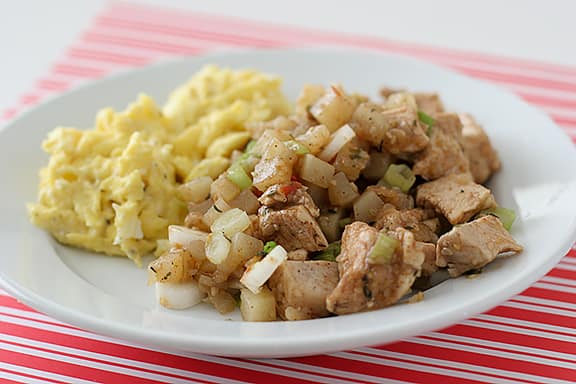 As I was thinking about this recipe, my thoughts turned to the time I visited Jamaica. I was on a cruise, so of course I only saw the "touristy" part of Jamaica. As I was thinking, I decided to go back and look at my pictures from the trip. I mentioned in an earlier post that I have had Jerk chicken in Jamaica, but as I looked through the pictures, I realized that it wasn't even in Jamaica when I had the jerk chicken – I was in the Cayman Islands!! I'm sure it was still pretty close to authentic, though – but I have to laugh at the situation, seeing how different I am with food today than I was back then. If I were to go back today, I would make sure to have Jamaican jerk chicken in Jamaica!!
Regardless of where I had that chicken, the jerk flavor sure is prominent through this month's Cookbook of the Month cookbook – Jerk From Jamaica. Last week's recipe had a jerk marinade, and this week's recipe uses a jerk rub. I will say that I preferred this rub to the marinade, although it was a little spicy for my weak taste buds. (I really used to be able to handle the heat, but I'm getting weaker as I get older!!) Whenever I think of a hash, I automatically think of eggs, so I scrambled some up to serve along side. It was a very smart decision, because this hash was perfect with the scrambled eggs mixed in. I did use chicken breast instead of thighs because I had some in the fridge that I needed to use, but I can definitely see how the flavor of thighs would be superior in this recipe.
Recipe Rating: 4 out of 5
Jerk Chicken "Hash"
from Jerk From Jamaica


serves 4
total time: 45 minutes
2 tablespoons vegetable oil
1 pound potatoes, cut into 1/4-inch cubes
1 yellow onion, diced into 1/4-inch pieces
3 cloves garlic, minced
1 tomato, diced
1 pound skinless, boneless chicken thighs, cut into bite-size pieces
2 tablespoons Dry Jerk Seasoning (recipe follows)
1 teaspoon ground cumin
2 tablespoons sesame seeds
1/2 cup chicken broth
3 scallions, including green parts, sliced
Heat the oil in a large skillet over medium heat. Add the potatoes, onion, garlic and tomato and cook for about 10 minutes. Add the chicken, jerk seasoning, cumin, and sesame seeds; cook for another 3 to 5 minutes. Add in the chicken broth and bring mixture to a boil. Reduce heat, cover pan, and simmer for about 10 minutes, or until most of the liquid is absorbed. Remove fro the heat and toss the scallions over the hash. Serve immediately.
Dry Jerk Seasoning
1 tablespoon onion flakes
1 tablespoon onion powder
2 teaspoons ground dried thyme
2 teaspoons salt
1 teaspoon ground Jamaican allspice (I used regular)
1/4 teaspoon ground nutmeg
1/4 teaspoon ground cinnamon
2 teaspoons sugar
1 teaspoon coarsely ground black pepper
1 teaspoon cayenne pepper
2 teaspoon dried chives or green onions
Mix all ingredients together. Store in a tightly closed jar for up to a month.