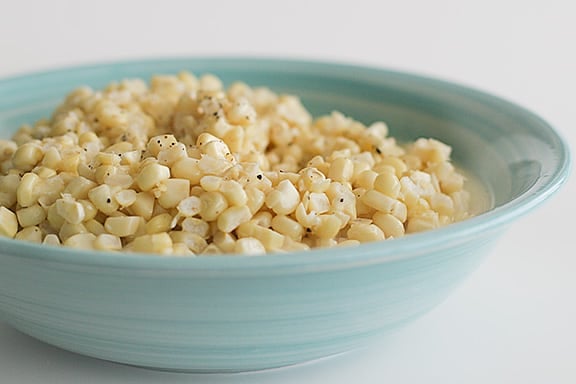 Ok, first of all, I have to say that I feel like I slacked on you all with this week's Cookbook of the Month recipe. Out of all the recipes in this book, I'm giving you a recipe for creamed corn. That's it. 5 (or 6) simple ingredients. Nothing more. But I promise I have a reason!
You see, I entered back into the working world a few weeks ago. And while I am only working 4-6 hours a day, I feel like I might as well be working 10 hours a day. Let's just say it is taking some effort to find the balance between working, being a mother, being a wife, taking care of a home, blogging, etc…the list goes on and on. I have a new-found respect for working mothers, because just taking care of a household is more than a full time job. Anyway, let's just say that I'm glad that I've had some recipes on the back burner, because I haven't been cooking much lately. And then I didn't have anything to post for today. I took the book with me to work yesterday, hoping for a few minutes to figure something out for dinner that night. Well, I didn't have a few minutes – only more like a few seconds. I saw this recipe for creamed corn, and for some reason, it sounded so good to me. So I went for it. Don't worry, we didn't just have creamed corn for dinner. We also had hot dogs. Because that's how I roll! 🙂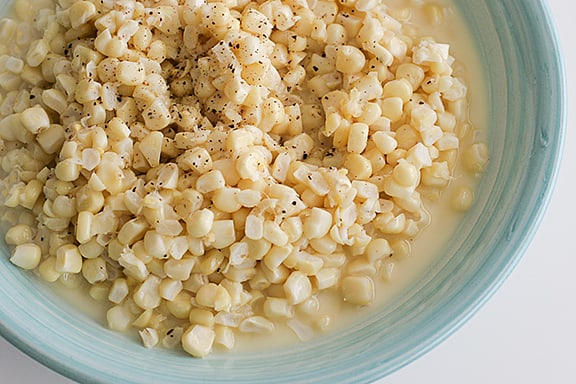 I might have normally skipped over this recipe, thinking that it was too simple for a Cookbook of the Month post. Let me just say – I'm glad I didn't have time to really look through and come up with an idea for dinner, because this was SO good. I've never been a fan of canned vegetables. We had a lot of them growing up, but since I moved out on my own, they are very rarely on my table or in my pantry. And creamed corn from a can just never seemed very appetizing to me. But fresh? It's a whole 'nother story. I love that this can be made with anything from cream t skim milk. I thought I had some half-and-half on hand, but discovered it was gone, so I used regular old 2% milk, and it was fantastic. And the sugar is optional – add it if the corn isn't really in season to sweeten it up a bit. I didn't even need it at all. This was delicious, and the best corn of the season isn't even here yet. I can't wait until the really good stuff hits the shelves – this recipe is sure to make another appearance on my table! (Maybe next time it will be along side something better than hot dogs, though…)
Recipe Rating: 4.75 out of 5
Creamed Corn
from The Lee Bros. Southern Cookbook
serves 6
total time: 20 minutes
8 ears fresh corn
6 tablespoons unsalted butter
1 cup plus 2 tablespoons half-and-half, whole milk, skim milk, or heavy cream
1 1/2 teaspoons kosher salt
1 teaspoon freshly ground black pepper or white pepper, to taste
1 teaspoon sugar (optional)
Cut kernels from the cob and scrape the cobs with the edge of a spoon to extract as much juice and material as possible. You should have 5 1/4 cups of corn.
Melt the butter over medium-high heat in a 12-inch skillet until frothy. Add corn and stir constantly for 1 minute.
Pour in half-and-half. Add salt and pepper. Reduce heat to low and simmer, stirring vigilantly until the liquid has thickened to a dense, yellowish sauce, about 12 minutes. Turn off the heat, cover, and let steam for 2 minutes. Serve immediately, and be sure to pool some sauce around each serving.