A great way to use up fresh tomatoes, this Cream of Tomato Soup is creamy and has a delicious, mild tomato flavor. Don't skip the homemade croutons – they taste like buttered toast in your soup!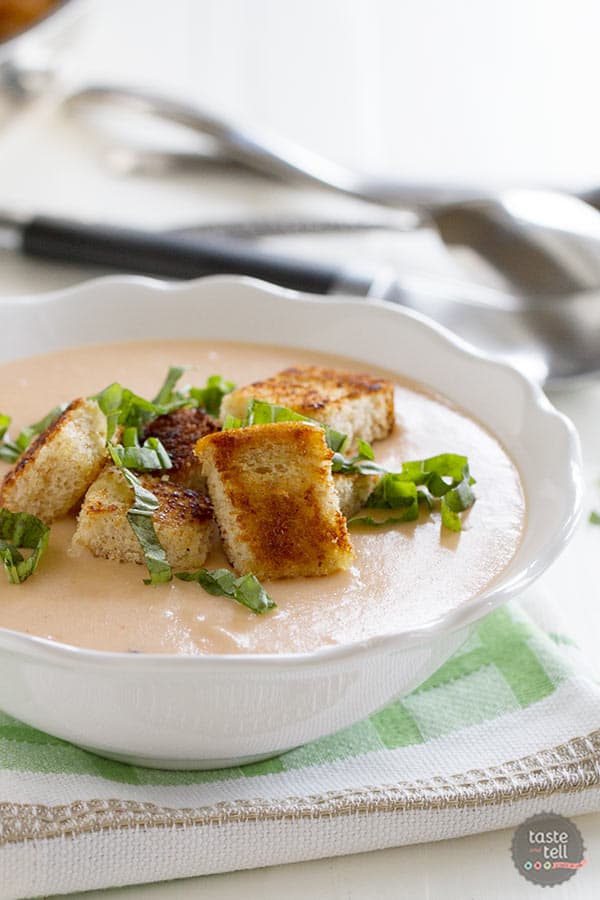 Photos Updated January 2015
Last week, my complaint with this book was that the recipes are vague. This week, my complaint is that there are so many different editions of this book there are out there. I never have really understood doing different editions, and changing so many things, in the first place. Why not just write a new book? For this soup, before I made it, I got online to see if there was anyone else out there that had made it that I could read some reviews about it. Well, I did find a few, but the recipes were completely different. I just don't understand that!!
The reason I chose this recipe was that I was wanting to make something with the bounty of tomatoes I have in my backyard right now. So I go to the index to look up tomatoes. Unfortunately, most of the recipes weren't recipes that used fresh tomatoes. In fact, this soup can be made with canned or fresh. Although fresh is a lot more work, I'm sure the result is worth it. This soup really was quite delicious. I definitely had my doubts, more than once. It's the strangest soup recipe I've ever made – you basically make a bechemel sauce that you add in the makes the "cream" part. So different, but it totally worked here.
I'm going to start doing the Cookbook of the Month posts a little different now, adding this "notes" section to explain what I changed or what I would change if there is a next time.
Notes:
For the white sauce – the recipe calls for a small onion – and it's probably best if your onion is quite small. Mine was a regular sized onion, but it stuck halfway out of the sauce. I think the flavor would have picked up better if the onion was fully submerged.
I think the ratio of tomato mixture to white sauce was a bit off. Next time, I would either do 1 1/2 times the tomato mixture, or cut the white sauce down my about half. It was good, but I wish the tomato flavor would have screamed at me more.
You will definitely need salt. I had to add a bit more than I wish I would have, but it really helped.
If you make the croutons right before serving, they will still be a bit soft, even if they get toasted on all sides. But they were actually quite good that way – it was like I had little bits of buttered toast in my soup. The rest of the croutons dried out more after about 30 minutes, and then resembled regular croutons.
This Cream of Tomato Soup is a great way to use those tomatoes, and I will definitely be trying it with canned tomatoes in the winter to stay warm!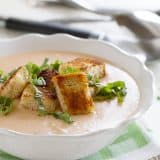 Cream of Tomato Soup
---
Author:
Prep Time: 20 minutes
Cook Time: 65 minutes
Total Time: 85 minutes
Yield: 4 servings 1x
Category: Soup
Description
A great way to use up fresh tomatoes, this Cream of Tomato Soup is creamy and has a delicious, mild tomato flavor. Don't skip the homemade croutons – they taste like buttered toast in your soup!
---
Scale
Ingredients
White Sauce
8 tablespoons butter
7 tablespoons flour
4 cups milk
1 small onion (studded with 8–10 whole cloves)
2 small bay leaves
fresh nutmeg
Soup
2 cups diced fresh tomatoes (peeled and seeded (can substitute canned))
1/2 cup chopped celery
1/4 cup chopped onion
2 teaspoons sugar
White Sauce
salt and pepper
Croutons
fresh basil
Croutons
2 slices bread
1 tablespoon butter
1 tablespoon extra virgin olive oil
---
Instructions
Make the white sauce: Preheat the oven to 350ºF. Melt the butter in a large ovenproof saucepan. Whisk in the flour and cook for 1-2 minutes. Slowly whisk in the milk. Add the onion and the bay leaves. Frequently stir the mixture until it is slightly thickened, 10-15 minutes.
Transfer the pan to the oven. Cook for 20-30 minutes, until the sauce has completely thickened.
Remove the bay leaves and the onion, and add a dash of fresh nutmeg.
Make the soup: In a soup pot, combine the tomatoes, celery, onion and sugar. Simmer together, covered, for about 15 minutes. Transfer the mixture to a blender or food processor and pulse until smooth. Return the tomato mixture back to the pot.
Add the white sauce to the tomato mixture. Season to taste with salt and pepper. Heat for a few minutes, until completely heated through.
Make the croutons: Cut the bread into squares. In a skillet over medium heat, melt the butter. Add the olive oil. Add the bread cubes and stir to coat. Saute the bread cubes until they are toasted on all sides.
Top each serving of soup with some of the croutons and a bit of fresh basil.
SHOP THIS POST!
More Ways to Use Fresh Tomatoes: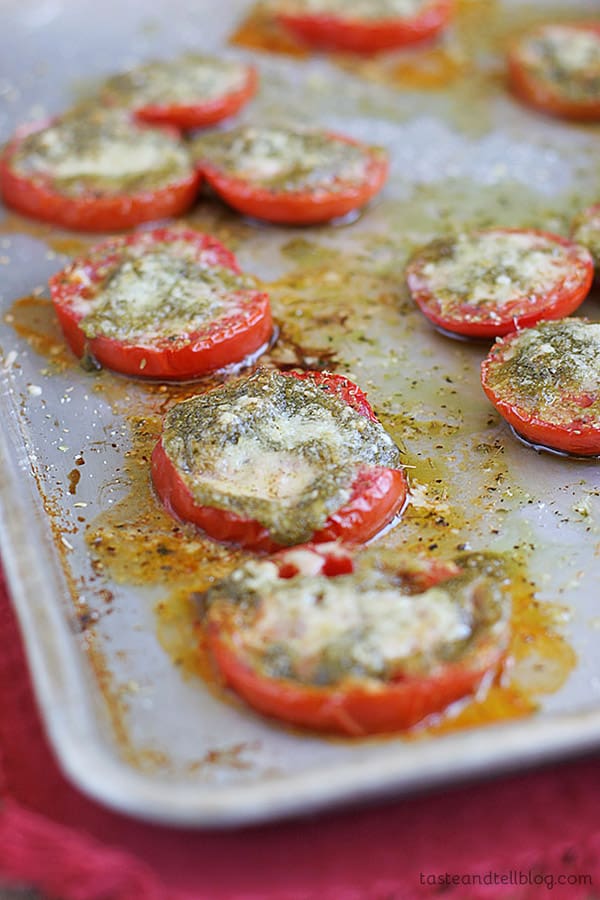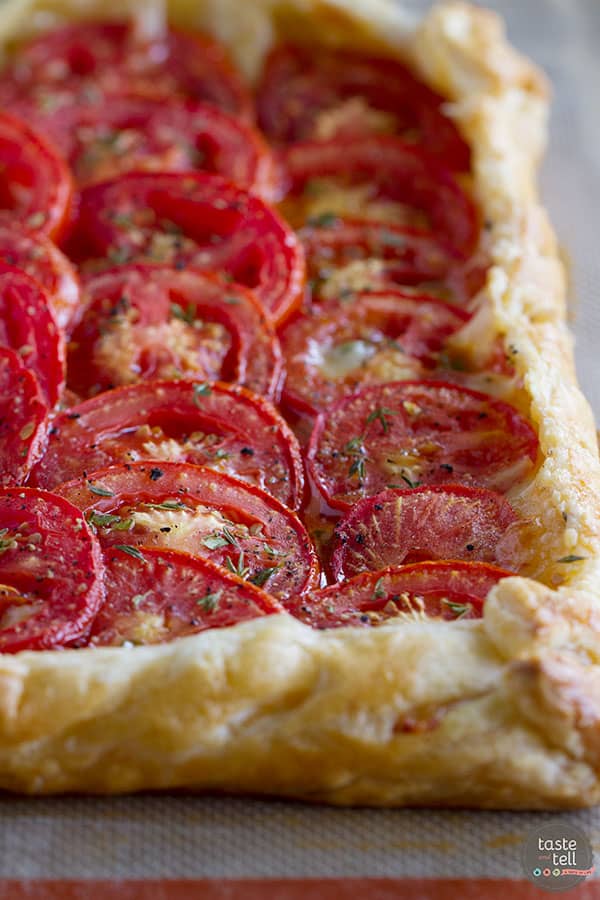 Tomato Tart with Bacon and Gruyere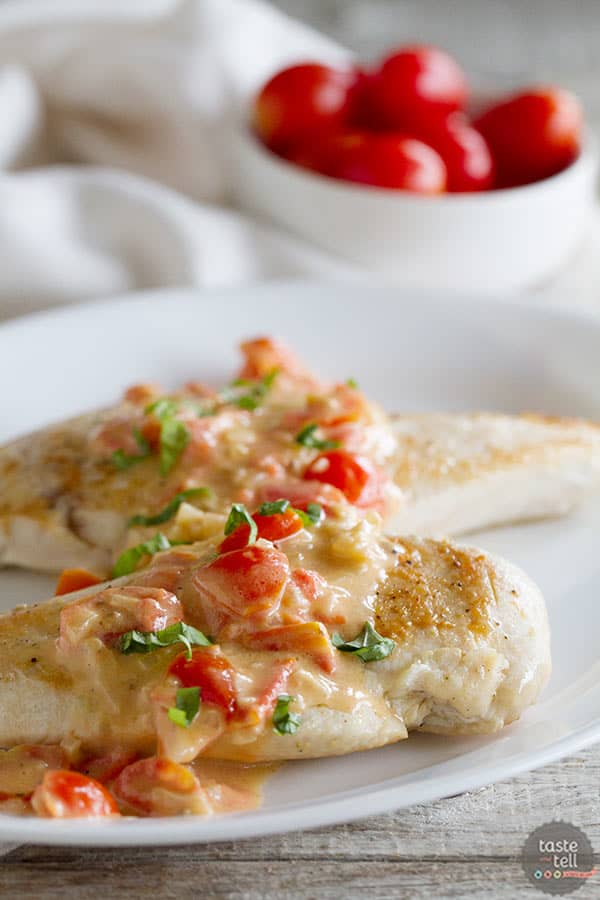 Chicken with Tomato Parmesan Sauce
Around the Web:
Tomato Tart with Blue Cheese from The Food Charlatan
Tomato Basil Pizza Dip from Inside Bru Crew Life
Herbed Tomato Bacon Pizza From Bless This Mess
Don't miss a thing! Follow me on Pinterest to see what I'm pinning!
Visit Taste and Tell's profile on Pinterest.