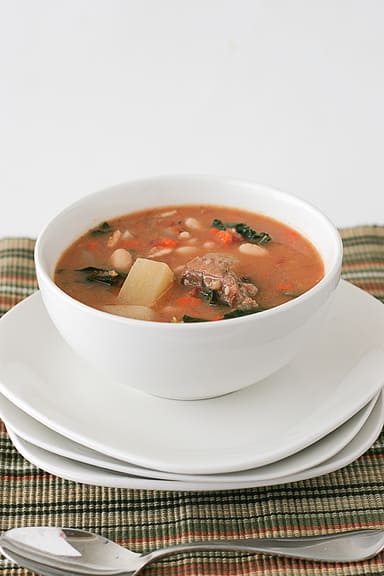 This is yet another recipe that shows me that I have no idea what food is like in so many places in the world.  I wouldn't have associated this stew with Spain, but after reading that this is a popular dish in the Astrurian mountains, it makes sense!  This is definitely a "warm you up" kind of meal.  The thing I love about meals like this is that it fills you up, but it's still quite good for you.  Lots of veggies, beans, and some protein from the meat – a perfect meal for a winter's night!  So far, I'm really loving this food from Spain!
Recipe Rating:  4.25 out of 5
Asturian Beef Stew
slightly adapted from The New Spanish Table
serves 6
3 pounds well-marbled beef chuck, cut into 1 1/2 inch chunks
coarse salt and freshly ground black pepper
3 tablespoons olive oil
4 ounces bacon, cut into a medium dice
1 medium white onion, chopped
5 large garlic cloves, minced
2 fat carrots, diced
2 tablespoons all-purpose flour
3/4 cup dry white wine*
3 cups chicken stock or broth
1 cup dried white beans, soaked overnight and drained or quick soaked (see note on bottom)
6 canned plum tomatoes, chopped, plus 1/3 cup of their juice
12 ounces turnips, peeled and cut into 1-inch chunks
4 cups chopped, well rinsed sturdy greens (such as turnip greens, mustard greens, kale or collard greens)
Preheat oven to 300F.
Season the meat generously with salt and pepper.  Heat 1 tablespoon of olive oil in a heavy, wide 5-quart ovenproof casserole over medium-high heat.  Add half of the beef to the casserole and brown on all sides, about 10 minutes.  Using a slotted spoon, transfer the browned beef to a bowl.  Add 1 tablespoon of olive oil to the casserole.  Brown the remaining beef and transfer it to the bowl.
Add the remaining 1 tablespoon of olive oil and the bacon to the casserole.  Reduce the heat to medium, and cook, stirring, until the bacon begins to render it's fat, about 2 minutes.  Add the onion, garlic and carrots, increase the heat to medium- high, and cook, stirring, until the vegetables begin to brown, about 8 minutes.  Add the flour and stir for a few seconds.  Gradually add the wine, stirring to combine thoroughly with the flour, then add the chicken stock.  Bring to a boil, scraping the bottom of the casserole to dislodge any of the brown bits.
Return the meat and any accumulated juices to the casserole and add the beans and the tomatoes with their liquid.  Return to a boil, skim if necessary, and season with salt and pepper.  Cover the casserole and bake for 2 hours.
Stir in the turnips and 1 cup of water and bake until the meat and beans are very tender, 30-50 minutes longer.
Bring a pot of water to a boil.  Add the greens and blanch, just until tender, a couple of minutes.  Drain the greens in a colander, pressing against them to squeeze out excess moisture.
Taste the stew for seasoning, adding more salt and/or pepper if needed.  Stir the greens into the stew and let rest for 5 minutes before serving.
*I substituted all chicken stock for the wine
Note:  The book mentions that most dry beans in the US aren't dried for as long of a period of time as they are in Spain, so you can do a quick soak instead of soaking overnight.  For the quick soak, bring 3 quarts of water for every 2 cups of beans to a boil over high heat and add the beans.  Let boil for 2 to 3 minutes.  Take the beans off the heat, cover the pot, and let the beans stand for 1 hour.  I used this method for this recipe and it worked perfectly!