French macarons, made using the Italian Meringue Method, are filled with a chocolate buttercream and a maraschino cherry. These chocolate cherry French Macarons are the perfect way to jazz up a chocolate covered cherry!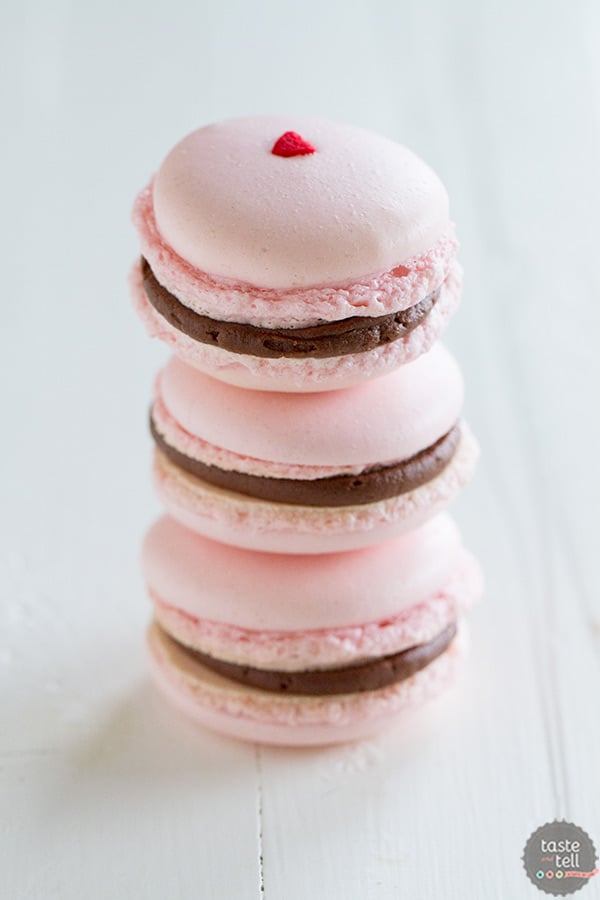 Ok, let's just get this out of the way. I'm a perfectionist. When I do something, I want to do it right. And do it well. This is why I'm not a cake decorator. I just don't have the patience for it, which results in cakes that tend to be less than perfect. Not even kidding – I've tried to do my kids' birthday cakes every year – and just about every year, we have ended up buying a cake last minute. Or sadly serving a very ugly cake. (I have learned my lesson and have ordered my daughter's cake for her birthday next week!)
Many times, though, if something proves to be difficult, it just gives me more motivation to perfect it.
Enter macarons.

You may remember my first attempt. They turned out pretty well – I was happy for my first try, but I knew they weren't perfect. And it's led me on this quest to perfect my macaron making skills.
But it hasn't been as easy as I thought it would be. I thought my results after that first batch would get better and better until I was a macaron making machine. Instead, my results have been all over the map. But none have been perfect.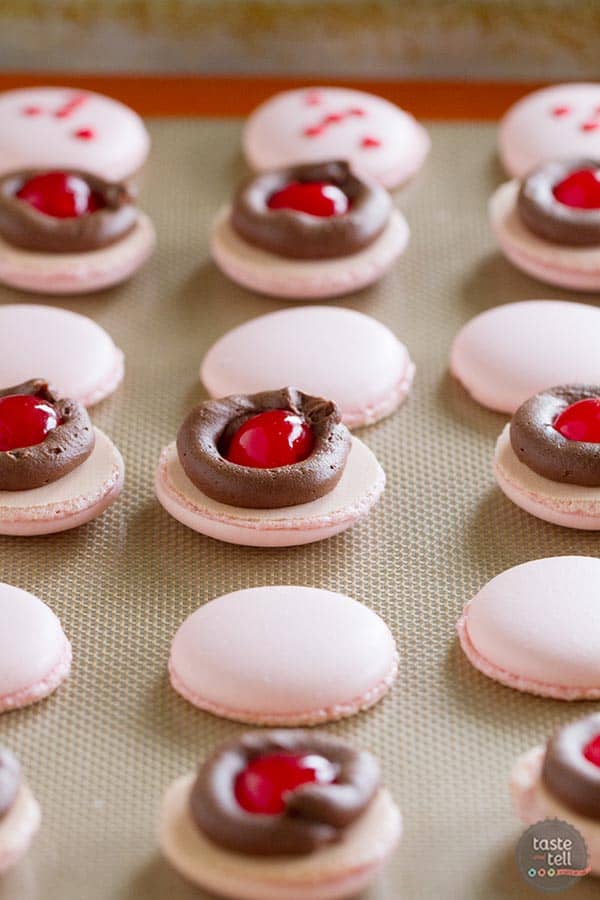 When I got my copy of Sugar Rush, I was immediately drawn to the macaron recipe. I knew I had to try Johnny Iuzzini's recipe. He did learn to make them while working at Ladurée in Paris, after all. He uses the Italian meringue method, which consists of making a sugar syrup that is whipped into the meringue. In all honesty, I had never tried that method out of sheer laziness. But I decided it was time to buck up and give it a try.
I was super excited when my first batch came out of the oven. They were all so pretty!! I had been dealing with majorly cracked macarons before this, and with this method, there wasn't a cracked macaron in the bunch. But I think I didn't bake them long enough, as the middles were a little chewier and wet than they should have been. But I knew I was onto something.
I later gave them another try, increasing the baking time. I am convince that this Italian meringue method produces more consistent results, but I still have a way to go until I perfect this elusive little cookie. My shells are still a little hollow, and my feet are definitely more ruffly than they are tall. After getting frustrated that they weren't "perfect" still, I texted my husband and said that I was going to take a class. (So, yeah – I seriously signed up for a class in March.)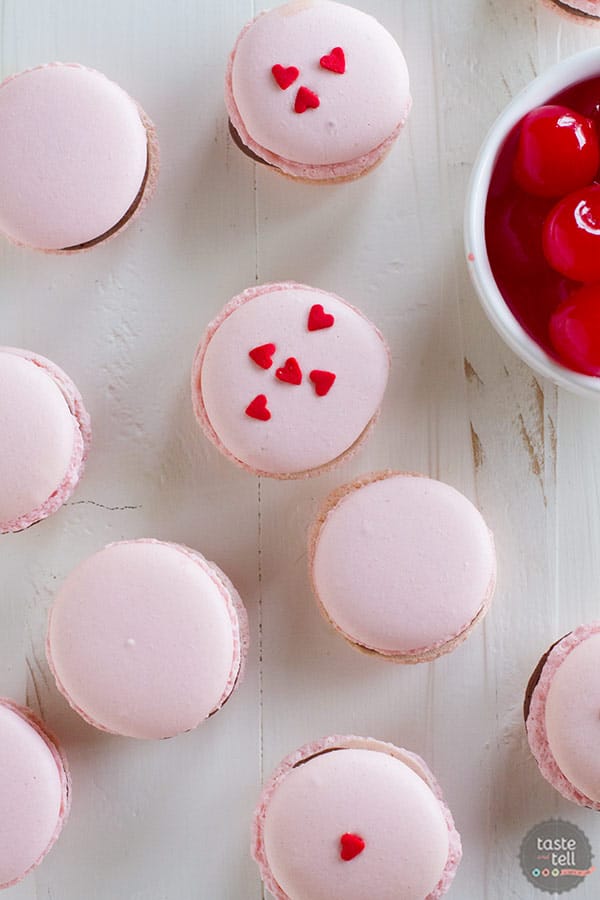 These macarons, though. YUM. I had the idea to put the cherry in the middle, and I was afraid that they would be too wet and ruin the integrity of the cookie. But even after several days in the refrigerator, they were still perfect. I actually made a cherry buttercream the first time I tried these, afraid that if I did chocolate, the chocolate would overpower the cherry. But this time, I decided to throw caution to the wind and try the chocolate cherry combination. These are SO much better with the chocolate.
I always envision people eating macarons daintily, because they are a dainty little cookie, but we were inhaling these. We would have gone broke if I had to pay $2 a piece for these like you have to at a French bakery. Which is another reason I need to perfect French macarons at home!!
These Chocolate Cherry Macarons would make a perfect edible gift for your sweetheart for Valentine's day, too. I know my valentine would love them!!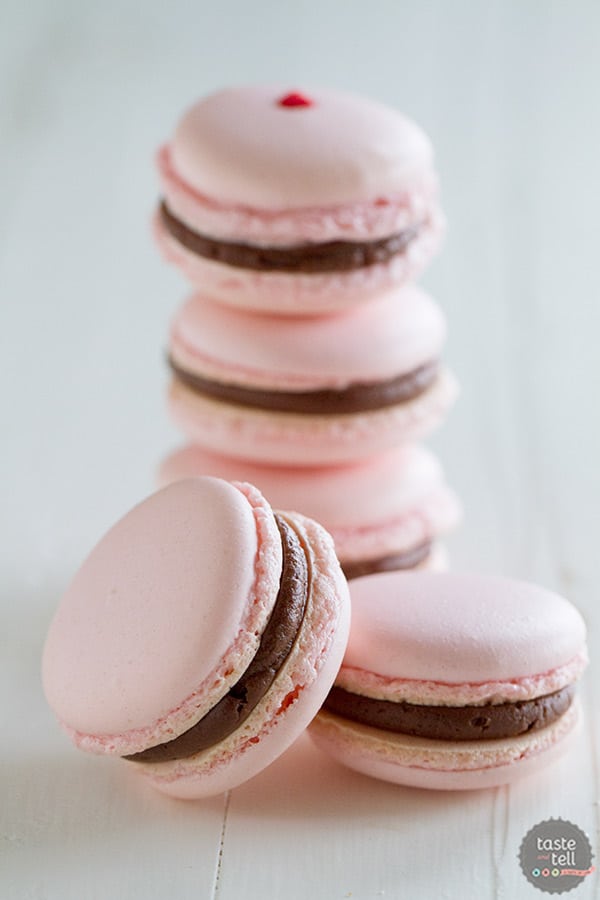 Like what you see here? Make sure you are following Taste and Tell for more great recipes and ideas!!

Facebook ** Pinterest ** Twitter ** Instagram ** Google+
or you can subscribe to my newsletter or Feedly or Bloglovin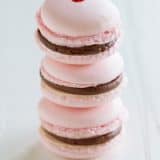 Chocolate Cherry French Macarons
---
Prep Time: 20 mins
Cook Time: 30 mins
Total Time: 50 mins
Yield: 50-75, depending on size 1x
Description
French macarons, made using the Italian Meringue Method, are filled with a chocolate buttercream and a maraschino cherry. These chocolate cherry French Macarons are the perfect way to jazz up a chocolate covered cherry!
---
Scale
Ingredients
Cookie Base
185g powdered sugar
185g almond flour
65g egg whites
Italian Meringue
185g plus 1 tablespoon granulated sugar
75g egg whites
pinch of cream of tartar
Filling
1/2 cup butter, at room temperature
1 1/2 cups powdered sugar
1/4 cup unsweetened cocoa powder
1–2 tablespoons milk
1/2 teaspoon cherry extract
maraschino cherries
---
Instructions
To make the macarons:
Line 3 baking sheets with baking mats or parchment paper.
Make the cookie base: Using a fine mesh strainer, sift together the powdered sugar and almond flour. (This may take some time – I use a spatula to try to work out any large clumps or pieces. If there are bits of the almond flour that won't go through the strainer, you can put the mixture in a food processor and pulse a few times. Make sure to just pulse so you don't turn it into butter.)
Add the 65g of egg whites and stir until the mixture is moistened.
Make the Italian meringue: Place the 185g of sugar in a small saucepan. Add about 2 tablespoons of water and stir with your finger until the sugar is moistened. Wet your finger and wipe down the sides of the pan to remove any sugar on the sides of the pan.
Place the pan over medium heat and bring to a boil.
Meanwhile, place the egg whites in the bowl of a mixer fitted with the whisk attachment. Add the remaining 1 tablespoon of sugar and the cream of tartar. Turn the mixer on to medium-low.
Once the sugar has dissolved in the saucepan, take a pastry brush dipped in water and wash down the sides of the pan. Once the mixture is at a roiling boil, turn the mixer up to medium high.
Cook the mixture until it reaches 244ºF on a thermometer.
When the egg whites have volume but are still soft, turn the mixture to low and slowly drizzle the sugar mixture into the egg whites, between the side of the bowl and the outer reach of the whisk. Turn the speed up to medium and continue to whip until the outside of the bowl has cooled off and the whites are firm and glossy but not dry, about 5 minutes.
Add a small amount of the meringue to the cookie base and stir it in with a spatula. This will lighten up the mixture. Add in a few drops of red food coloring. Add the remaining meringue in 3 batches, folding them gently into the mixture. When the meringue is completely incorporated, continue to fold the mixture over until the mixture forms a ribbon that settles slowly into the mixture. If the ribbon rests on top of the mixture, stir another 4 or 5 times and test again. You don't want to stir it too much to liquify the mixture, or the cookies will not hold their shape.
Preheat the oven to 350ºF.
Transfer the mixture to a piping bag fitted with a large round tip (I used Ateco #804). Pipe the mixture onto the prepared baking sheets in quarter sized rounds.
Let the cookies stand at room temperature for 10-15 minutes. The cookies should be dry to the touch and will form a "shell" on the surface.
Bake the pans for 8-10 minutes each, until they are risen and set, but not browned. Remove from the oven and let them cool on the pan.
To make the buttercream:
Beat the butter in a medium bowl until light and fluffy. Slowly add in the powdered sugar and the cocoa and continue to beat until smooth. Add in 1 tablespoon of milk and the cherry extract. Continue to beat until combined. Add an additional tablespoon of milk, if needed, to achieve a consistency that is easy for piping. Transfer the mixture to a piping bag fitted with a medium round tip.
To assemble the macarons, turn half of the macaron shells upside down. Cut the maraschino cherries in half or into thirds, and place one piece in the middle of each of the cookies that are upside down. Pipe the buttercream around the cherry. Place another macaron shell on top, flat side down. Press down lightly.
Store the cookies in a covered container in the refrigerator. Bring to room temperature before serving.
Recipe Notes:
*total time does not include resting time.
macaron recipe from Sugar Rush
Like these French Macarons? Try this recipe: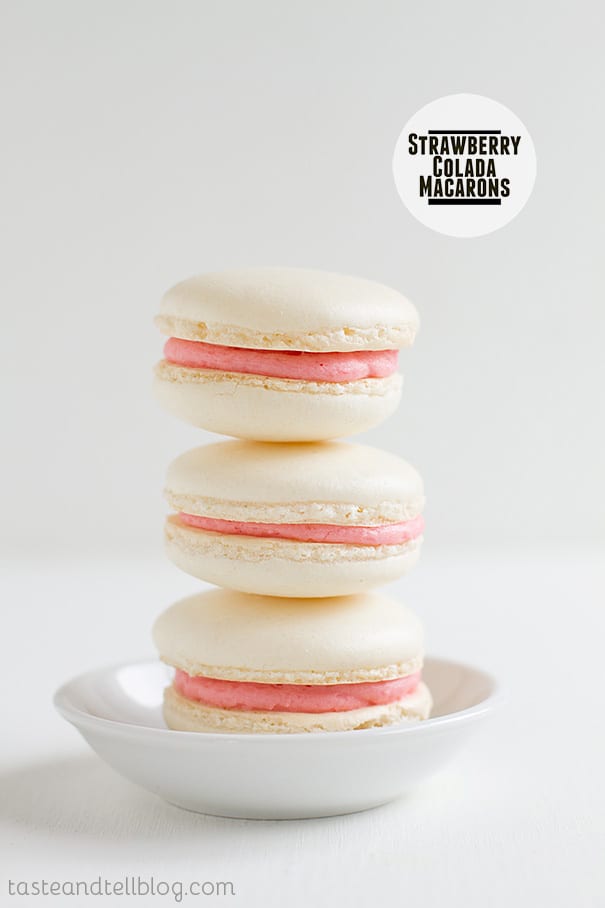 Around the Web:
Raspberry Coconut Macarons from Cooking Classy
Lemon Blueberry Macarons from Chocolate and Carrots
Cookies and Cream Double Stuf Macarons from Picky Palate