These Chocolate Toffee Cranberry Cookies are packed with chocolate chips, toffee pieces and dried cranberries for a cookie that will leave you craving more.
I'm participating in a fun cookie exchange today! Make sure you scroll to the bottom of the post for details!!
So, we just got our Christmas tree yesterday. We are still buying fresh (I can't give up that fresh tree smell!!), and really, we usually wait a little bit longer to make sure we don't have a dried up tree come December 25th. But I was itching to get it up so that it would actually feel like Christmas. And let's be honest – I was getting tired of the kids asking 20 times a day when we were going to get a tree.
So now I can look into the living room and see the tree in all of it's lit up beauty while I dance around to Christmas carols on Pandora. Or while I'm in the kitchen baking up a batch of Christmas cookies.

I will tell you right now – I've been going a little bit crazy on the Christmas baking this year. So don't be surprised it you see treat after treat here on Taste and Tell until Christmas comes. A couple months ago, I made a list of what I wanted to make, and then I slowly added to that list as time went by, and I just haven't wanted to give anything up.
One thing I've been really digging this year is cranberries. You already saw the cupcakes, and now we have cranberry cookies. (And another cranberry recipe coming up next week!)
These Chocolate Toffee Cranberry Cookies are perfect for cookie plates, cookie exchanges, or even just for Santa's plate. In fact, I'm pretty sure these will be the cookies we will make for Santa since I liked them that much since I know that Santa would approve of these cookies. I literally had to have a neighbor take them from me because I ate 6 of them right in a row and could not help myself. 🙂 I would have never imagined that the combination of chocolate, toffee and cranberries in a soft oatmeal cookie would be so addicting. I am deeming these Chocolate Toffee Cranberry Cookies as my favorite Christmas cookie of 2014!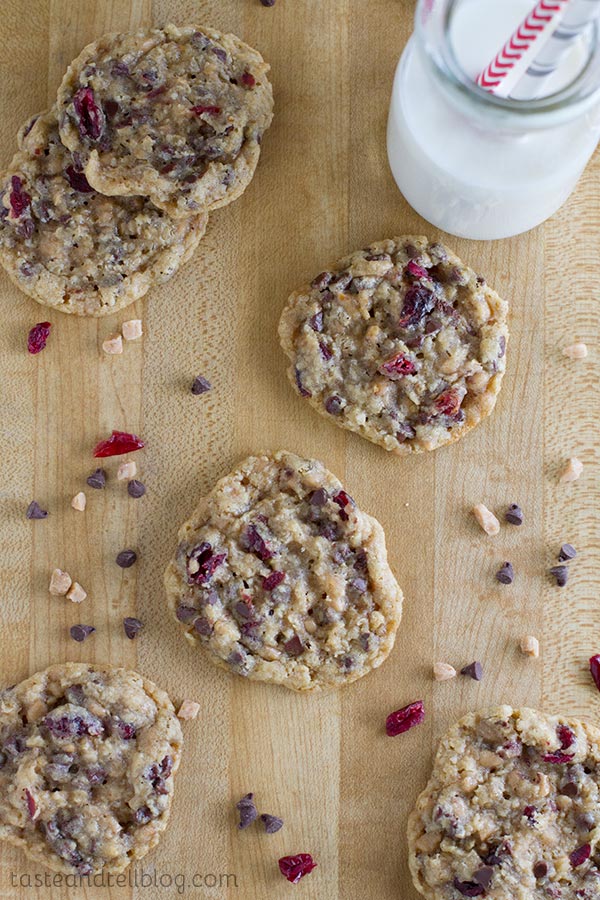 Santa's Milk Drive
There is nothing that goes better with warm cookies than a big glass of milk, right? Well, did you know that milk is one of the most requested items at food banks, but it is rarely donated?
This holiday season, you can help by taking part in Santa's Milk Drive to bring milk to local food donation centers. The cool part about this is that you can go to www.santasmilkdrive.com and enter your zip code, and then you know that your donation will go to a local food bank. Pretty cool, right?
It doesn't take much to make a difference!!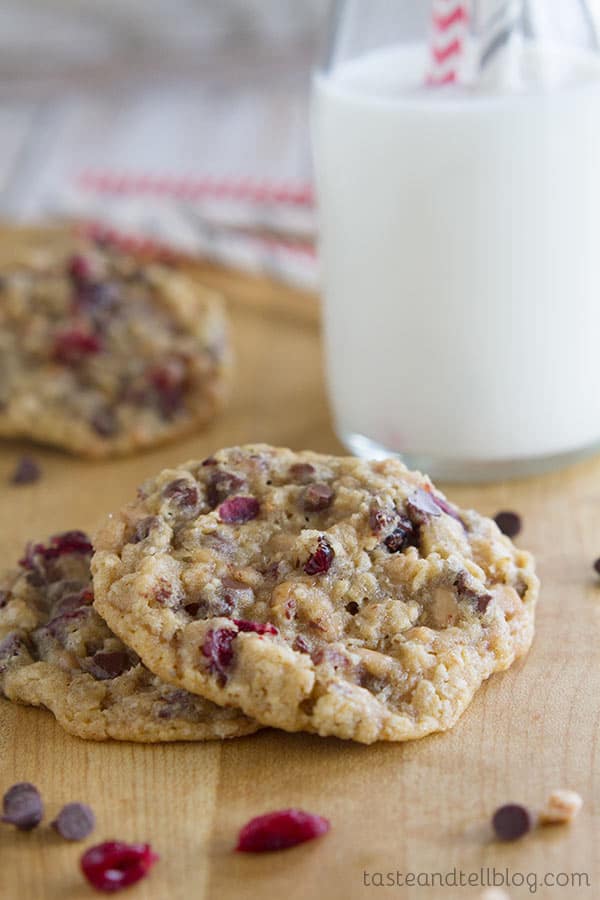 Like what you see here? Make sure you are following Taste and Tell for more great recipes and ideas!!

Facebook ** Pinterest ** Twitter ** Instagram ** Google+
or you can subscribe to my newsletter or Feedly or Bloglovin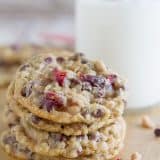 Chocolate Toffee Cranberry Cookies
---
Prep Time: 15 mins
Cook Time: 10 mins
Total Time: 25 mins
Yield: 5 1/2 dozen 1x
Description
These Chocolate Toffee Cranberry Cookies are packed with chocolate chips, toffee pieces and dried cranberries for a cookie that will leave you craving more.
---
Scale
Ingredients
1 cup butter, softened
1 cup light brown sugar
1/2 cup granulated sugar
1 egg
1 teaspoon vanilla extract
1 1/2 cups all-purpose flour
1 1/2 cups quick cooking oats
1 teaspoon baking soda
1/4 teaspoon salt
1 cup mini chocolate chips
1 cup toffee pieces
1 cup dried cranberries
---
Instructions
In the bowl of a mixer, cream together the butter, brown sugar and granulated sugar until light and fluffy. Add in the egg and beat until fully combined. Beat in the vanilla.
In another bowl, combine the flour, oats, baking soda and salt. Gradually add the dry ingredients to the butter mixture. Add in the chocolate chips, toffee pieces and cranberries and beat just to combine.
Divide the mixture into thirds, and shape each into a 12-inch log. Wrap each log tightly in plastic wrap and refrigerate for at least 2 hours.
Preheat the oven to 350ºF. Lightly grease 2 baking sheets or line with parchment paper.
Unwrap the chilled dough and cut into 1/2" slices. Place 2 inches apart on the baking sheets.
Bake for 8-10 minutes, or until golden brown. Let sit for 1-2 minutes then transfer to a cooling rack to cool completely.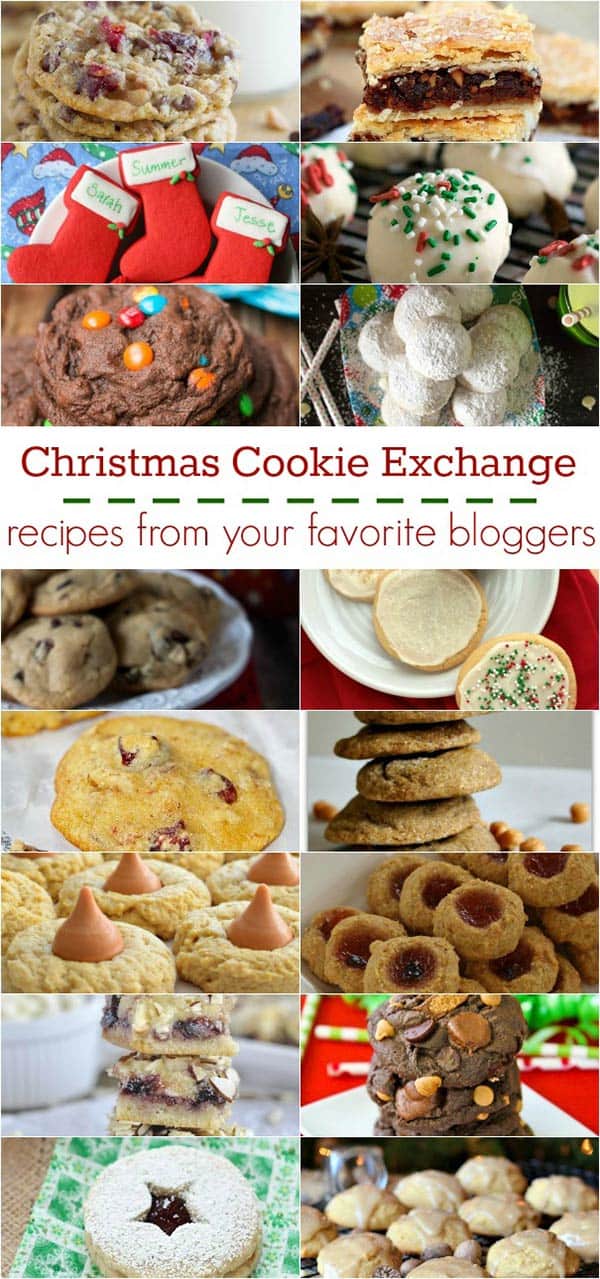 What is more fun than a cookie recipe? 17 cookie recipes!! I have teamed up with 16 other great bloggers to bring you enough recipes to fill that cookie plate this Christmas season. Make sure you click over to each of the cookies below to check out what everyone else is bringing to our virtual cookie swap.
Caramel Filled Chewy Ginger Cookies from 365 Days of Slow Cooking