The perfect holiday cupcake, these Cranberry Orange Cupcakes are infused with orange zest and fresh cranberries, then topped with a silky cranberry orange buttercream. Make them even more festive by topping them with sugared cranberries.
If you love the cranberry orange combination, you also need to try this Cranberry Orange Cheesecake!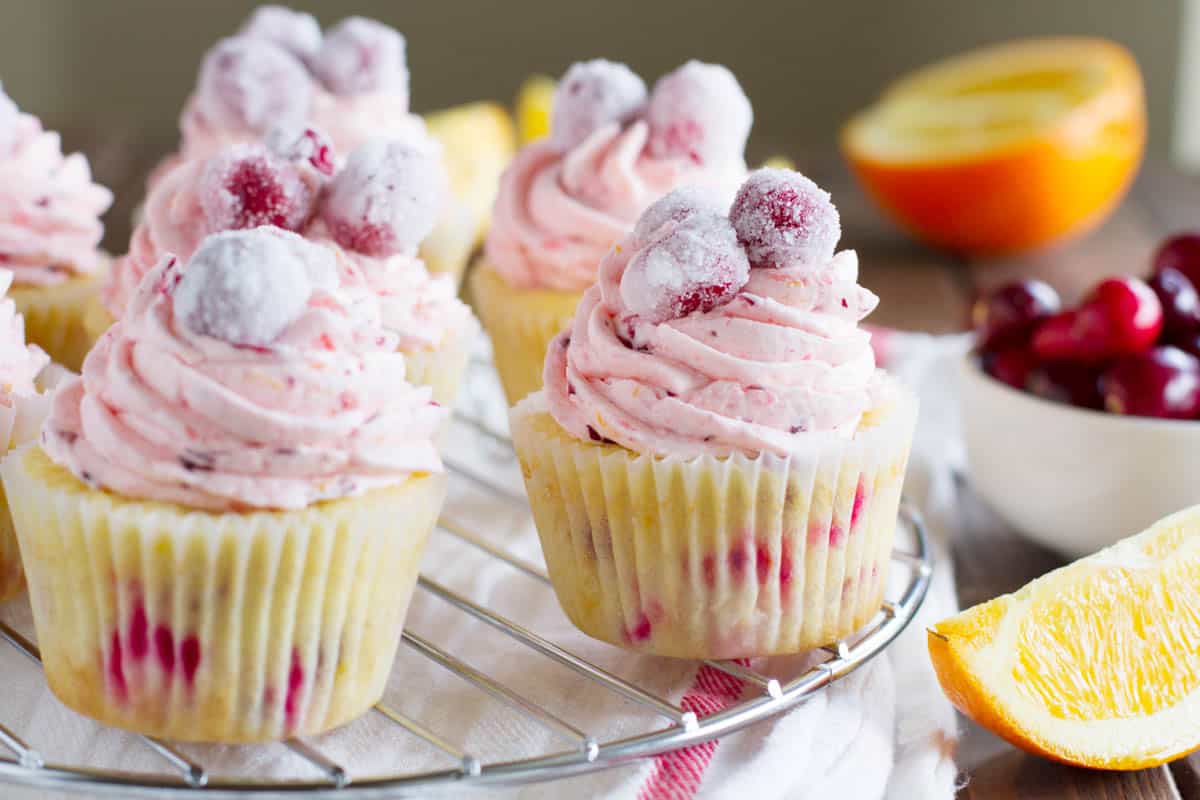 One night, after a dinner out with my sisters, I stopped and grabbed a couple of cupcakes.
On my drive home, I opened up the bag and pulled out the cranberry orange cupcake. I was pretty excited – I had been craving a cupcake, and I was excited about the flavor combination. But I was quickly let down. It wasn't that the cupcake was bad. It just wasn't good.
So I knew that I had to go home and recreate my own version of that cranberry orange cupcake.
I have to admit that I liked these Cranberry Orange Cupcakes about 100x more than that bakery cupcake that I bought. And they would be perfect for any holiday party or get together. I know I love to celebrate the season with a good cupcake!!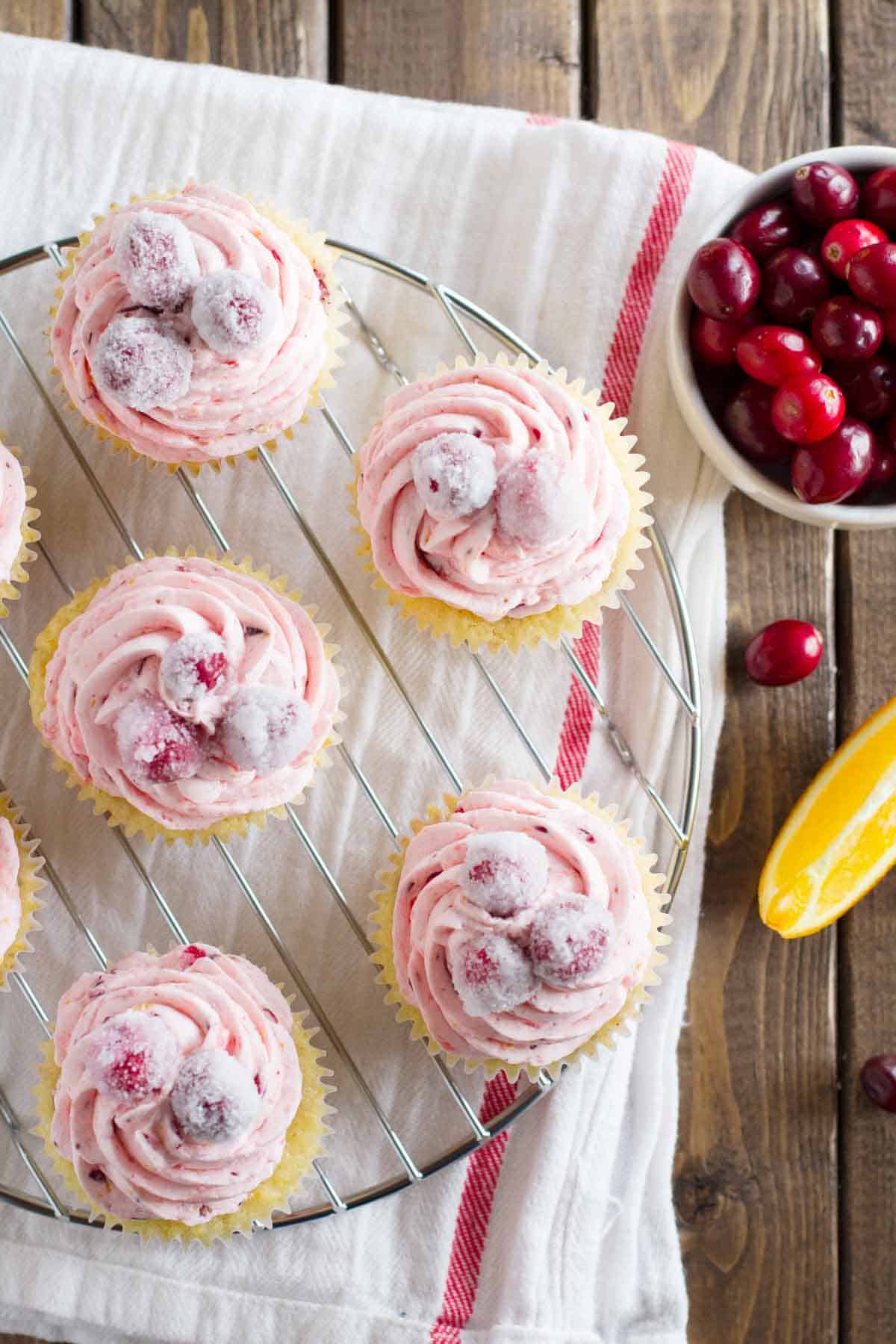 The Cupcakes
This is definitely more of a "fancy" cupcake – and it looks pretty complicated, but you can break it up into 3 parts.
The Cranberries: I love these things, and will eat them like candy. I first made them back in 2007, and I just had to make some more to top these cupcakes. They don't take a lot of effort, but you do start them the night before, so be aware of that if you choose to make them to top your Cranberry Orange Cupcakes. If you want step by step photos to make them, you can also check out this Sugared Cranberries post.
The Cupcakes: Whenever I make cupcakes from scratch, I'm always reminded that they really don't take that much effort than a box mix. And the flavor in these really pay off.
The Buttercream: If you love cranberry and orange, this buttercream is going to be your new best friend. All of the orange flavor comes just from orange zest. You can always add in some orange extract if you want even more orange flavor.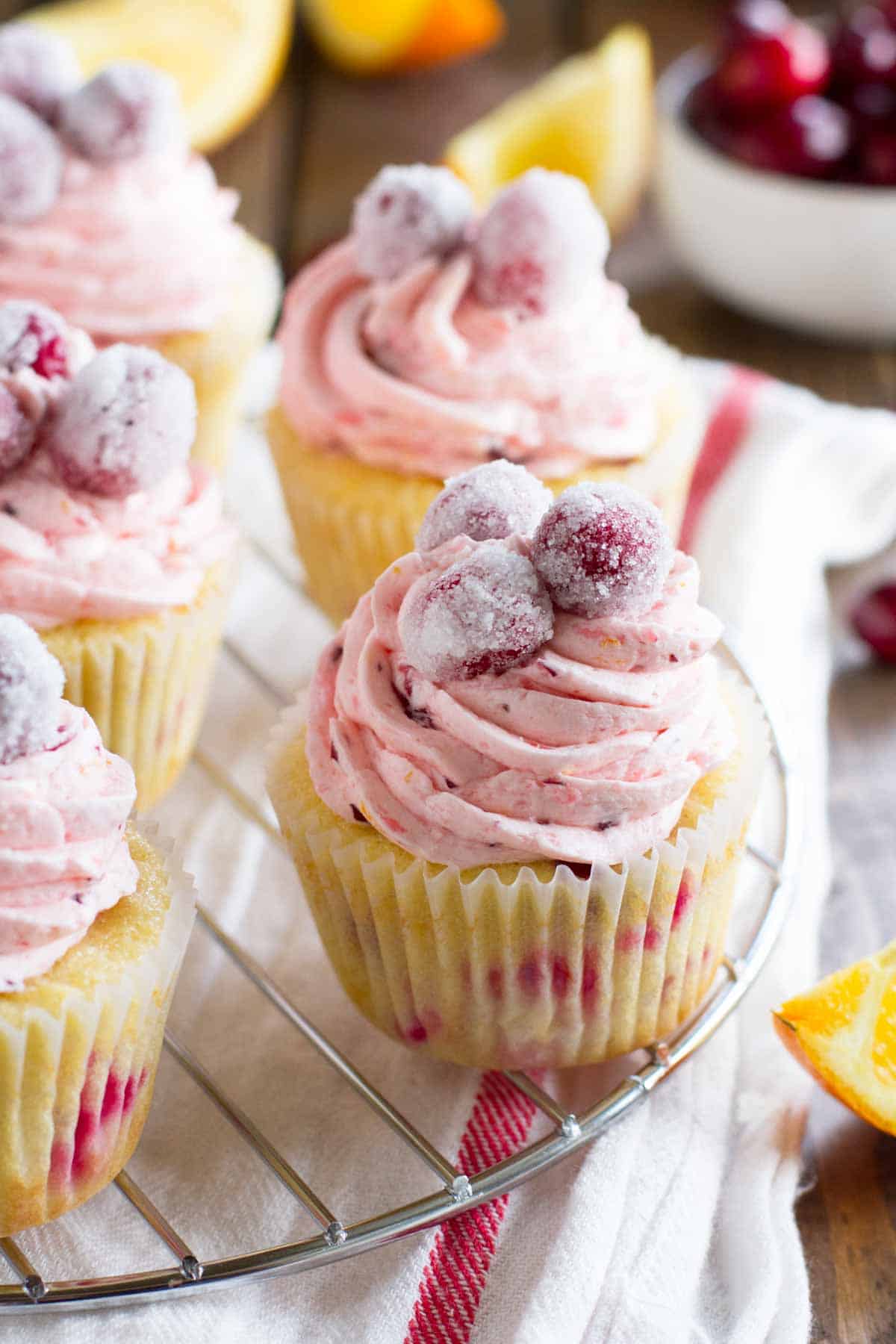 Tips and Tricks
A few things about these cupcakes:
1st – I know this makes 14 cupcakes. It drives me crazy, too. You should have 12 or 18 or 24. Not 14, where you have a partially empty cupcake tin. But I wanted to keep the measurements simple, instead of having to do measurements like 1 cup and 1 1/3 teaspoons. Easy trumps the number, right? My normal cupcake recipe makes 12, but when you throw in the cranberries, it ups the amount of batter you have.
2nd – The texture of these cupcakes is more like a bakery cupcake than a box mix cupcake. A lot of people get used to the light and fluffy cupcakes that you get from a box mix, but these cupcakes are not light and fluffy in that same sense. These are a lot more moist and flavorful, though.
3rd – The buttercream on these cupcakes gave me a run for my money. It looked perfect, and then I stirred in the cranberries and it all fell apart. The buttercream broke and was not pretty like I was hoping for. The first time this happened, I tried adding more powdered sugar, but all I ended up with was a super sweet buttercream that was still broken. What ended up working for me was first – beating it like crazy. Like I beat it on medium-high for 5-6 minutes straight. It still wasn't perfect, so I took a kitchen towel and ran it under the hot water, then held it up around the outside of my mixer bowl. That did the trick! The little bit of heat brought it back together and I had a beautiful, fluffy buttercream. It was a little bit softer than I normally like, so after piping it on the cupcakes, I refrigerated the cupcakes to set up the buttercream a bit. It worked like a charm!! If you don't want to deal with the buttercream breaking, feel free to leave the cranberries out of the frosting and you'll have just an orange buttercream.
4th – for the cupcakes, I roughly chopped the cranberries with my knife. I left them in mostly big pieces, just making sure each cranberry was at least cut in half. For the buttercream, though, I put the cranberries in my Blendtec and pulsed a couple times to break them down more. You want the pieces small enough so that you can still pipe the frosting onto the cupcakes.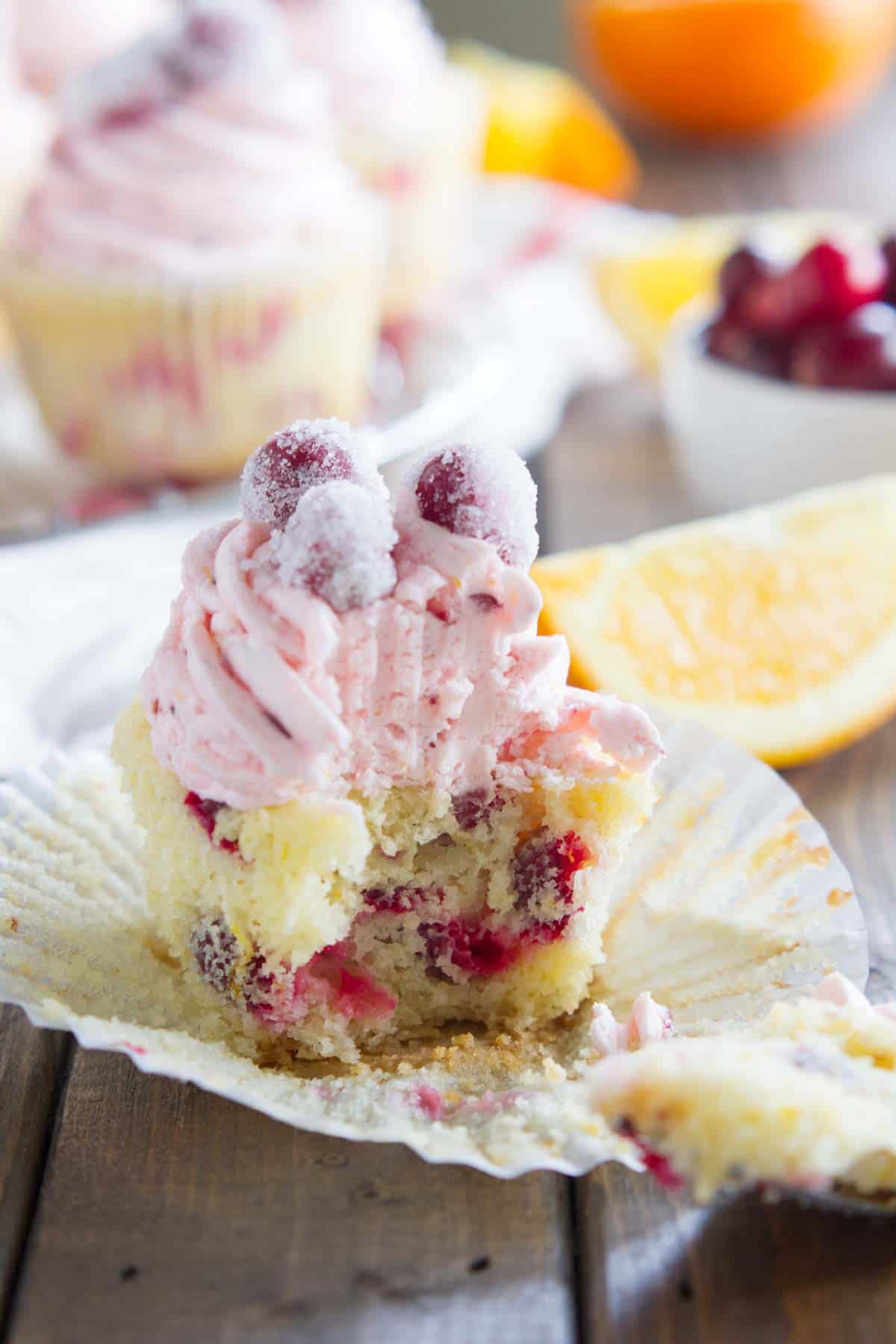 More Holiday Worthy Desserts
Buche de Noel (Yule Log Cake)
Cranberry Cake with Warm Butter Sauce
No Bake Nutella Cheesecake
Eggnog Cupcakes with Caramel Eggnog Buttercream
Christmas Shortbread Cookies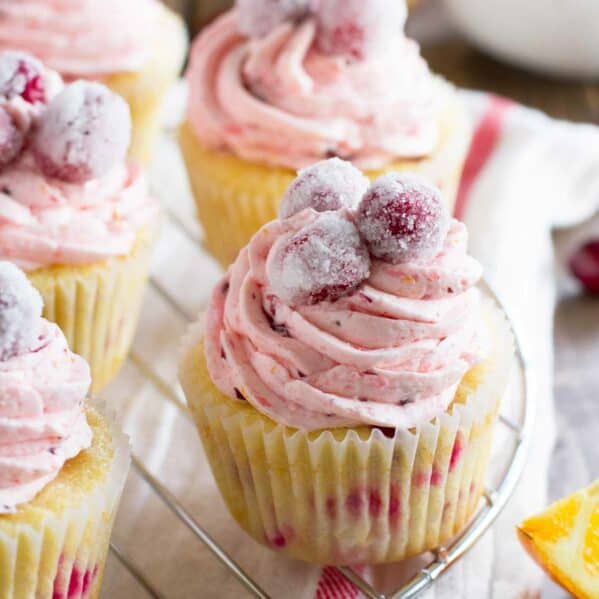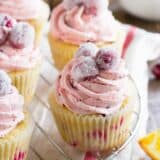 Cranberry Orange Cupcakes
---
Author:
Prep Time: 30 minutes
Refrigeration/Rest Time: 10 hours
Cook Time: 18 minutes
Total Time: 10 hours 50 minutes
Yield: 14 cupcakes 1x
Category: Dessert
Method: Baked
Cuisine: American
Description
The perfect holiday cupcake, these Cranberry Orange Cupcakes are infused with orange zest and fresh cranberries, then topped with a silky cranberry orange buttercream. Make them even more festive by topping them with sugared cranberries.
---
Scale
Ingredients
Sugared Cranberries
1 cup granulated sugar
1 cup water
1 cup fresh cranberries
1/2 cup superfine sugar*
Cupcakes
1 1/2 cups all-purpose flour
2 teaspoons baking powder
1/2 teaspoon salt
1 cup granulated sugar
1/2 cup butter, softened
2 eggs
zest of 1 orange
3/4 cup buttermilk
1/2 teaspoon orange extract
1 1/2 cups fresh cranberries, roughly chopped
Frosting
3/4 cup butter, softened
3 cups powdered sugar
1 tablespoon orange zest
2–3 tablespoons heavy whipping cream**
3/4 cup fresh cranberries, finely chopped
---
Instructions
To make the cranberries:
Combine the 1 cup of sugar and water in a small saucepan and cook over medium heat until the sugar is dissolved. If the water gets too hot and starts to boil, remove from the heat and allow to cool slightly, then add the cranberries. (You don't want the cranberries to burst, which is why you don't want the water too hot.) Pour the simple syrup and cranberries into a bowl and cover. Refrigerate overnight.
Drain the cranberries. Place the superfine sugar in a shallow bowl and add the cranberries. Shake to coat the cranberries with the sugar. Transfer to a surface lined with waxed paper and allow to dry for at least 1 hour.
To make the cupcakes:
Preheat the oven to 350ºF. Line 14 muffin tins with cupcake liners.
In a medium bowl, whisk together the flour, baking powder and salt.
In the bowl of a mixer, beat the sugar and butter together until light and fluffy, about 5 minutes. Add in the eggs, one at a time, scraping down the bowl between additions. Beat in the orange zest.
In a liquid measuring cup, combine the buttermilk and the orange extract. Add 1/3 of the flour mixture to the butter and beat until combined. Follow that with 1/2 of the buttermilk. Add another 1/3 of the dry ingredients, the remaining buttermilk, then the remaining flour mixture, beating to combine between each addition. Fold the cranberries into the batter.
Fill each of the prepared cups about 2/3 full of the batter. Bake until a tester inserted in the middle comes out clean, about 18 minutes. Allow to cool completely.
To make the frosting:
Beat the butter in a mixer until light and fluffy. Add in the powdered sugar, 1/2 cup at a time, until completely combined. Beat in the orange zest. Add in the cream, 1 tablespoon at a time, until you reach your desired consistency. Beat in the cranberries.***
To assemble:
Pipe the frosting on top of the cooled cupcakes. Top each cupcake with several sugared cranberries.
Recipe Notes:
Total time does not include cooling time. Time to make the sugared cranberries is not included.
*If you don't have superfine sugar, you can run regular granulated sugar through the food processor to break it down into smaller particles.
**regular milk can be substituted for the cream, but cream makes a richer buttercream, so it is preferred.
***When you add the cranberries, your buttercream may break – it will look like it starts to separate. This happens because of the acidity of the cranberries. If this does happen, continue to beat the buttercream on medium-high for 5-6 minutes. If this still doesn't help, hold a kitchen towel that has been soaked in hot water on the outside of the bowl while the buttercream is being beaten. The heat should help the buttercream to come back together. If you don't want to deal with the buttercream breaking at all, feel free to leave out the cranberries for just an orange buttercream.
Sugared Cranberries recipe adapted from Cooking Light
Keywords: cranberry orange cupcakes