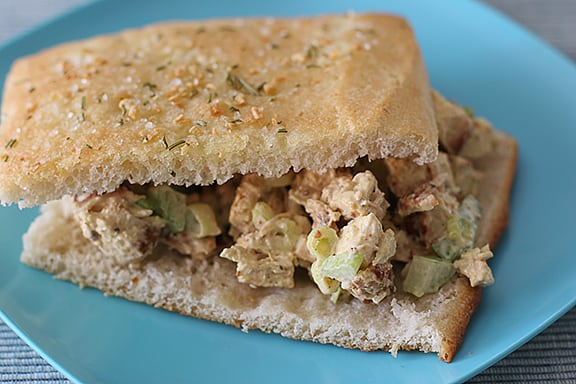 Do you – if you are a food blogger – feel like sometimes you will never catch up?? I don't even cook 7 days a week, but sometimes I feel like I'm never going to be able to work my way through the recipes I've made and taken pictures of. Like this sandwich – I made it back in July. Over 3 months ago. I don't know why I have so much waiting to be blogged about – I really feel like I only cook a couple of times a week anymore!! But for some reason, I feel like I can't make a meal without taking a picture of it and talking about it. It's almost some sort of disease! What did I ever do before food blogging??
Luckily, even though I made these sandwiches so long ago, I still remember them. I wouldn't go as far as saying this is the best chicken salad recipe, but any chicken salad recipe is a good one to me! And the bread – although some of you may gawk because it's made from premade pizza dough – was actually quite good. And if you don't want to buy the premade stuff, you could always do this with homemade pizza dough. But if you are in a hurry, this one works great!
Chicken Salad Focaccia Sandwiches
adapted from Best of the Bake-Off Cookbook
Makes 4 sandwiches
Focaccia
1 (10-ounce) can refrigerated pizza crust
2-3 tablespoons olive oil
2 garlic cloves, minced
1/2 to 1 1/2 teaspoons coarse salt
3 teaspoons fresh rosemary, minced
Salad
1 1/3 cups chopped, cooked chicken
1/2 cup chopped celery
1/2 cup mayonnaise
2 green onions, chopped
dash of dried aniseed
2 teaspoons prepared mustard
dash of garlic powder
dash of onion powder
salt and pepper to taste
Heat oven to 350°F. Lightly spray cookie sheet with nonstick cooking spray. Unroll dough onto sprayed cookie sheet to form 12×10-inch rectangle. Starting with short end, fold dough in half; press lightly.
In small bowl, combine oil and minced garlic; mix well. Spread over dough. Sprinkle with salt and rosemary. Bake at 350°F. for 20 to 25 minutes or until edges are golden brown.
Meanwhile, in medium bowl, combine all salad ingredients; mix well. Refrigerate 15 minutes.
To serve, cut warm focaccia into 4 pieces. Split each piece to form 2 layers. Spoon and spread salad on bottom halves of focaccia pieces; cover with top halves to form sandwiches.