I have to start off by saying that I am already in love with this month's Cookbook of the Month – Basic to Brilliant, Y'all.  I took a little bit of a chance choosing a book that has just been released – not really knowing anything about it or having read any reviews on it.  I luckily received my copy in the mail earlier this week, I was getting a little worried – ordering a cookbook that just came out before I needed to post my first recipe!
One of the reasons I have fallen in love with this book is because of the whole premise of the book.  It is called "Basic to Brilliant" for a reason.  Each recipe is given in the book, followed by a way to dress  the recipe up, or to turn it from basic to brilliant.  And while I am more of a basic girl, I have loved reading through ways to dress up each recipe.  Some of the ways to make a recipe brilliant are a little more complicated, while some are small, simple changes.  Like with this recipe – it went from basic to brilliant by the addition of a skewer (or in my case, a bamboo fork that I had on hand already.)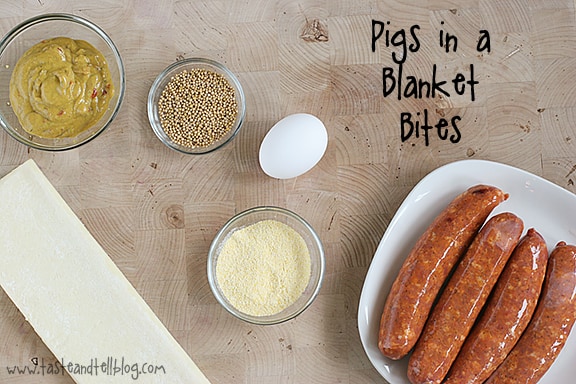 I'm a sucker for a good pig in a blanket.  And this twist on the family favorite is not only a bit more sophisticated, but it's also delicious!  Andouille sausage is wrapped in puff pastry, then rolled in a mustard seed and cornmeal mixture.  You get a little bit of heat from the sausage, and a little bit of crunch from the mustard seeds and cornmeal.  Serve it alongside some Creole mustard, and you have a "brilliant" appetizer that is refined enough for adults!
In the book, there is a recipe for quick puff pastry, and maybe if I wasn't under time constraints, I would have tried it.  But I do have to say that puff pastry from scratch intimidates me.  But since I didn't have the time, store bought puff pastry filled in just fine.  And the only andouille sausage that my grocery store had were shaped like an Italian sausage, and the package only had 4.  I'm guessing that the way the recipe is written – the sausages are most likely a bit thinner, and you should have 6 of them.  But I made it work.
These were so delicious.  I made them in the afternoon, and ended up eating so many of them myself that I wasn't even hungry for dinner.  I'm looking forward to the other recipes that this cookbook has to offer!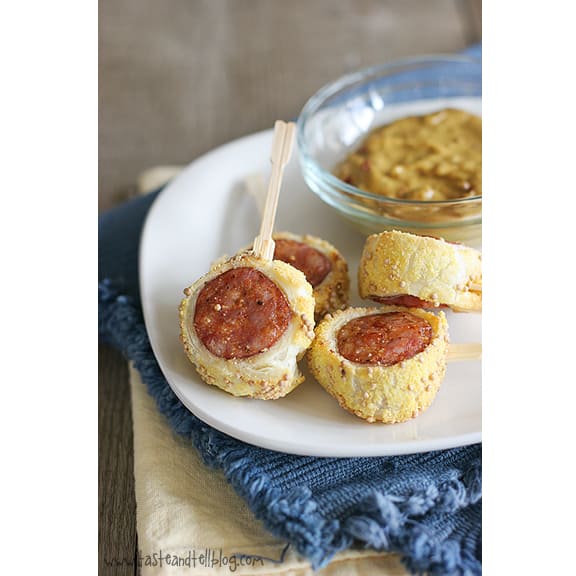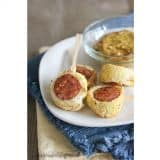 Pigs in a Blanket Bites
---
Prep Time: 15 minutes
Cook Time: 20 minutes
Total Time: 1 hour 5 minutes
Yield: 24 bites 1x
Description
Pigs in a blanket get dressed up with puff pastry and mustard seeds. Serve skewered for an easy appetizer.
---
Scale
Ingredients
1 sheet puff pastry (1/2 of a 17.3 oz package)
all purpose flour, for rolling out
1 large egg
1 tablespoon water
18 ounces fully cooked andouille sausage (6 sausages)
2 tablespoons yellow mustard seeds
2 tablespoons fine cornmeal
Creole mustard, for serving
---
Instructions
Line a rimmed baking sheet with parchment paper or a silicone baking liner.
Lightly dust a work surface with flour. Roll the puff pastry into a 12×12-inch square. Brush away any excess flour. Cut the square into half horizontally, then in thirds vertically to make 6 4×6-inch rectangles.
In a small bowl, whisk together the egg and water. Brush the rectangles with the egg wash. Place one sausage along the long end of the rectangle, (don't worry if the ends stick out), and roll the pastry around the sausage. Press the edge to seal. Place on the prepared pan. Repeat with the remaining sausages and rectangles. Set aside the remaining egg wash and refrigerate the sausages for 30 minutes, or up to overnight.
Preheat the oven to 400F.
Combine the mustard seeds and cornmeal in a shallow baking dish. Working with 1 roll at a time, brush the outside of the pastry with the egg wash. Roll in the seed-cornmeal mixture. Repeat with the remaining sausages. (If the pastry becomes warm or soft, return to the refrigerator for a few minutes.)
Using a sharp knife, cut off any ends of the sausages that stick out of the ends. Cut each roll into 6 pieces. If using skewers or toothpicks, insert into the pieces and arrange on the baking sheet, alternating the orientation so the skewers don't touch the pastry as it expands while baking.
Bake for 10 minutes, then flip. Continue cooking until golden brown, 8 to 10 minutes more. Remove to a rack to cool slightly before serving.
Serve warm with the Creole mustard for dipping.
——————————-
Slightly adapted from Basic to Brilliant, Y'all