Chicken Parmesan goes sandwich style in these easy and portable Oven Baked Chicken Parmesan Sandwiches. Breaded chicken is topped with marinara, cheese and basil, layered on a roll, then baked in a foil packet.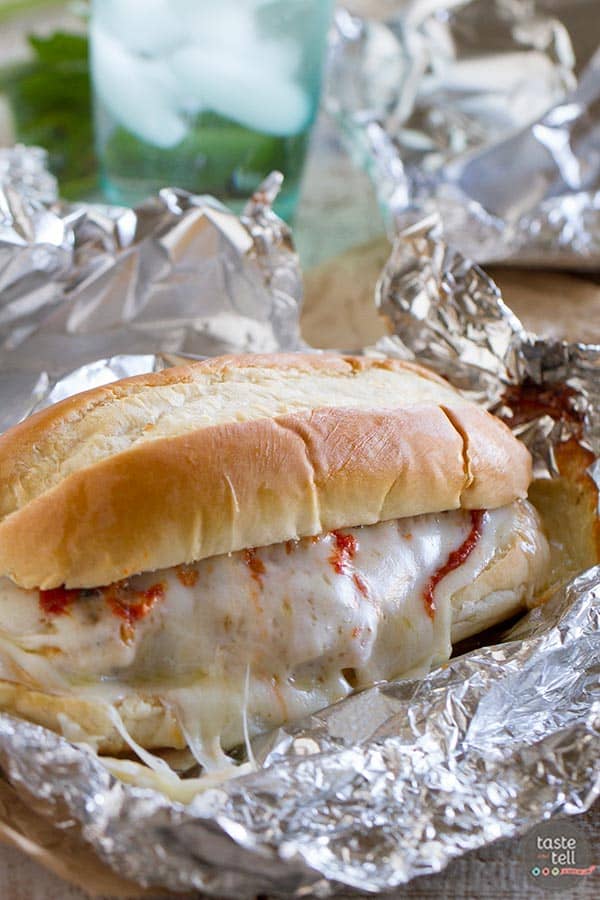 There is a thing here (I don't know – maybe they do this everywhere) called the Parade of Homes. It usually lasts a few weeks, and several new homes are opened up for you to walk through and see. Builders and designers do it to showcase all that they can do, and I'm guessing to try to earn your business in the future.
They hold several here in Utah, organized by counties. The parade for the county that I live in has been going on for the last few weeks, and is almost over. I haven't gone for years, but since we are looking into building a house next year, I thought it would be fun to go.
There are all different kinds of houses, but since builders are featuring their best, they aren't necessarily the cheapest houses. There are a few that start in the $300,000 price range, but most are more than that. Which is pretty substantial for where I live.
Well, today, I walked through a $4,000,000 home. Almost 20,000 square feet. 8 bedrooms, 8 bathrooms. A pool, racquetball court and basketball court. A master closet bigger than my bedroom right now. I thought I would leave that house feeling inadequate with what I had, wanting to find a way to build my own $4 million house. But I realized that I'm just not a $4 million dollar house kind of girl. My sister had seen the house earlier in the week, so I immediately texted her after, telling her that maybe I don't dream big enough, but I could never feel comfortable in a house that grand. (Although my daughter is now saying that any house without a swimming pool won't do. I told her that you really only get to use a swimming pool in Utah for 3-4 months out of the year, but she still wants one! #notgonnahappen)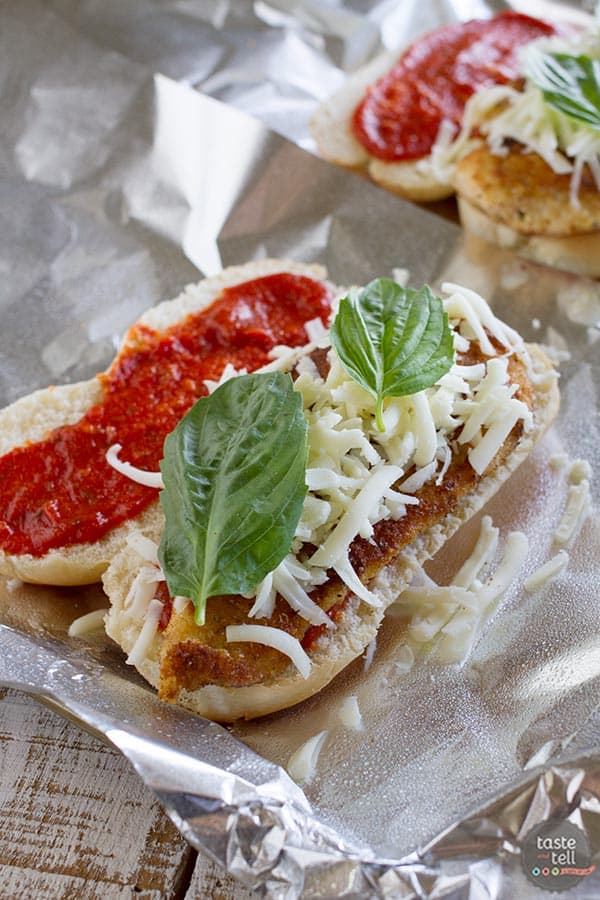 Don't get me wrong – I want a nice house (like most of us), but my life is too simple for that kind of extravagance. I would feel like I'd need to be cooking food adorned in black truffles, or lobster flown in from Maine, or desserts adorned with edible gold leaf. Or at least hiring a chef to make 6 course meals on the weekends.
But me? Give me one of these Oven Baked Chicken Parmesan Sandwiches, and I'm a happy girl. Eat it at a table, surrounded by my family, all covered in marinara and melted cheese. That's my idea of a home. Simple. Delicious. Relatable.
These Oven Baked Chicken Parmesan Sandwiches are gooey and cheesy and messy. I didn't toast my buns first, so the bread got pretty soft, so if you want to avoid sogginess, I would suggest toasting them before assembling them. I think these would be great to cook up right before a picnic, or I think they would be great cooked in a campfire as well. A few simple ingredients come together, and it's a sandwich night that everyone will love!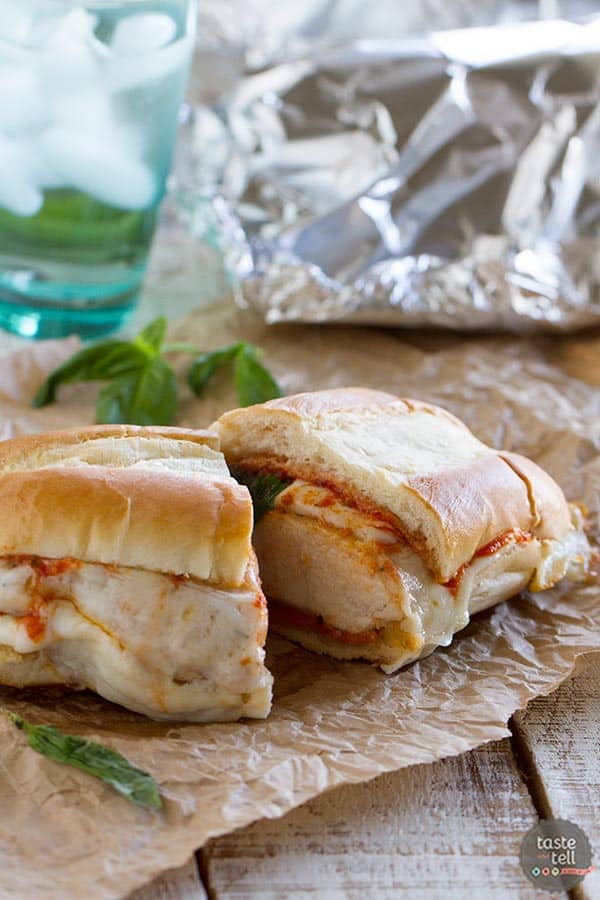 Like what you see here? Make sure you are following Taste and Tell for more recipes and ideas!
Facebook | Pinterest | Instagram | Twitter | Google+ | Weekly Newsletter | Feedly | Bloglovin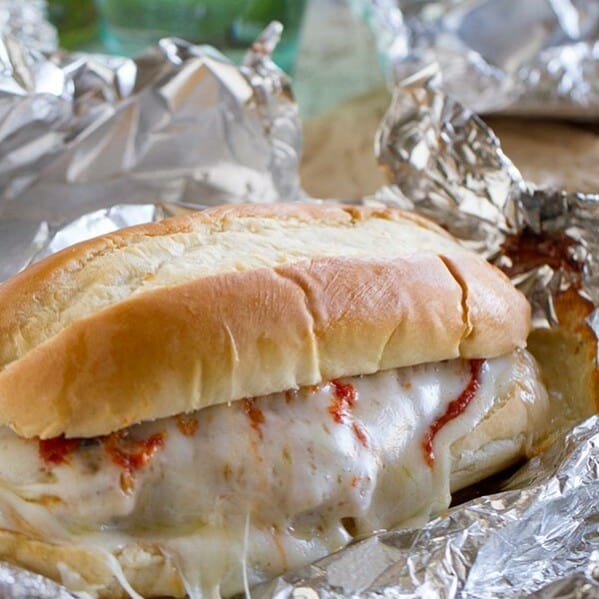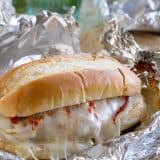 Oven Baked Chicken Parmesan Sandwiches
---
Author:
Prep Time: 10 mins
Cook Time: 45 mins
Total Time: 55 mins
Yield: 4 servings 1x
Description
Chicken Parmesan goes sandwich style in these easy and portable Oven Baked Chicken Parmesan Sandwiches. Breaded chicken is topped with marinara, cheese and basil, layered on a roll, then baked in a foil packet.
---
Scale
Ingredients
2 large boneless, skinless chicken breasts (10–12 oz each)
1 egg
1 cup plain breadcrumbs
1/3 cup grated Parmesan cheese
1/2 teaspoon dried oregano
1/4 teaspoon dried thyme
1/4 teaspoon onion powder
1/4 teaspoon garlic powder
salt and pepper
2 tablespoons extra virgin olive oil
4 hoagie rolls
1 cup marinara, homemade or store bought
8 oz mozzarella cheese, shredded
fresh basil
---
Instructions
Preheat the oven to 350ºF.
Use a sharp knife to cut the chicken breasts in half lengthwise, making 4 thinner pieces of chicken.
In a shallow bowl, lightly beat the egg with a splash of water.
In another shallow bowl, combine the breadcrumbs, Parmesan, oregano, thyme, onion powder and garlic powder. Season with salt and pepper.
Heat 1 tablespoon of the olive oil in a large skillet over medium heat. Take one piece of chicken and dip it into the egg, then into the breadcrumb mixture, coating the chicken completely on both sides. Transfer to the hot skillet, then repeat with another piece of chicken. Cook the chicken until browned, about 3 minutes, then flip and cook on the second side until browned. Transfer the chicken to a plate. Heat the remaining tablespoon of oil, then repeat with the remaining 2 pieces of chicken.
Lightly spray 4 pieces of foil. Place one open hoagie roll on each of the pieces of foil. Spread about 2 tablespoons of marinara on both the top side and bottom side of the rolls. Place a piece of chicken on the bottom roll. Top with 1/4 of the cheese, then a few basil leaves. Place the top of the roll on top, the loosely wrap the sandwiches in the foil, making sure they are sealed.
Place the foil packets on a baking sheet and transfer to the oven. Bake for 30 minutes, then let the sandwiches sit for 5 minutes before opening and serving.
Recipe Notes:
*To avoid soggy bread, you can toast the rolls before assembling the sandwiches.
adapted from Cassie Craves
Don't miss a thing! Follow me on Pinterest to see what I'm pinning!
Visit Taste and Tell's profile on Pinterest.