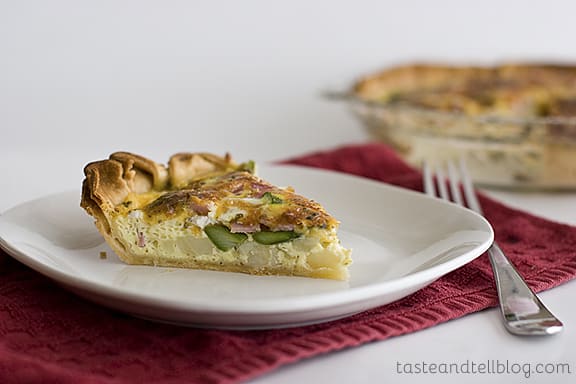 I mentioned before, but for a family reunion a few weeks ago, my family was in charge of breakfast. All of us kids made sweet breads and muffins, and my mom made several different kinds of quiches. And ever since then, I have not been able to get quiche off my mind. I know I have had my mom's quiche before, but for some reason, it was super memorable this time. I stuffed myself silly on it!!
So of course, I wanted to come home and make quiche. I have to admit that this wasn't quite as good as my mom's, (probably because I used a pre-made crust and didn't make it from scratch), but I still managed to eat this whole thing myself over the course of a few days. That's got to mean something!!
What is your favorite kind of quiche?
Canadian Bacon & Potato Quiche
from Pillsbury Dough Magic
serves 8
prep time: 25 minutes
total time: 1 hour 15 minutes
1 refrigerated pie crust, softened as directed on package (or use your own pie crust recipe)
1 cup frozen diced hash-brown potatoes, thawed
1 cup cut (1/2-inch) fresh asparagus spears
1 cup diced Canadian bacon
1 1/2 cups shredded cheese
4 eggs
1 cup milk
1/2 teaspoon dried majoram
1/4 teaspoon salt
Preheat the oven to 375F. Prepare the pie crust according to package directions and bake in the preheated oven until light brown, about 8 minutes.
Remove the crust from the oven. Spread the potatoes over the crust, followed by the asparagus, Canadian bacon, and cheese. In a bowl, beat the eggs, milk, majoram and salt. Pour over the mixture in the crust.
Bake in the oven for 45 to 50 minutes, or until a knife inserted in the middle comes out clean. Let stand for 5 minutes before cutting into wedges.