Campfire dinner in minutes! These Hot Ham and Cheese Campfire Sandwiches only take minutes to assemble. Throw them on the hot coals and dinner is done quickly and easily.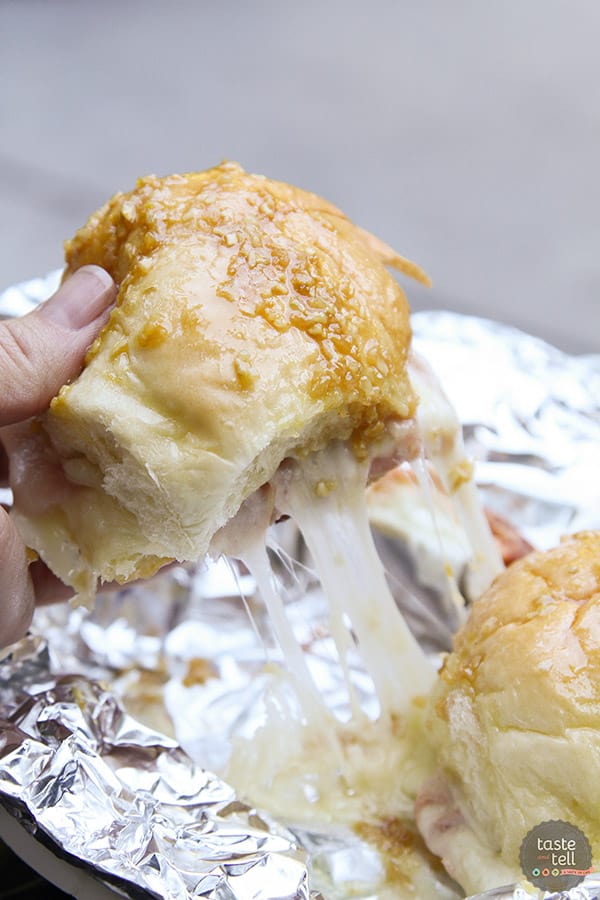 Yum


Growing up, we didn't travel a whole lot. There were a few big trips, but mostly, when it came to weekends away, it meant weekends in the mountains. We were a camping family. And I loved it.
We lived about an hour from the mountains in southern Colorado. It was beautiful, and a great place to escape. It was never anything crazy or extravagant, but we loved spending time together.
Now that I'm older, I still love camping. And luckily, I live just minutes from some pretty gorgeous camping areas. In fact, we are surrounded by them.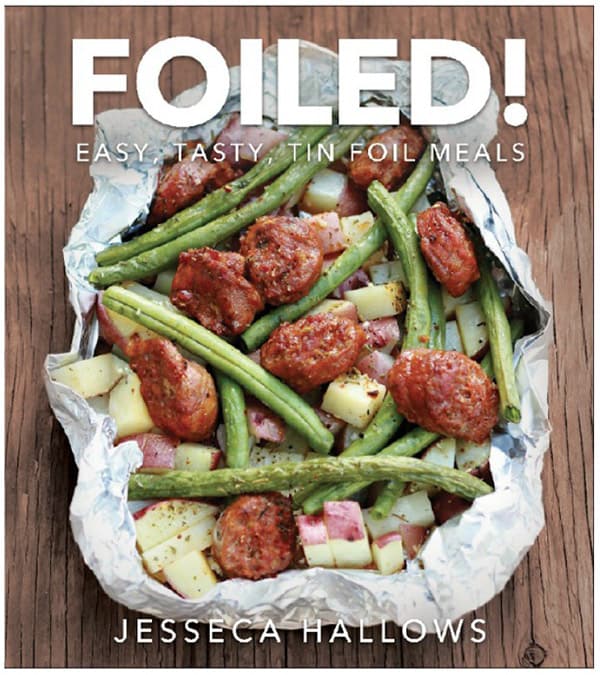 One thing I've been really wanting to get better at these last few years are campfire meals. We did a lot of hobo dinners and Frito pie growing up, and of course there are always roasted hot dogs. But I'm always looking to branch out. So when I saw that Jesseca from One Sweet Appetite had written a cookbook all about tin foil meals, I immediately added it to my Amazon cart. Foiled! Easy, Tasty, Tin Foil Meals is the perfect place to start when branching out on your campfire recipes!
I am loving this book. Not only is it filled with lots of great camping recipes, but you can also adapt them and cook them on your outdoor grill or even in the oven. And really, they are so easy that you'll want to make these recipes more often than just when you are in the great outdoors.
Here are the details:
Number of Photos: lots! Every photo has a recipe – yay!
Difficulty Level of Recipes: Easy. It's in the title, and it's true – the recipes are all super simple and not overly complicated – which is one thing that makes them perfect for camping!
Availability of Ingredients: Easy. There aren't any crazy or exotic ingredients, so you should be able to find everything easily. (Except I did have a hard time finding one ingredient, details below, but it was just a fluke!)
Other recipes I want to try:
Maple Bacon Rolls
Bruschetta Chicken
Sweet and Sour Chicken
Meatball Sandwich
Coconut Lime Halibut
Cheesy Broccoli and Rice
Smothered French Fries
Cheesy Garlic Bread
Grilled Pineapple Cake
S'more Quesadiilla
Buy Foiled! Easy, Tasty, Tin Foil Meals on Amazon.






I know that Hot Ham and Cheese Sandwiches are a well-loved sandwich, but I had never even thought to try to make the on the campfire. When I saw the recipe, I knew I wanted to try these. So we planned to go up the canyon for dinner one night, and I stopped at the store to grab the ingredients. And as luck would have it, they were out of Hawaiian rolls. So we stopped at another store on our way out, and again, no Hawaiian rolls to be found. So I actually ended up making these on regular dinner rolls. They were still awesome. And I think they would also be awesome on Hawaiian rolls. So just know that you can do them either way!!
These were SO easy to make. I brought along a small cast iron pan to use to melt the butter, but assembled everything else just on the foil. They were easy, and clean up was a breeze, which I totally appreciated because that's the worse part when you are cooking outdoors!!
I am totally sold on these Hot Ham and Cheese Campfire Sandwiches. And I can't wait for more camping and evening trips up the canyon, just to try out more recipes from this book!!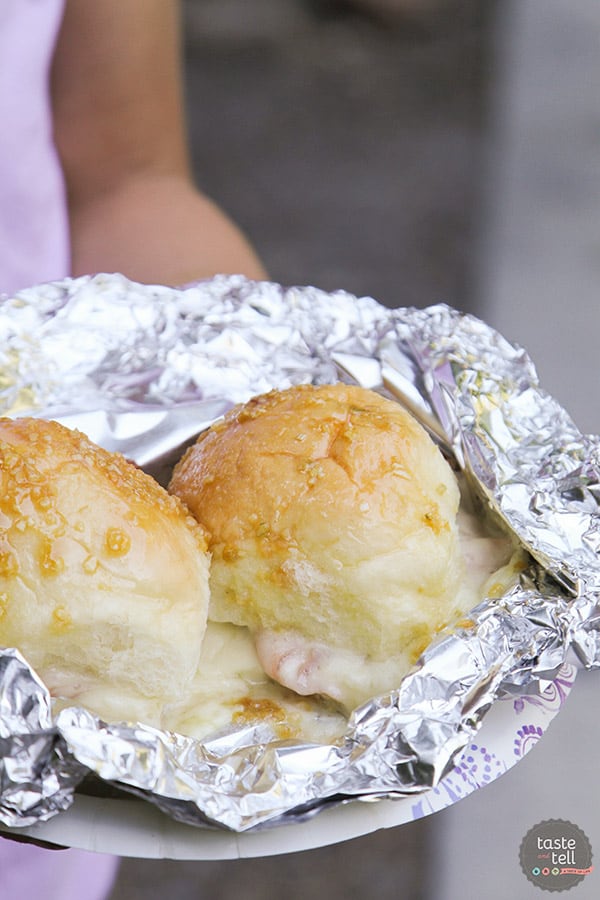 Like what you see here? Make sure you are following Taste and Tell for more recipes and ideas!
Facebook | Pinterest | Instagram | Twitter | Google+ | Weekly Newsletter | Feedly | Bloglovin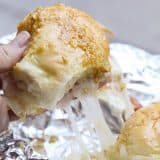 Hot Ham and Cheese Campfire Sandwiches
---
Author:
Prep Time: 10 mins
Cook Time: 15 mins
Total Time: 25 mins
Yield: 6 servings 1x
Description
Campfire dinner in minutes! These Hot Ham and Cheese Campfire Sandwiches only take minutes to assemble. Throw them on the hot coals and dinner is done quickly and easily.
---
Scale
Ingredients
1 lb deli-sliced ham
12 Hawaiian rolls
12 slices Swiss or Provolone cheese
1/2 cup butter, melted
1 1/2 tablespoons Dijon mustard
1 tablespoon dried onion
1 tablespoon brown sugar
---
Instructions
Prepare 6 sheets of heavy-duty foil.
Divide the ham between the 12 rolls. Top the ham with a slice of cheese, then place the top of the roll on top. Place 2 sandwiches onto each piece of foil.
Combine the melted butter, Dijon, dried onion and brown sugar. Pour evenly over the tops of the sandwiches.
Fold the sides of each packet up and seal closed. Place the packets on warm campfire coals. Cook, turning frequently, until the cheese is melted and the rolls are lightly toasted, 10-15 minutes.
More Campfire Recipes: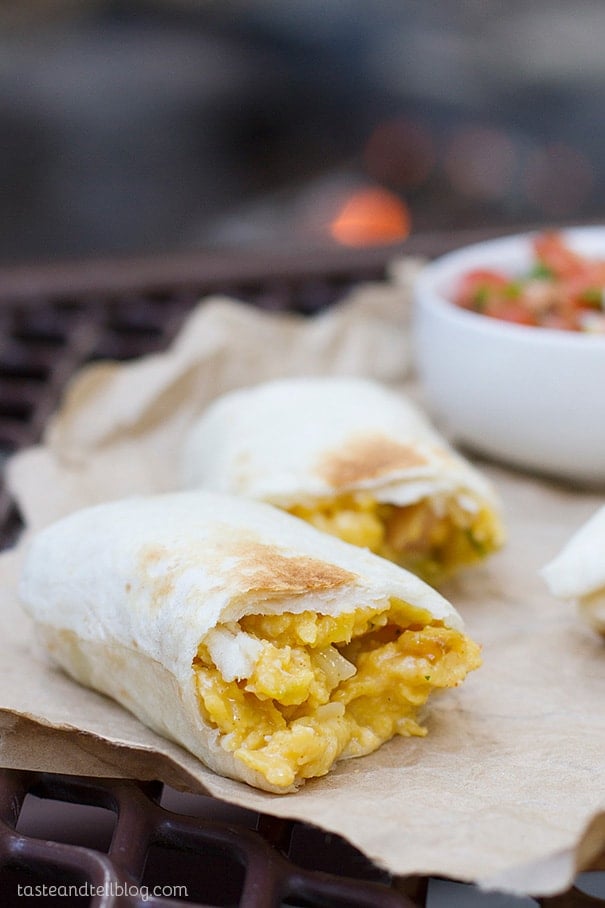 Breakfast Burritos Campfire Style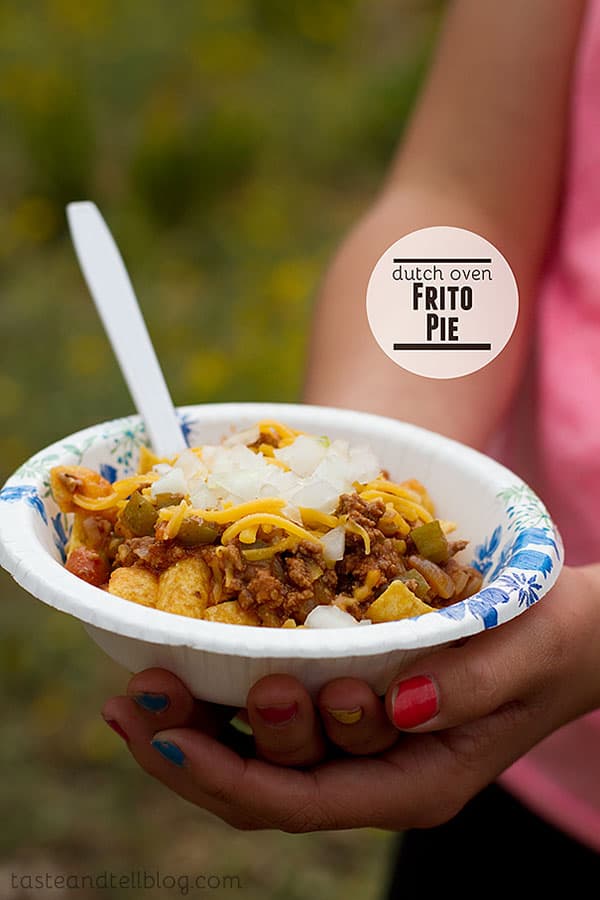 Around the Web:
Camping Mac n Cheese from Lauren's Latest
Campfire Cones from The Girl Who Ate Everything
Grilled Foil Ranch Potatoes from Favorite Family Recipes
Don't miss a thing! Follow me on Pinterest to see what I'm pinning!
Visit Taste and Tell's profile on Pinterest.