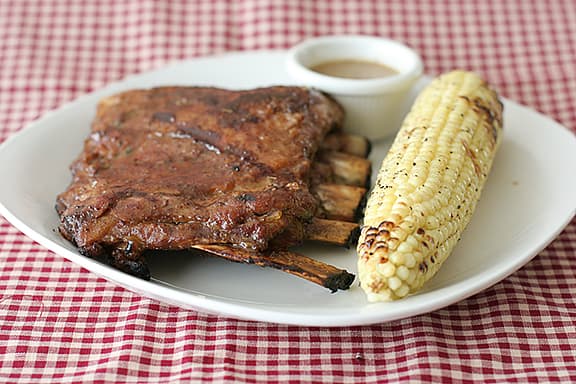 I consider myself a decent cook – one that isn't scared away from most recipes. Yes, there are some that are intimidating, but I'm always up for a challenge. Ribs are one of those things that I've been intimidated by. Why? I really don't know why. But I had never made them before, except the boneless kind that you can just throw in the crock pot. But I found some ribs on sale, and I decided to go for it.
Guess what? This was probably one of the easiest things I have ever made. Go figure. I don't know why ribs have intimidated me in the past. But I can tell you that they never will again, and I will be making them often now!!
Ribs with Honey Mustard Glaze
slightly adapted from Real Simple June 2010
serves 2
hands on time: 10 minutes
total time: 2 hours 45 minutes
2 tablespoons brown sugar
1 tablespoon paprika
1 teaspoon dry mustard
1 teaspoon dried oregano
salt and pepper
2 pounds ribs (we used St. Louis style)
1/4 cup Dijon mustard
1/4 cup red wine vinegar
1/8 cup honey
Heat oven to 275° F. Make the rub: In a small bowl, combine the sugar, paprika, dry mustard, oregano, 2 teaspoons salt, and ½ teaspoon pepper.
Place the ribs on a large rimmed baking sheet. Rub the ribs with the spice mixture and tightly cover the baking sheet with foil. Bake until tender and the meat easily pulls away from the bone, 2 to 2 ½ hours.
Meanwhile, make the sauce: In a small bowl, combine the Dijon mustard, vinegar, and honey. Transfer ½ cup of the sauce into a small bowl for serving.
Heat grill to medium-high. Grill the ribs, basting with the remaining sauce and turning occasionally, until just beginning to char, 4 to 5 minutes. Serve with the reserved sauce.