Forget the fancy bakery – these Turtle Cheesecake Cookie Bars are an impressive dessert you can make at home! A chocolate cookie base, a caramel cheesecake center, and lots of chocolate, caramel and pecans to top them off!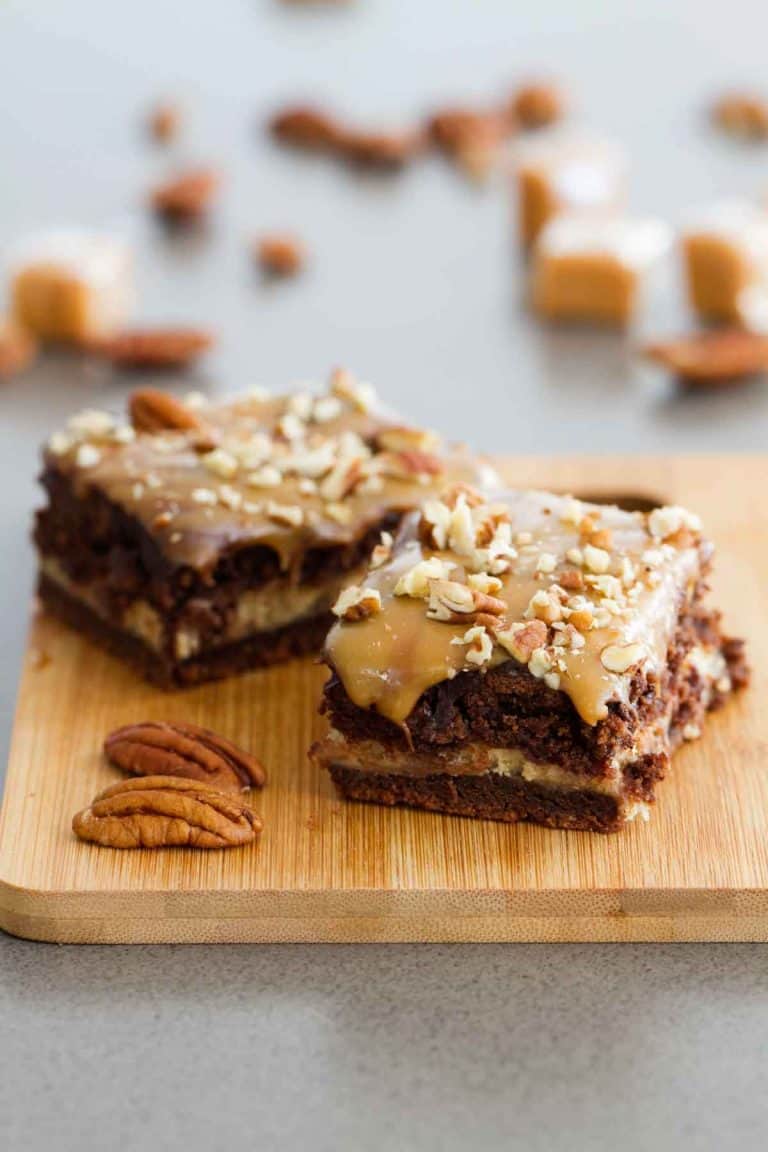 I warned you that I had a lot of cookbook reviews coming up, and I'm here today with another one! This cookbook is one that I have been very excited about, though, because it's all about one of my favorite topics: cheesecake!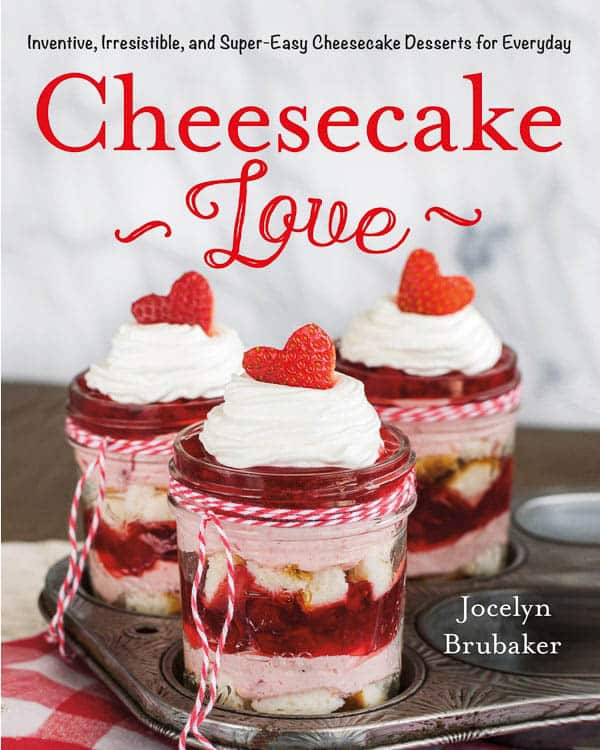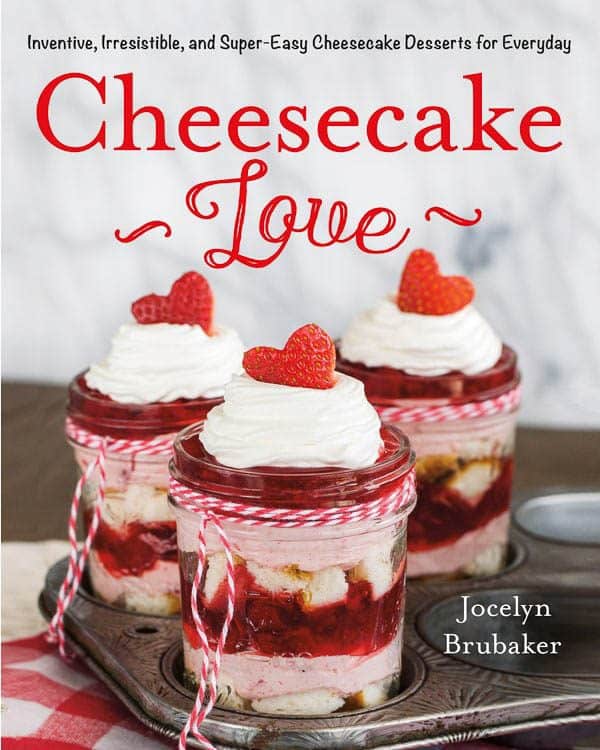 Cheesecake Love, by Jocelyn Brubaker, is your one-stop shop for cheesecake recipes. Not only does it have a great selection of full-size cheesecake recipes, but there are recipes for lots of different cheesecake-inspired recipes. From cupcakes to no-bakes to brownies, pies and cupcakes. There is even a chapter all about breakfast cheesecakes! Not only is this cookbook great as we head into holiday baking, but it will be great to have on hand all year long.
Here are the details:
Number of Photos: lots. There isn't a photo of every single recipe, but almost. And most of the photos are full page photos.
Difficulty Level of Recipes: medium. Baking cheesecake isn't as easy as baking cookies. So right off the bat this is a level harder than easy. The instructions in the book are well written, though, and none of the recipes looked incredibly over complicated, either.
Availability of Ingredients: easy. The ingredients all looked basic and easy to find.
Other recipes I want to make:
Marshmallow S'mores Cheesecake
Banana Caramel Cheesecakes
Pumpkin Oreo Cheesecakes
Snickerdoodle Cheesecake Cookie Bars
No-Bake Malt Cheesecake
No-Bake Raspberry Lemon Cream Cheesecake Parfaits
White Chocolate Raspberry Cheesecake Brownies
Apple Crumb Cheesecake Pie
Cherry Lime Cheesecake Braid
Buy Cheesecake Love on Amazon.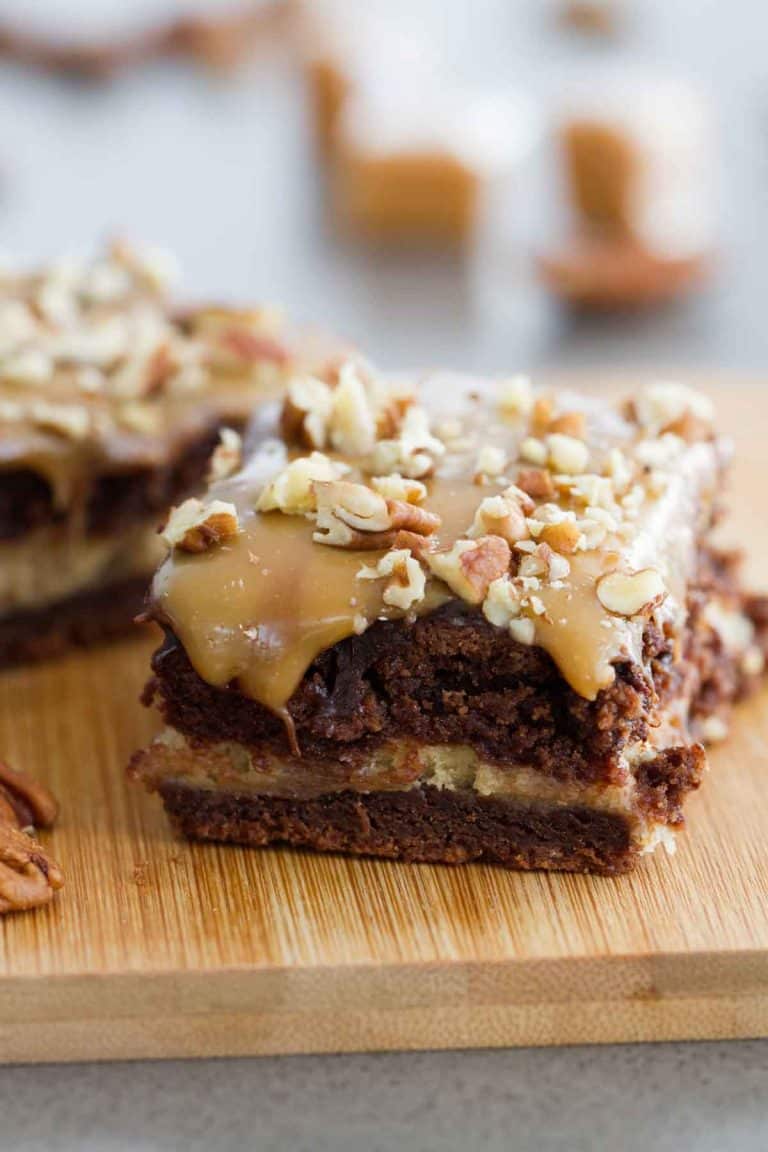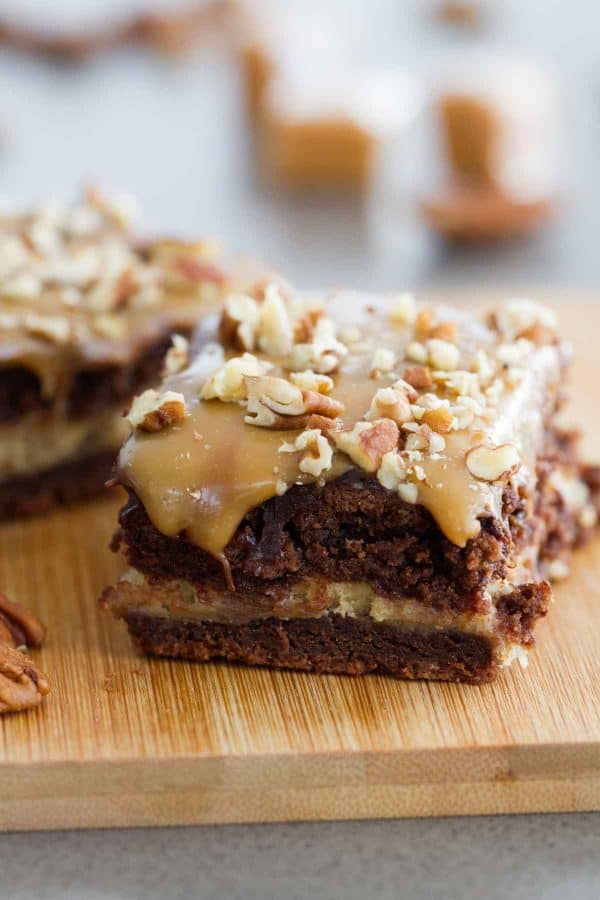 I have a deep love for cheesecakes. In fact, they are probably in my top 5 favorite desserts. So when I first got this cookbook, and tried to decide what to make from it, I kept gravitating towards the full sized cheesecakes. But the problem is that a full cheesecake is just too much to have on hand for our family, and leftovers aren't super easy to give away. So I kept waiting for an opportunity to make one, where I was with family or friends that I could share it with. But it just wasn't happening. So instead, I choose one of the many other recipes I had tagged in the book. In the end, I think I still ended up winning, because these Turtle Cheesecake Cookie Bars are really a winner.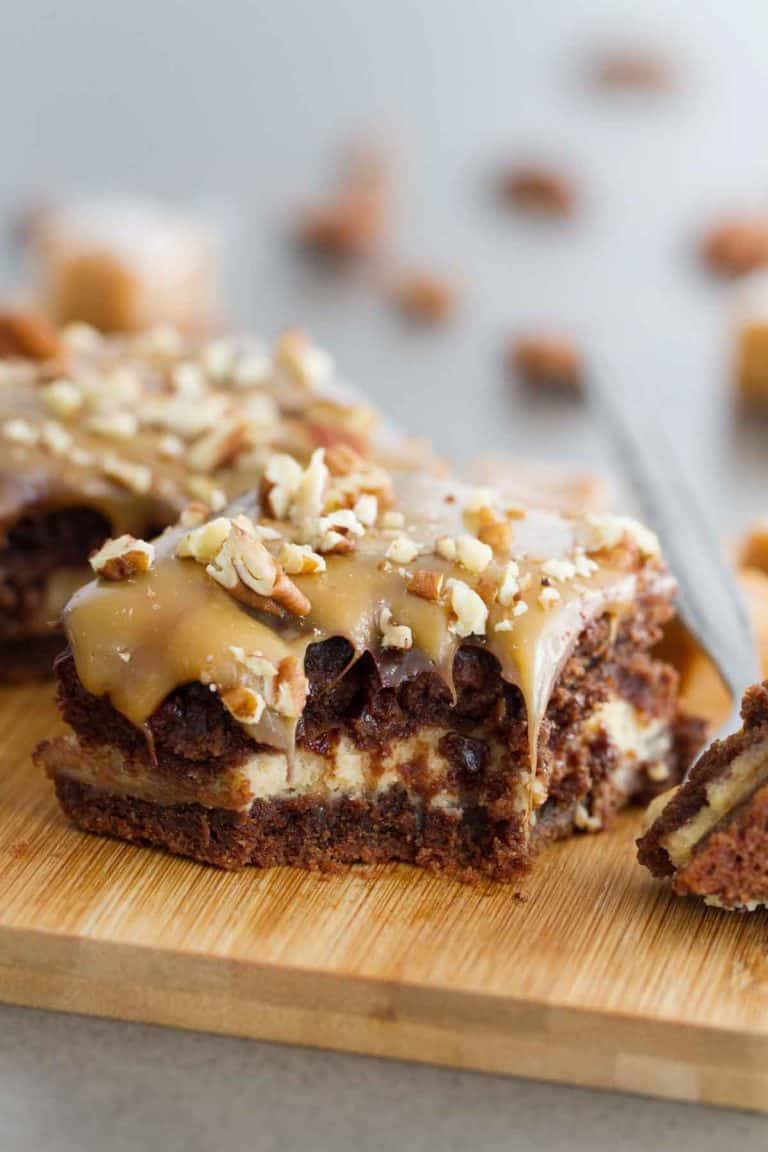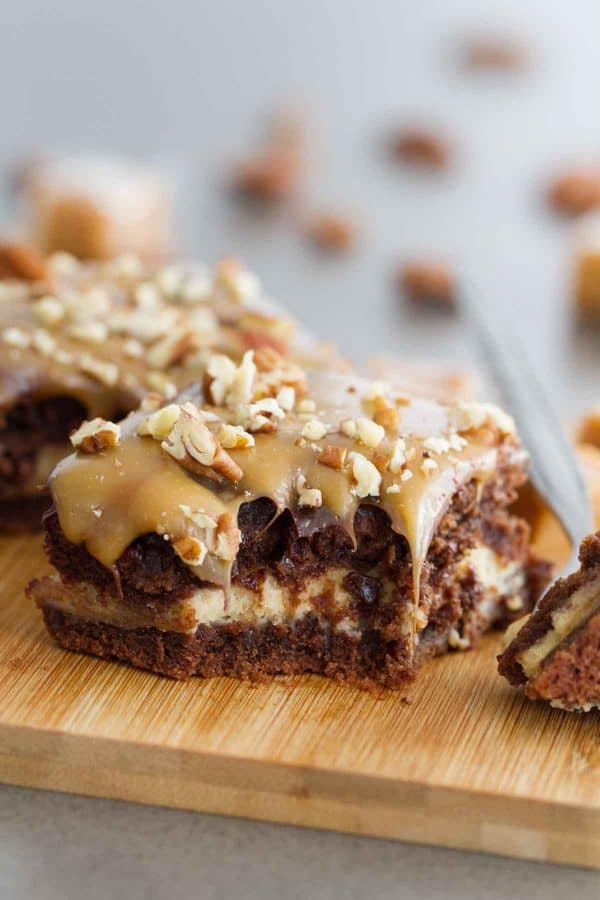 Where do I even start with these? A chocolate cookie layer, topped with a caramel cheesecake layer, then more of that chocolate cookie. But that's not where it ends – it all gets topped off with a dark chocolate layer, caramel, then of course – pecans. So rich, so decadent, so delicious.
The caramel cheesecake layer originally calls for a homemade caramel sauce, but I had a jar of caramel sauce already on hand and took the easy way out and used that. Also, (and I didn't realize this until I was actually typing out the recipe), the original recipe has you cut the bars after you let the chocolate layer set up. Then you drizzle the individual bars with the caramel and nuts. But I just put it all on before I cut them, and I didn't have any issues at all. In fact, they still cut quite well with the caramel already on top.
From the first bite, I was sold. These Turtle Cheesecake Cookie Bars seriously taste like something you'd buy at a bakery – but better. I tried them both a little chilled from being in the refrigerator and at room temperature, and I preferred them at room temperature. So if you area sharing these with friends, I suggest letting them sit out for 15 minutes before serving. These are very rich, so you could probably even get away with cutting them even smaller. (But I totally ate one all by myself!)
If all of the recipes in this book are as good as these Turtle Cheesecake Cookie Bars, then I can't wait to make even more!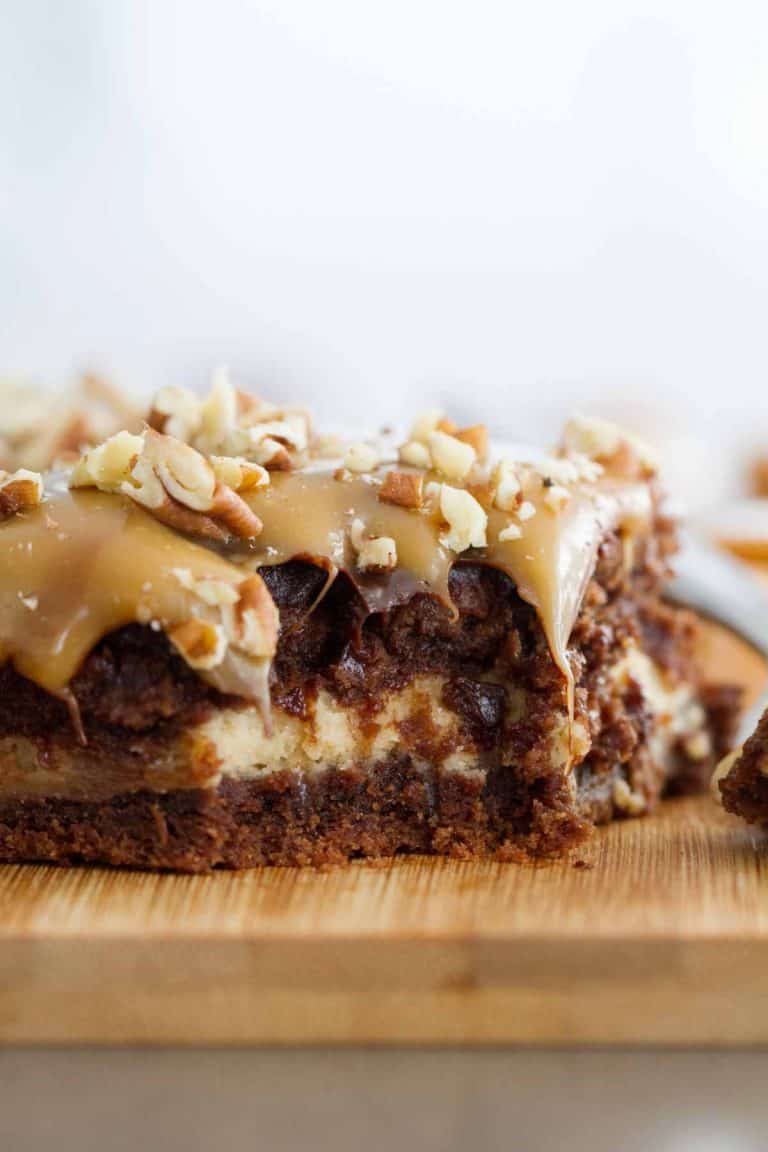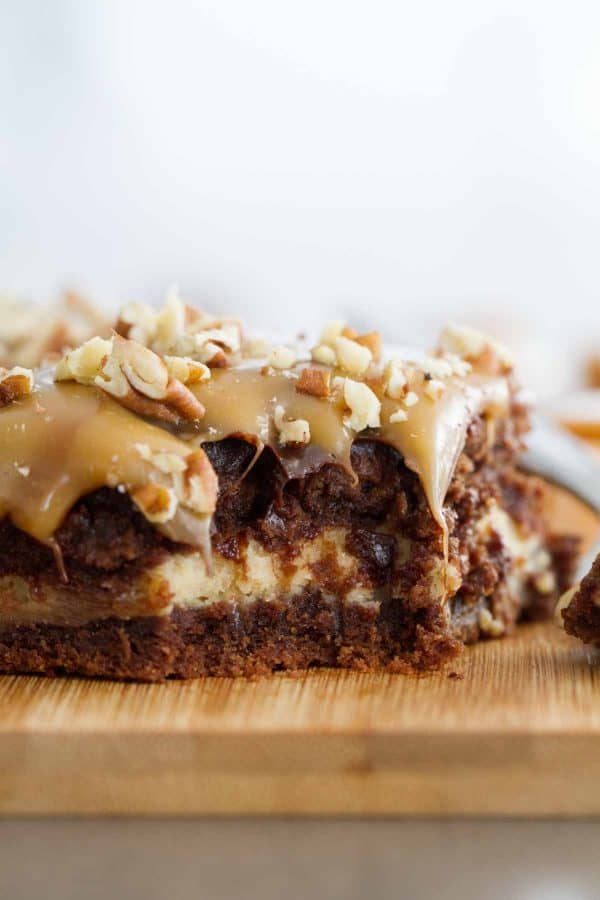 Want more cheesecake inspired recipes?
Sour Cream Cheesecake
Cherry Cheesecake Tarts
Cheesecake Pancakes
Reese's Peanut Butter Cheesecake
New York Style Cheesecake from Sugar Apron
Cheesecake Brownies from Sugar Spun Run
Like what you see here? Make sure you are following Taste and Tell for more great recipes and ideas!!

Facebook ** Pinterest ** Twitter ** Instagram ** Google+
or you can subscribe to my newsletter or Feedly or Bloglovin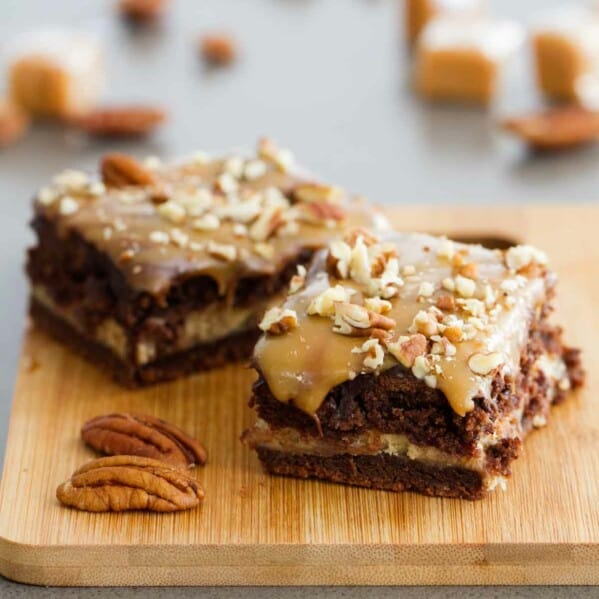 Turtle Cheesecake Cookie Bars
---
Author:
Prep Time: 30 mins
Cook Time: 30 mins
Total Time: 6 hours
Yield: 24 servings 1x
Category: Dessert
Description
Forget the fancy bakery – these Turtle Cheesecake Cookie Bars are an impressive dessert you can make at home! A chocolate cookie base, a caramel cheesecake center, and lots of chocolate, caramel and pecans to top them off!
---
Scale
Ingredients
Cookies:
1/2 cup unsalted butter, at room temperature
1/2 cup vegetable shortening
1/2 cup granulated sugar
1 cup packed brown sugar
2 large eggs
1 teaspoon vanilla extract
1 tablespoon cornstarch
1/2 teaspoon baking soda
1/2 teaspoon salt
2 1/2 cups all-purpose flour
1/2 cup unsweetened dark cocoa powder
Cheesecake:
1 (8-ounce) package cream cheese, at room temperature
1/2 cup packed brown sugar
1/4 cup caramel topping*
2 tablespoons all-purpose flour
1 large egg
Topping:
1 cup dark chocolate chips
3/4 cup heavy whipping cream, divided
18 caramel candies, unwrapped
1/4 cup finely chopped pecans
---
Instructions
Preheat the oven to 350ºF. Line a 13×9-inch baking dish with aluminum foil and spray with nonstick cooking spray.
Make the cookie dough: beat the butter, shortening, granulated sugar and brown sugar until light and fluffy. Add the eggs and the vanilla and beat until creamy.
In another bowl, stir the cornstarch, baking soda, salt, flour and cocoa together. Start adding the dry ingredients to the wet ingredients slowly and beat until a soft dough forms.
Press half of the cookie dough into the bottom of the prepared pan.  Reserve the remaining dough.
Make the cheesecake: Beat the cream cheese until it is smooth. Add the brown sugar, and continue to beat until creamy.
Add the caramel and the flour to the cream cheese and beat to combine.  Add the egg and beat the mixture gently but completely. Do not overheat the batter. Pour the cheesecake layer over the cookie layer.
Take the reserved cookie dough and crumble over the top of the cheesecake layer.
Bake for 28 to 30 minutes.
Remove the pan from the oven and place it on a wire rack. Let the bars cool for 1 hour, then refrigerate for 3 to 4 hours, or until completely cooled.
Make the topping:  Place the chocolate chips and 1/2 cup of the cream in a microwave safe bowl. Microwave for 15-20 seconds, then stir until the chocolate is completely melted. If necessary, microwave for an additional 15 seconds.
Spread the chocolate evenly over the top of the cooled cheesecake bars with an offset spatula. Let the chocolate set up.
Place the caramel candies and the additional 1/4 cup cream in a small saucepan over low heat. Stir until the caramel is melted and creamy. Let the caramel cool for 7 to 8 minutes.
Drizzle the caramel over the top of the bars, then sprinkle the chopped pecans over the top while the caramel is still wet.
Cut into 24 bars to serve.
Recipe Notes:
very slightly adapted from Cheesecake Love by Jocelyn Brubaker
*the book calls for a homemade caramel sauce, but I had a jar of caramel sauce on hand already so I just used that.
Nutrition information provided as an estimate only. Various brands and products can change the counts.
Nutrition
Calories: 332
Sugar: 23 g
Sodium: 924 mg
Fat: 19 g
Saturated Fat: 9 g
Unsaturated Fat: 7 g
Trans Fat: 0 g
Carbohydrates: 39 g
Fiber: 2 g
Protein: 3 g
Cholesterol: 55 mg
Don't miss a thing! Follow me on Pinterest to see what I'm pinning!