What we ate at Disneyland – Part 3. The good, the bad and the ugly! My thoughts on everything we ate this trip to Disneyland. Breakfast, snacks, lunch and dinner. Plus everything in between!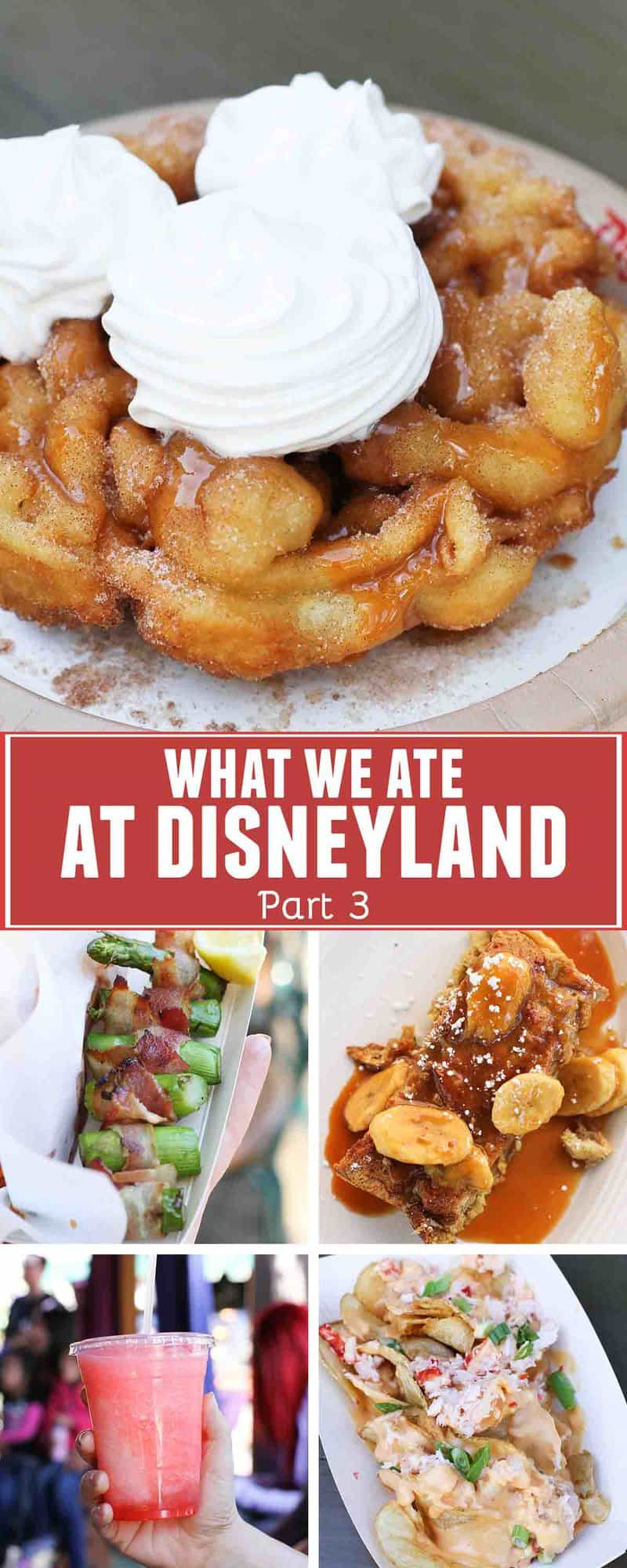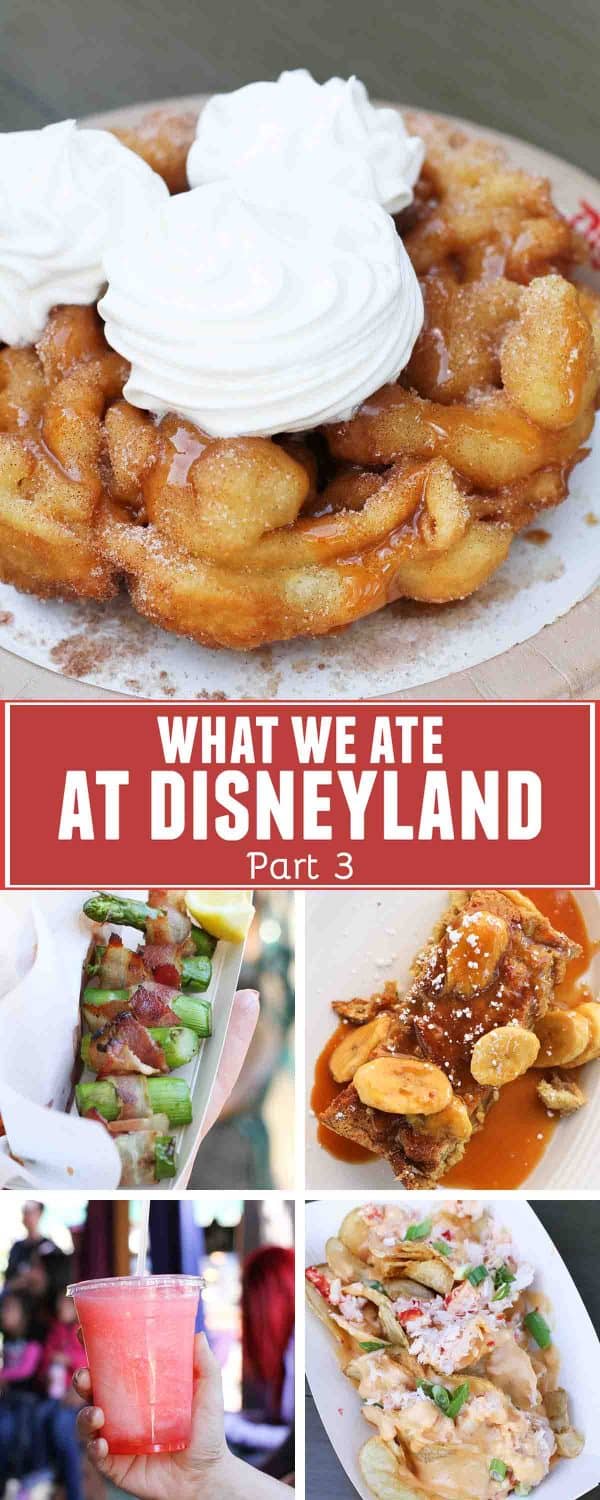 I went to Disneyland once as a child. I think I was actually in the tweens/early teen years. I didn't go again until 2001, when I was in my early 20s. My third time to Disneyland wasn't until less than a year ago – in March of 2017. But then I have managed 3 trips to Disneyland in the last year, along with a trip to Disney World (with another trip to Disney World scheduled this year). I think that you can officially call me Disney obsessed now. I was just at Disneyland barely over a week ago, and I'm still having withdrawals.
There is so much I love about Disneyland. It truly is the happiest place on earth. The rides are great, the shows are great, and the atmosphere just brings a smile to your face. And the food? Let's be honest – that's my favorite part!! I have spent so much time researching opinions and favorites at Disneyland, so I have to come and share all of my thoughts and opinions with all of you. Hopefully this will come in handy if you are planning a trip to Disneyland! And to be completely helpful, I love to include everything we ate – the good, the bad and the ugly. This is not a comprehensive list of all the best things at Disneyland, but make sure you check out part 1 and part 2 for even more goodness!
So in no particular order, except by park – here is what we ate at Disneyland, part 3!
Disneyland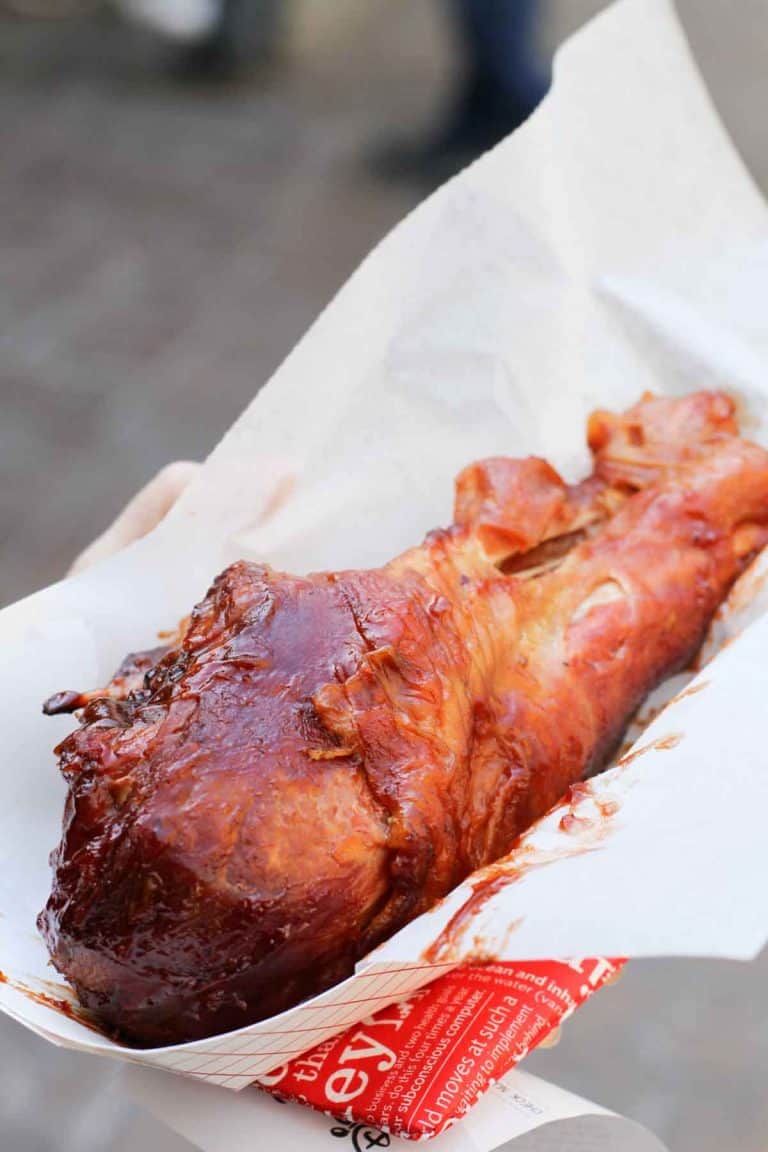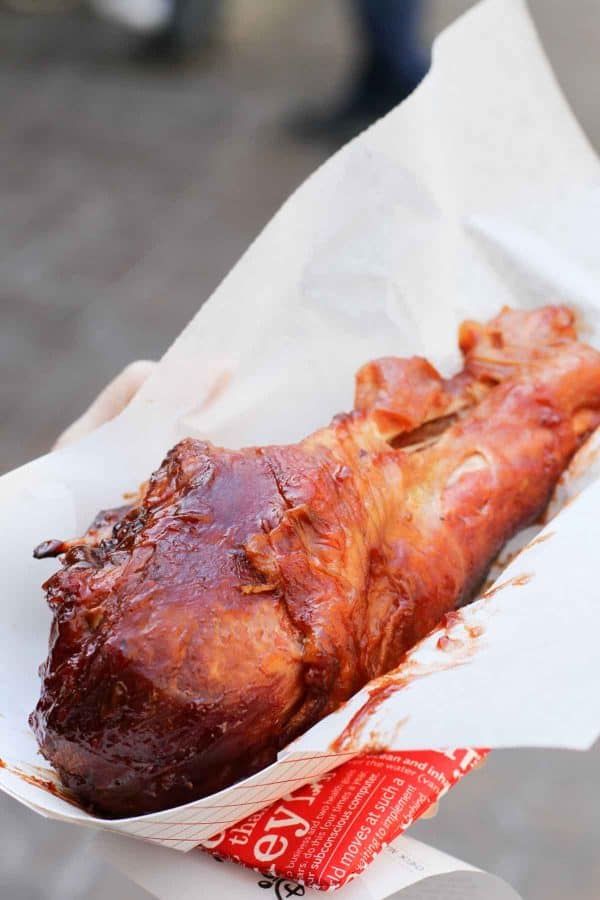 BBQ Turkey Leg from Troubadour Tavern
I can't believe that it took me three trips in the past year to even try a turkey leg at Disneyland. And I have to say, I'm really glad we tried the BBQ version over the regular. We picked this up at the Troubadour Tavern, which is located right next to where they do the Mickey and the Magical Map show. We picked this up and shared it while watching the show and it was perfect. It is very messy, and not the easiest to eat, but we still managed to devour it. I would definitely get another!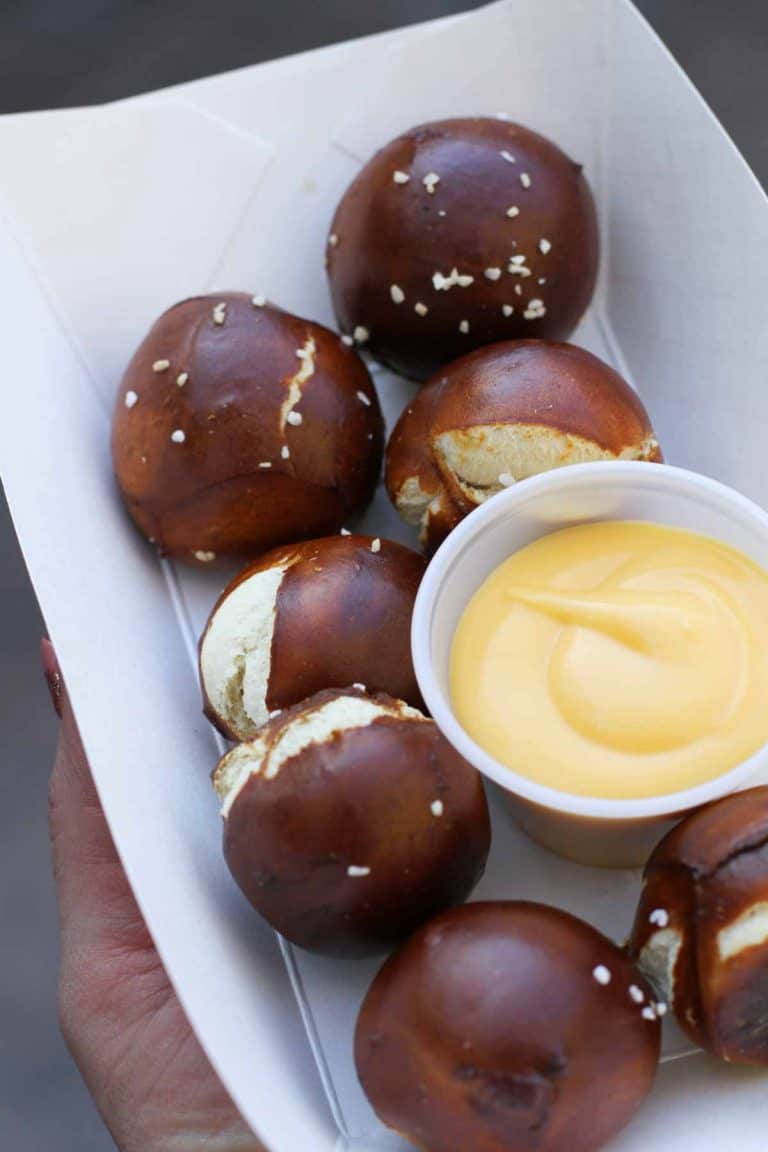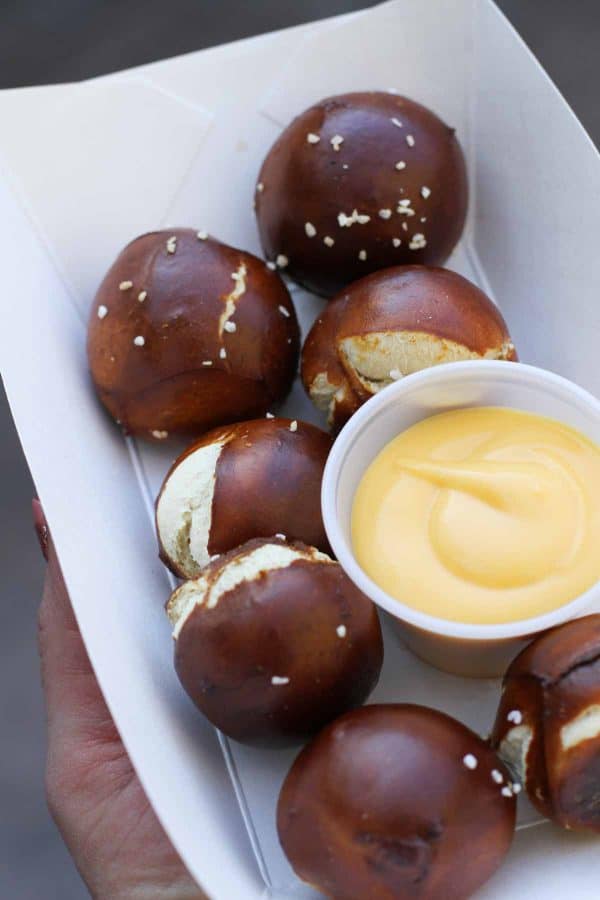 Pretzel Bites with Cheese Sauce from Troubadour Tavern
We ordered these pretzel bits alongside the turkey leg. They were good. Not something that totally stood out, but they were good.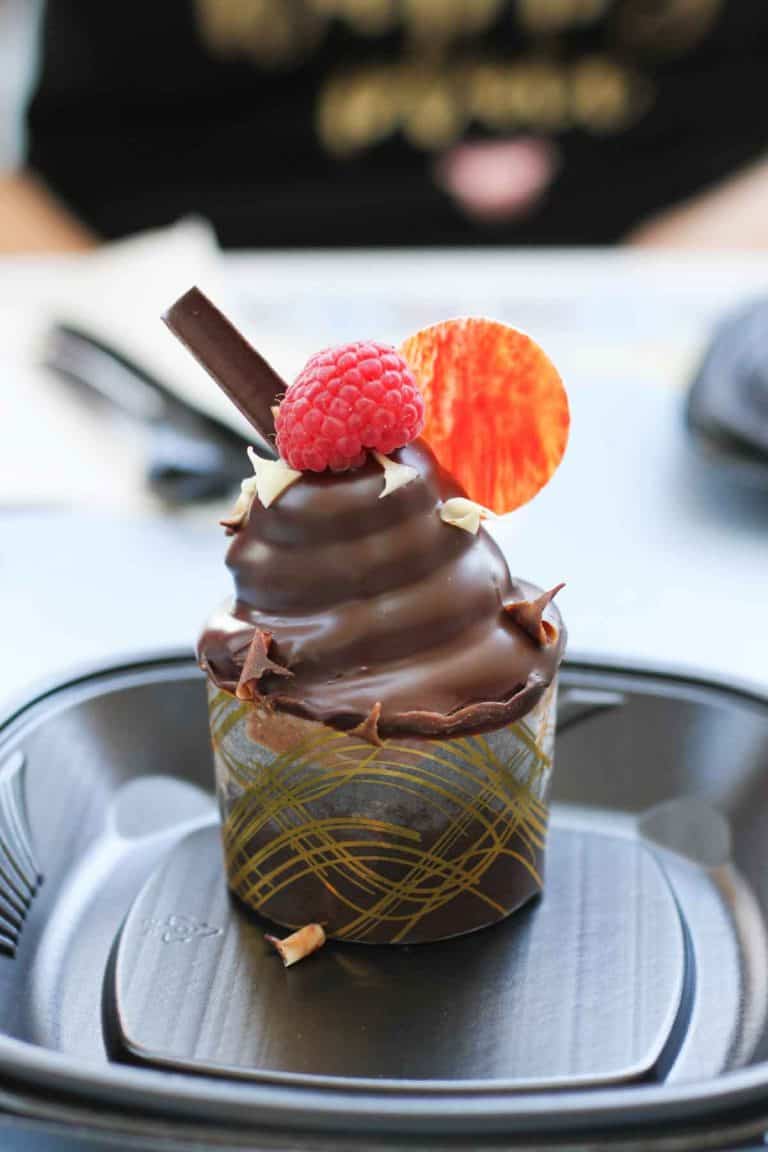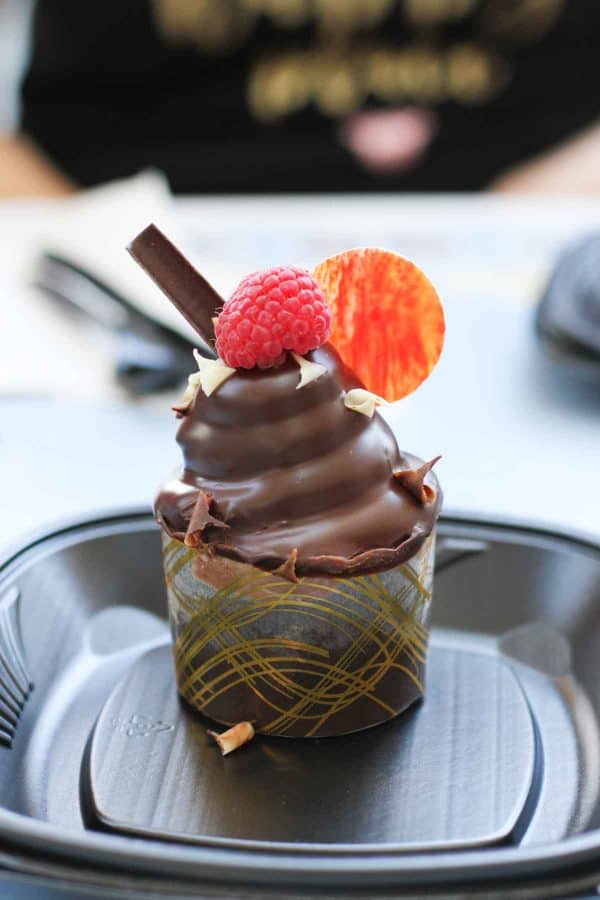 Chocolate Raspberry Cupcake from Jolly Holiday Bakery
We had to make a stop at Jolly Holiday for the Raspberry Rose Macaron (my VERY favorite treat at Disneyland!) so we all chose another item as well to share. The macaron and the Matterhorn Macaroon were the only things that we got that we had previously had (and both were great!). My sister chose this cupcake. I'm always a little apprehensive with fancy looking desserts, because they often look better than they taste. This one looked fancy, and tasted awesome! I wish I would have taken a photo of the inside, because it wasn't your typical cupcake. The inside had lots of filling, almost like a mousse. We all agreed that it was very good!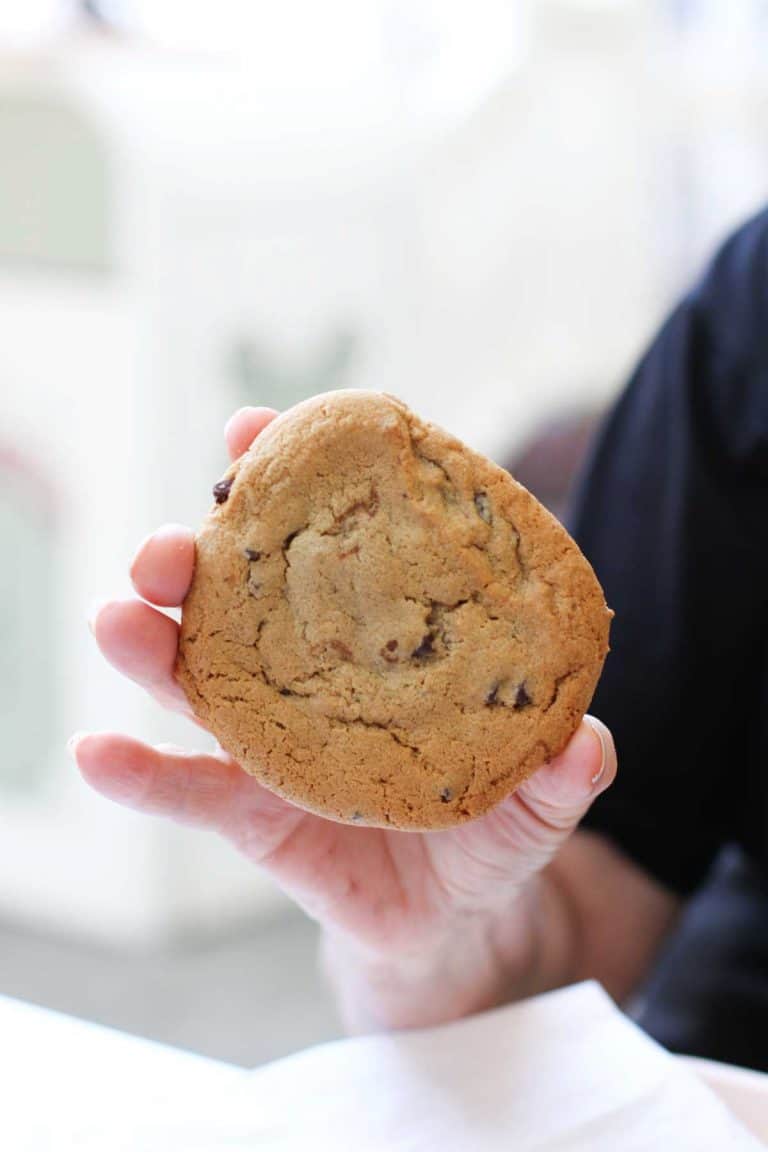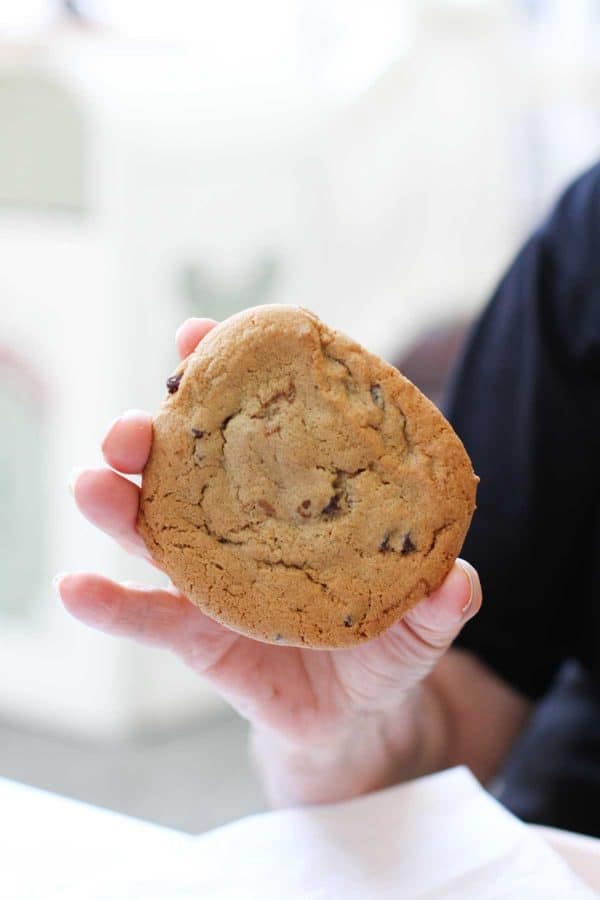 Chocolate Chip Cookie from Jolly Holiday Bakery
Sadly, this one was a little bit of a disappointment. It wasn't a horrible chocolate chip cookie. But it wasn't great, either. I don't think we even finished it. I would not get this one again.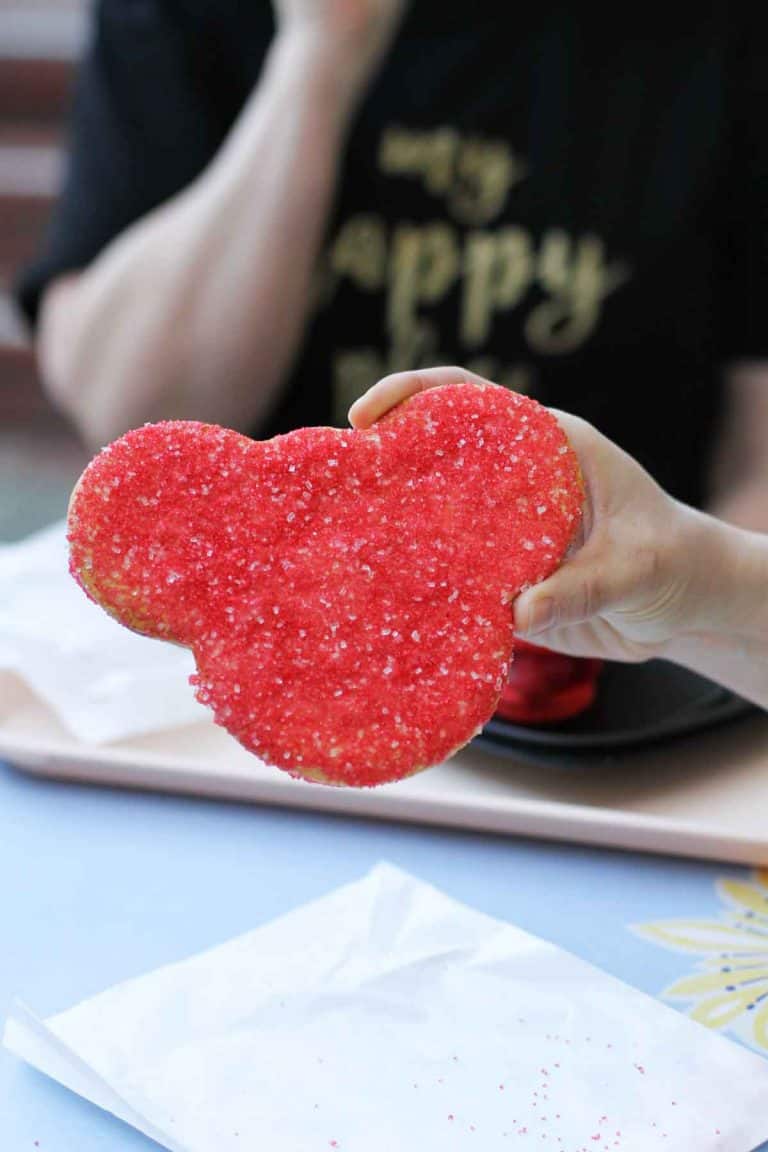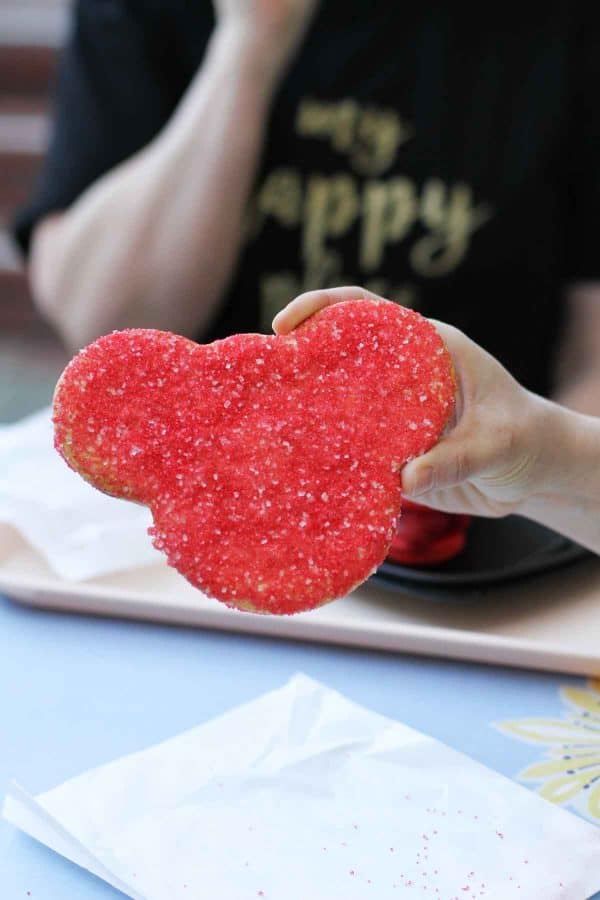 Sugar Cookie from Jolly Holiday Bakery
If you like hard sugar cookies, you may really like this one, but it was a miss for most of the people in my group. I thought the flavor was good (it tastes like it has some lemon in it?), but none of us are big crisp sugar cookie fans. My sister thought it tasted really floury, but I liked the flavor, just not the texture.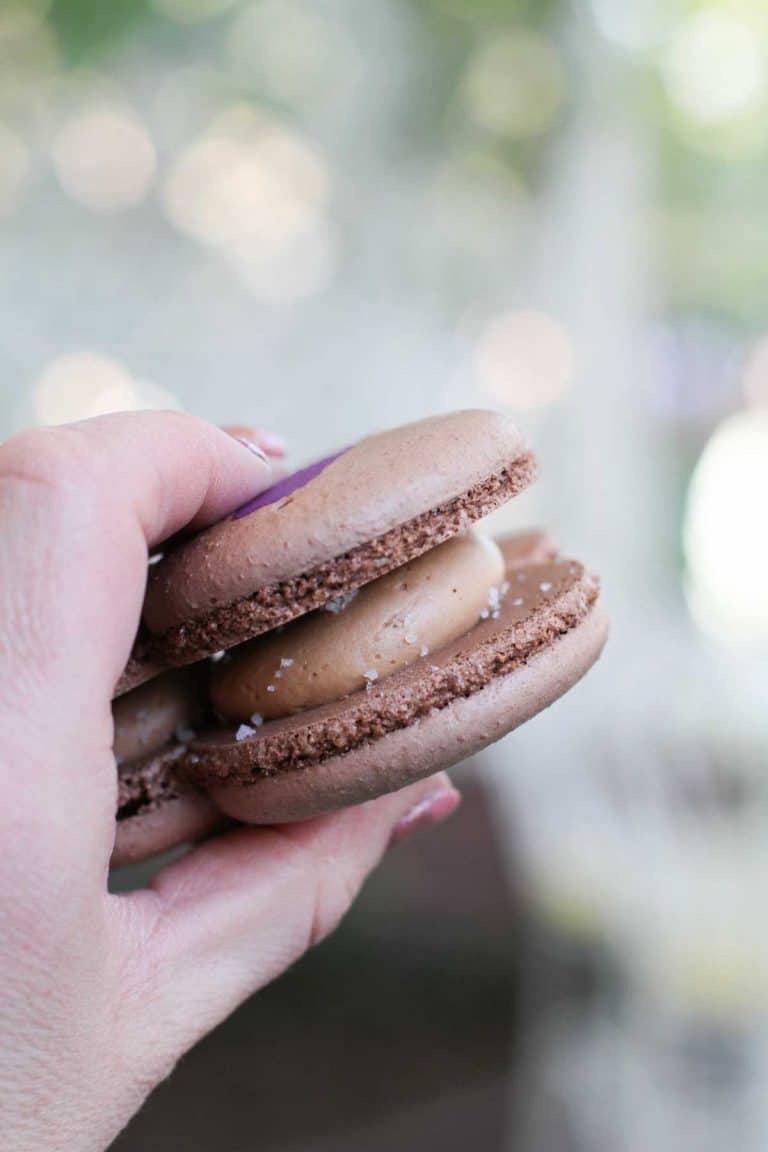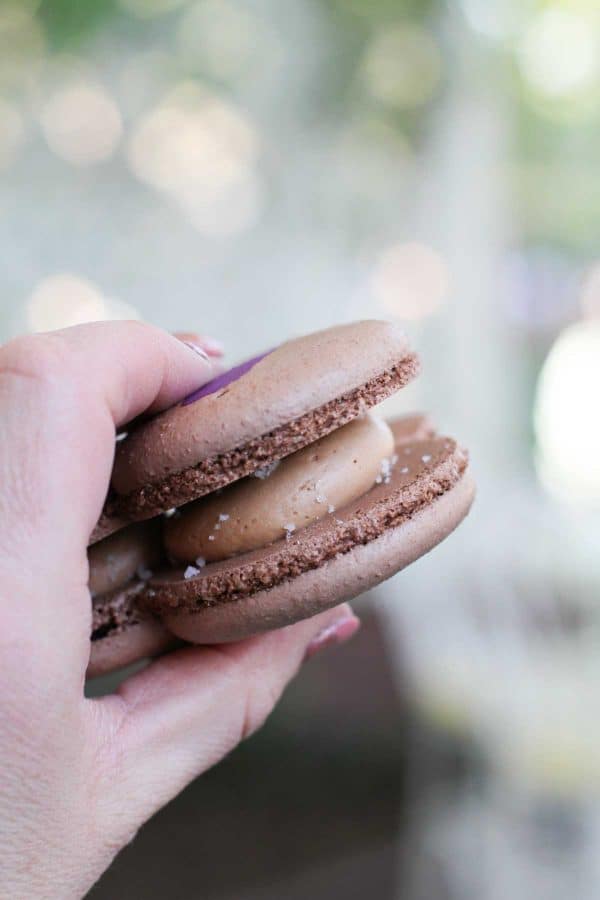 Salted Caramel Macaron from Jolly Holiday Bakery
I will definitely say that it must have been an off day for this one. I ordered this, because Disneyland macarons are my favorite. They always do such a great job. But this one had some issues. I went to cut into it and the whole outside just cracked. It was so hard, and not at all like a macaron should be. So my sister took it back to get a new one, and the cast member said that someone else had complained of the same thing. So she went to the back and got us a new one, but unfortunately, it was the same. I think it had a lot of potential, though, and hopefully something just went wrong in the kitchen that day, but all the rest of the time it is great.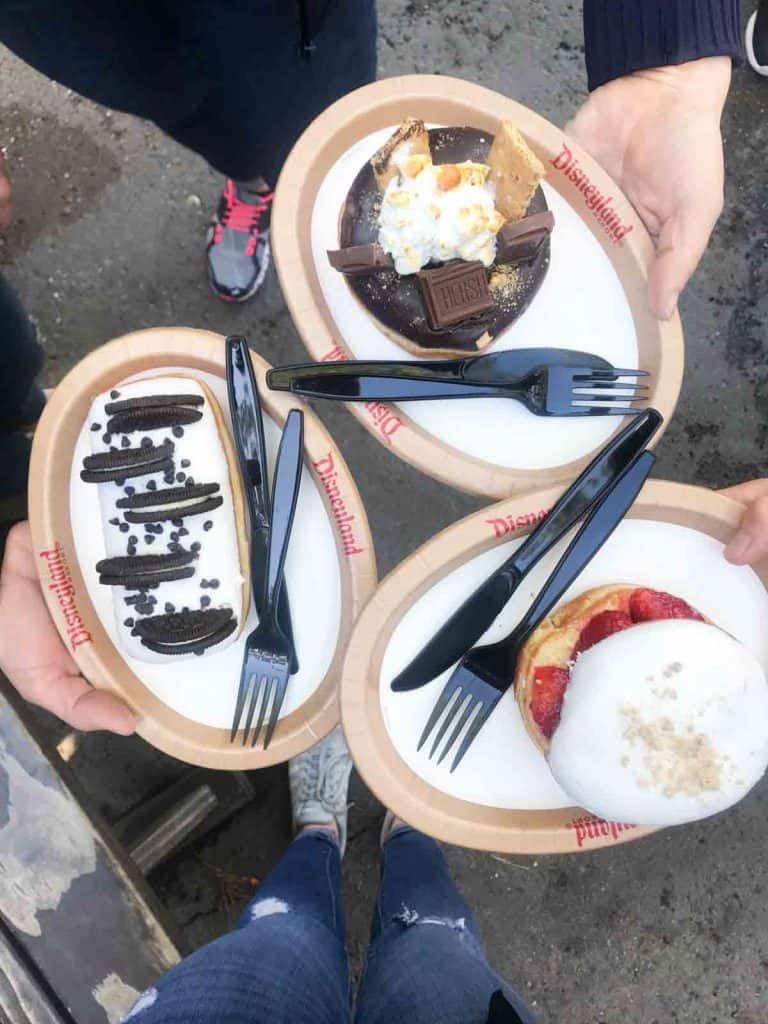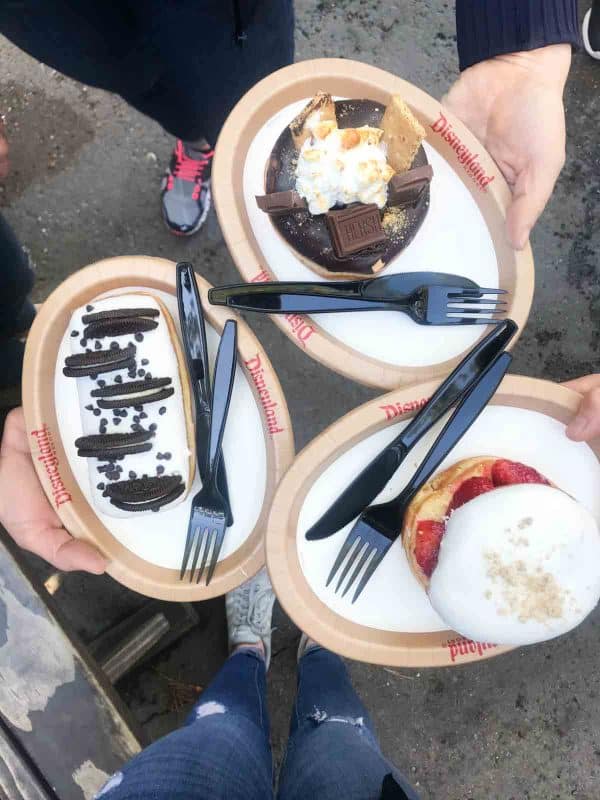 Disneyland Doughnuts – Cappuccino Cart at the end of Main Street
I talk about the doughnuts every time, but I feel like I have to because they are always changing. We tried all three. My favorite was the strawberry filled doughnut, followed by the s'mores doughnut. The flavor on the strawberry doughnut was good enough to leave you with a craving, and the texture on the s'mores doughnut was so spot on. The Oreo doughnut was good, too, but just didn't stand out as much as the other two.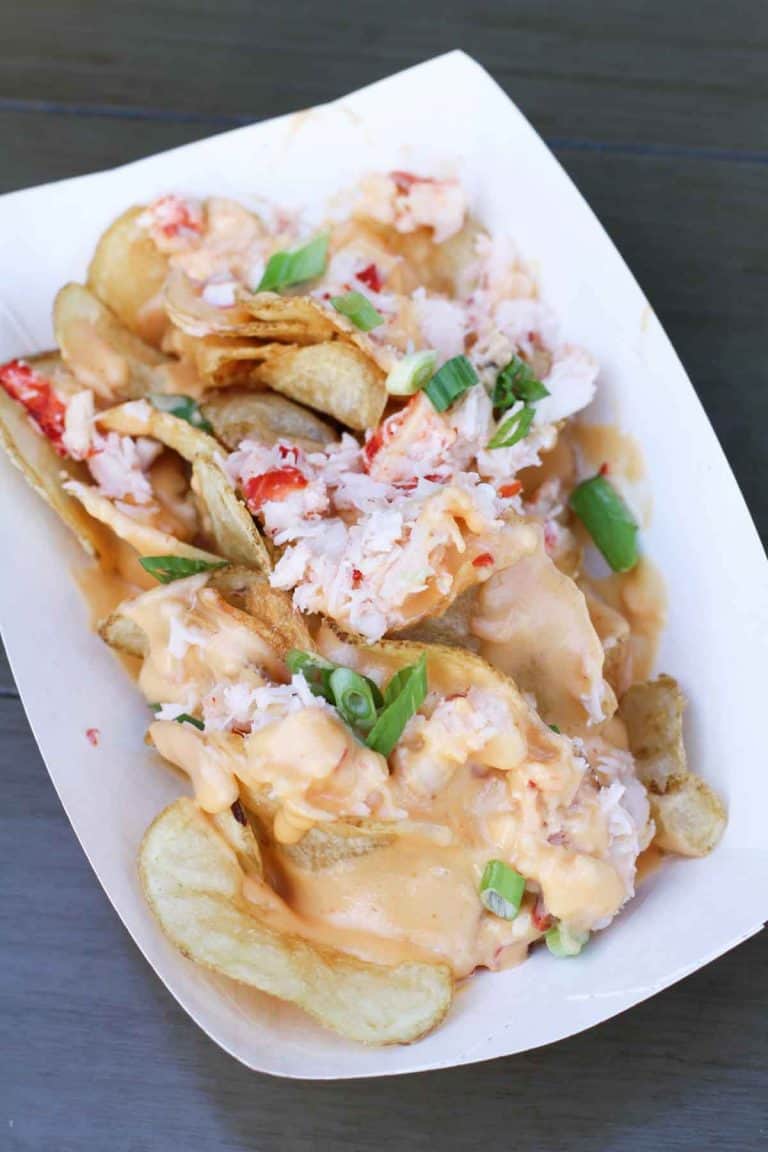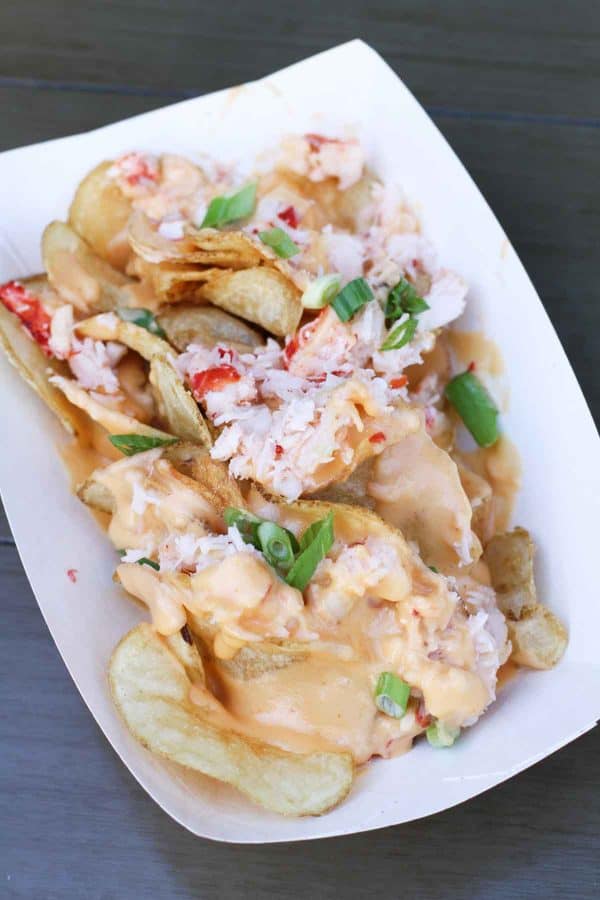 Lobster Galley Chips from Harbour Galley
Not to be confused with the Lobster Nachos from what used to be the Cove Bar in California Adventure – these chips are simply amazing. We all agreed that these belonged in our top 5 this trip. They are house made potato chips with lobster and a sriracha cheese sauce. Seriously so delicious!!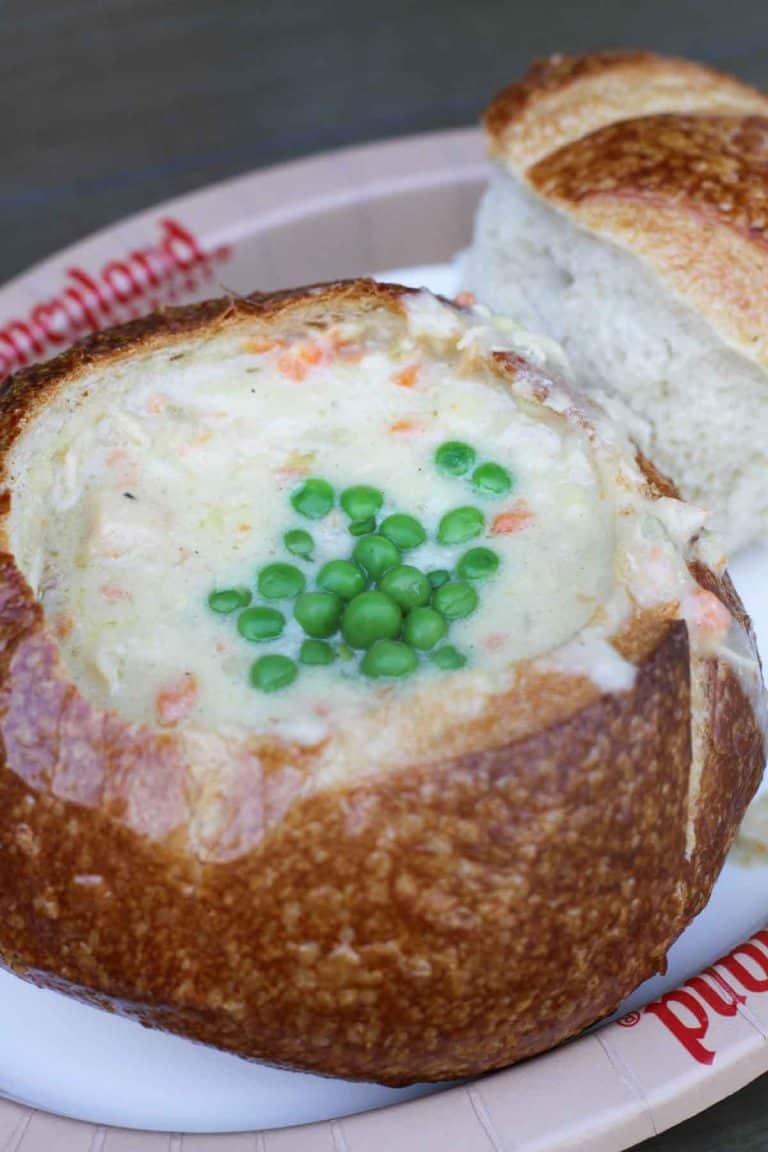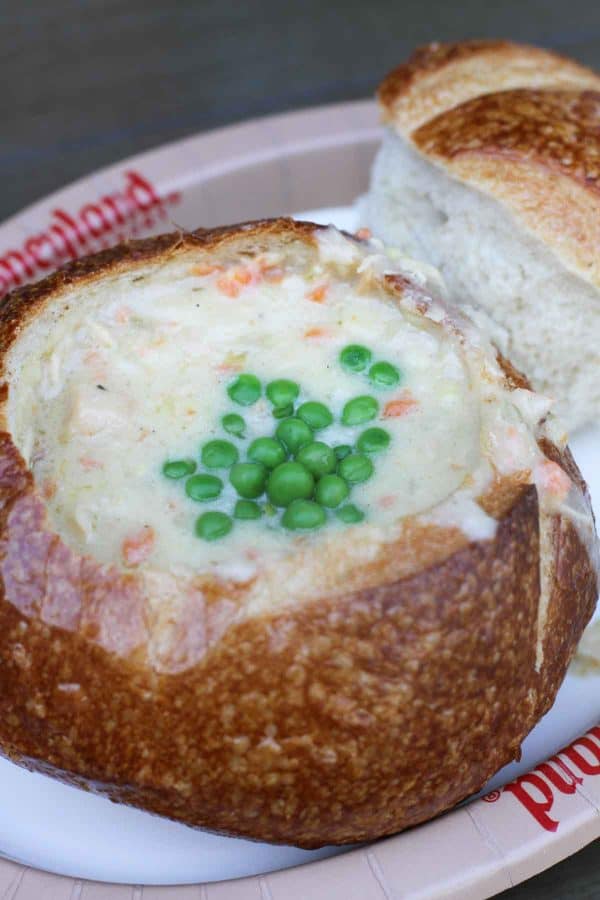 Chicken Pot Pie Soup from Harbour Galley
This soup is one reason I hate the seasonal foods – because you fall in love with something, never knowing if you'll get to try it again. I'm afraid I'll cry big crocodile tears if I never get this soup again – it's that good. Another one of my favorites from this trip – make sure to get this one before it's gone!!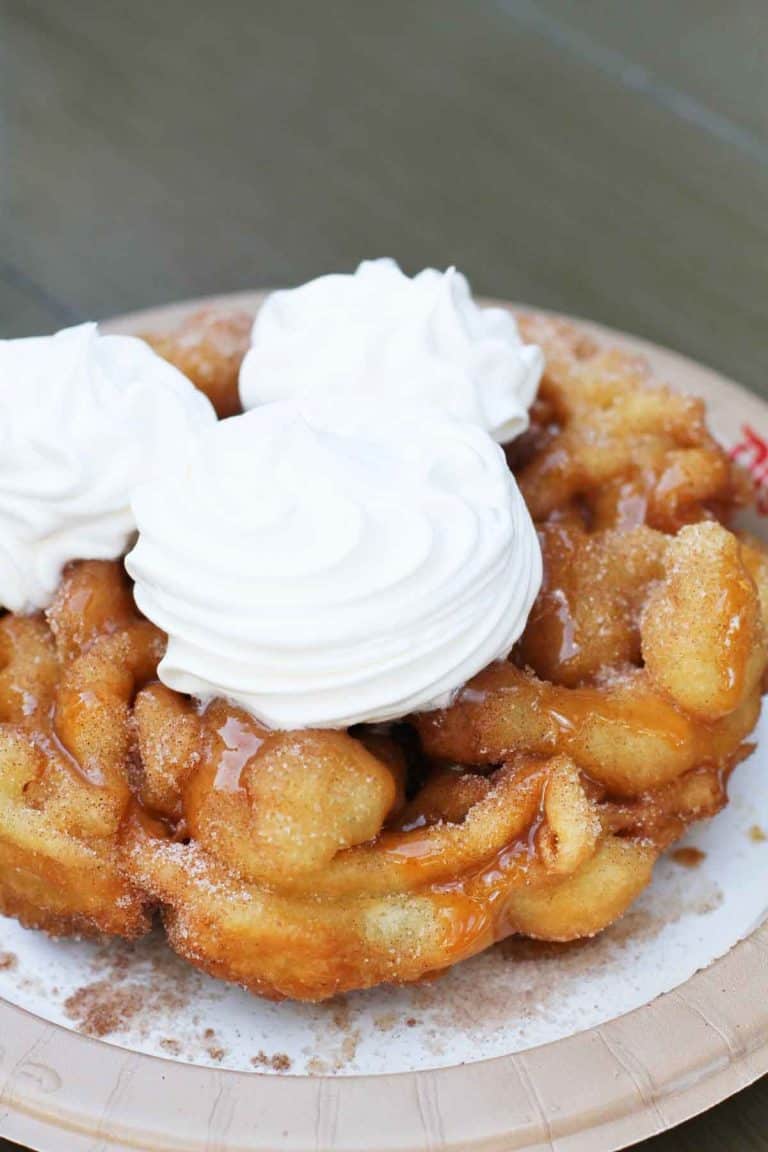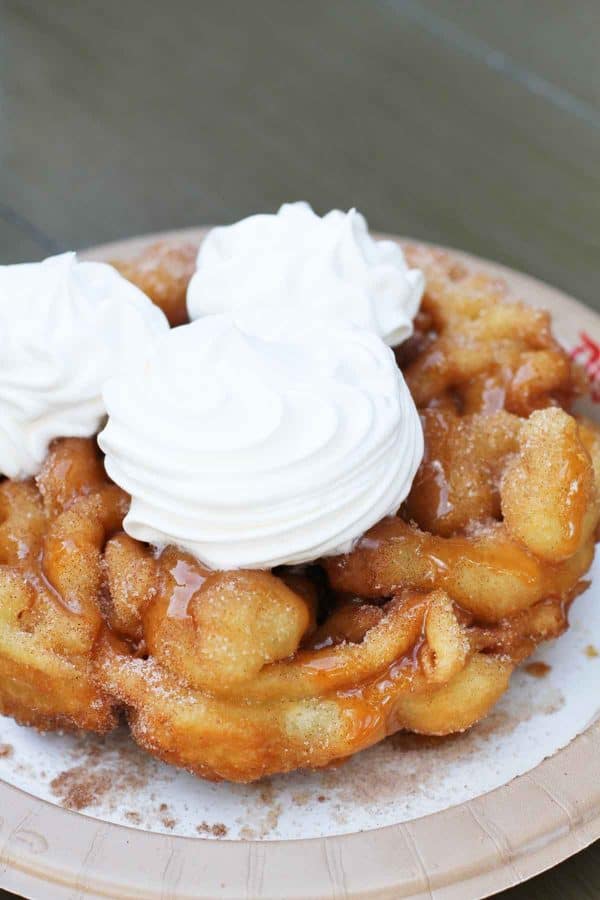 Churro Funnel Cake from Hungry Bear Restaurant
This gets my award for my favorite sweet food from this trip (not counting the macaron, of course). This was one of the last things I ate before I returned home, and one of the things I've been craving the most. It is a perfectly cooked funnel cake, doused in cinnamon sugar, and topped with whipped cream. Perfection.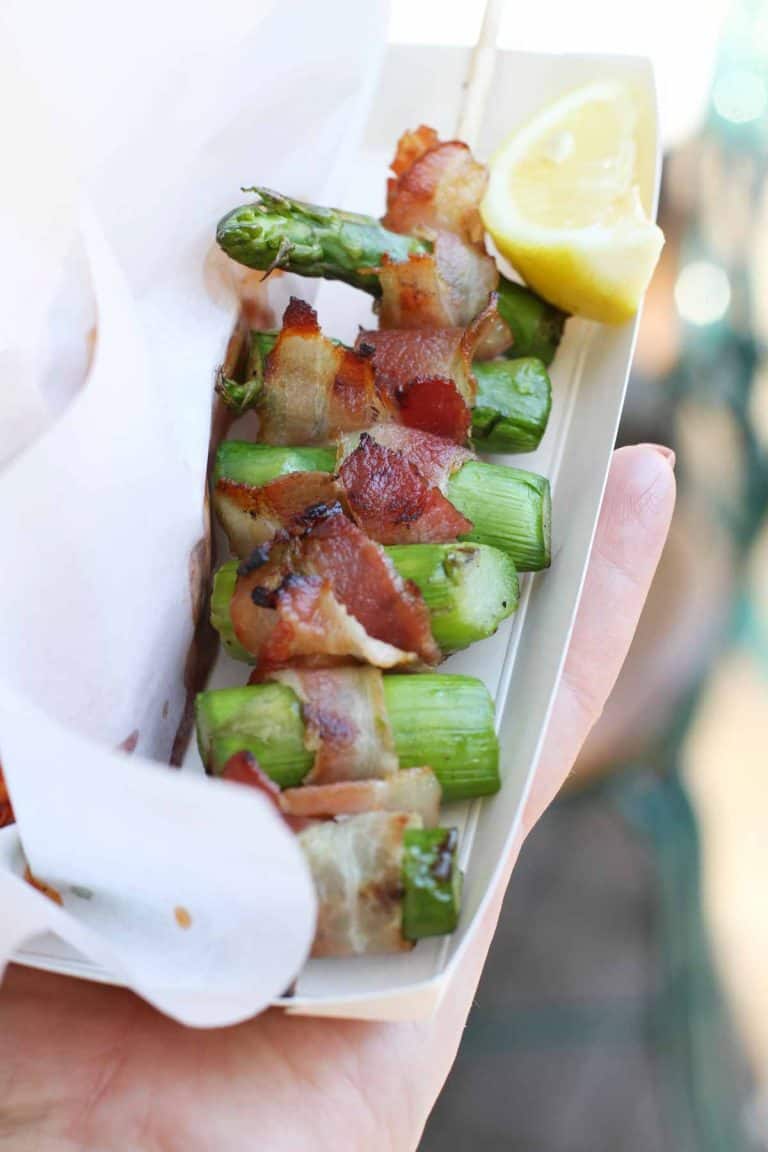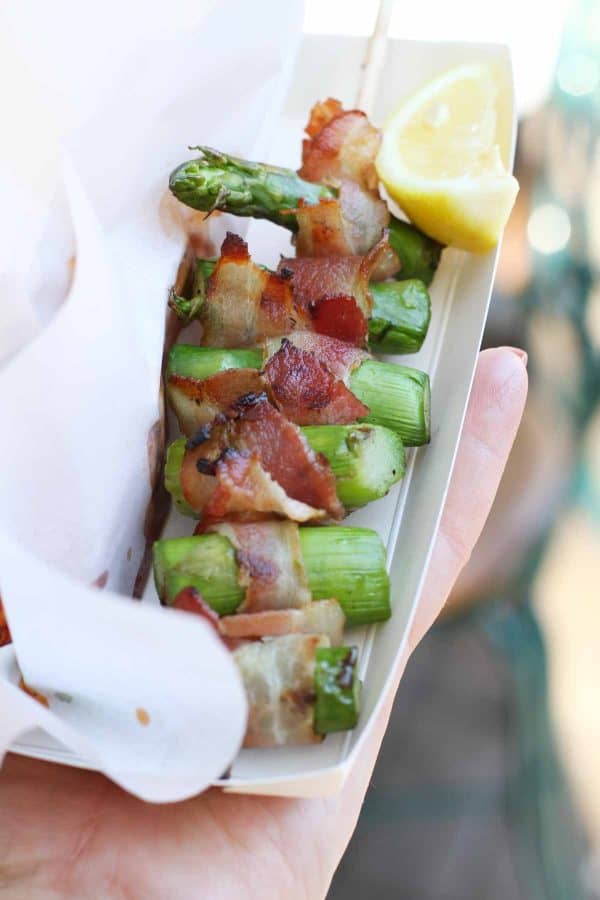 Safari Skewer – Bacon Wrapped Asparagus – Bengal Barbecue
We all agreed this one is delicious, but also overpriced. I don't often complain about prices at Disneyland, but you just don't get a lot for the price on this one. I could easily eat the whole thing myself. But it definitely is delicious!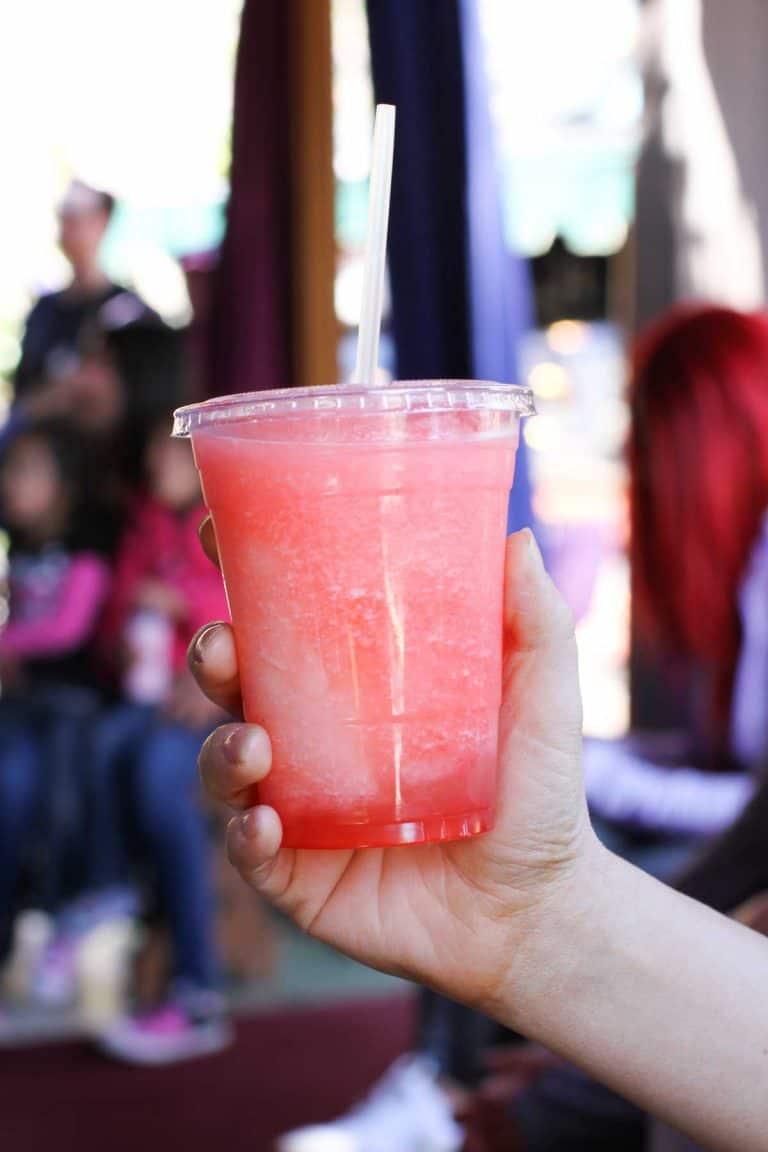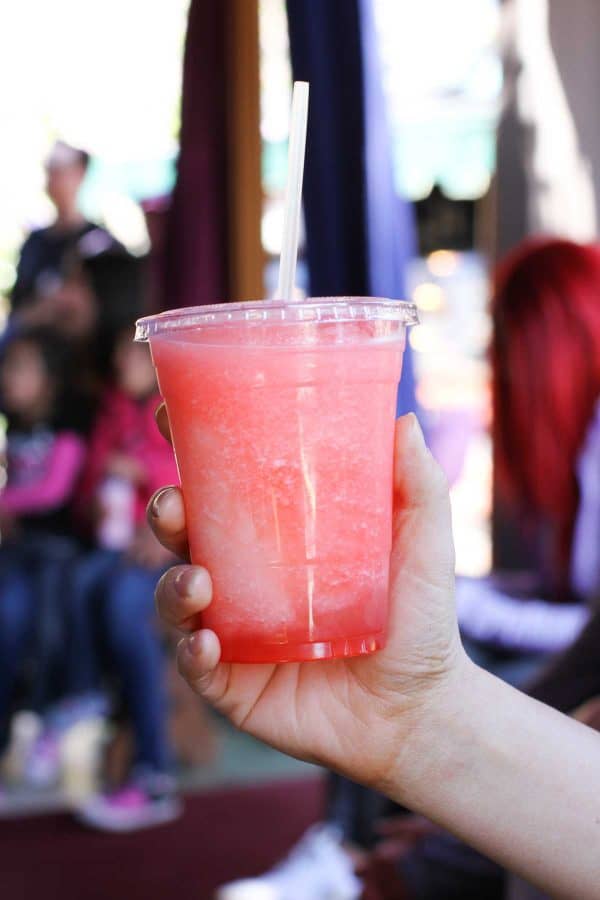 Red Rose Lemonade from Maurice's Treats
I love the Boysen Apple Freeze from Maurice's Treats, but decided to branch out a bit this time and try the Red Rose Lemonade. It was good, but I do like the apple freeze much better. It mostly just tasted like pink lemonade.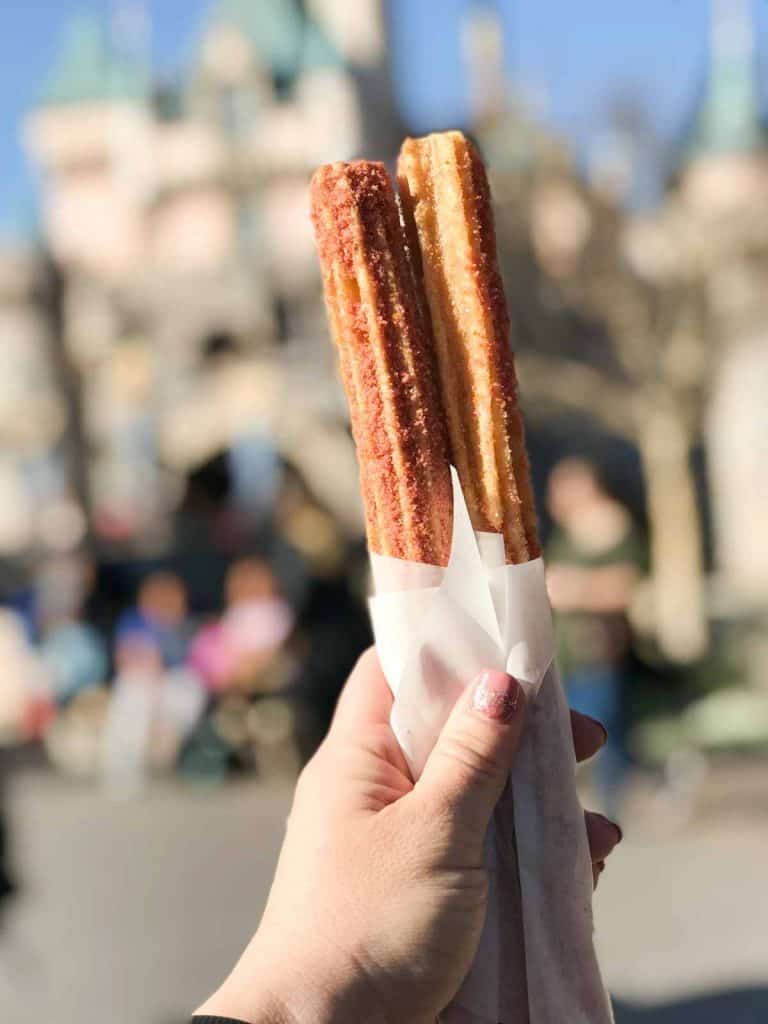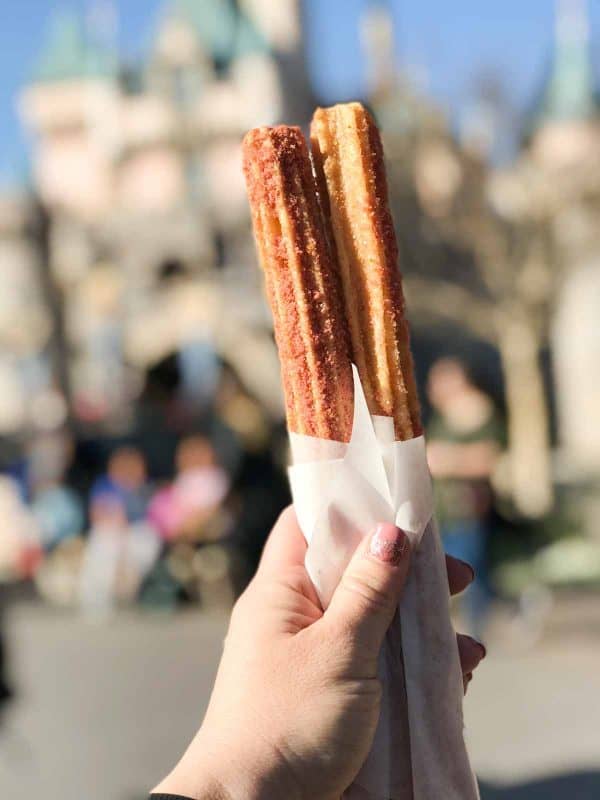 Rose Gold Churros – cart in front of the castle
I was so, so excited about these! These Rose Gold Churros are another seasonal item, but one that you don't want to miss. They are strawberry – I thought they tasted like strawberry quik. We had two, and the one with more of the flavored sugar on it was much better, so make sure you ask for one that is really coated!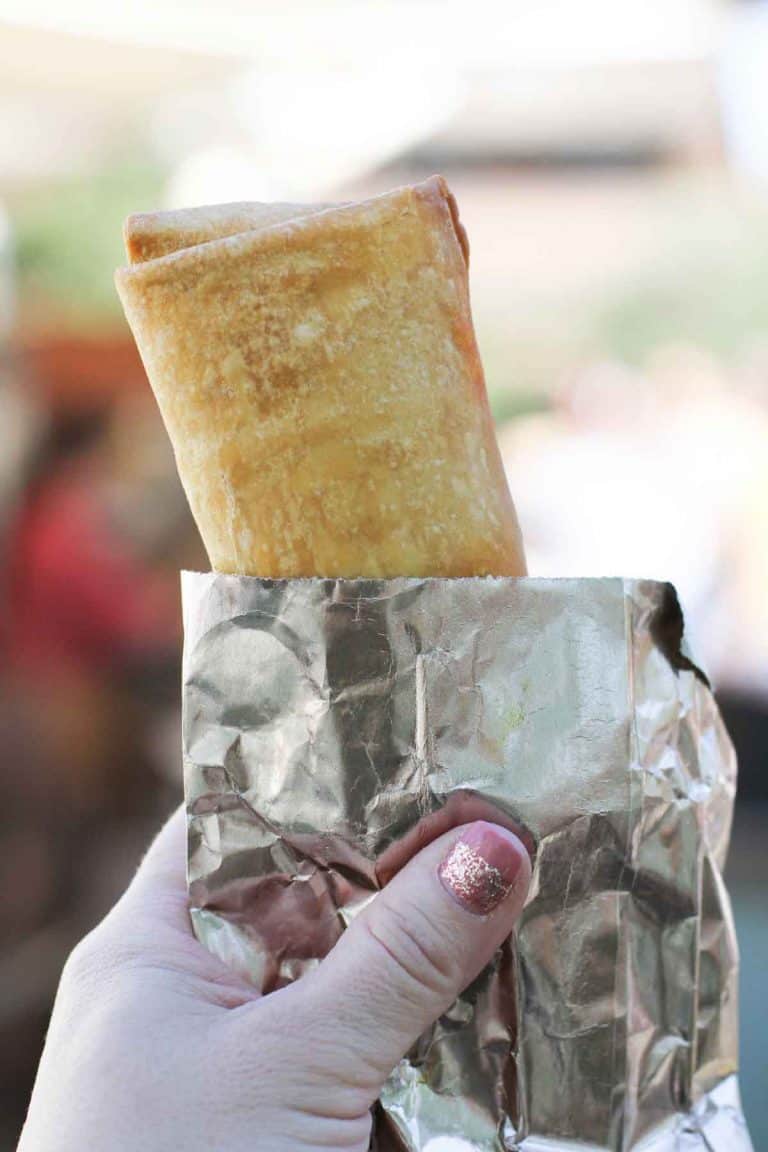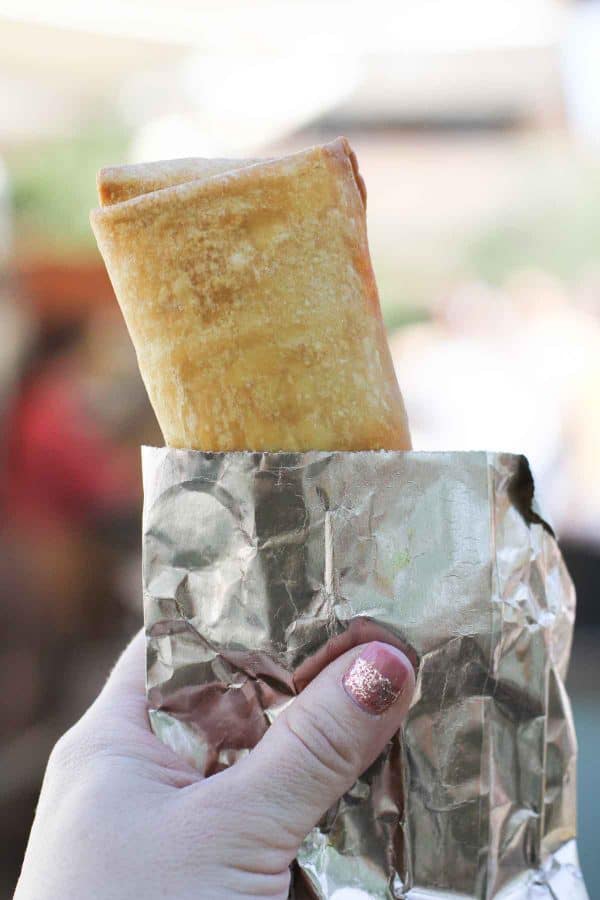 Chimichanga – various locations throughout the park
This isn't something I would have chosen on my own, as it looks like something you can get from the gas station. But they are actually really, really good! Nothing fancy, but a quick and easy thing to pick up to eat. I would definitely get another one of these one day!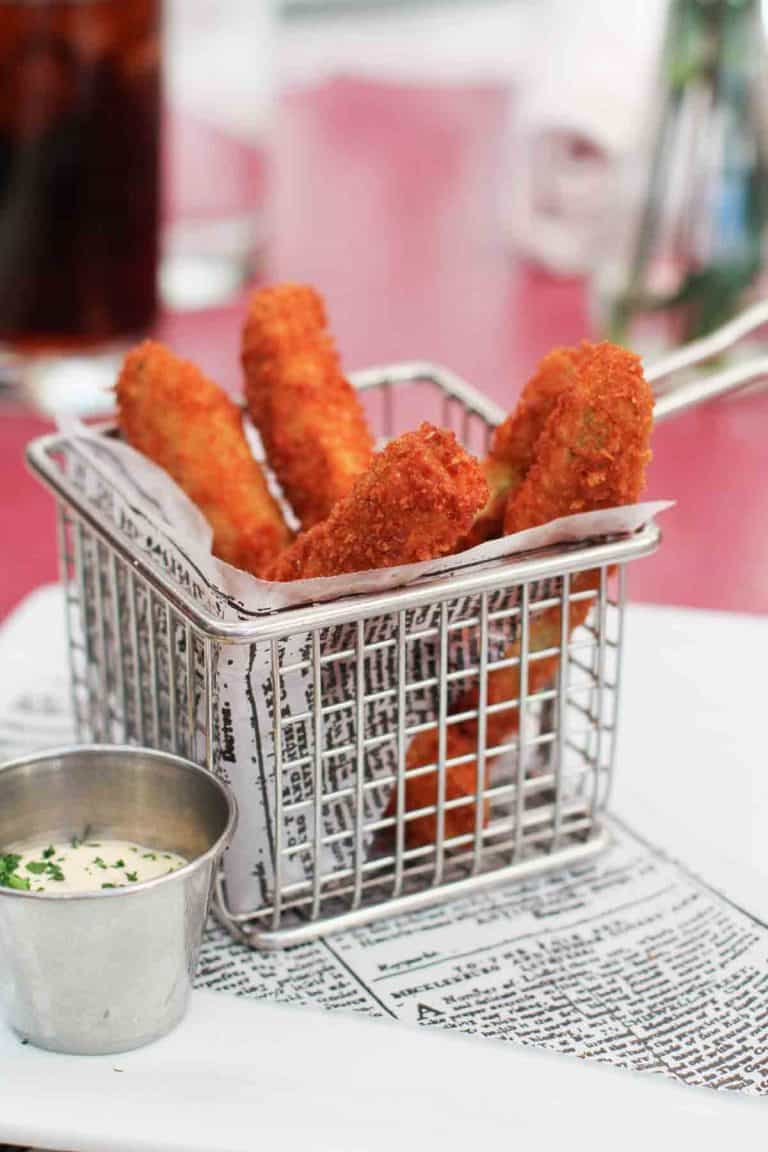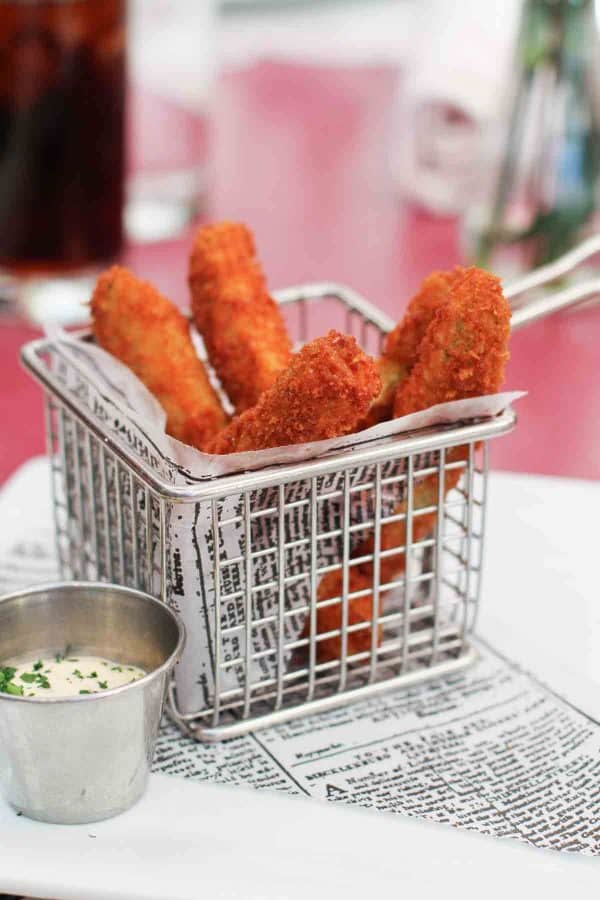 Fried Pickles from Carnation Cafe
I have always wanted to try the Carnation Cafe, so I was super excited when we made lunch reservations. These fried pickles were high on my list to try, and I'm so happy I finally got to experience them. My mom went in saying she did not like fried pickles, but left raving about these. I definitely think they deserve all the hype.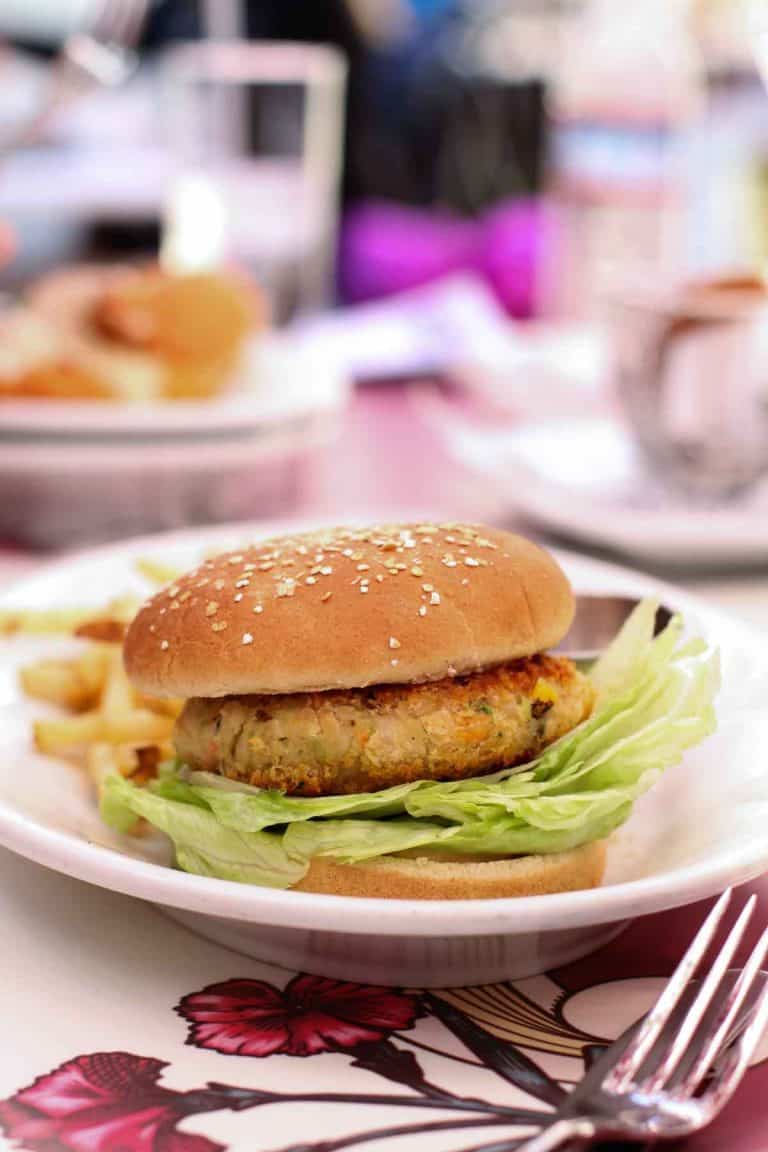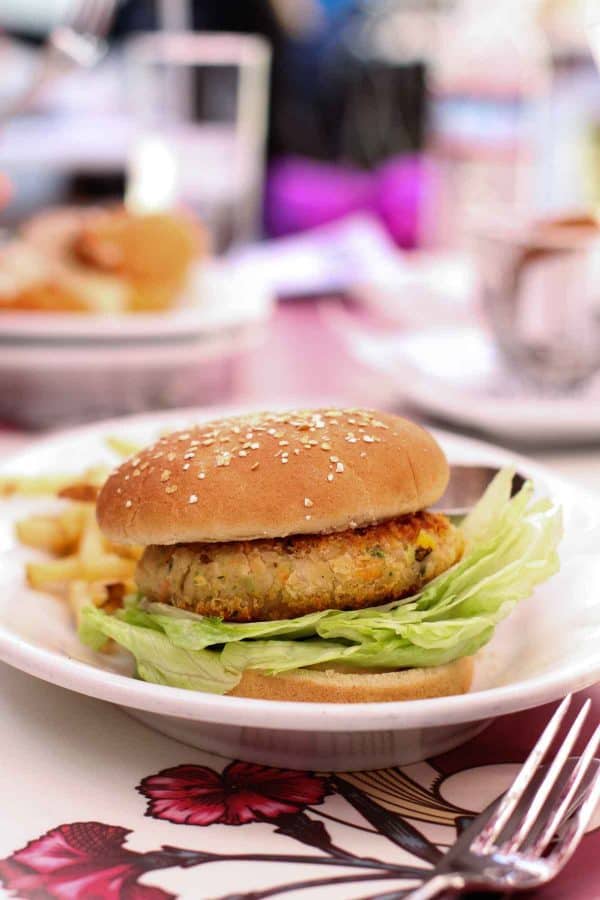 Vegan Burger from Carnation Cafe
I didn't try this one, but my sister in law said that it was not good and that she wouldn't recommend it.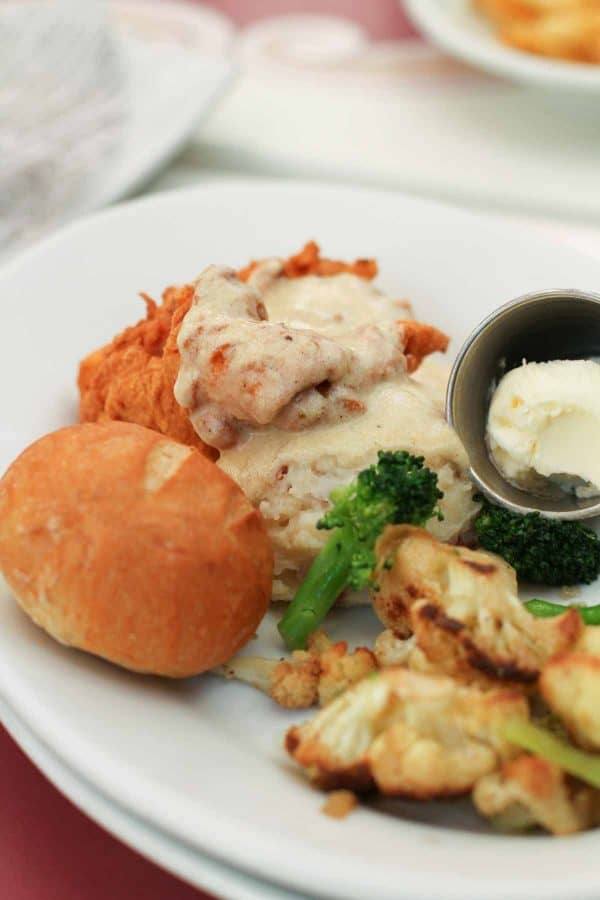 Chicken Fried Chicken from Carnation Cafe
One thing I hear people rave about over and over again at Disneyland is the fried chicken from the Plaza Inn. But then I have read reviews from people who say they like this Chicken Fried Chicken from Carnation Cafe even more. We all agreed that the chicken was cooked perfectly. And it had great flavor. I was just hoping it would be more crispy. I think I'll hold out for the chicken from The Plaza Inn next time.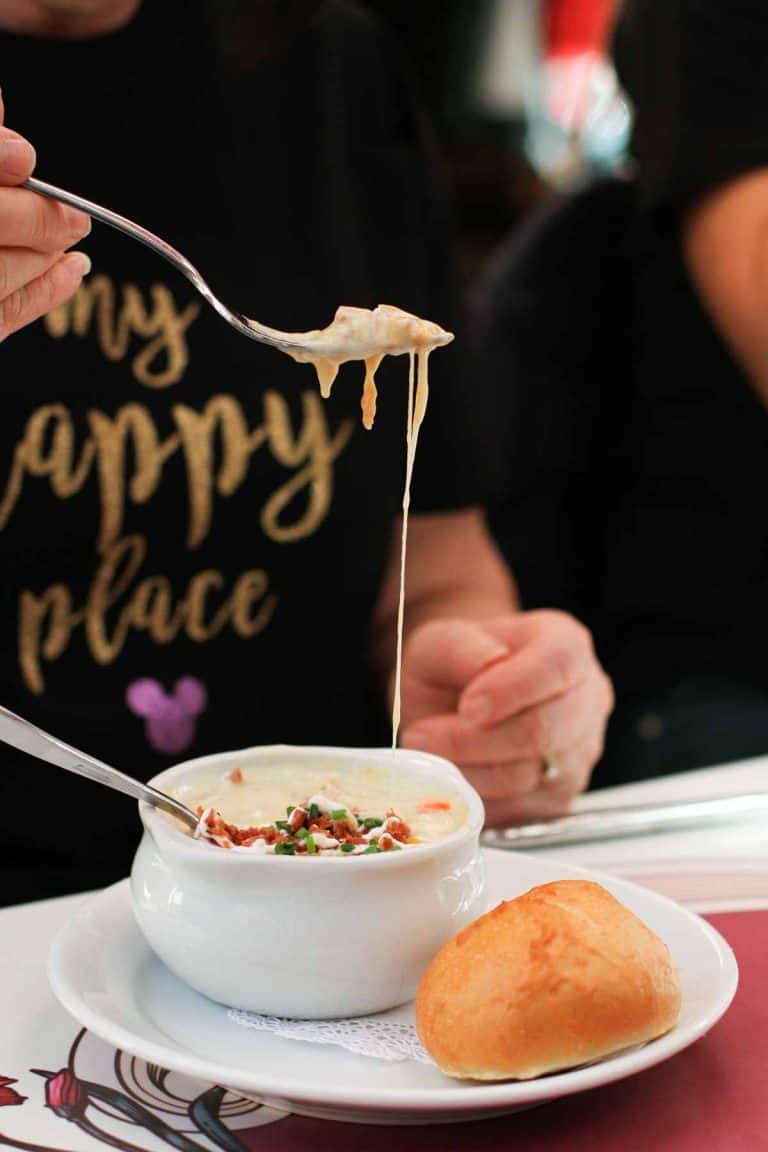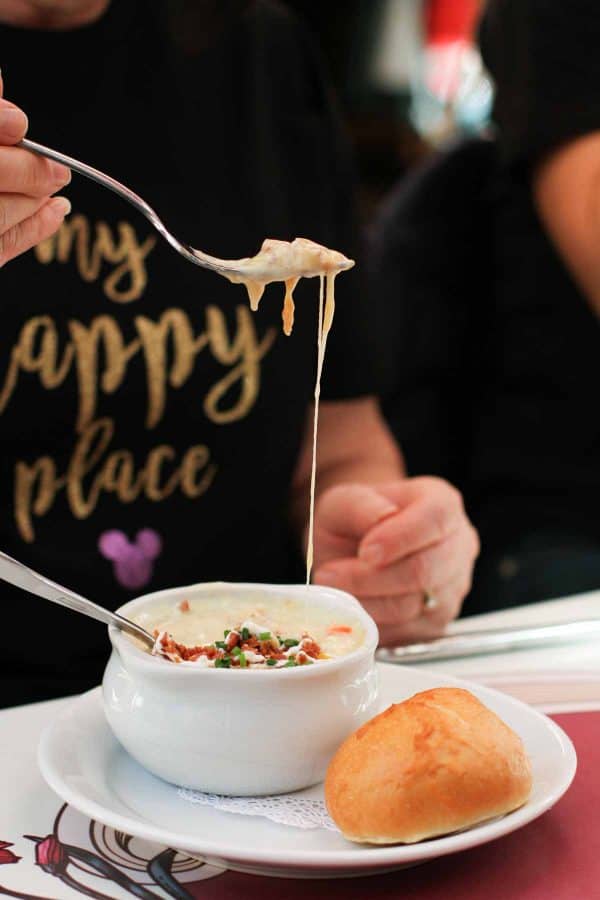 Baked Potato Soup from Carnation Cafe
Another winning soup! This soup is nice and cheesy and so, so good. This is one I'd recommend to everyone!
California Adventure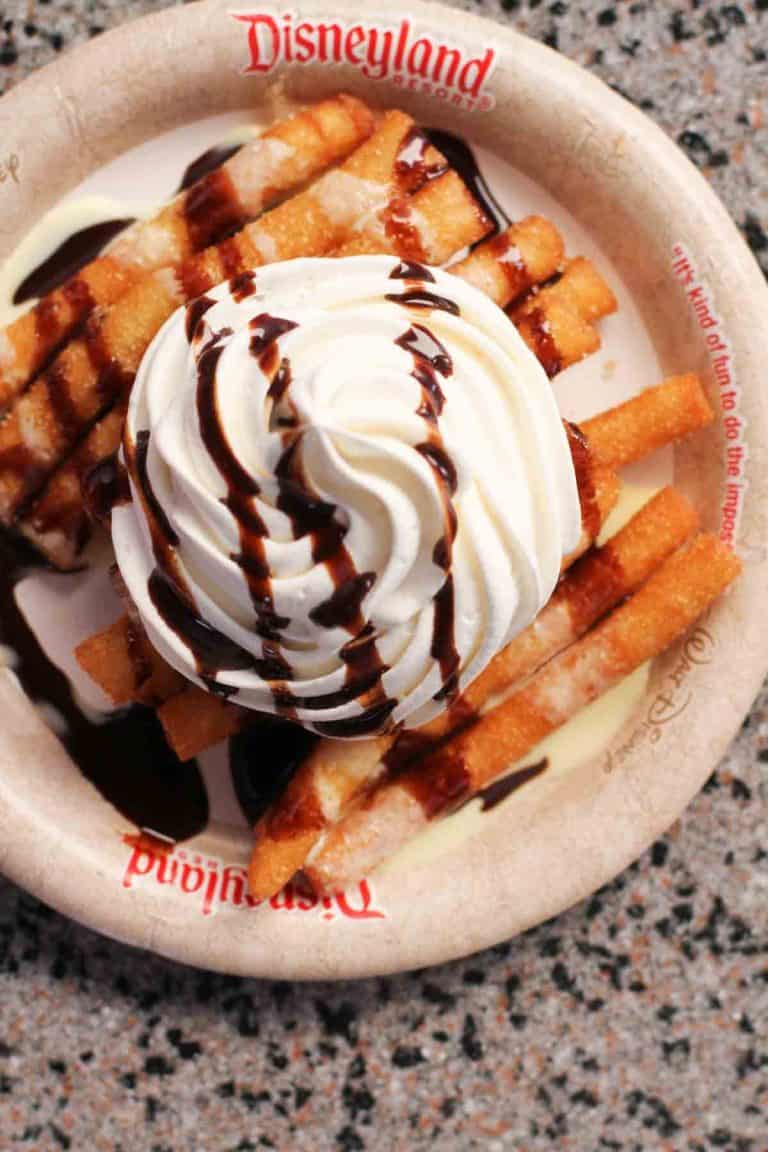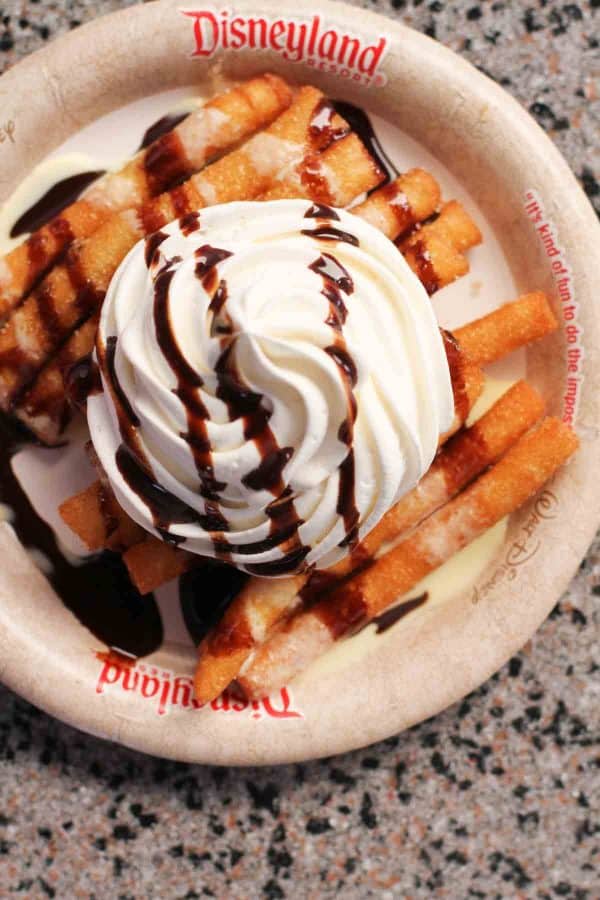 Funnel Cake Fries from Award Wieners
These are a seasonal item, but they have been there before, so maybe we'll see them often. I loved these. I do have to say that we got them twice. The first time, they were hot and they were so, so amazing. The second they weren't very warm, and it wasn't the same. Just not as good. So make sure you get fresh, hot ones!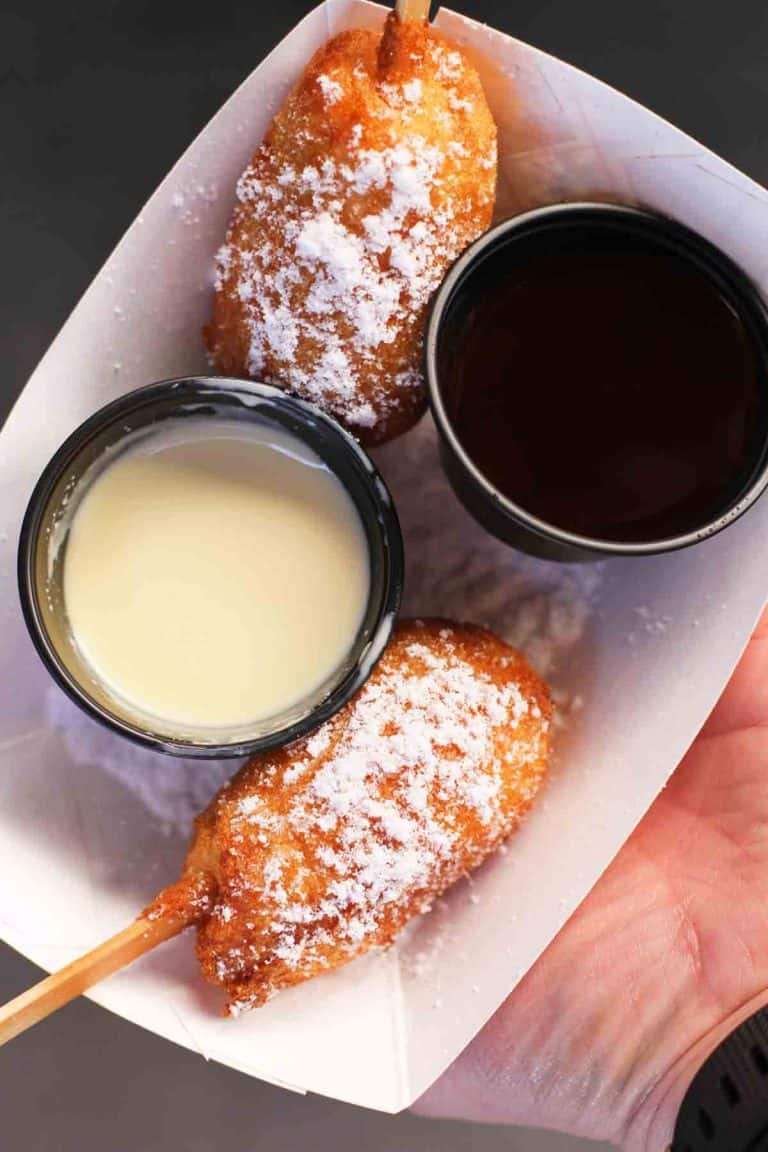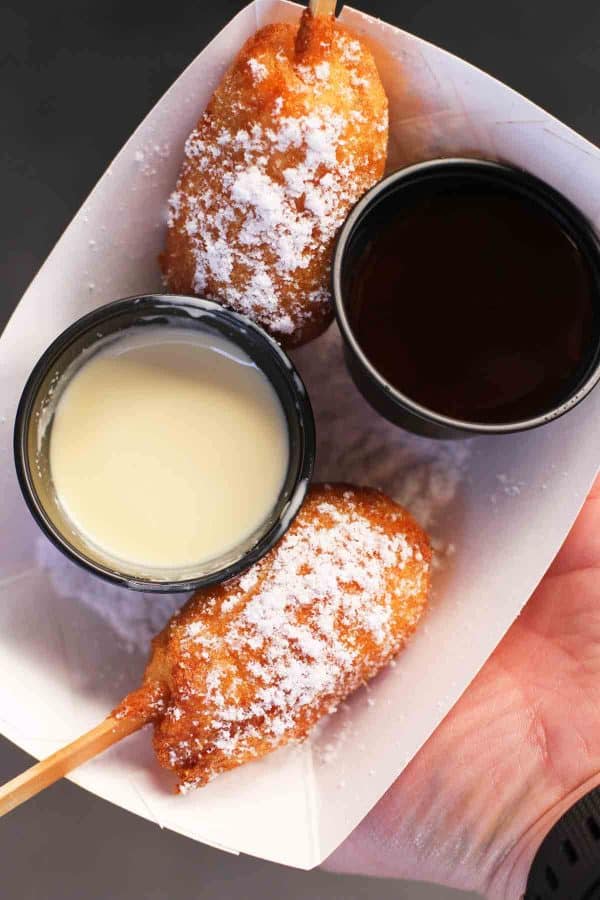 Banana Corn Dogs from Award Wieners
These Banana Corn Dogs were the original thing I wanted from Award Wieners. I ended up thinking they were just ok. But it's funny, because in our group, we were split whether we liked the banana corn dogs or the funnel cake fries better. I was team funnel fries, but others were team corn dogs. They were both tasty, though!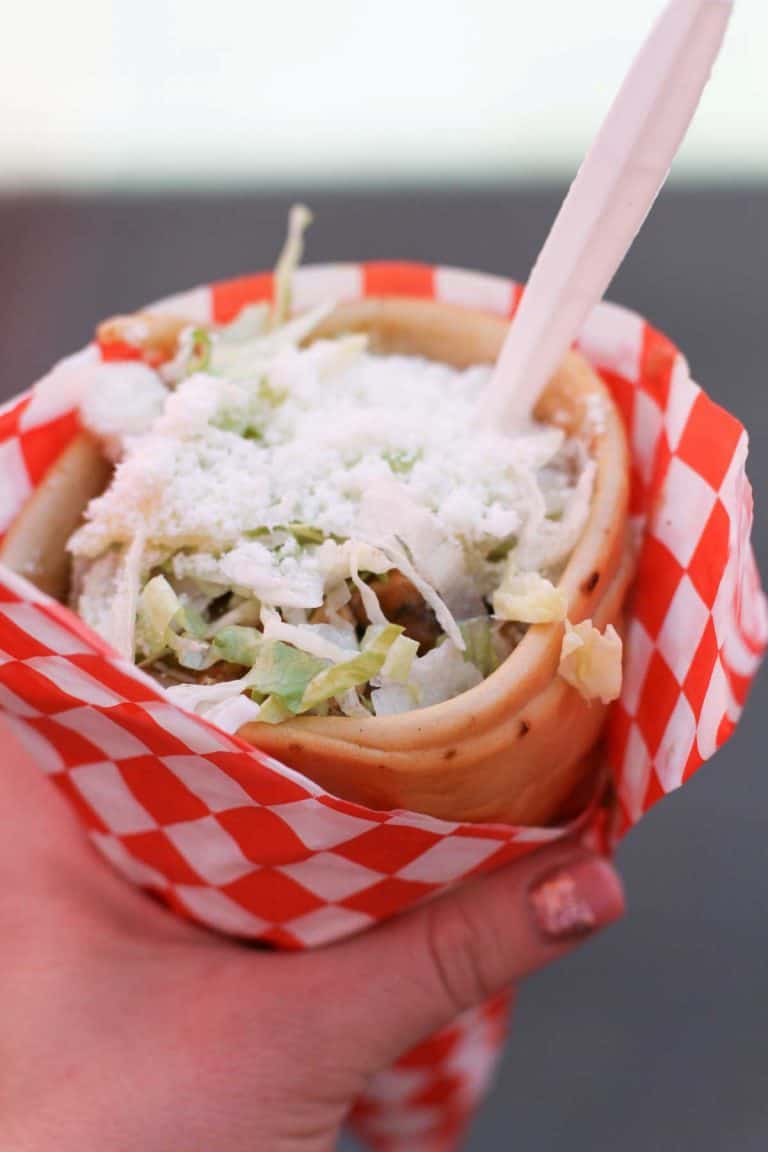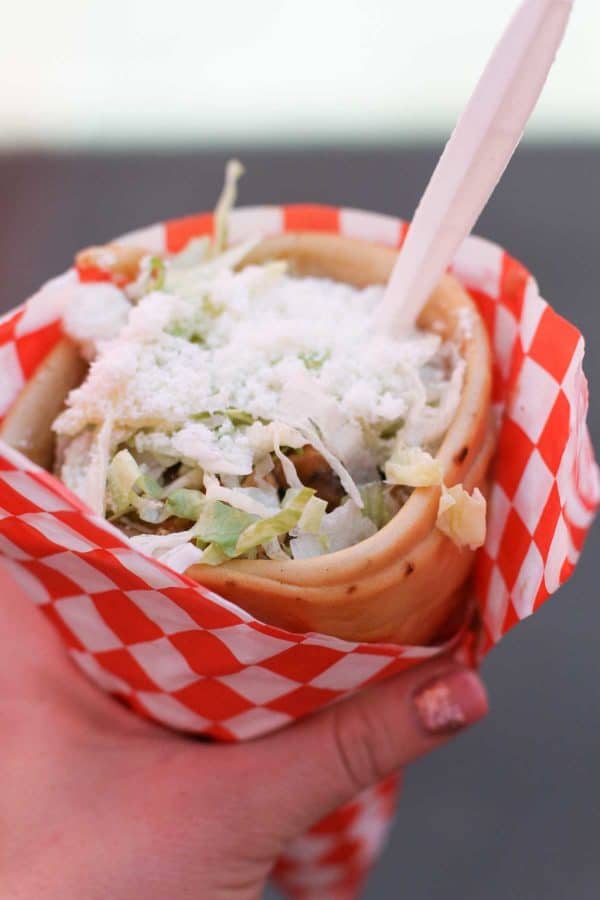 Taco Cone from the Cozy Cone Motel
This cone was my biggest disappointment this trip. I love tacos, but this was not a taco. It was more like a spicy chicken soup. Super watery. Really, really watery. The chicken is super spicy as well, which I didn't mind. But I hated that I waited in line for so long to get something that wasn't even good. I was really hoping for something that actually resembled a taco.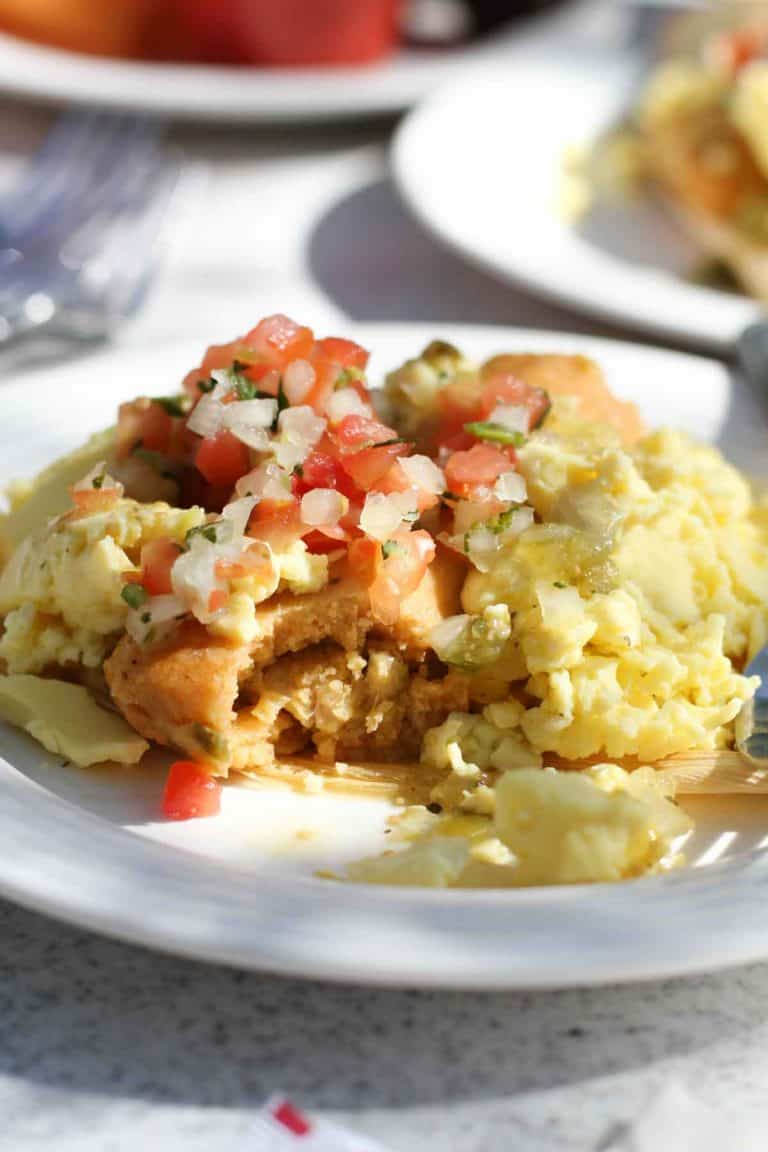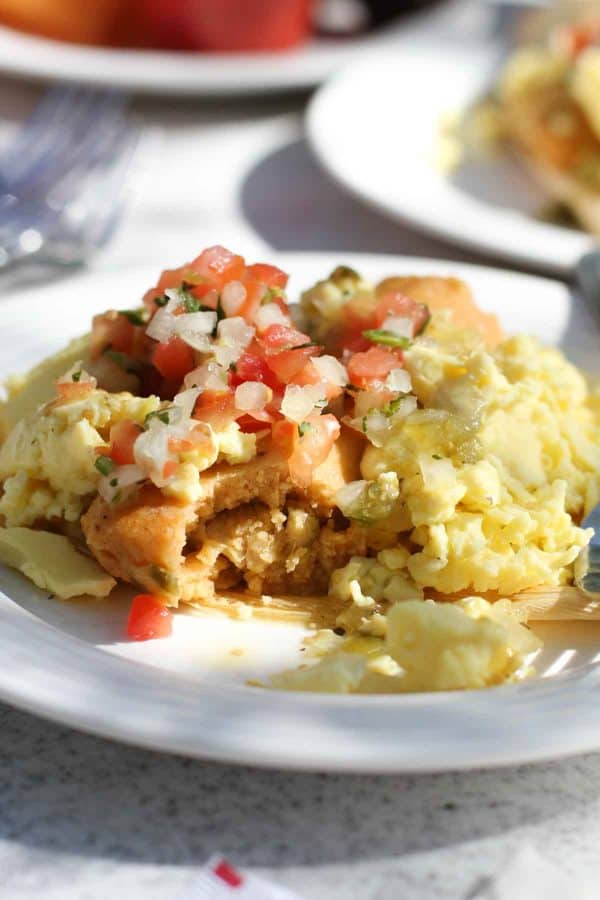 Chicken Tamale Breakfast from Flo's V8 Cafe
And this breakfast tamale wins the prize for my favorite savory item this trip. This is SO good! I have seriously been craving it and don't know how I'm going to make it until my next trip to have it again. I would eat this every day and I'd be happy!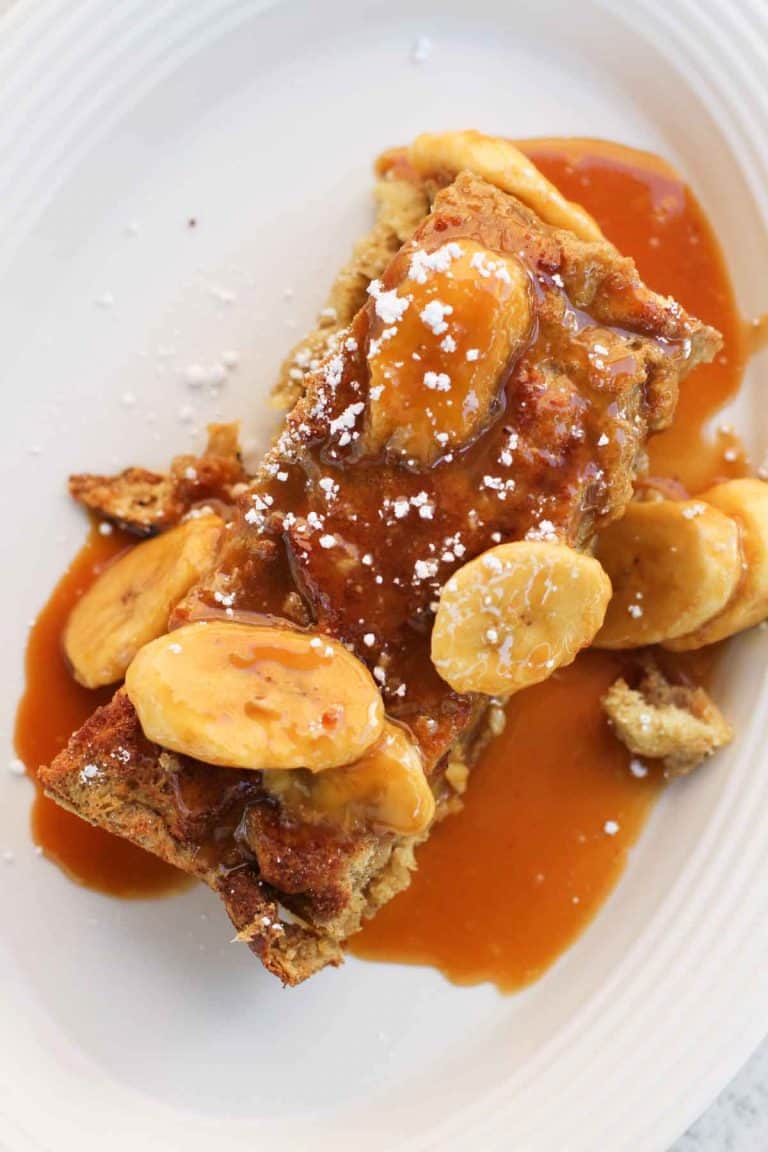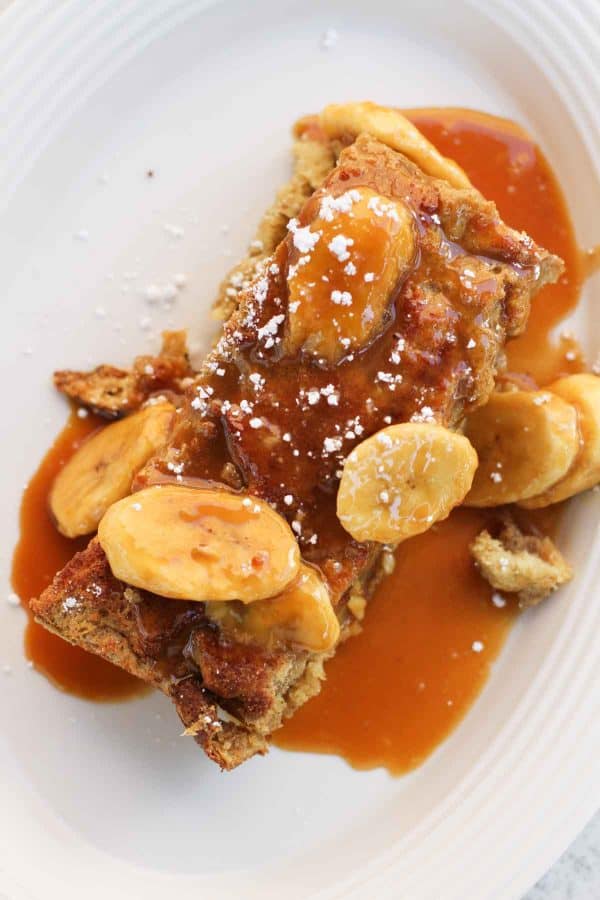 Brioche French Toast from Flo's V8 Cafe
Another winner from Flo's! This whole meal was perfect. Great food, great view. This French Toast is perfectly cooked, which is hard to do usually. The French Toast is served with a salted caramel sauce and bananas, and is so, so good. I'll be getting this one in the future for sure.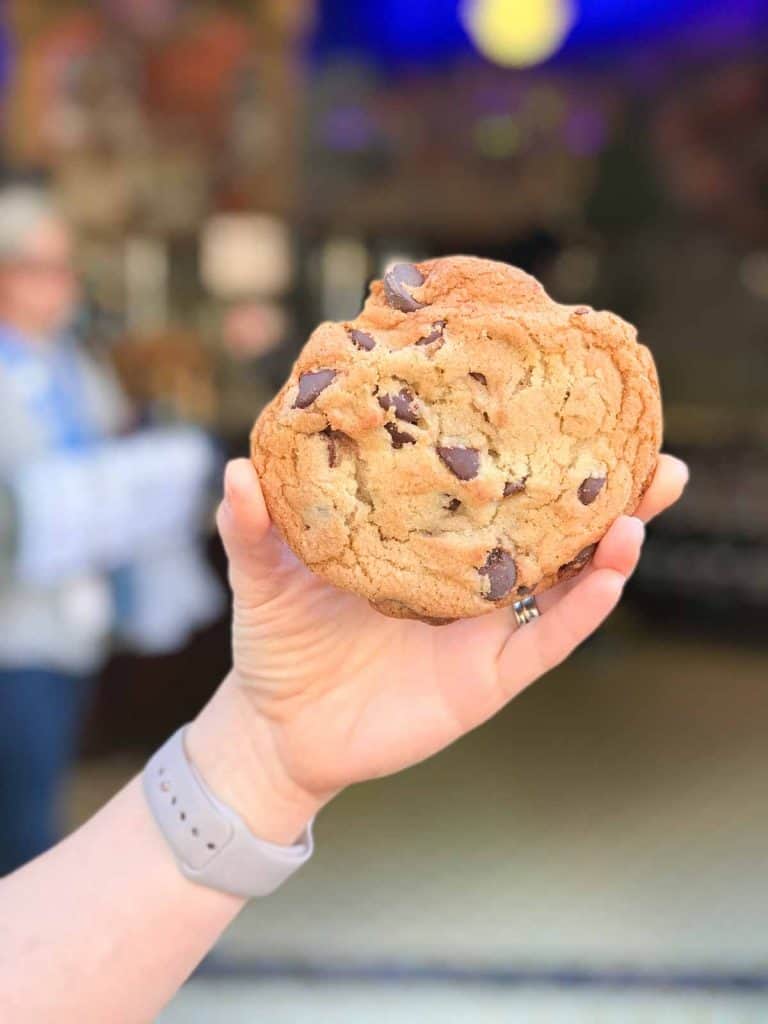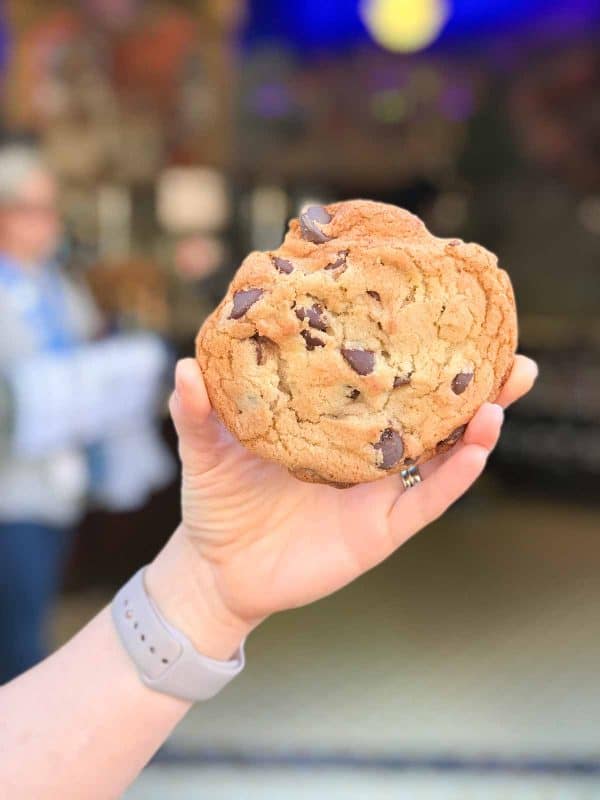 Chocolate Chip Cookie from Ghiradelli
I guess we were looking for the perfect chocolate chip cookie this trip! While this one was better than the cookie at Jolly Holiday, I still wouldn't consider it great. It was fine. Not bad, but not a cookie that stood out.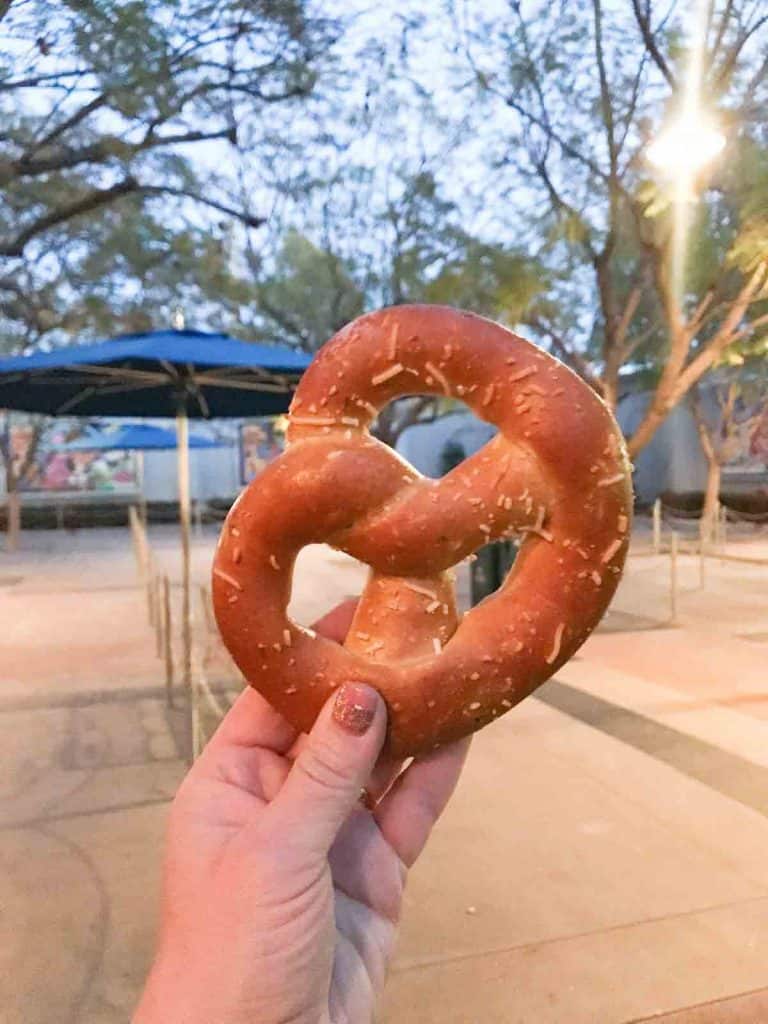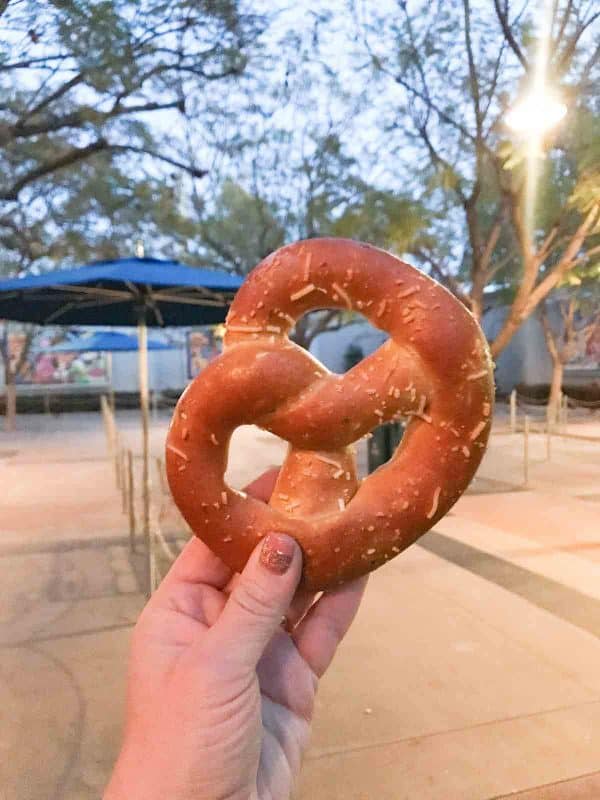 Jalapeno Cheese Filled Pretzel from Bayside Brews or the cart in front of the Hyperion Theater
I love the sweet cream cheese pretzel, so I was super excited to try this one. I loved it. The only problem is that only half of the pretzel really had filling. We had passed it down to my sister and sister in law after taking a piece, but their pieces were hollow. Mine had plenty of filling, but the whole thing wasn't all the way filled. I would still buy another, though!
———————————–
There you have it – the third guide! It's so crazy that we ate that much, but I still have a mile long list of more food I want to try! Looks like I need to plan another trip back!
See guide 1 here
See guide 2 here
See my Disney World guide here
Don't miss a thing! Follow me on Pinterest to see what I'm pinning!