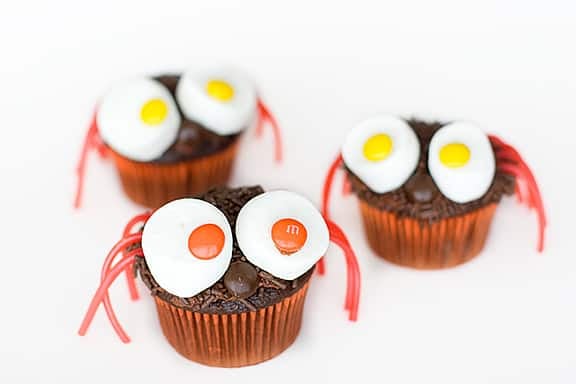 Can you believe that Halloween is less than a week away?  It seems like when you are a kid, time seems to go so slow. You are so excited to dress up for Halloween and go Trick-or-Treating, but the days just drag on.  Then, as you get older, time just seems to fly by faster and faster.  Before I know it, Christmas is going to come and go!
In honor of the holiday coming up this weekend, I'm going to be posting Halloween recipes from today until Thursday.  That way, if you are still trying to come up with an idea for a party or just something fun for your family, hopefully I'll be able to help you out!
First up are these incredibly cute spider cupcakes.  We had a Halloween party for church this past weekend, and I volunteered to bring some cupcakes for the cake walk.  I saw these online and knew I wanted to make them!!  They are a little time consuming, but totally worth it for the cute factor!
Spider Cupcakes
from Bright Ideas
Makes 24 cupcakes
24 chocolate cupcakes
chocolate frosting
chocolate sprinkles
24 large marshmallows
72 M&Ms
red or black licorice laces
Spread the tops of the cupcakes with the frosting, reserving about 1/4 cup of the frosting.  Coat the tops of the cupcakes with the chocolate sprinkles.
Cut the marshmallows in half crosswise.  Take the reserved frosting and put it in a resealable zip top bag.  Cut a small hole in one corner.  Using the frosting like glue, adhere an M&M to each marshmallow.  Using the frosting again, adhere the marshmallow to the cupcake, making the eyes.  Use another M&M to make the nose.  Repeat on all cupcakes.
Cut each of the licorice laces into 4 equal pieces.  Using a toothpick, poke holes in the sides of the cupcakes.  Insert the cut licorice into the holes to make the legs.  Do 4 legs on each side of the cupcake, making 8 legs per cupcake.