Bring a taste of Jamaica to your kitchen with these kabobs of steak and sweet potato that have a punch of spice.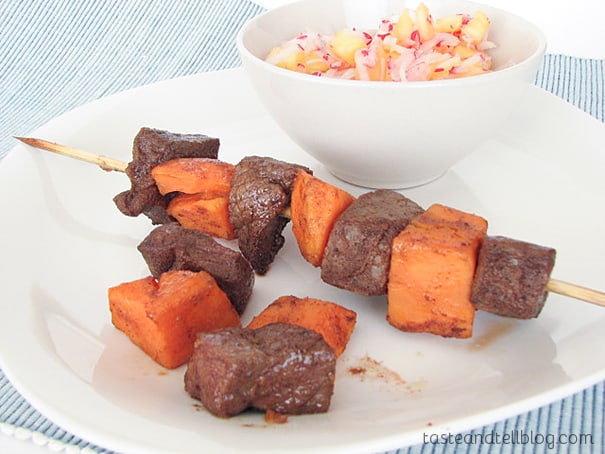 I tried to make this recipe more than once. But I made a mistake – the first time, I wanted to do them on the outdoor grill. I should have known better! You see, I have never once cooked anything on our grill since I met my husband. And there is a good reason for that – he is great on the grill. There's really no reason for me to even try, because that is where his cooking really shines. But the down side to this is that sometimes, there are recipes on the grill that I'd like to try. And I don't mind preparing everything and just having my husband grill, but it doesn't work that way. I will make something, and all it needs is to be grilled, but the food will come back to the table completely different than I sent it out. He loves to come up with his own marinades and spice mixes. It always tastes great, but it does not resemble the recipe I started out with.
So one day, I got out all of the ingredients for this dish. I wasn't feeling well, so I was in the living room watching tv and my husband said he would grill them for me so I wouldn't have to get up. But next thing I know, I hear all kinds of noises and banging in the kitchen. I get up to see what is going on, and the meat is in some kind of marinade – I have no idea what he put in it, but I knew I couldn't rate a recipe if the final dish did not resemble the recipe whatsoever!! So I let him do his thing, and decided to try again another day.
The next time I attempted this, my husband wasn't hungry. Bad, because it's too much food for just me, and I usually don't cook unless both of us are eating, but good because I knew he wouldn't be wanting to take over. I decided not to even mention getting the grill out because I knew he wouldn't let me touch it, so I opted to follow the recipe and broil the kebabs. It was a good idea, as they only take 6 minutes under the broiler to cook.
If I were to change one thing about this recipe next time, it would be to cut the spice mixture down a bit – maybe even half it. It really did pack some serious flavor, but it was almost too much for me. This could be because I brushed the marinade over the sweet potatoes as well, but cutting down on the spices wouldn't hurt. But it really was delicious. The leftovers were especially good, I think mostly because the spices had mellowed out a bit. The recipe below has the original measurement for the spices.
Along side the kebabs, there is a salad of radishes and pineapple. When I first read this recipe, I almost left the salad off. Radishes and pineapple? Who has ever heard of such a concoction? But I decided to live on the wild side (can you tell how boring my life is since this is living on the wild side!) and make the salad. And I'm so glad I did! What a great combination! The pineapple takes away some of the spiciness of the radishes, and you have a salad of wonderfully balanced flavors. I was so surprised!! I will definitely be making this salad all through the summer!
Like what you see here? Make sure you are following Taste and Tell for more great recipes and ideas!!

Facebook ** Pinterest ** Twitter ** Instagram ** Google+
or you can subscribe to my newsletter or Feedly or Bloglovin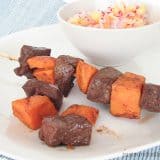 Jamaican-Style Beef Kebabs
---
Prep Time: 15 minutes
Cook Time: 15 minutes
Total Time: 30 minutes
Yield: 4 servings 1x
Description
Bring a taste of Jamaica to your kitchen with these kabobs of steak and sweet potato that have a punch of spice.
---
Scale
Ingredients
1/4 cup soy sauce
2 tablespoons vegetable oil, plus more for brushing
2 teaspoons Chinese Five-spice powder
1 teaspoon ground allspice
1 to 2 tablespoons hot pepper sauce
One 1-inch-thick boneless sirloin steak, cut into 16 cubes (about 1 1/2 lbs.)
2 sweet potatoes (1 lb) peeled and cut into 16 pieces
One 1-pound bunch radishes
2 cups coarsely chopped fresh pineapple
salt
---
Instructions
Soak 8 bamboo skewers in water. In a medium bowl, whisk together the soy sauce, oil, five-spice powder and allspice. Stir in the hot sauce. Add the steak and toss to coat; refrigerate.
Bring a saucepan of lightly salted water to a boil. Add the sweet potatoes, lower the heat and simmer until just fork-tender, about 8 minutes; drain and let stand until cool enough to handle.
Meanwhile, using a food processor fitted with a shredding disk, shred the radishes and transfer to a bowl with the pineapple. Toss and season with salt.
Preheat the broiler. Thread the meat and sweet potato onto the skewers and arrange on a broiler pan; brush the sweet potatoes lightly with oil. Broil the kebabs for about 6 minutes, turning once, for medium-rare. Serve with the slaw.
Recipe Notes: