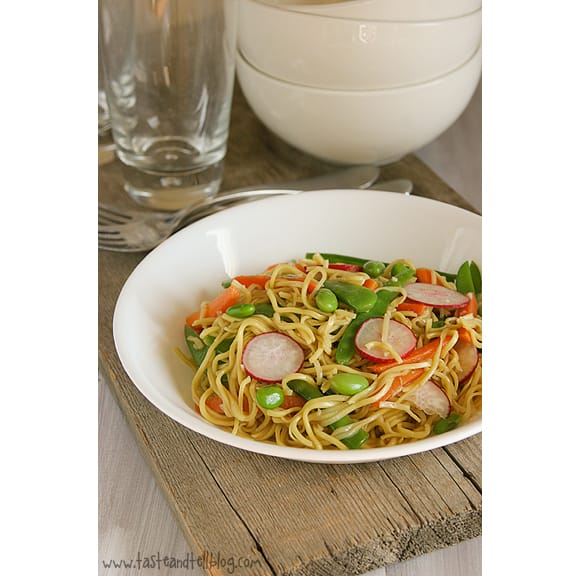 Photo updated May 2012

We are meat eaters here in our house. Pretty much every meal has some sort of meat in it, and we rarely eat vegetarian. I love vegetables, but somehow, I never really feel like it's really a meal without meat. But I've been trying to throw in a vegetarian entree every once in awhile, not only to mix things up a bit, but because it's usually cheaper, and really – lots of vegetarian meals are pretty good for you.
I was immediately drawn to this recipe when I first saw it. I love Asian flavors, and my husband is a total wasabi addict. It's so funny, because he can't take the spice from chilies, but he could eat tons of wasabi! I'm almost the opposite – I'm a lot more sensitive to wasabi than I am to chilies.
This salad was so good. In fact, I actually made it about 3 months ago, and I still think about it. (I think it's time to make it again!!) The vegetables go perfectly with the Asian flavors, and the wasabi gives it a nice kick. In fact, if you are sensitive to wasabi, you might even want to cut back on it just a bit – there were many times I felt my nose burn if I breathed in while I was eating this!
This is one that would make the vegetarians and meat eaters both happy!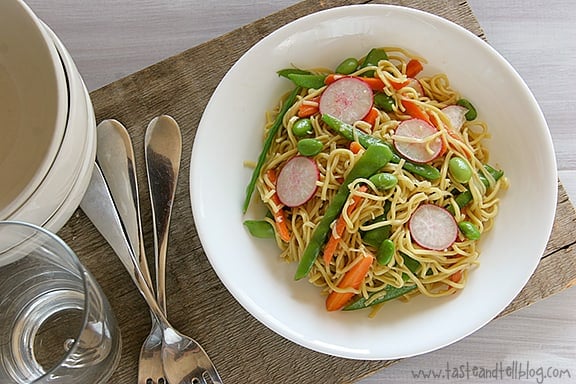 Photo updated May 2012
Soba Salad with Soy-Wasabi Vinaigrette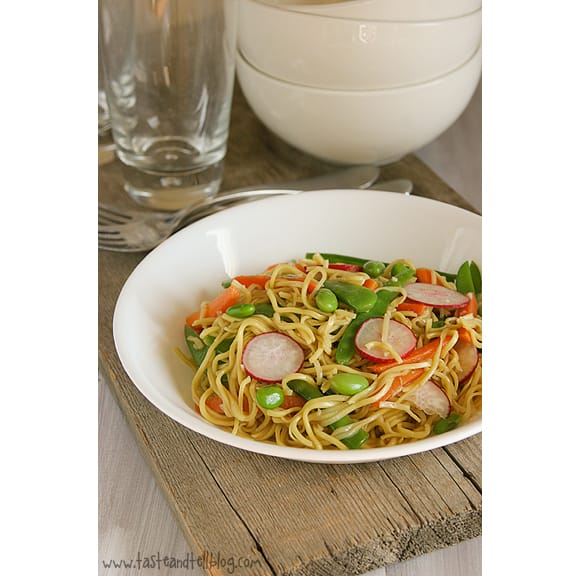 The perfect vegetarian entree for wasabi lovers, this salad is packed full of steamed vegetables, Japanese noodles and a soy-wasabi dressing.
Ingredients
1 garlic clove, minced
6 ounces Japanese curly noodles (chucka soba), uncooked
1 cup frozen shelled edamame
4 ounces snow peas, trimmed and halved crosswise (about 1 1/2 cups)
4 ounces baby carrots, quartered lengthwise
3 tablespoons rice vinegar
3 tablespoons low-sodium soy sauce
1 tablespoon sesame oil
1 tablespoon prepared wasabi paste
1/2 cup thinly sliced radishes
Instructions
Prepare garlic; let stand 10 minutes.
Cook pasta according to package directions, omitting salt and fat. Drain and rinse under cold water; drain well.
Steam edamame, peas, and carrots 4 minutes or until crisp-tender. Drain and plunge vegetables into ice water; drain.
Combine garlic, vinegar, soy sauce, oil, and wasabi in a large bowl; stir with a whisk. Add pasta, vegetable mixture, and radishes; toss gently to coat. Serve immediately.
-------------------
http://www.tasteandtellblog.com/soba-salad-with-soy-wasabi-vinaigrette/
Recipe from www.tasteandtellblog.com