Growing up, Sundays were always the same. We'd start the day with church. Then it would be lunch – always soup and sandwiches. My parents cherished their Sunday naps, and then we had Sunday dinner.
But Sunday nights were special. Every Sunday night, we'd go over to my grandma and grandpa's house. My mom, dad and grandma would play Scrabble. My grandpa would be in his recliner, watching westerns. There were lots of options for us kids. We would watch the Sunday night movie on tv. We would play pool. There were endless games played in the basement – including hide and seek in the dark. In our older years, we would most likely be found doing homework.
But one of the highlights of Sunday night was always dessert. My mom is a great cook. And a great baker. She didn't bake a lot during the week, though, but there was always a treat for grandma and grandpa's house on Sunday nights. It was anything from cake roll to white cake with chocolate frosting to my favorite – Chocolate Cheesecake Cupcakes.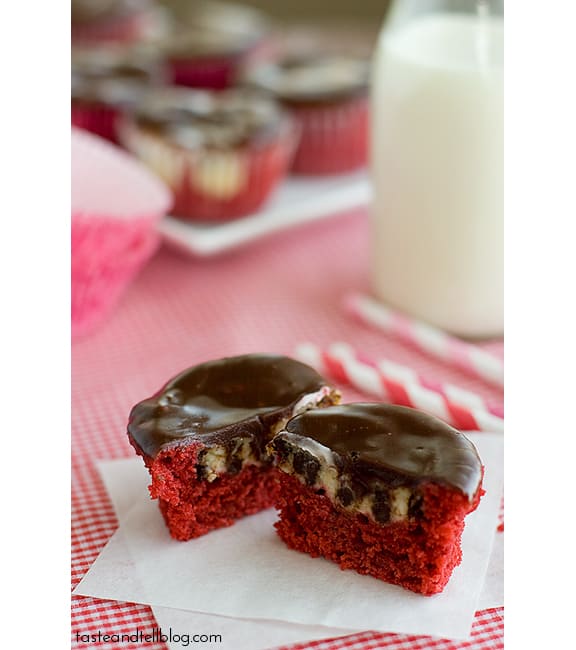 These cupcakes – which I later learned (from food blogging) are widely called Black Bottom Cupcakes – were one dessert that I'd always look forward to. Chocolate cupcakes with a cheesecake and chocolate chip center? Count me in!! And I always loved them when they were cold – straight from the fridge. They were very simple, but I think I'm a simple girl, and that's why they were a favorite.
So this year, I got this idea to try turning those favorite cupcakes into a red velvet treat. The chocolate cupcake was replaced with red velvet. And since I've done it before, I decided to add on a chocolate ganache.
This was an experiment that I wish I would have tried many years ago. As much as I love my mom's original, these might rank up there pretty close!! Of course I love the red velvet, and the ganache makes them look a little more special, and gives that extra punch of chocolate.
This is definitely a treat worthy of Valentine's Day – and of a Sunday night at grandma and grandpa's house!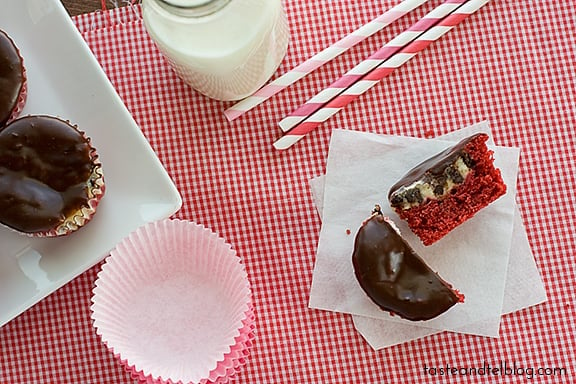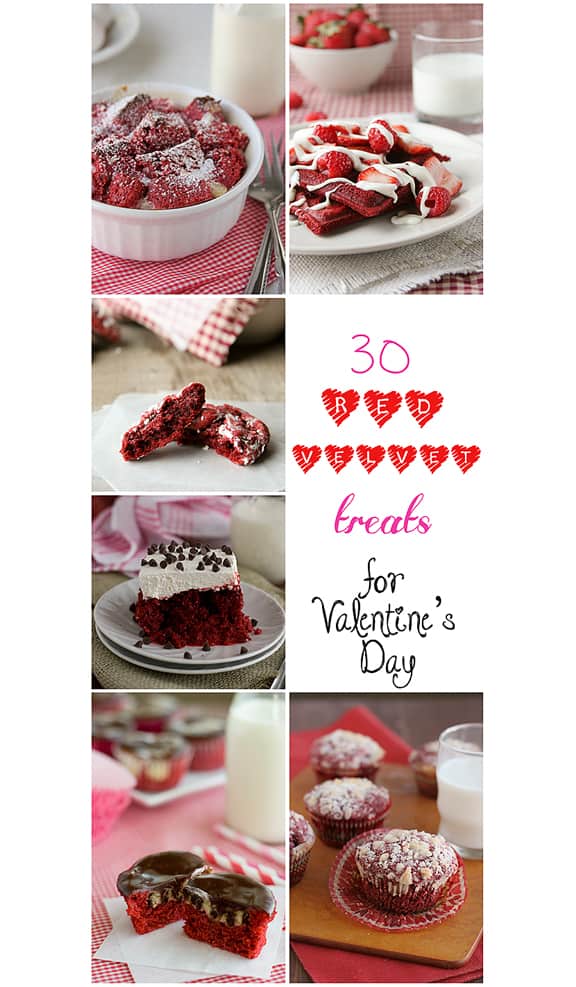 And as if 5 red velvet recipes coming at you this week isn't enough, I'm also sharing 30 Red Velvet Treats for Valentine's Day over at the Cafe Zupas blog today.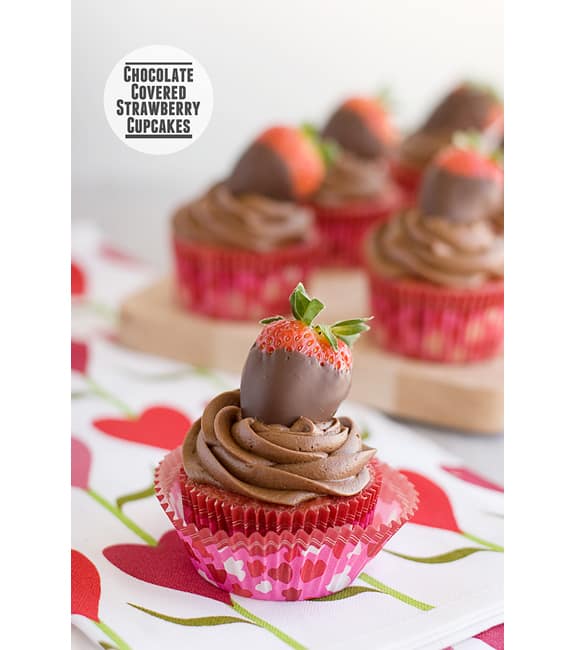 And they may not be red velvet, but I'm sharing these Chocolate Covered Strawberry Cupcakes over at Sweet Treats & More today.  They would also be a perfect Valentine's Day treat!