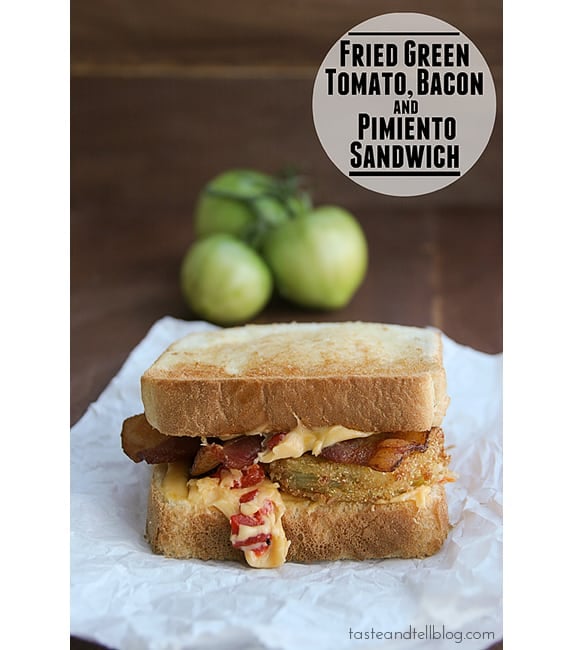 There are quite a few perks to moving back home.  1 – My mom does the dishes.  Almost every night that I've been here, I haven't had to do my dinner dishes because my mom takes over.  Definitely something I could get used to!!  2 – convenient baby sitters.  Ok, so my mom and dad aren't home a lot, but just knowing that they are here, and that I have a sister just blocks away, and another sister and brother within minutes makes me excited.  My husband and I haven't had a date night in who knows how long, and now that we are in the midst of family again, I am instituting date night!!  3 – if you run out of something, you don't have to run to the store, or even to the neighbor's house.  Most anything you need is just steps away in mom's pantry or refrigerator!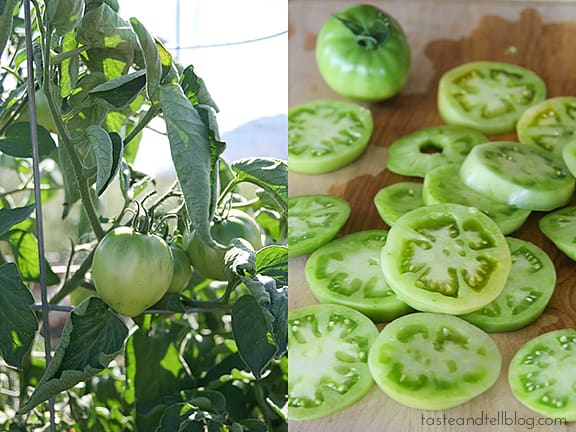 But my favorite thing?  The garden.  My dad always had a big garden when we were growing up.  The garden is much, much smaller now – only tomatoes, yellow squash, anaheim peppers and bell peppers, but having them just steps away in the garden has been great this last week.  I've eaten my fair share, and I'm going to be sad when that first frost hits!!
Right now, we are swimming in tomatoes.  Every day when my dad comes home, he goes out to the garden and comes in with a bag full of squash and a bag full of tomatoes.  There is very little that is better to me than a fresh garden tomato, sprinkled with some salt.  I love it!!
A few weeks ago, before we moved, I was up late working one night.  A show came on the Cooking Channel about the best sandwiches in the US.  I only saw the first sandwich – but immediately wrote down the flavor combination because that sandwich looked so good.  The sandwich came from Home Grown in Atlanta, Georgia.  It's called the "Grant's Stack" and consisted of pimiento cheese, fried green tomatoes and bacon on Texas toast.

I just knew that I had to recreate that sandwich at home.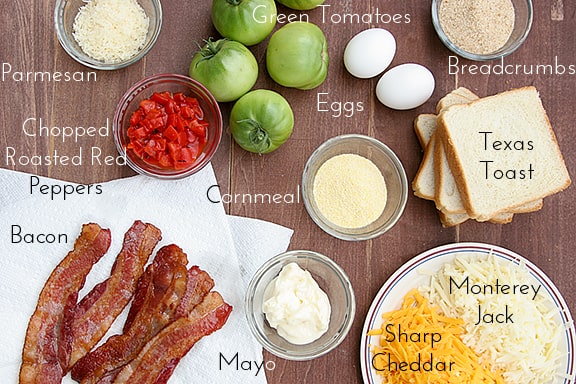 And how convenient is it that I had a plethora of green tomatoes to use at my parent's house??
This sandwich is not for the faint of heart.  This is a let's-celebrate-the-end-of-summer-and-not-care-how-many-calories-we-are-eating kind of sandwich.  But it is oh, so worth it.  Fried green tomatoes.  A warm pimiento cheese spread, made with 2 kinds of cheese and roasted red peppers.  Bacon.  Is there anything on this sandwich that does not make you want to run out and make it right away?  I couldn't wait – and I'm so glad I didn't.  Loved this.  Loved it.
Give one last "hurrah" to summer and make up some of these sandwiches!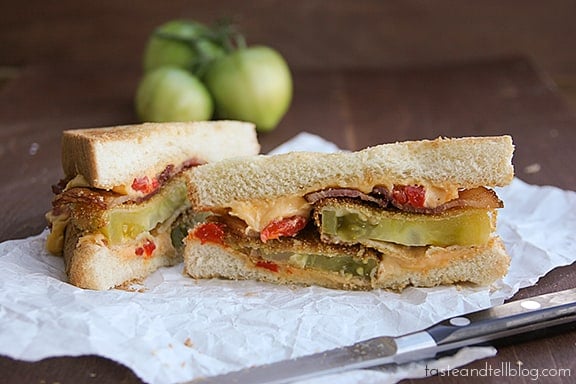 Check out these other fried green tomato concoctions:
Fried Green Tomato Caprese Stacks from How Sweet It Is
Bacon, Lettuce and Fried Green Tomato Sliders from Taste and Tell
BLT Salad with Buttermilk Dressing from ChowGals
Fried Green Tomatoes with Jalepeno Cheese Grits from A Cozy Kitchen
Fried Green Tomato Salad with Grilled Onions and Corn from Sass and Veracity