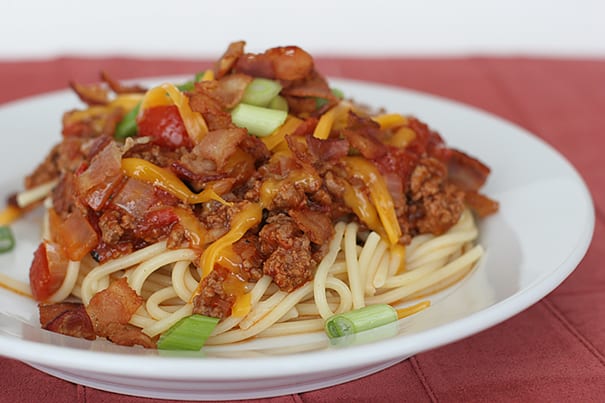 Life has been a bit crazy lately. I made dinner twice last week – my poor husband – but I didn't even take pictures of either meal. It's not that they weren't tasty, but by the time dinner was done, I was just exhausted. I usually take pictures of just about every dinner, so it was a bit of a different experience for me – to make a new recipe and not photograph it.
Needless to say, I've been a bit absent around other blogs lately as well. And I'm really sorry and sad about that, because I really do love reading your blogs. And I don't know if this week will be much better because my sister and her husband are going out of town, and I have babysitting duty for 2 days this week, as well as a fundraiser spaghetti dinner for church. I'm already tired thinking about this week!
But onto the food – which is the real reason you all come here. If you are Italian, please stop reading because I would hate to offend you – this is a true "Americanized" version of a great Italian food. I first made this recipe a few years ago, and had to make it again because we liked it so much. It's a great twist on traditional spaghetti!
Cowboy Spaghetti
adapted from 30-Minute Meals
Serves 4-6
1 pound spaghetti
salt
1 tablespoon extra virgin olive oil
3 slices bacon, chopped
1 pound ground sirloin
1 medium onion, chopped
3 to 4 garlic cloves, chopped
ground black pepper
2 teaspoons hot sauce
1 tablespoon Worcestershire sauce
1/2 cup beef stock
1 (14-ounce) can chopped or crushed fire roasted tomatoes
1 (16-ounce) can tomato sauce
8 ounces sharp cheddar
4 scallions, chopped
Heat a pot of water to a boil. Add spaghetti and salt the water. Cook to al dente or with a bite to it.
Heat a deep skillet over medium-high heat. Add extra-virgin olive oil and bacon. Brown and crisp bacon, 5 minutes, remove with a slotted spoon. Drain off a little excess fat if necessary. Leave just enough to coat the bottom of the skillet. Add beef and crumble it as it browns, 3 to 4 minutes. Add onions, garlic and stir into meat. Season the meat with salt and pepper, hot sauce and Worcestershire. Add 1/2 cup beef stock and deglaze the pan. Cook 5 to 6 minutes more then stir in tomatoes and tomato sauce.
Add hot spaghetti to meat and sauce and combine. Adjust seasonings and serve up pasta in shallow bowls. Grate some cheese over the pasta and sprinkle with scallions. Garnish with crisp bacon.
Want another opinion on this recipe?
Like Sprinkles on a Cupcake
Big Bite Appetite