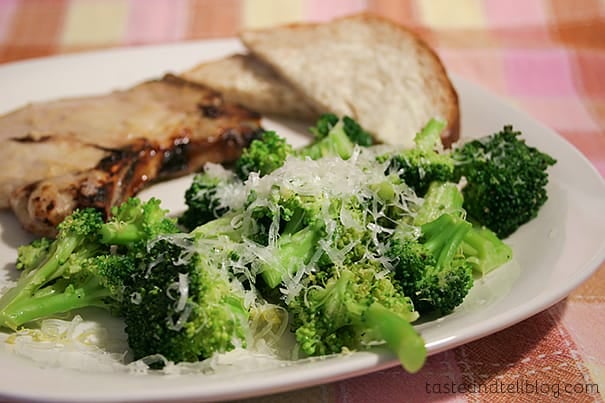 I feel much better when I am eating well and exercising. I did ok during my pregnancy. I exercised 3-5 times a week, but my eating was not that great. I vowed to do better once the baby came, but for those first few weeks, cooking was not on the agenda for me. We had wonderful family that brought us meals for the first week we were home, but after that, we resorted to way too many "convenience" foods. The freezer section at the grocery store was our best friend for another week or so. And now, I'm feeling the effects of all that junk food!!
When I chose this Weight Watcher's cookbook as the Cookbook of the Month, I didn't choose it to lose weight. In fact, I told myself I had until 6 weeks postpartum to start getting back on track. But this meal was so refreshing and made me feel so much better that I've vowed to start eating better already.
Both the pork chops and the broccoli were delicious. And soooo easy. In fact, I had put the pork in the refrigerator to marinate the night before we were going to have this meal, and we didn't end up eating it for an extra night after that, so the pork chops were full of flavor. They weren't so pretty, so that's why you can't really see them in the picture! But the broccoli – I am going to start eating broccoli like this on a regular basis because it was so easy, full of flavor, and just a great way to eat your vegetables. This is one delicious, healthy meal!!
Honey Mustard Pork Chops Rating: 4 out of 5
Lemon-Butter Broccoli Rating: 5 out of 5
Honey Mustard Pork Chops
from Weight Watchers New Complete Cookbook
Serves 4
4 teaspoons honey
1/4 cup Dijon mustard
1 teaspoon cider or wine vinegar
1/4 teaspoon salt
freshly ground pepper, to taste
4 (5-ounce) bone-in loin pork chops, 1-inch thick
To prepare the marinade, in a small saucepan over low heat, heat the honey until it liquefies. Stir in the mustard, vinegar, salt and pepper; cool to room temperature.
Place the pork chops in a gallon-size ziploc plastic bag; add the marinade. Seal the bag, squeezing out the air; turn to coat the chops. Refrigerate, turning the bag occasionally, at least 8 hours or overnight. Remove the chops from the refrigerator 30 minutes before broiling.
Preheat the broiler. Discard the marinade. Place the chops on the broiler rack and broil 3-4″ from the heat until cooked through, 6-7 minutes on each side.
Lemon-Butter Broccoli
from Weight Watchers New Complete Cookbook
Serves 4
1 bunch broccoli (about 1 1/2 pounds)
5 teaspoons unsalted butter
2 teaspoons fresh lemon juice
1 teaspoon grated lemon zest
1/2 teaspoon salt
1/8 teaspoon pepper
freshly grated Parmesan cheese (optional)
Cut the broccoli into spears discarding the thick end. Bring 3 inches of water to a boil in a large pot. Place the broccoli in a steamer basket and add to the pot; steam until crisp tender, 3-4 minutes. Remove from the pot.
Melt the butter in a large nonstick skillet over medium-high heat. When the butter foams, add the lemon juice and cook for 30 seconds. Add the broccoli, lemon zest, salt and pepper; cook, tossing, 1-2 minutes until the broccoli is well coated. Serve with grated cheese, if desired.
0 Flares
Tweet
Email to a friend
0 Flares
×