I believe in supporting local businesses.
I buy local produce as often as possible. And I have been trying to search out more local products lately, as well. I always love finding new favorites – especially when they are made here in my backyard!
A couple of weeks ago, I was invited to attend an event at the Utah State Fair that showcased many Utah food companies, both established and upcoming. I found some new favorite products and had such a good time trying out all of the different locally made foods!
I couldn't narrow my favorites down to one or two, so here is a sampling of some of my favorite finds from that day: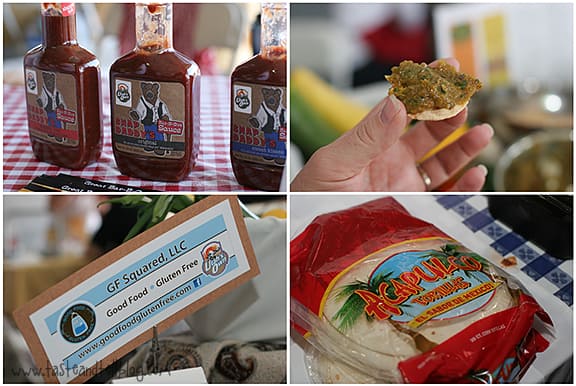 Top Left:  Snap Daddy's BBQ Sauce:  I'm semi-picky about my bbq sauce, but these sauces were delicious.   I especially liked the Slappin' Hot sauce – which my mother in law and I both agreed would go great on wings!
Top Right:  Instant Karma's Roasted Eggplant Spread:  This was one of the first things I tasted, and I didn't stop thinking about it the whole time I was there.  Holy cow, was it good.  (and as an added bonus, their products are gluten-free, vegan and preservative free!)
Bottom Left:  GF Squared:  I don't have to eat gluten free, but these cakes and muffins were mighty tasty!
Bottom Right:  Acapulco Tortillas:  Abbi is not a big tortilla lover, but she went back for a third serving of quesadillas served up on these tortillas!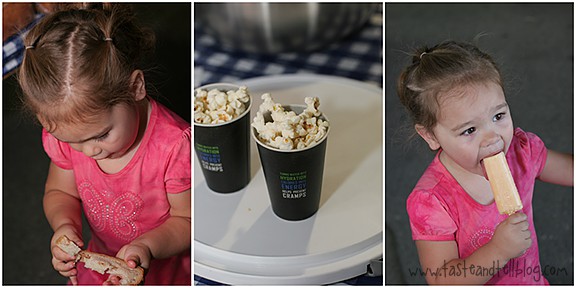 Left:  Cinnamon Burst Bread from Gregory's Wheat.  Abbi devoured that piece of bread in about 10 seconds!!  This is the same company that also makes Jack's Spratt bread.
Center:  Fortisalt:  This product was very interesting and like nothing I've seen before.  It was a spray that adds essential minerals to your foods.  They sprayed it on popcorn at the event.  They also had tablets that you can mix with water that help to restore electrolytes without the added sugars and artificial flavors that you get from some sports drinks on the market.
Right:  Of course we couldn't pass up the free Creamies - one of our favorite ice cream bars!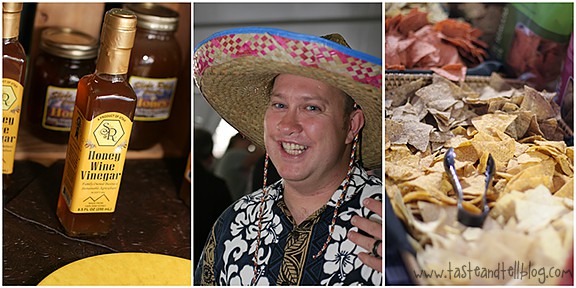 Left:  Honey Wine Vinegar from Slide Ridge:  Probably our favorite discovery.  This vinegar is like nothing else that you have ever tasted.  I cannot wait to get my hands on some so I can go crazy with it!
Center:  Gringo Guacamole: you can tell they are really passionate about their guacamole!  I love guacamole, and this was wonderful!
Right:  Laurie's Buffalo Gourmet:  These chips were sooo good.  I love, loved the sundried tomato and basil, and their salsas were pretty awesome, too.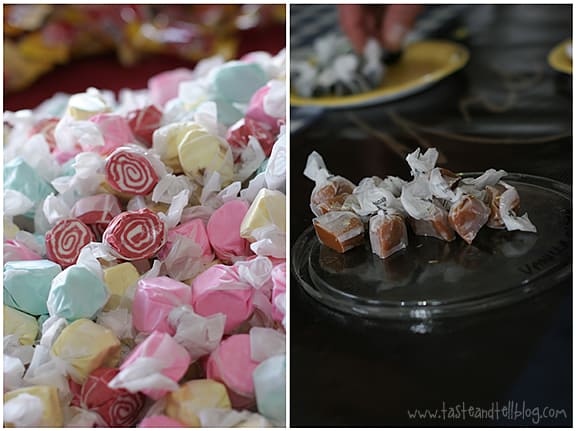 Left:  Taffy from Sweet's Candy Factory:  I've been eating their taffy for years, but for some reason, I've missed out on one flavor.  See that red one with the white?  Red. Licorice. Taffy. YUM!
Right:  Caramels from Mrs. Calls:  This was a new to me product, and seriously delicious caramels.  The caramel apple flavor was amazing!
And even though I don't have a picture, I have to give a shout out to Utah Truffles who was also there – I can't get enough of their delicious truffles!
And that's just a sample of everything that was there!!  I encourage you all to search out local food companies in your neighborhoods.  You are sure to find some treasures!!
I couldn't leave you without a recipe!  I wanted to make something that highlighted a Utah product, and I was having a craving for honey butter, so I went to one of my favorites – Miller's Honey!!  This Cinnamon Honey Butter is sooo good.  Please don't take my word for it – you need to make it!  I ate mine on top of this cornbread, and it was just a little bit of heaven.
Do you have a favorite local product?

**Disclosure – I was given free entrance to the fair to attend the Utah's Own event, but all opinions are 100% my own.