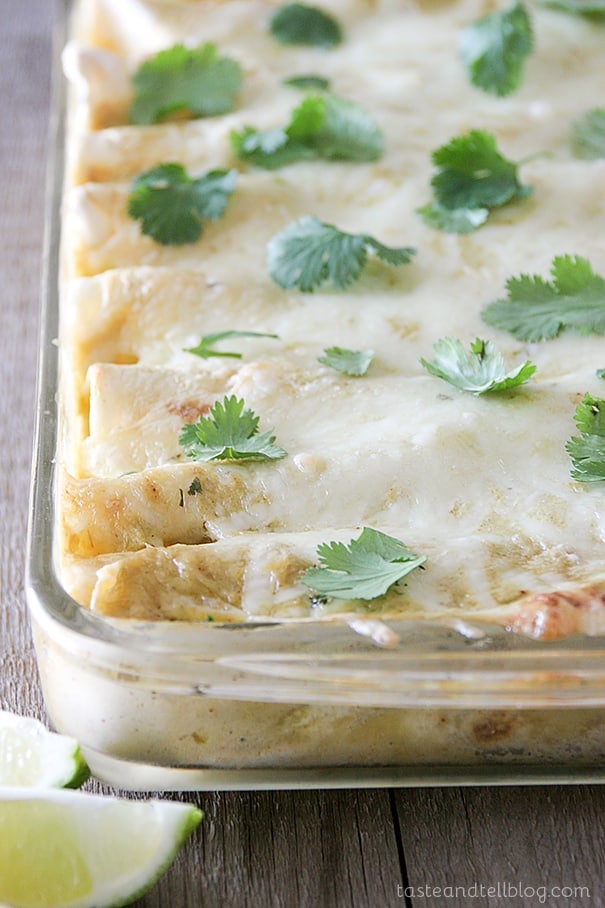 I can't believe it, but this will be my last recipe for 2011.  Where has the time gone??  A college friend texted me over a picture she found of us, and we both looked so young.  I about died when she said it was from 14 years ago.  It seriously feels like it was only a few years ago – not 14!  So yeah, time flies.  Especially when you are having fun!!
I have some changes coming to the blog in the new year, but we'll talk about those on Monday.  And typically, I would be doing this month's Cookbook of the Month review today, but I'm being lazy and I'm going to save that until Monday, too.  Besides – these enchiladas need a whole post dedicated to them.  Oh yes, they do!
I've made plenty of enchiladas in my day.  In fact, they are probably my go-to meal.  As dependent I am on recipes, enchiladas are one of those things that I feel like I can just throw together, no recipe needed.  But these babies here – this is a recipe I will be saving.  First of all, they are a little unique.  Zucchini in enchiladas?  I know it sounds a bit strange, but it totally works here.  And this sauce is amazing.  If you don't make anything else, at least make the sauce.  It's delicious and will have you licking the bowl.
The original recipe for these enchiladas actually made 8 chicken enchiladas, and 8 black bean and zucchini enchiladas.  I wanted it all, so I cut the recipe back a bit and combined it all.  But these would be SO easy to make vegetarian.  Just leave the chicken out and make sure you use vegetable stock.  But I loved combining it all.  The only thing I would have changed would have been to add more black beans, so the recipe below has what I wish I would have added.  But seriously – besides that, which is easily fixed – I wouldn't change a thing.
If you are an enchilada lover, these are some that you want to add to the top of your list!
Recipe Rating: 9.5 out of 10
HAVE A HAPPY AND SAFE NEW YEAR'S EVE! SEE YOU IN THE NEW YEAR!
Chicken, Black Bean & Zucchini Enchiladas with Creamy Green Chile Sauce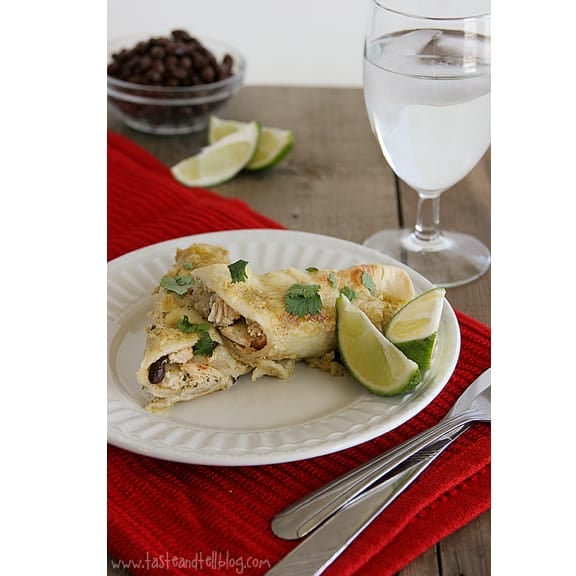 Enchiladas are filled with a chicken, black bean, zucchini and cheese mixture and covered in a creamy greeen chile sauce.
Ingredients
For the Chicken:

1 tablespoon Dijon mustard
1/2 tablespoon olive oil
3/4 teaspoon chili powder
1/2 teaspoon salt
2 boneless, skinless chicken breasts

For the Black Bean Filling

olive oil
1/2 onion, chopped
1/2 pound zucchini, quartered lengthwise and cut into quarter-inch slices
1 clove garlic, minced
One 15-ounce can black beans, drained and rinsed
1/2 teaspoon chili powder
1/2 teaspoon ground cumin
1/2 teaspoon salt

For the Sauce

1 tablespoon butter
1 clove garlic, minced
1 jalepeno, seeds and ribs removed, minced
1 tablespoon all-purpose flour
1 cup vegetable or chicken stock
1 cup sour cream
1 4-oz can fire-roasted mild green chiles
1/2 teaspoon ground cumin
1/2 teaspoon chili powder
1/2 teaspoon salt
cayenne pepper, to taste

For the Enchiladas

8 8-inch flour tortillas
3/4 pound Monterey Jack cheese, shredded
1/4 cup fresh cilantro leaves, plus more for garnish
1 lime, cut into 6 wedges
Instructions
Preheat the oven to 350F. Line a baking dish with foil.

Make the chicken:

In a bowl, combine the Dijon, olive oil, chili powder and salt. Add in the chicken breasts and stir until the chicken is coated. Place the chicken on the prepared baking dish and cook in the preheated oven until the chicken is cooked through, about 30 minutes. Set aside to cool enough to handle. Once cool, shred the chicken and set aside.

Make the black bean filling:

Coat the bottom of a large skillet with the olive oil. Add in the onion and cook until soft, about 5 minutes. Add the zucchini and saute until it is tender, about 6 minutes. Add the garlic, beans, chili powder, cumin and salt and cook until the beans are tender, another 5 minutes. Place the mixture in a large bowl and add the cooked, shredded chicken. Set aside.

Make the sauce:

Wipe out the skillet you were using for the bean filling. Melt the butter over medium heat. Add in the garlic and jalepenos and cook until fragrant and softening, about 4 minutes. Add the flour and cook for 1 minute. Whisk in the stock, then change the heat to high, bringing the mixture to a boil. Once it is boiling, reduce the heat and simmer until it has reduced a bit and become opaque, about 5 minutes.
Transfer the sauce to a blender or food processor. Add the sour cream, the chiles, cumin, chili powder, salt and cayenne pepper. Puree until smooth.

Assemble the enchiladas:

Coat the bottom of a 9x13-inch baking dish with the green chile sauce, reserving the rest of the sauce. Fill each of the 8 tortillas with the chicken and black bean mixture, a spoonful of the cheese, and a sprinkling of cilantro. Roll up and place seam side down in the baking dish. Pour the remaining green chile sauce over the top and sprinkle with the remaining cheese.
Bake in the oven for 30 minutes, or until the sauce is bubbling on the edges and the cheese is beginning to brown. Garnish with additional cilantro leaves and serve with the lime wedges.
----------------------------
adapted from In the Small Kitchen: 100 Recipes from Our Year of Cooking in the Real World
http://www.tasteandtellblog.com/chicken-black-bean-zucchini-enchiladas/
Recipe from www.tasteandtellblog.com
—————————
Check out these other enchilada recipes:
Chicken Enchiladas from The Comfort of Cooking
Spicy Chicken and Spinach Enchiladas from Bev Cooks
Portobello and Black Bean Enchiladas with Roasted Poblano Sauce from Perry's Plate
Enchiladas Verdes from Kokocooks
Cream Cheese Chicken Enchiladas from Taste and Tell