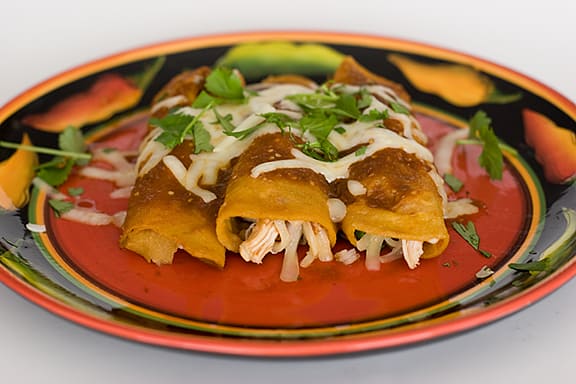 I love it when a recipe just comes together for me. We all know that I'm not very good at making up my own recipes. But I'm getting so much better at adapting recipes. And then sometimes, I start with a recipe, but it becomes something a lot different than the recipe I started with! This is one of those times.
I think I started with this recipe because I had some corn tortillas on hand that I needed to use up. But I didn't have all the ingredients that the recipe called for, so I decided to use what I had on hand. Substitute Monterey jack cheese for queso fresco, a jalepeno for the serrano peppers. Then throw in some dried chiles because I had them on hand. Before I knew it, I was having fun just throwing caution to the wind and making what I wanted. And I especially loved how these turned out. Not that it's hard to make a good enchilada. But still, these were delicious. And I'd totally make them again!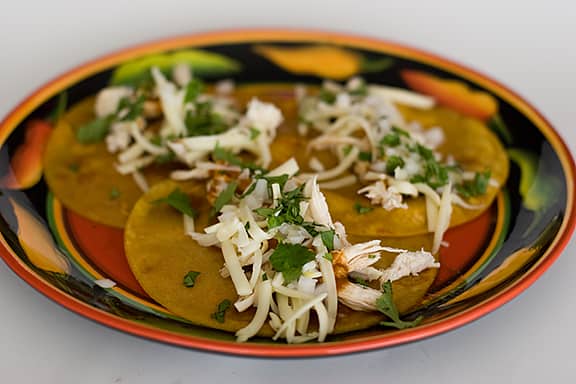 Chicken Enchiladas
Serves 4
total time: 45 minutes
2 boneless chicken breast halves, cooked and shredded
1/2 pound fresh tomatillos, husks removed
1/2 jalepeno, ribs and seeds removed, minced (or more if you want it spicier!)
2 dried New Mexico red chiles, stems removed
1 cup chicken broth
1/4 of a white onion
1 clove garlic
12 corn tortillas
1/4 cup vegetable oil
4 ounces Monterey jack, shredded
1/2 white onion, chopped
1 bunch fresh cilantro, chopped
Place the tomatillos, jalepeno and dried chiles in a small pot and cover with water. Bring to a boil and continue to boil until tomatillos turn a different shade of green. Strain the mixture. Place the mixture in a blender or food processor with the quarter of the onion and the clove of garlic. Add chicken broth and blend all ingredients until they are completely pureed. Season with salt as needed. Pour salsa into a saucepan and bring to a low boil.
Pour the oil into a frying pan and allow to get very hot. Slightly fry the tortillas one by one in the hot oil, setting on a paper towel afterwards to soak up some of the oil. Finally, dip the fried tortillas into the salsa until tortillas become soft again. Place on plates – 3 per person.
Fill the tortillas with the shredded chicken and extra salsa. Top the chicken with some cheese, chopped onion, and cilantro. Roll the tortillas and top with a little more cheese and sauce. Place plate under the broiler for a few seconds if you want the cheese melted. Serve.