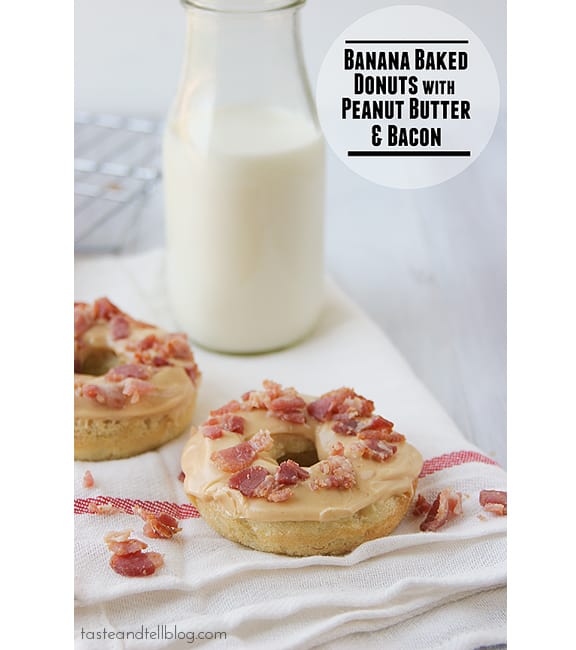 When it comes to food, are you more of a tradionalist, or do you like to try the newest fads and trends?
Overall, I'd say I'm mostly a traditionalist.  I like old-school foods, familiar foods.  Although I do have to say that I'm a very unpicky eater, so I will really try most things at least once.  But when it comes down to making my meal plan and deciding what to feed my family, I keep it pretty simple.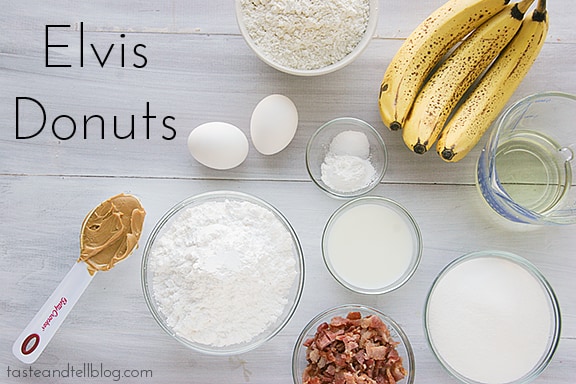 But sometimes, I have to jump on the trend bandwagons.  Because sometimes, there are flavor combinations that I just can't pass up.
Like bacon. With pretty much anything.
Really, can you think of anything that bacon isn't served on/in/with these days?  And I am a bacon lover!
If you go into pretty much any cupcake bakery these days, you'll see at least one cupcake that is topped with bacon.  And I see photos all of the time with other bacon topped dessserts.  Hey, even fast food restaurants have jumped on the bacon dessert bandwagon.  So while these donuts may seem like they are a little bit out there, in reality, everyone is doing it!  Hey – even Elvis loved the combination.  So really, this sweet/salty combination has been around for years.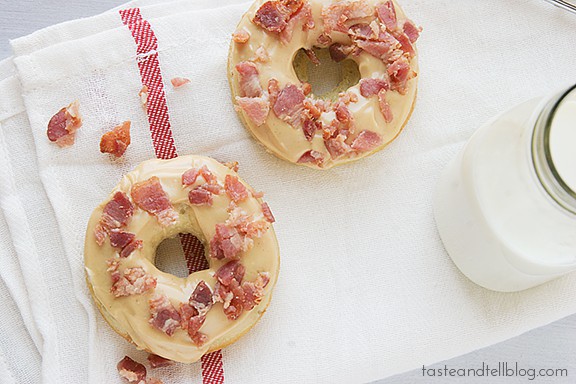 I've actually had the idea of these donuts floating around in my head for months.  Since late last year, to be exact.  I don't know what has taken me so long to take the plunge and make them – because now I'm wishing that I would have made them a lot sooner!  I'm always a sucker for the sweet and salty combination, and these donuts hit both of those notes so perfectly.  And if bacon on your donut isn't your thing, the great part about this recipe is that even without the bacon, the banana donut with the peanut butter glaze is pretty much perfection.  Forget saving those ripe bananas for banana bread – make donuts instead!!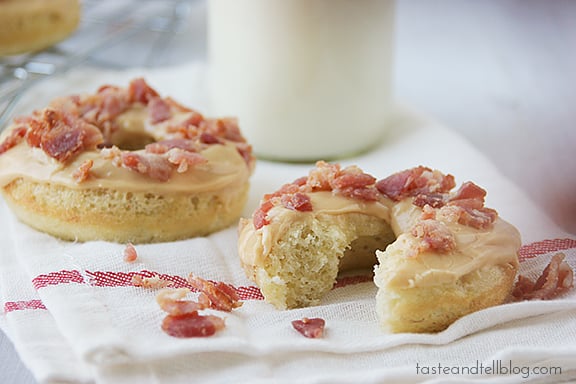 Try out these other recipes that combine bacon with sweets:
Pancakes and Bacon Cake Slices with Maple Buttercream from Picky Palate
Pumpkin Caramel Bars with Bacon from Noble Pig
Peanut Butter Ice Cream with Candied Bacon from Elle's New England Kitchen
Dulce de Bacon Milkshake from Adventures in Cooking
Chocolate Covered Bacon from The Girl Who Ate Everything