A baked potato soup that is cooked in the slow cooker. Cream cheese added in at the end makes it super creamy and super decadent!
Many years ago, we were having Thanksgiving dinner at my sister's house. (I'm pretty sure it was Thanksgiving, but I could be wrong…)  Of course, mashed potatoes are a must for Thanksgiving dinner, and my sister was in charge of making them that year.  She cooked up the potatoes, then handed them off to her husband to do the mashing.  (Just on a side note, my dad was never a cook, but for some reason, it was always his job to mash the potatoes.  Was it like this in anyone else's house?)  Anyway, my brother-in-law takes the potatoes, and thinking that he'll make easy work of it, he decides to use an immersion blender.  He gets it in there, and before you know it, those potatoes went from being mashed potatoes to being glue.  It completely changed the texture of the potatoes and made them very sticky and glue-y.  We all laughed about it, (and didn't eat the potatoes), and still laugh about it to this day.
So I kind of feel like I should have known better when I was making this soup and took the immersion blender to it to make it into a smooth soup.  Yep – kind of totally messed with the texture.  Don't get me wrong, though.  This soup was still amazing.  And I know I would have liked it even more if I would have just used the darn potato masher!! I was first drawn to this soup because of the addition of cream cheese at the end.  One of my favorite slow cooker soup recipes has cream cheese added into it, and I think it makes for an amazing soup.  Gives it that little special something.  And it totally worked here.  Even though the temperatures are still in the upper 90s here, I was totally ok with curling up with a bowl of this soup.  Add on some shredded cheddar and some bacon, and I'm one happy girl!
Recipe Rating:  8.75 out of 10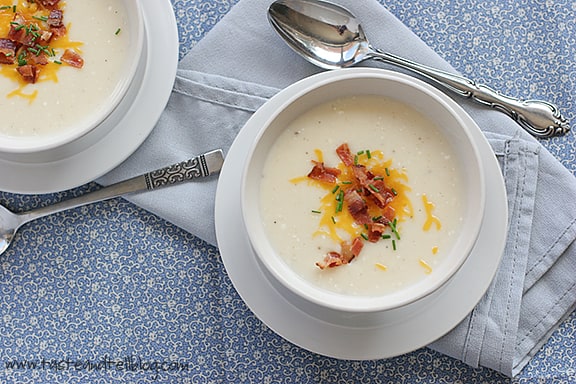 Baked Potato Soup
from More Make it Fast, Cook it Slow
serves 10
prep time: 15 minutes
cook time: on low – 8 1/2 hours, on high – 4 1/2 hours
5 pounds potatoes, peeled and diced in 1 to 2-inch chunks
1 small onion, diced
4 garlic cloves, minced
1 teaspoon seasoned salt
1/2 teaspoon black pepper
1/2 teaspoon cayenne pepper
2 quarts chicken broth
2 (8-ounce) packages cream cheese
crumbled bacon, shredded cheese, green onions, or chives as garnish (optional)
Put the potatoes, onions and garlic into a 6-quart slow cooker. Sprinkle in the seasonings and pour in the chicken broth. Cover and cook on low for 8 hours or on high for 4 hours, or until the potatoes are fork-tender. Use a potato masher or a stick blender (I would suggest a potato masher!) to mash the potatoes. You want a smooth soup.
After smashing the potatoes, add in the cream cheese. Cook on high for 30 minutes, or until the cream cheese has completely dissolved, stirring a few times throughout the 30 minutes.
Serve garnished with crumbled bacon, shredded cheese, green onions or chives.
———————————
Check out these other fabulous soups made in the slow cooker:
Red Lentil, Chickpea and Tomato Soup with Smoked Paprika from Kalyn's Kitchen
Rainy Day Split Pea Soup from A Full Measure of Happiness
Slow Cooker Sausage and Spinach Soup with Cornmeal Dumplings from The Naptime Chef
1 Flares
Tweet
Email to a friend
1 Flares
×