Ground beef is combined with pasta sauce, then topped with lots of cheese and a crescent roll crust in this Zesty Italian Crescent Casserole that the whole family will love.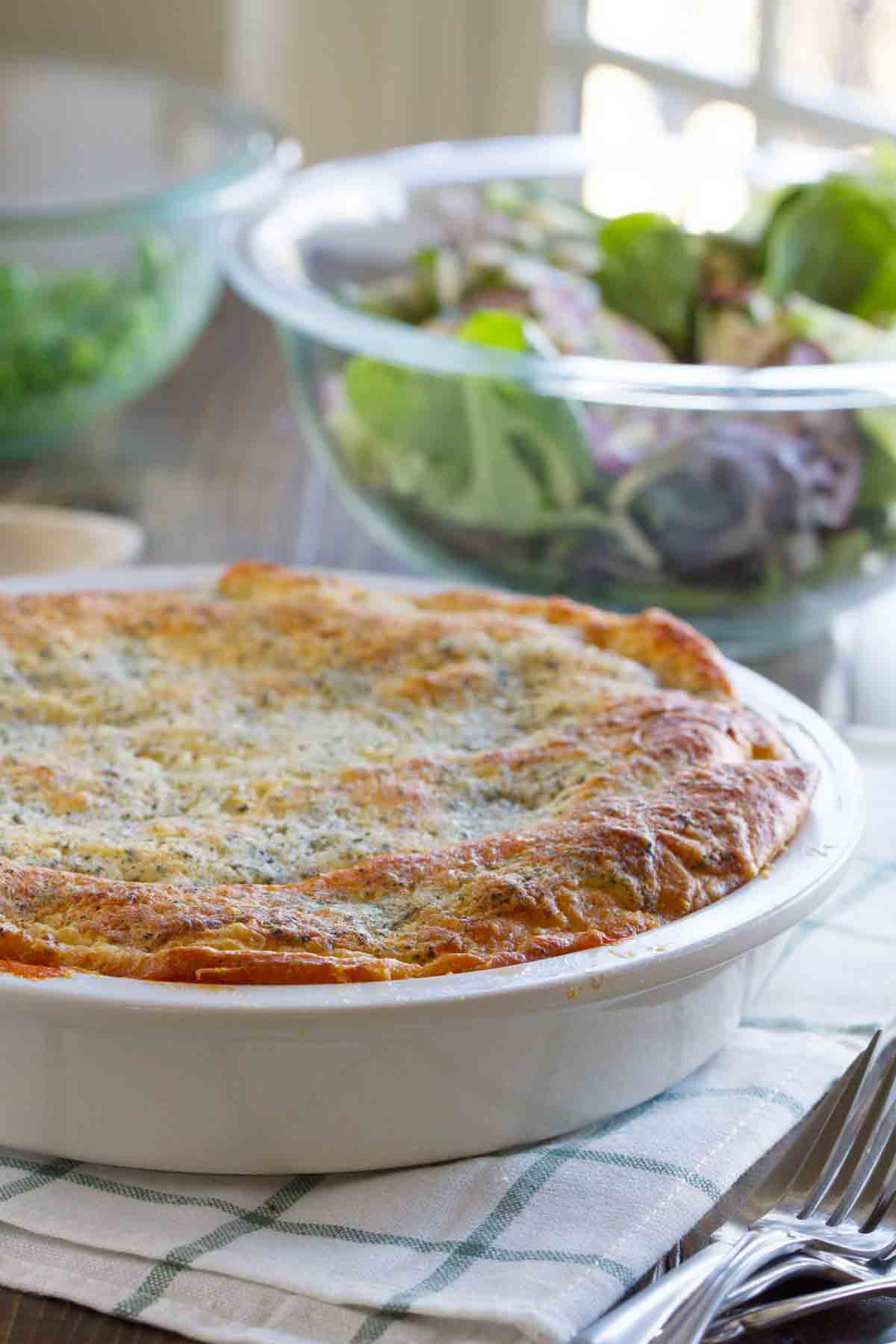 In a perfect world, I would love to make everything from scratch and have an elegant meal on the table for my family every night. But I'm also one of those people who doesn't necessarily have 3 hours to spend in the kitchen every night, so I need something fast. I am someone that loves the simplicity of the recipes on the Food Network, while at the same time, I'm not afraid to take on a challenge.
I have made a deal with myself to no longer make excuses for when I take a shortcut or make an overly simple recipe. I know I have food bloggers that read my blog, but I also know that I have some everyday home cooks – just like me – that read my blog, so hopefully I'll have a little something here for everyone.
Ok, all of that to bring you to this Zesty Italian Crescent Casserole! The folks over at Pillsbury have come up with a new great product – Crescent Recipe Creations. I'm so glad they came out with this product – it is a sheet of the crescent dough. Just like their regular crescent rolls, but no perforations (therefore just a sheet, not rolls), which makes recipes like this one so much easier! This is a Bake-Off recipe from 1978, and I can see why it made it into the Best of the Bake-Off cookbook. Simple, yet full of flavor.
I followed the recipe as written, but I did add more spaghetti sauce. I had made up some homemade spaghetti sauce from all of our tomatoes (see, just like I said above – I live in both worlds! A convenience food combined with homemade elements!) The homemade sauce was a bit more watery than a store bought sauce, so I had to cook mine a bit longer to thicken it up. And you should be able to find the Crescent Recipe Creations in your grocery store, but if you can't, you can use the regular crescent rolls, and just pinch together the perforations. Both my husband and I really enjoyed this Zesty Italian Crescent Roll Casserole, and the leftovers were even great!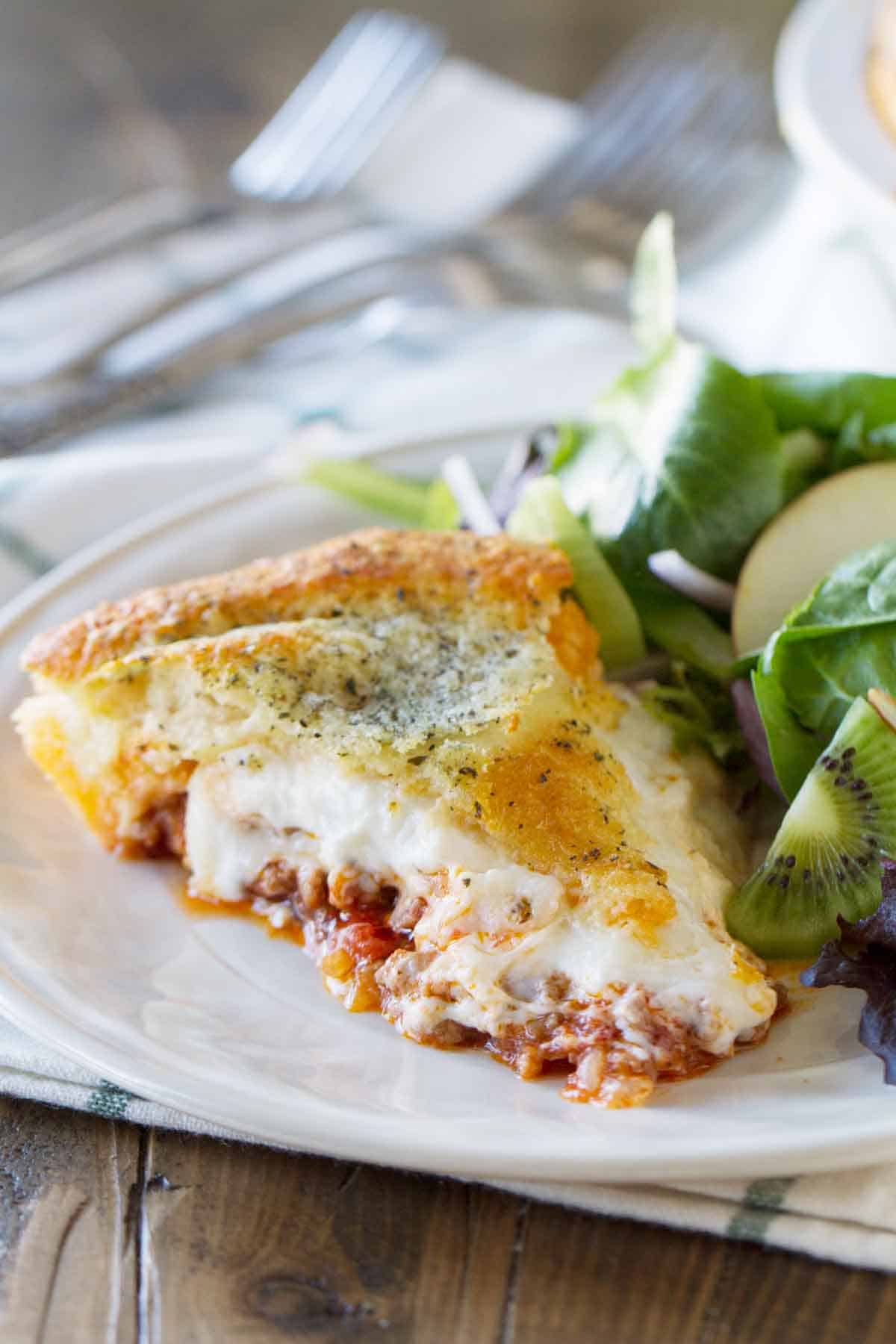 More Casseroles The Family Will Love
Taco Casserole
Beef Enchilada Casserole
Italian Ground Beef Casserole with Biscuit Topping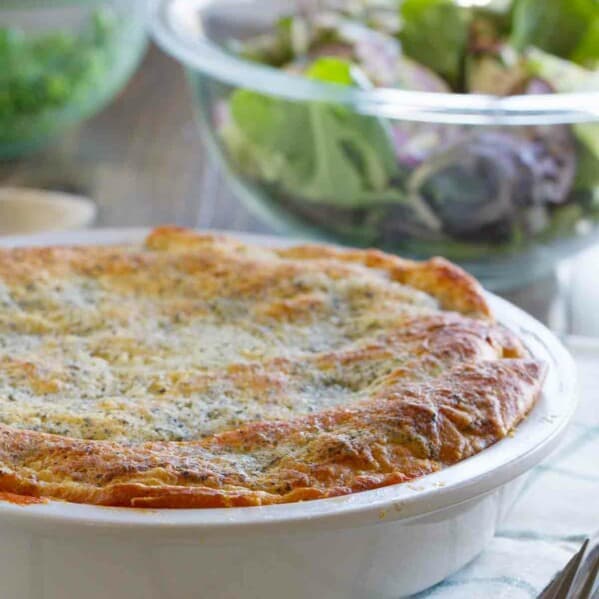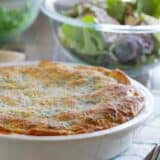 Zesty Italian Crescent Casserole
---
Author:
Prep Time: 15 minutes
Cook Time: 30 minutes
Total Time: 45 minutes
Yield: 6 servings 1x
Category: Main Dish
Method: Baked
Cuisine: Italian
Description
Ground beef is combined with pasta sauce, then topped with lots of cheese and a crescent roll crust in this Zesty Italian Crescent Casserole that the whole family will love.
---
Scale
Ingredients
1 lb ground beef
1/4 cup chopped onion
1 cup tomato pasta sauce
8 oz mozzarella cheese, grated
1/2 cup sour cream
1 can (8 oz) Pillsbury Recipe Creations (Pillsbury Crescent Dinner Rolls can be substituted)
1/3 cup grated Parmesan cheese
2 tablespoons butter, melted
1/2 teaspoon dried basil, crushed
---
Instructions
Preheat the oven to 375ºF.
Combine the ground beef and onion in a large skillet over medium-high heat. Cook until the beef is cooked through, about 8 minutes. Stir in the pasta sauce and cook just until heated through.
Meanwhile, combine the mozzarella cheese and sour cream in a bowl. Set aside.
Pour the beef mixture into the bottom of a 9- or 10-inch deep dish pie pan. Dollop the cheese mixture over the top and carefully spread evenly.
Unroll the dough and place over the top of the cheese mixture. Trim the edges as needed, filling in any spots with the extra dough. Tuck the edges in around the edges of the pie dish.
Combine the melted butter, Parmesan cheese and basil. Spread evenly over the top of the crescent rolls.
Bake in the preheated oven for 18-20 minutes, or until the dough is browned and cooked. Let the casserole sit for 10-15 minutes for easier slicing.
Keywords: crescent casserole