Sweet Potato Cake – a spiced layer cake made with sweet potatoes, filled with orange cream filling, and frosted with chocolate cream cheese frosting.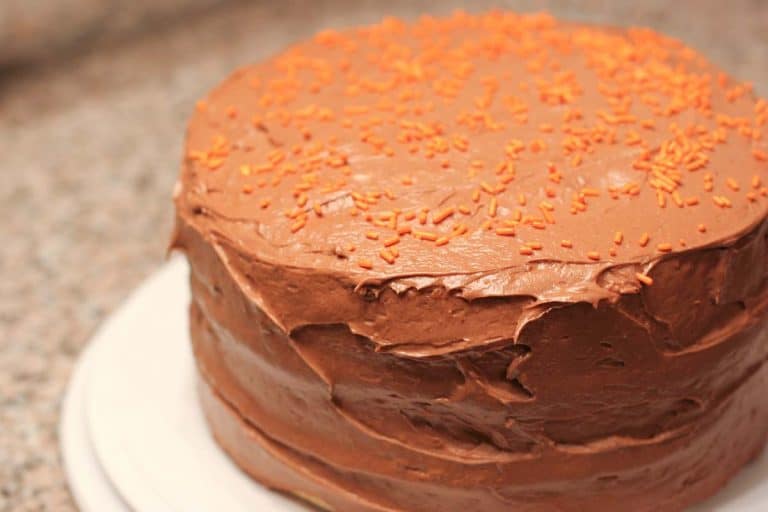 OK, so when I first joined The Cake Slice Bakers, I thought to myself – this will be a great opportunity to practice making a cake "pretty". I'm pretty confident with my ability to make a cake, but how it looks is a whole new story.
Well, this is my second cake, and the second time I've been rushed at the end, finishing just in time to take it to an event where I don't really have the time or the space to photograph it. I guess it's because there are only 2 of us, and a whole cake is way too much for 2 people. So I look for other opportunities, where there will be more people, but then I'm a bad time manager. What to do!!<
So next month, although I know it will be hard to find time again with Christmas coming and all, but I am vowing to spend a little extra time. Especially since the baby will be coming in January, and who knows what kind of time I will have after that!
This month's cake was a Sweet Potato Cake. It was the cake that I voted for, as I was really curious to see what the cake would taste like. As expected, though, it didn't really taste like sweet potatoes. It tasted more like a spice cake, but I'm betting the sweet potato helped in keeping it moist. And my cake is not very orange because I used a white sweet potato. For the frosting, you make a cream cheese frosting, adding chocolate to part, and orange to the other part. I didn't measure the orange juice concentrate – and I should have known better – so my orange cream cheese frosting turned out a bit runnier than it should have been. I thought it would be ok, but it made the layers hard to keep straight while frosting the outside of the cake – they were slipping all over the place! My favorite part of the cake was chocolate cream cheese frosting. I don't think I've ever had that before, but I will be making it again!!
Overall, it was a good cake. Not spectacular, but good. I can't wait to see what next month brings!!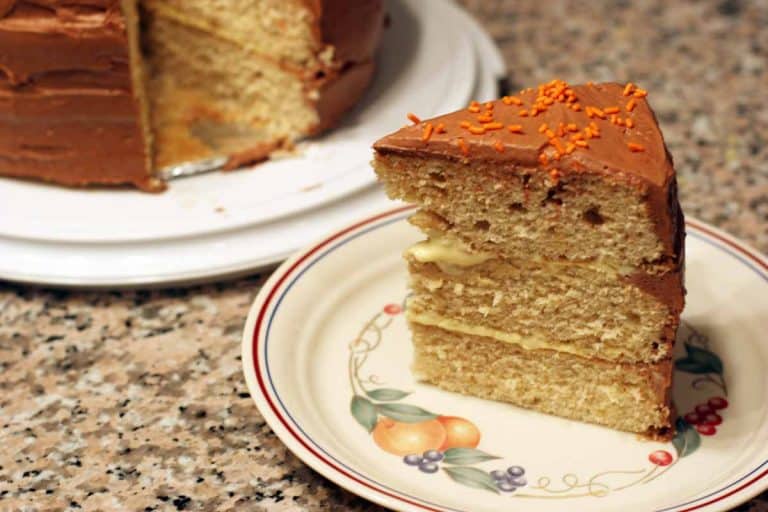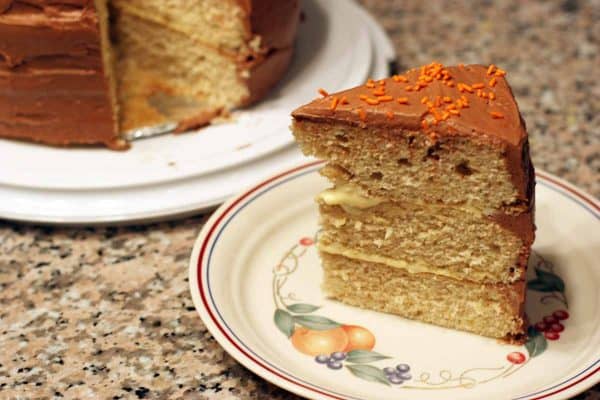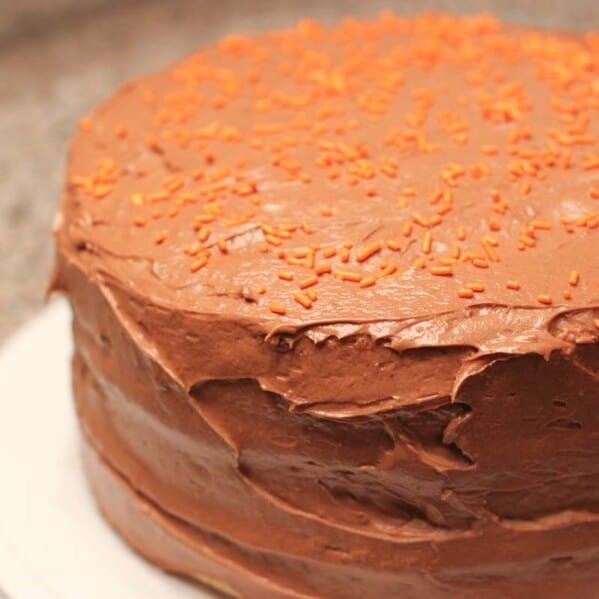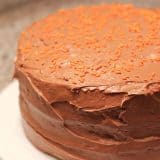 Sweet Potato Cake
---
Author:
Yield: 16-20 servings 1x
Description
Sweet Potato Cake – a spiced layer cake made with sweet potatoes, filled with orange cream filling, and frosted with chocolate cream cheese frosting.
---
Scale
Ingredients
Cake:
2 medium or 1 large sweet potato (12 ounces)
3 cups of cake flour**
3 teaspoons of baking powder
1 and 1/2 teaspoons of ground cinnamon
3/4 teaspoon of ground nutmeg
1/4 teaspoon of cloves
5 eggs, separated
2 and 1/4 cups of sugar
1 stick plus 2 tablespoons of butter, at room temperature
1 and 1/2 teaspoons of vanilla
1 and 1/4 cups of milk
Chocolate Cream Frosting:
10 ounces cream cheese*** at room temperature
1 stick of butter at room temperature
16 ounces of powdered sugar; sifted
1 and 1/2 ounces of unsweetened chocolate melted and slightly cooled
Orange Cream Filling:
1 cup of reserved cream cheese icing from above.
2 tablespoons of frozen orange juice concentrate, thawed
1/4 teaspoon of orange extract
---
Instructions
Preheat the oven to 400F degrees. Prick the sweet potatoes in 2-3 places, place on a small baking dish and bake for 1 hour or until the potatoes are very soft. Remove from the oven and cool slightly.
Reduce the oven temperature to 350F degrees. Butter the bottoms and the sides of the pans and line with parchment paper. Butter the parchment paper also.
When the sweet potatoes are cool peel off the skin and remove any dark spots. Cut the potatoes into chunks and puree in a food processors. Puree until smooth. Measure out one cup of potato puree and set aside.
Sift the flour, baking powder, cinnamon, nutmeg, and ground cloves. Set aside.
In the bowl of electric mixer add the egg whites and attach whip attachment. Beat on medium speed until egg whites are frothy. raise the speed to high and gradually beat in 1/4 cup of sugar. Continue to beat until the egg whites are moderately stiff.
In another large bowl with the paddle attachment, combine the sweet potato, butter, vanilla, and remaining sugar. Beat until light and fluffy. Add the egg yolks one at a time. Make sure to scrape the sides of the bowl after each egg yolk is added. With the mixer on low speed, add the dry ingredients and milk in alternately in 2-3 additions. making sure to begin and end with the dry ingredients.
With a large spatula, fold in one fourth of the egg whites into the batter to lighten. Then fold in the remaining egg whites until no streaks remain. Making sure to not over mix or this will deflate the batter. Divide the batter among of the three pans.
Bake for 25-30 minutes or until a cake tester comes out clean. Let the cake layers cool in the pan for 10 minutes. Then turn out the cake layers onto a wire rack and cool completely at least 1 hour.
In a large mixing bowl, beat together the cream cheese and butter until fluffy. Slowly add the powdered sugar to cream cheese butter mixture. Making sure to scrape down the sides the sides of the bowl. Then beat until light fluffy 2-3 minutes.
Measure out 1 cup of frosting and set aside.
Add the melted chocolate to the remaining icing in the bowl and beat until well combined.
Stir together the reserved frosting, reserved orange juice concentrate, and orange extract.
To assemble the cake, place one layer flat side up on to a cake stand.
With a pastry bag fitted with a 1/2 inch round tip and filled with chocolate cream cheese icing, pipe border around the edge of the cake. Fill the center with the orange cream filling smoothing it to the edge of the border.
Place the second layer on top and repeat the process.Place the third layer on top and use all the chocolate cream cheese frosting to cover the top and sides of the cake.
Recipe Notes:
**The recipe calls for cake flour and if you only have all-purpose flour on hand, you can substitute 3/4 cup (105 grams) all purpose flour plus 2 tablespoons (30 grams) cornstarch.
*If fresh sweet potato is not available where you live you may use canned sweet potato, yams, and pumpkin puree.
Recipe from Sky High