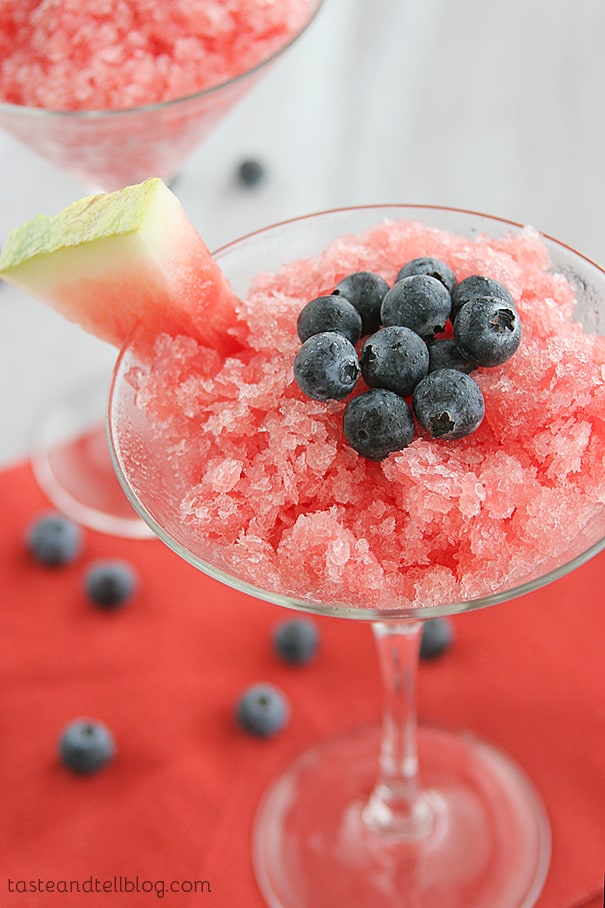 I wanted to bring you a couple more 4th of July treats before the big day next week. But I have come to discover that red, white and blue is kind of hard to do without a lot of food coloring. You all know I don't always shy away from the food coloring, but I wanted a few things that were a little more – natural. But the problem is, how to do really achieve red and blue naturally???
So I deem today's post (and Monday's post) pink and blue (or purple) treats that would be perfect for the 4th of July. So what if they aren't bright blue and bright red, right??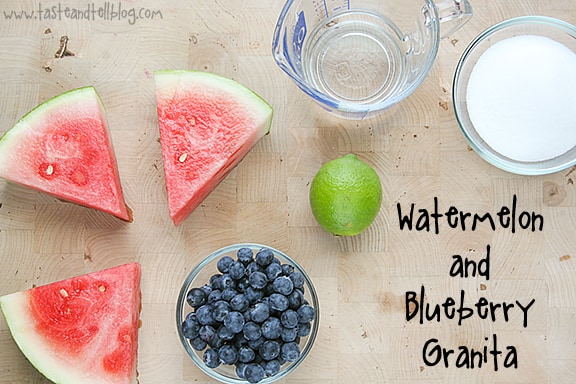 I love making homemade ice cream.  And I have about 98 versions that I want to try this summer.  My problem is, though, that my freezer is tiny and no matter how hard I try, I can never get it cleared out enough to fit my ice cream maker into it so that I can actually make the ice cream.  Chicken goes on sale, or I have to stock up on store-bought ice cream to make a milkshake.  What I wouldn't do for a huge, stand alone freezer!!  But, I make do with what I have, and figure I don't have to call off all frozen treats.  A granita to the rescue!!
This version takes advantage of watermelon that just screams summer.  Originally, I threw the blueberries in there to give it a red, white and blue look, but I ended up loving the fresh blueberries on top of the frozen watermelon granita that I wouldn't even leave them off!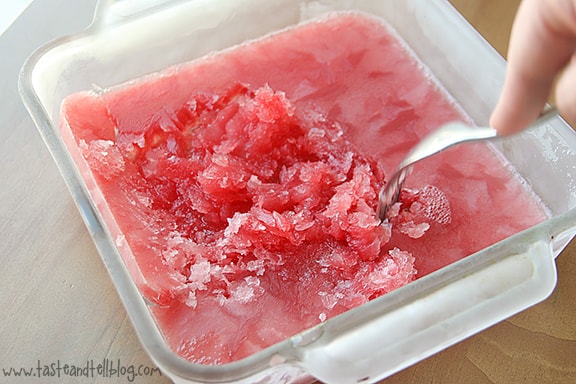 If you've never made a granita before, you will be amazed at how easy it is.  Basically just mix your ingredients, put them in a baking dish, and freeze.  Every couple hours, take it out and scrape it with a fork to form the icy crystals.  (This recipe actually makes enough for a 13×9-inch pan, but I couldn't fit one in my freezer!!)  It will probably take between 4-6 hours.  Mine was done in 4, but I think it's because I had a small dish.
The end result is icy and sweet and perfect for enjoying in the backyard on a hot summer's day.  And pretty perfect for the 4th of July as well, since it can be made ahead of time.  And a bonus is that this isn't just for the 4th of July – it would be perfect all summer long!!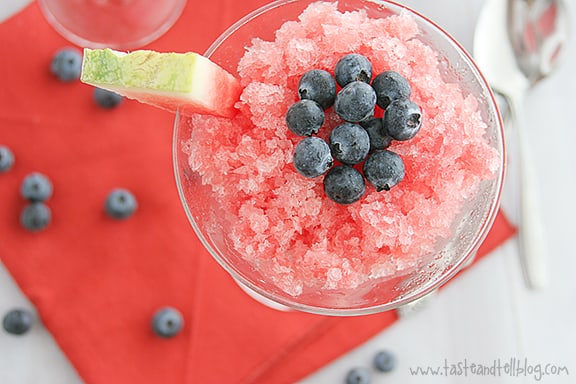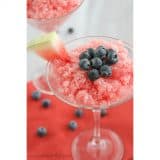 Watermelon and Blueberry Granita
---
Prep Time: 10 minutes
Cook Time: 5 minutes
Total Time: 6 hours 30 minutes
Yield: 8 servings 1x
Description
A refreshing frozen watermelon granita, topped with fresh blueberries.
---
Scale
Ingredients
8 cups chopped fresh watermelon
1/2 cup water
1/2 cup sugar
2 tablespoons lime juice
blueberries, for serving
---
Instructions
In a food processor, process the watermelon until smooth. Strain, reserving 4 cups of the juice and discarding the solids.
Meanwhile, in a saucepan, combine the water and the sugar and cook until boiling. Boil for 3 minutes, or until the sugar has dissolved. Cool completely.
Combine the 4 cups watermelon juice, simple syrup and the lime juice. Pour into a 9×13-inch baking dish and place in the freezer. Freeze for 4 to 6 hours, scraping with a fork every 2 hours.
Serve topped with blueberries.
—————-
slightly adapted from The Rachael Ray Show

Check out these other fabulous granitas:
Strawberry Granita from The Comfort of Cooking
Mango Granita from Dishes From My Kitchen
Blueberry-Rhubarb Granita from Poor Gir Eats Well
Watermelon, Ginger and Lime Granita from Taste and Tell
Blackberry and Ginger Granita from Souvlaki for the Soul