A twist on a summer staple – these Pumpkin Spice S'mores Treats are filled with warm autumn spices and lots of sweet deliciousness.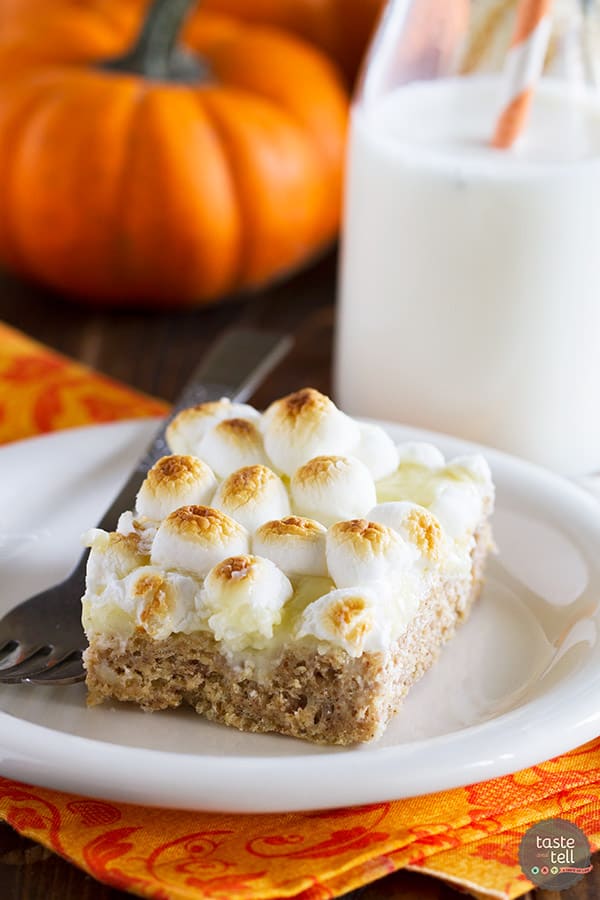 I am a Bake a Little Extra Blog Ambassador and this post is sponsored by Karo® Syrup. I'm so glad to be able to work with companies and organizations that I truly believe in. Thank you for supporting them, too.
Well, we are well into the holiday baking season, which makes this girl super happy. It is the best time of year after all, right? I am a little late to the game this year, though, and haven't been pumpkin spice-ing all the things like I should be. So let's remedy that, shall we?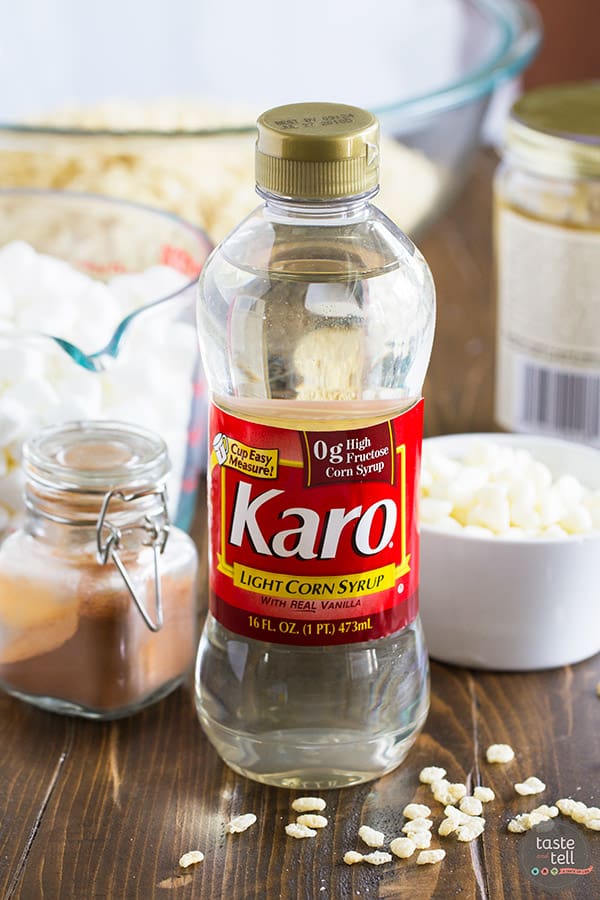 Starting with this summer turned fall dessert – Pumpkin Spice S'mores Treats. I am a huge fan of anything s'mores inspired, and when I saw these Peanut Butter S'mores Treats on the Karo® Syrup website, I knew I could give them a fun, fall twist!
The first thing I knew I wanted to do was to add a pumpkin spice twist. I didn't add actual pumpkin because I didn't want to mess with the texture of the bars, but I wanted to give them the nice, warm, fall flavors. I knew that pumpkin pie spice would do the trick. But I also knew that the spices would be lost in the bold flavor of peanut butter, so I swapped in almond butter for the peanut butter.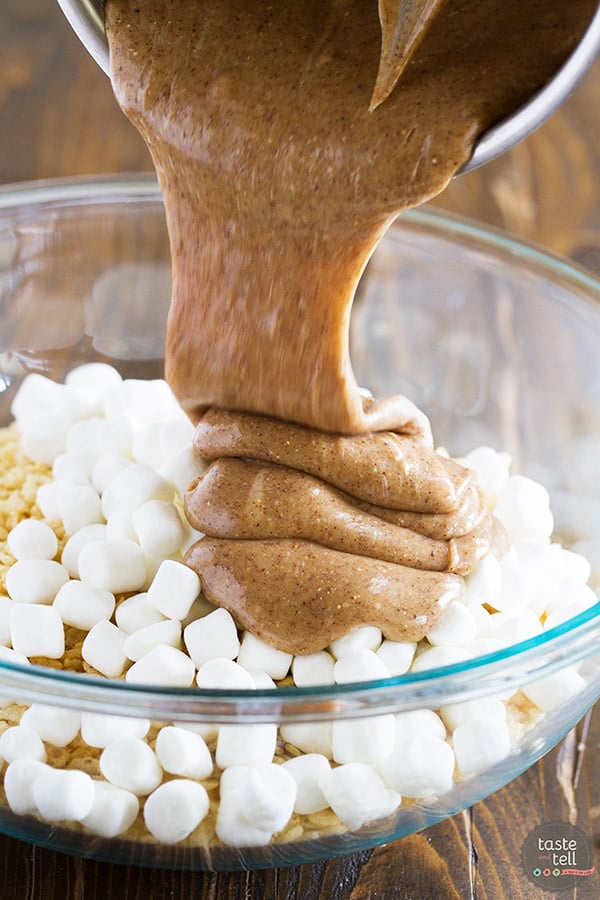 The base of these bars is more like a scotcheroo than a rice crispy treat. Have you ever had a Scotcheroo? They are typically made by combining Karo® syrup, sugar and peanut butter and then mixing that into the crispy rice cereal. The Karo® Syrup makes them extra chewy and provides the perfect amount of sweetness. And I love that Karo® Syrup is free of high fructose corn syrup!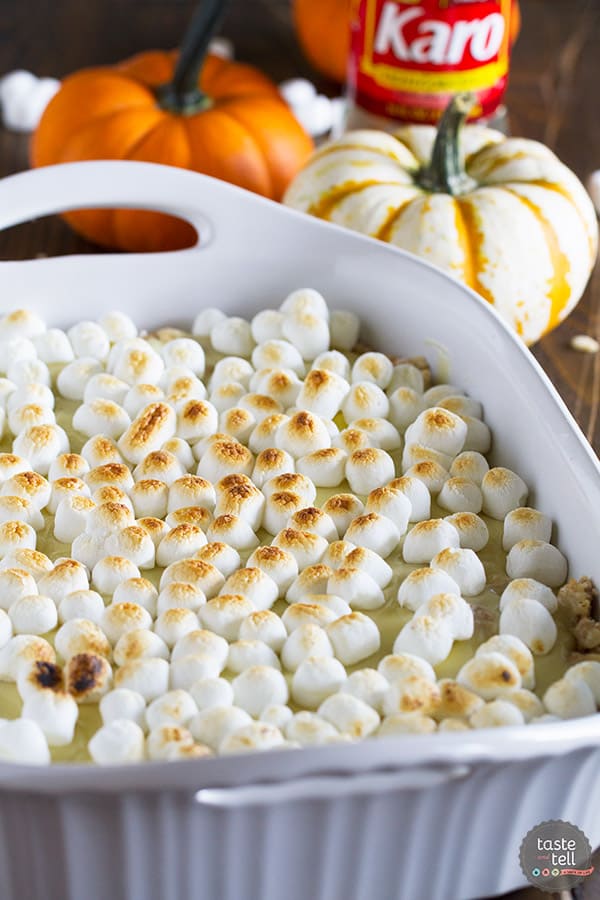 These Pumpkin Spice S'mores Treats are the perfect treat to bake and share with friends and family. They cut up perfectly into bars, making them easy to package up and share. They are the perfect way to bake a little extra – and it's the perfect time of year to share all of those holiday treats! I know your friends or family won't complain when you show up on their doorstep with a package full of these Pumpkin Spice S'mores Treats!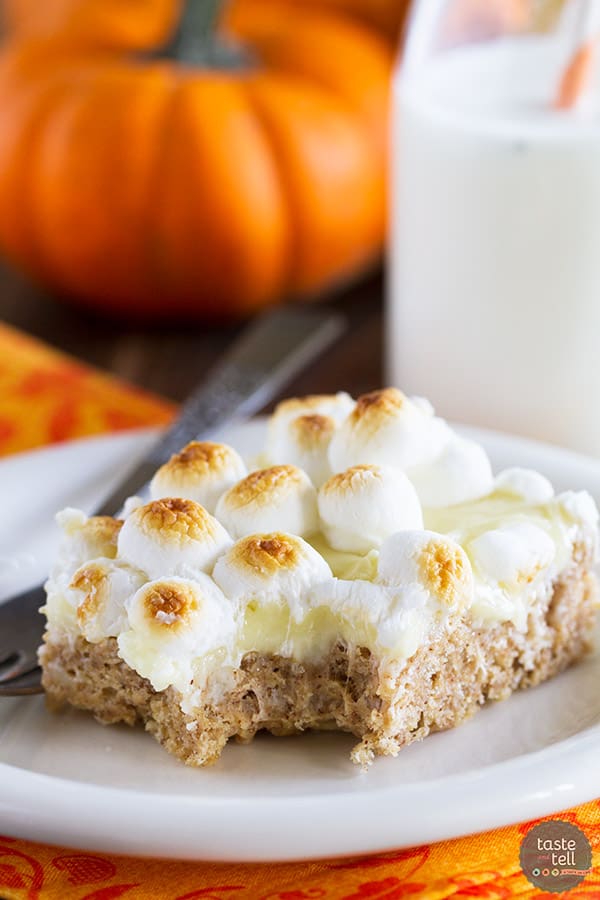 Like what you see here? Make sure you are following Taste and Tell for more recipes and ideas!
Facebook | Pinterest | Instagram | Twitter | Google+ | Weekly Newsletter | Feedly | Bloglovin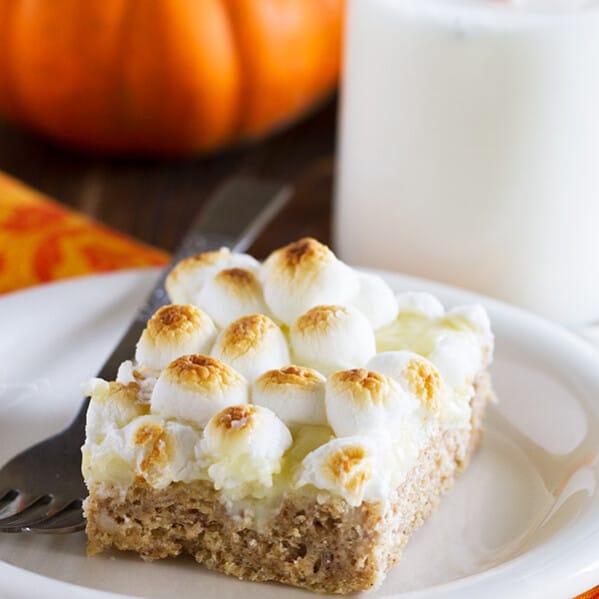 Pumpkin Spice S'mores Treats
---
Author:
Prep Time: 20 minutes
Cook Time: 5 minutes
Total Time: 25 minutes
Yield: 24 servings 1x
Category: Dessert
Description
A twist on a summer staple – these Pumpkin Spice S'mores Treats are filled with warm autumn spices and lots of sweet deliciousness.
---
Scale
Ingredients
6 cups crispy rice cereal
4 cups miniature marshmallows, (divided)
3/4 cup sugar
3/4 cup Karo® Syrup
1 cup almond butter
1 teaspoon pumpkin pie spice
12 oz white chocolate chips
5 tablespoons heavy whipping cream
2 tablespoons Karo® Syrup
---
Instructions
Spray a 13×9-inch baking pan with cooking spray.
Combine the crispy rice cereal and 2 cups of the miniature marshmallows in a large bowl. Set aside.
Combine the sugar and the 3/4 cup Karo® syrup in a medium saucepan. Bring to a boil over medium heat, stirring occasionally. Once at a boil, let it boil for one minute. Remove from the heat and stir in the almond butter and pumpkin pie spice until smooth. Pour over the cereal mixture and quickly stir to coat*. Press evenly into the prepared pan.
In a medium microwave safe bowl, combine the white chocolate chips, cream and 2 tablespoons Karo® syrup. Cook on high in 10-15 second increments, stirring often, until the chips are melted and the mixture is smooth. Spread the mixture over the top of the cereal layer and top with the remaining 2 cups of marshmallows.
Arrange a rack in the oven or broiler so the top of the pan is 4 inches from the source of heat. Preheat the broiler. Broil the bars just until the marshmallows are lightly browned, 10-30 seconds.
Cool completely then cut into 2-inch squares.
Recipe Notes:
*The mixture will set up quickly, so you'll want to make sure you stir it together and transfer it to the cereal quickly before it is too hard to stir in.
adapted from karosyrup.com
Don't miss a thing! Follow me on Pinterest to see what I'm pinning!
Visit Taste and Tell's profile on Pinterest.