Chicken thighs are coated in a thin powdered peanut butter and flour coating in this Georgia Peanut Fried Chicken that is not your typical fried chicken recipe!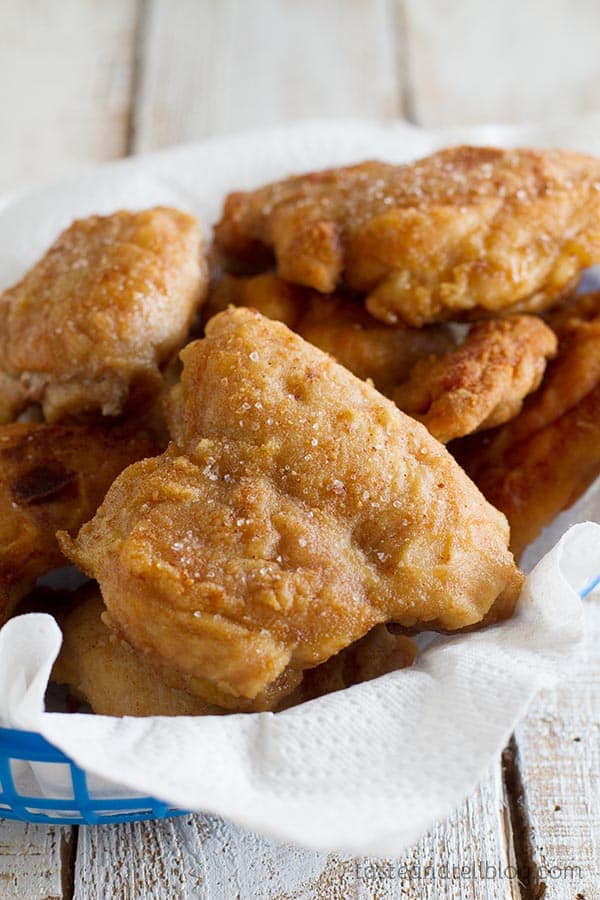 I love food. Food brings me joy. I love reading through cookbooks, planning out what to make. I love the process of being in the kitchen. I love serving that food to the people around me and the people that I love. And yes, I enjoy eating that food, too.
I mention this, because if you were to take the joy out of food and eating for me, I probably wouldn't be a very pleasant person. I could never be one of those people who eat a plain chicken breast with a side of steamed green beans for dinner. That's just not me, and I would find no joy in that.

That being said, I also understand that it's not possible to just make and eat whatever we want without consequences. Many of us are dealing with the consequences of too many treats over the holidays right now.
It feels like to me that in years past, if you were eating "healthy", it often meant boring. You know, the same 3 or 4 meals over and over. Lots of boneless, skinless chicken breasts and tasteless steamed vegetables. But luckily, cutting calories and eating a little bit better looks a lot different these days.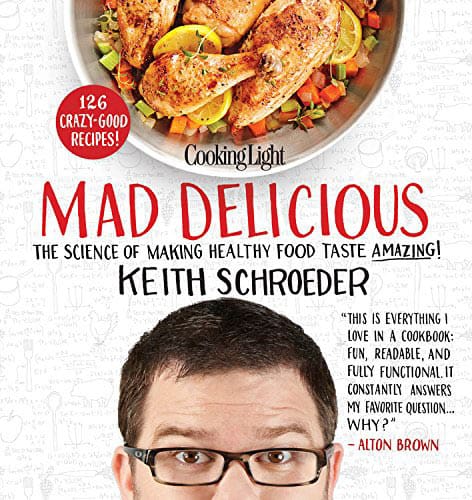 This is one reason I'm so excited about today's cookbook review – Mad Delicious by Keith Schroeder. This book is endorsed by Cooking Light, and honestly, if it wasn't for the big Cooking Light label on the cover, I would have never thought that this book was full of better for you recipes. No crazy diet ingredients, no crazy meal plan – just real food, made a little better.
I have to admit – when I first looked through this book, quite a few recipes caught my eye, but there were also quite a few that didn't excite me as much. But the more I read through the book, the more time I spent with it, the more I started to really love the book. The recipes aren't crazy, but many of them have a twist that makes them just unique enough and intriguing enough to make me want to try them.
But the best part of the book? This baby is like a text book. It's more than just recipes. The author, Keith Schroeder, tells you why you are using the ingredients in the recipe, why you use one cooking technique over the other. The "why" is the reason I really love this book. I have been cooking for a long time. And these days, I spend hours and hours in the kitchen every week. But I still managed to learn from this book.
Here are the details:
Number of Photos: Lots. Not only is there a photo of every final dish, but there are many step by step photos in the book as well. The photography is done by one of my favorite food photographers – Helene Dujardin and her team – so the photos are just stunning. Along with all of the photos, there are also lots of illustrations that are fun as well.
Difficulty Level of Recipes: Easy to Medium. I almost wanted to just list easy, because really, most of the techniques in the book are pretty basic. But then I realized that the target audience is probably more for people who really don't or don't want to cook. And that changes things a bit. So – if you are comfortable in the kitchen, you'll probably be comfortable cooking anything in this book. But if you are new to cooking, it might seem a little more overwhelming because many of these recipes do require multiple steps.
Availability of Ingredients: Easy to medium. The majority of these ingredients should be pretty easy to come by. There are a few obscure ingredients that may be a little harder (like the PB2 or wondra flour in this recipe) but for the most part, the ingredients should be easy to find.
Other recipes I want to try:
Mushroom Tarte Flambee
Rosemary and Sea Salt Potatoes
Less Butter Chicken
Korean-Inspired Pork Chops
Carnitas de Pollo
Buy Mad Delicious on Amazon.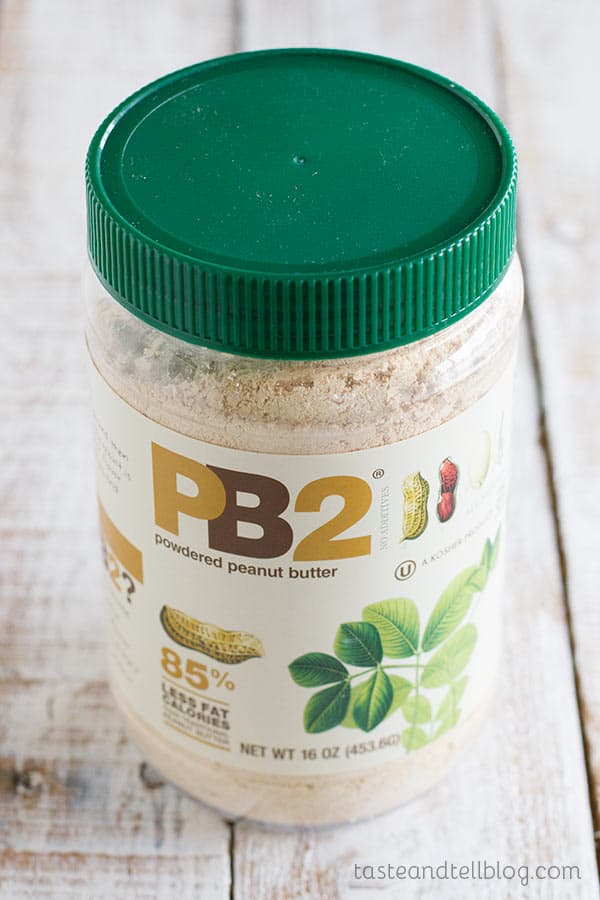 So, originally, I wanted to make the fish sticks. But they call for halibut, and holy hannah!! Halibut is expensive these days!! I thought about just using a different fish, but then I saw this fried chicken recipe. What?? A fried recipe in a light cookbook? And what? No boneless, skinless chicken breasts? Instead there are chicken thighs. In a light cookbook? And then I saw that the coating is made from PB2 and Wondra flour. PB2? What?
So – there were lots of question marks and lots of intrigue. I think the most unique ingredient in this fried chicken recipe is the PB2. If you aren't familiar with PB2, its a powdered peanut butter. I've mostly only seen it used in smoothies. Definitely never in fried chicken.
This recipe was delicious and different. The breading was thin, not a thick breading like I usually know fried chicken to have. But what it lacks in coating, it makes up for it in flavor. The PB2 adds such a unique and different taste. The peanut butter is definitely not an overwhelming flavor, it just adds a unique flavor. In fact, I asked my husband if he could tell what the secret ingredient was, and he couldn't name it.
I was very impressed with this recipe – especially since you get fried chicken for only 355 calories a serving. The only change I made to the recipe was to sprinkle on a little coarse salt right as the chicken finished cooking. I'd definitely call it a winner, and I can't wait to keep cooking from the book!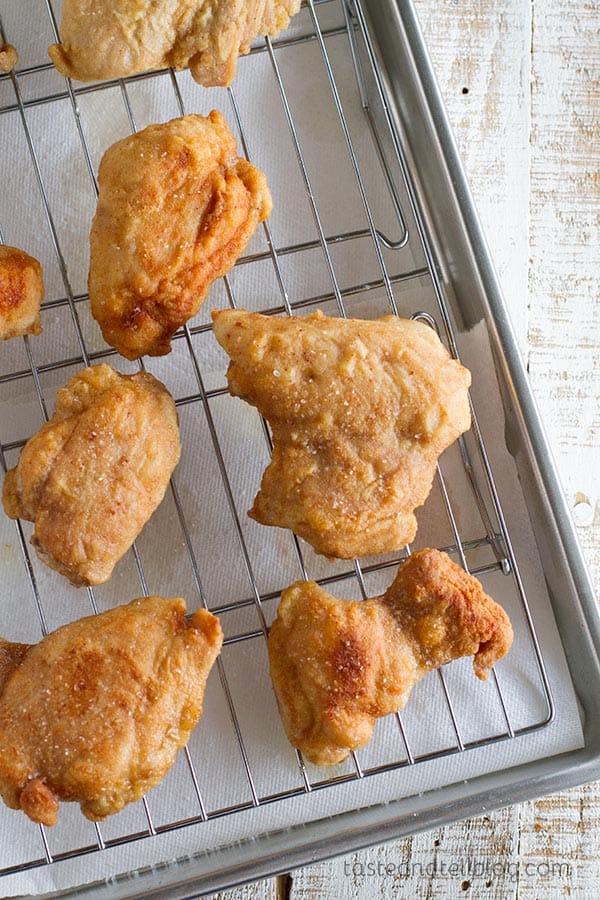 Like what you see here? Make sure you are following Taste and Tell for more great recipes and ideas!!

Facebook ** Pinterest ** Twitter ** Instagram ** Google+
or you can subscribe to my newsletter or Feedly or Bloglovin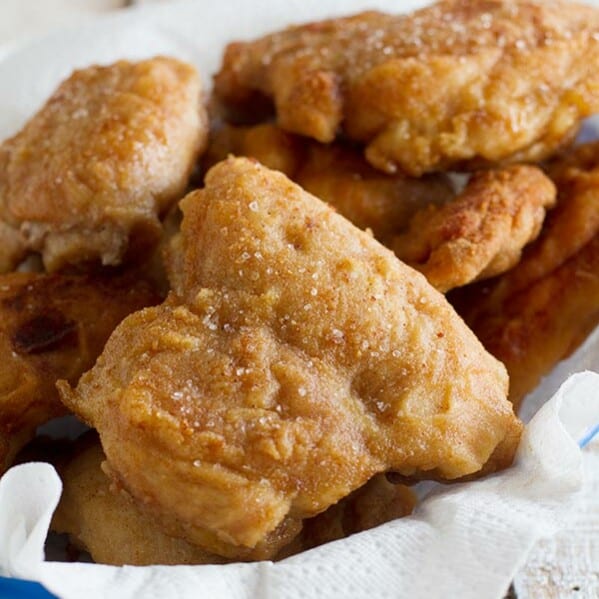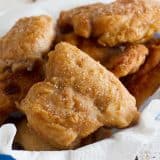 Georgia Peanut Fried Chicken
---
Prep Time: 5 mins
Cook Time: 16 mins
Total Time: 21 mins
Yield: 4 servings 1x
Description
Chicken thighs are coated in a thin powdered peanut butter and flour coating in this Georgia Peanut Fried Chicken that is not your typical fried chicken recipe!
---
---
Instructions
Place a cooling rack over a baking sheet and set aside.
Rinse the chicken thighs and dry with a paper towel. Set aside.
In a shallow bowl, combine the PB2, Wondra flour, salt and ground red pepper.
Heat the grapeseed oil in a heavy skillet over medium heat until it starts to ripple. Turn the heat down to medium low, and working with 1 or 2 thighs at a time, dredge them in the PB2 mixture to evenly coat then place in the hot oil. Cook for 4 minutes per side, then transfer to the cooling rack.
Continue with the remaining chicken. Let the chicken cook for 5 minutes before slicing and serving.
Nutrition
Serving Size: 2 thighs
Calories: 355
Sodium: 248 mg
Fat: 23.3 g
Saturated Fat: 3.8 g
Carbohydrates: 12 g
Fiber: 2 g
Protein: 25 g
Cholesterol: 74 mg
Don't miss a thing! Follow me on Pinterest to see what I'm pinning!
Visit Taste and Tell's profile on Pinterest.



**I was sent a review copy of this cookbook from the publisher, but all thoughts and opinions are my own. This post contains affiliate links. If you purchase an item from Amazon from the link Taste and Tell receives a small commission. Thank you for supporting Taste and Tell through your purchases!**