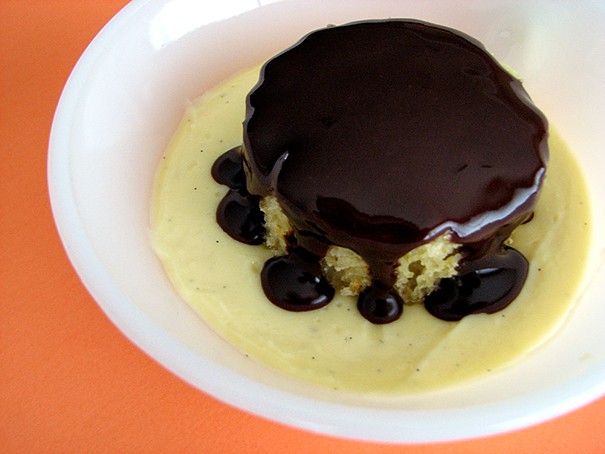 It is time again for another Daring Bakers Challenge!! I can't believe October is almost over already….
I told myself I would not procrastinate the Daring Bakers challenges anymore, but of course I made this for dessert on Sunday night before needing to post about it on Monday. At least I didn't have any troubles with this one!

It's always fun to do something that I am familiar with, like the cinnamon buns, but it is also fun to try something new that I have never had before. This would fall into the latter category. I have had Boston Cream Pie before, but I had never heard of this challenge – the Bostini Cream Pie. This month's challenge was chosen by Mary of Alpineberry. It comes from Donna Scala & Kurtis Baguley of Bistro Don Giovanni. The recipe can be found on Mary's blog, here.


When I first read about this month's challenge, I was excited, but a little nervous. This dessert starts with a pool of vanilla custard, topped with an orange chiffon cake and drizzled with chocolate. Now I am a huge fan of the orange/chocolate combination, but I have never been a huge custard fan. Not that I don't like it, but if I was given the choice of a custard filled donut or a jelly filled donut, I would always choose the jelly. So I wasn't quite sure that I would love this, but part of being a Daring Baker is tackling the challenge, no matter what it is!!
The challenge was pretty straight forward. I made the custard, and everything came together well. I only did 1/3 of the custard, as there are only 2 of us and we don't need to be eating custard for days!! I decided to make the full recipe of the cake, because it is a little easier to save and have for a snack another day. When I had finished the custard and emptied it into the bowls I chose to use, I licked the pan – and then went back to lick the pan – and kept going back until there was practically nothing to clean out of the pan!! This custard was GOOD!! I had high hopes for the cake, but to my surprise, it was what disappointed me a bit. I was expecting a really light cake, but mine was kind of eggy. Yeah, I know it has a HUGE amount of eggs in it, but I didn't expect the texture to be so eggy. So I was completely surprised to find that I could have eaten the whole batch of custard, but the cake wasn't my favorite.
So how did it all taste together? Fantastic!! We don't usually have desserts like this after dinner (mostly because we are always too full to eat dessert!) but this was a real treat. My husband loved it so much that he ate 2!
For my last 3 Daring Bakers challenges, I have shown a slide show of the steps for the challenge, but my picture taking this time around was less than perfect. Most of the pictures are so blurry that it looks like a child took them. Oh well, there's always next month!!
For more of the Bostini Cream Pie, visit the Daring Bakers Blogroll for a list of all of the Daring Bakers!!